Gabourey Sidibe penned a powerful first person essay for Lenny, Lena Dunham's email newsletter, detailing a recent incident at a Chanel boutique where she was initially told to leave in a sort-of superficially polite but obvious way, but then given decent service once they realized who she was. She was there to buy glasses frames for herself and sandals for Taraji P. Henson. Her experience reminded me of Oprah's in Zurich, Switzerland at an expensive boutique in that customers are profiled as to whether they're worthy of the sales staff's attention. Of course this doesn't just happen at the high end shops and this is not a first time experience for Gabby. She writes that it's unclear whether she's often treated poorly in stores because she's black or because she's a larger person, and she also wonders how she should handle it. Sometimes she buys things to show she's a good customer and sometimes she walks out, but, she writes, "Either way, they win and I lose." It's thoughtful, it's sad and it's very well written and matter-of-fact. It doesn't sound easy to deal with, but she handles it and she's circumspect about it.
"Can I take a look at your eyeglasses?" I asked.

"We don't have any," she answered. "We only have shades. There's a store across the street that sells eyeglasses."

"Across the street?" I asked, confused.

"Yes. In the building across the street on the fifth floor." She gave me the name of a discount frames dealer. I had been at her display for less than a minute, and she was literally directing me to another store…

I knew what she was doing. She had decided after a single look at me that I wasn't there to spend any money. Even though I was carrying a Chanel bag, she decided I wasn't a Chanel customer and so, not worth her time and energy.

This actually happens to me a lot. My whole life. Both before and after I became a recognizable actress. It happened to me in St. Maarten on vacation after shooting a film, when I went to a Dior counter to look at lip gloss and the saleswoman literally took a gloss out of my hand and put it back down in the display case. It used to happen to me at my neighborhood beauty-supply store in New York, where I was relentlessly followed around whenever my mom sent me to pick up shampoo and Q-tips. Even when I was a teenager, I knew it was because of my skin color but also because of the environment. I lived in the hood. Being suspected of stealing is just par for the course. Also, I definitely went through a mini-klepto phase when I was around fifteen, so some of that suspicion was warranted. But I grew out of it, and if I weighed the times I was suspected of stealing versus the time I actually stole something, it would be about 99 percent to 1 percent…

I still had to get Taraji's sandals, so I asked where to find them. The saleswoman seemed annoyed but walked me further into the store. As we passed through, other employees who were of color noticed me. All of a sudden, the woman who had pointed me out of the store let me know that even though they didn't have eyeglasses, the shades they carried actually doubled as eyeglass frames, so I should take a look at the shades I'd come to look at in the first place. Just like that, I went from being an inconvenience to a customer….

I made sure to give her my email so I could fill out a customer-service survey later. But now that I have the survey, I'm not sure how honest I want to be while filling it out. If I'm honest about my experience, am I being a bad person? Do I get to complain about terrible service when it's really all I've ever known anyway? Do I get to jeopardize someone's job and livelihood just because I suspect that she treated me like I was a nuisance based on my appearance?…

To be fair, I don't know why that saleswoman didn't want to help me. I suspect it's because I'm black, but it could also be because I'm fat. Maybe my whole life, every time I thought someone was being racist, they were actually mistreating me because I'm fat. That sucks too. That's not OK. I've felt unwelcome in many stores throughout my life, but I just kind of deal with it. As a successful adult, sometimes I walk out of the store in a huff, without getting what I want, denying them my hard-earned money. Other times I spend my money in an unfriendly store as if to say "F-k you! I'll buy this whole damn store!"

Either way, they win and I lose. Maybe I still feel like this treatment is owed to me from my teenage kleptomaniac phase. Maybe I can't out-success my guilt … I swear to God. This is why I only shop online!
Like Gabby, I went through a stage in my teens when I was stealing things. I even went to court for it, but I had a lawyer my parents hired and things turned out fine for me. Even when I was a little klepto I was never denied service or treated suspiciously, because I'm white. I can't imagine what it's like to be treated like that, to have to brace yourself for it and to have to decide how you're going to handle it – that time. To have it come up so many times that you're afraid to even go shopping. Gabby doesn't even know whether to include her negative experience in her feedback form to Chanel. If she complains, she may hurt that person's career. If she doesn't, she wonders if she's been conditioned to accept bad treatment. I can't relate to that specifically, but I can relate to thinking hard and caring about things that other people do automatically, without thinking, without caring how they hurt you. I'm glad that Gabby shared this and hope that the managers at that store at least put that salesperson on blast. I doubt they'll change though.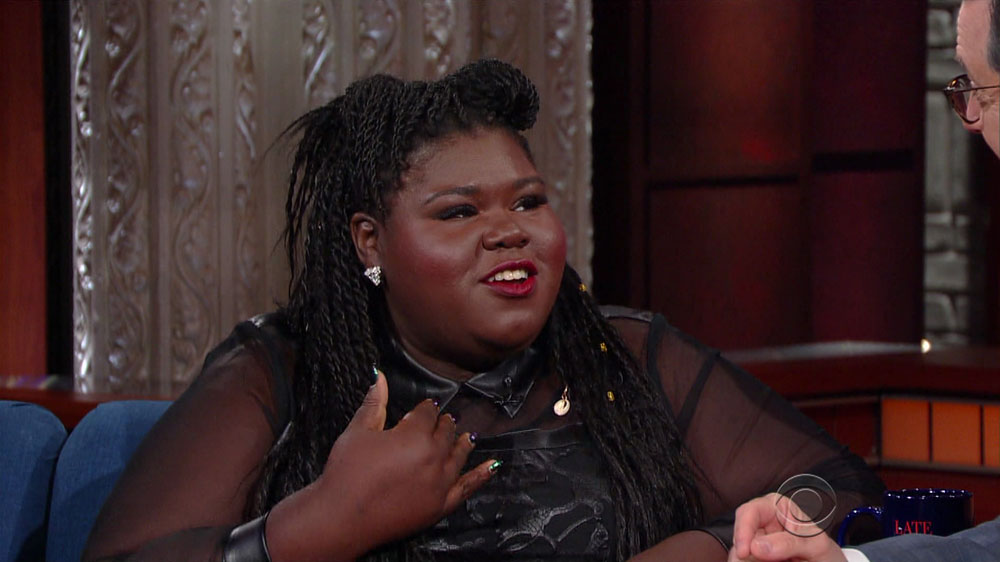 photos credit: Getty and WENN