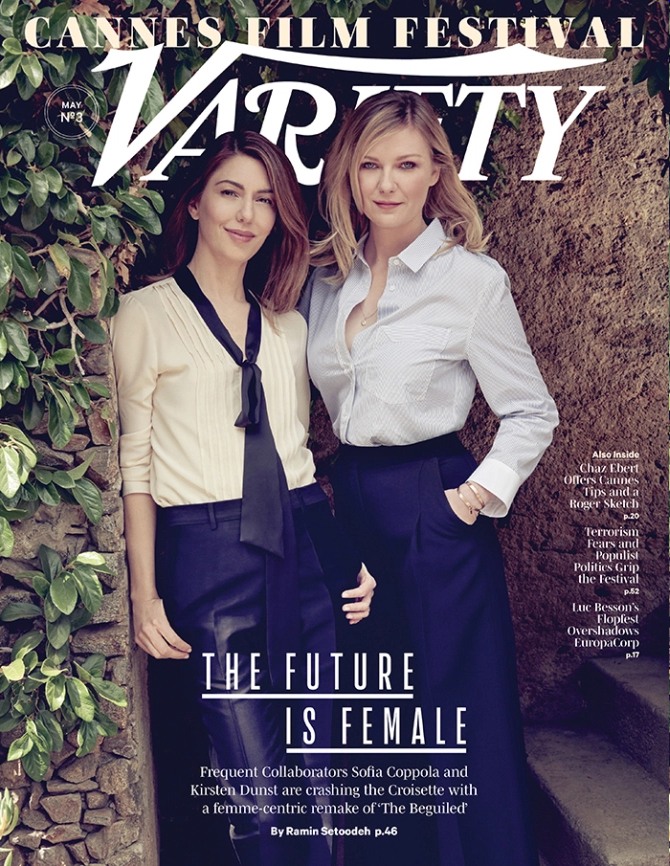 Doesn't this Variety cover seem like an optical illusion? I swear, I thought Sofia Coppola's left hand was curled around Kirsten Dunst's inner thigh. The body language is just a tad awkward. Anyway, Kiki Dunst and Sofia cover Variety to promote The Beguiled, Sofia's latest film. The film was already made in the 1970s, with Clint Eastwood, but this isn't strictly a remake. I think Coppola is trying to make it into a more feminist version of the same story. This Variety cover story is about how the film was made, and I honestly enjoyed reading it. Sofia Coppola is such a strange bird, and Kiki is rather raw and honest about what it's like to be a woman in her 30s in Hollywood. You can read the full piece here. Some highlights:
Dunst on Coppola: "She was always a good influence on me as a young woman. She said to me, 'I love your teeth; don't ever fix your teeth.' I remember doing a 'Spider-Man' movie later, and one of the producers was like, 'I need to take you to the dentist!' They even fixed my teeth on the poster. But I just knew I was never doing that. Sofia is the chicest, coolest girl, and she thinks my teeth are great." At the risk of sounding "a little corny," Dunst adds, "She gave me confidence in little things that I wouldn't necessarily have had."

Coppola asked Dunst to lose weight for 'The Beguiled' but Dunst refused: "It's so much harder when you're 35 and hate working out," Dunst says. She even used the shoot's location—in rural Louisiana—as an excuse. "I'm eating fried chicken and McDonald's before work. So I'm like, 'We have no options! I'm sorry I can't lose weight for this role.'"

Coppola on sequels: "I can't imagine," she says about revisiting one of her stories. And she doesn't fixate on her films' box office totals. "I feel like guys pay more attention than girls. That's a generalization; I shouldn't say that. There are probably women who care too. The women directors that I know are less box office oriented."

Dunst on aging: "I was getting depressed watching 'Feud,'" Dunst says. "I was like, 'I'm an aging actress!' But they also had a lot more leverage because they had contracts. So even though they were stuck, they could also bully the studio back. Now you work for nothing on independent films, and you rely on the fashion industry to support your artistic endeavors."

Coppola dropped out of the live-action Little Mermaid: "I would have liked to have done that. We couldn't agree on some elements. When it's smaller, you can have exactly what you have in mind. For me, it wasn't a good fit." Coppola requires final cut on her movies. "That's the only way I feel like I can make it my own," she says. She can't see herself working on a blockbuster. "At one point, I was like, 'What's happening with "Wonder Woman"?' " she says. "I wanted to see a woman superhero because they're all guys. I'm not really a comic-book person, but I liked the idea. On TV, she was so glamorous to me."

Dunst on trying to get The Bell Jar financed: "We need our financing. I'm telling you, I have so many great actresses attached. People are afraid of the name Sylvia and that this is a depressing movie, which it's not at all." She hopes to shoot later this year. "It's always harder for women," she says. "Everyone has to work 10 times harder."

They filmed The Beguiled on Election Day: "I had to go to bed because we had to get up early for work," Dunst recalls. "I was sure Hillary was going to win. I woke up and they told me and I started crying." The script's themes, of women rising up, couldn't be timelier. "As we were making it, you could see more and more connections," Coppola says. Dunst likes the marketing campaign: "I think 'Vengeful Bitches' is a good tagline."

Coppola on her trailer premiering before 50 Shades Darker. "I went," she admits. "I don't know what to say about that."
I feel like Sofia Coppola just floats around, thinking Wonder Woman is quaint and ironically sexy and Sofia never really cares about box office receipts. There's something about her that seems… out of touch? That seems harsh, I know. She's shown that she's actually willing to walk away from projects if she doesn't get what she wants, but she doesn't seem to be aware that very few women in the industry have that kind of privilege. What else? I hate that Sofia asked Dunst to lose weight. That sucks.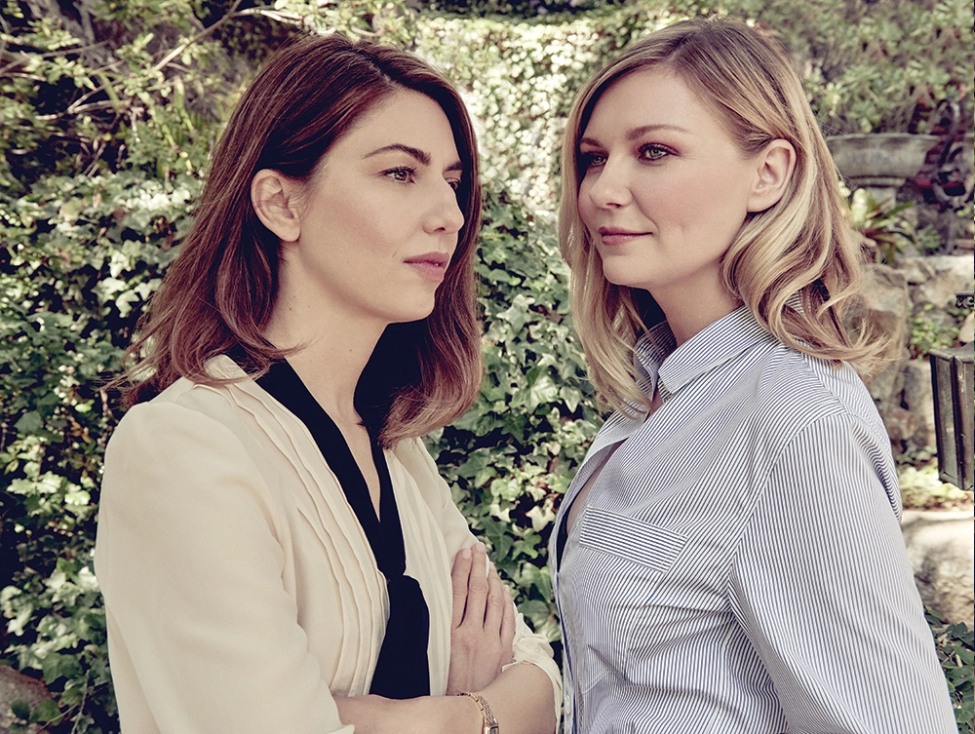 Photos courtesy of Variety.