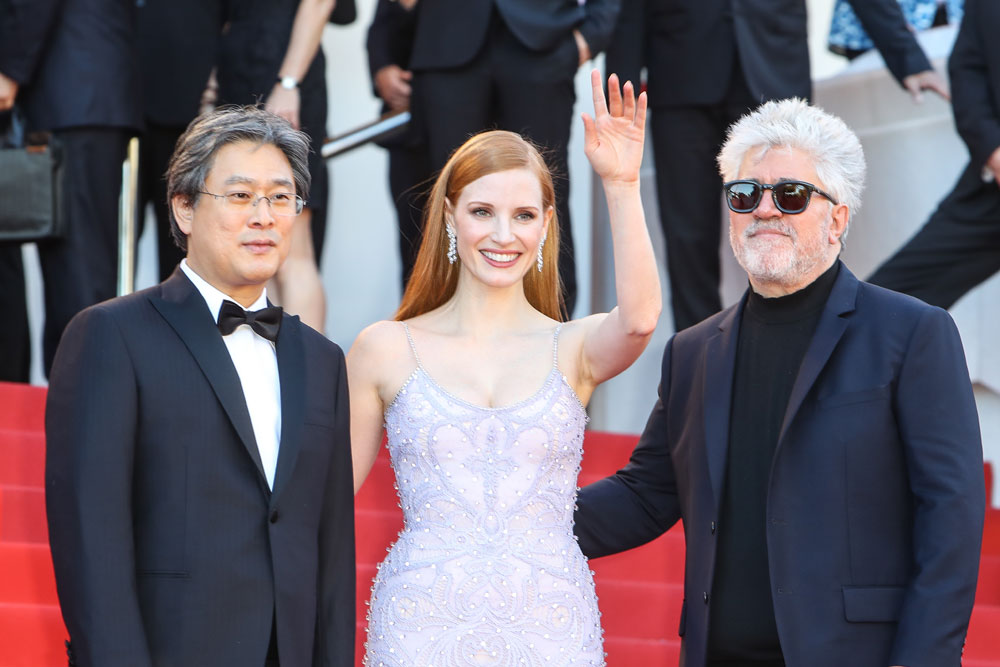 Jessica Chastain is always so lovely and so well styled, but her fashion is usually a miss, as was the case for this bizarre light lilac Givenchy dress she wore to the Okja premiere at Cannes. The top is this fussy intricate lace with clear beads sewn into it and somehow manages to be unflattering despite her incredible figure. Then there's a separate skirt which is made up of close tassels tied onto the bodice. I don't know if she needs a new stylist or if she has enough input into the process to help choose these fug gowns but either way something needs to change for her. Okja is a new Netflix fantasy movie by South Korean director Bong Joon Ho (Snowpiercer, The Host) with this year the first that Netflix is premiering films at Cannes. There were some technical glitches during the screening but Okja was otherwise well reviewed. It's about a young farm girl who befriends a mythical creature which is coveted by food companies for its meat. Tilda Swinton plays the villain. (By coincidence I just saw Bong Joon Ho's The Host last week, and it was entertaining, funny and unique but I couldn't get through the whole film. I liked Snowpiercer much more, and if you're looking for another South Korean horror film may I suggest the excellent zombie movie Train to Busan?)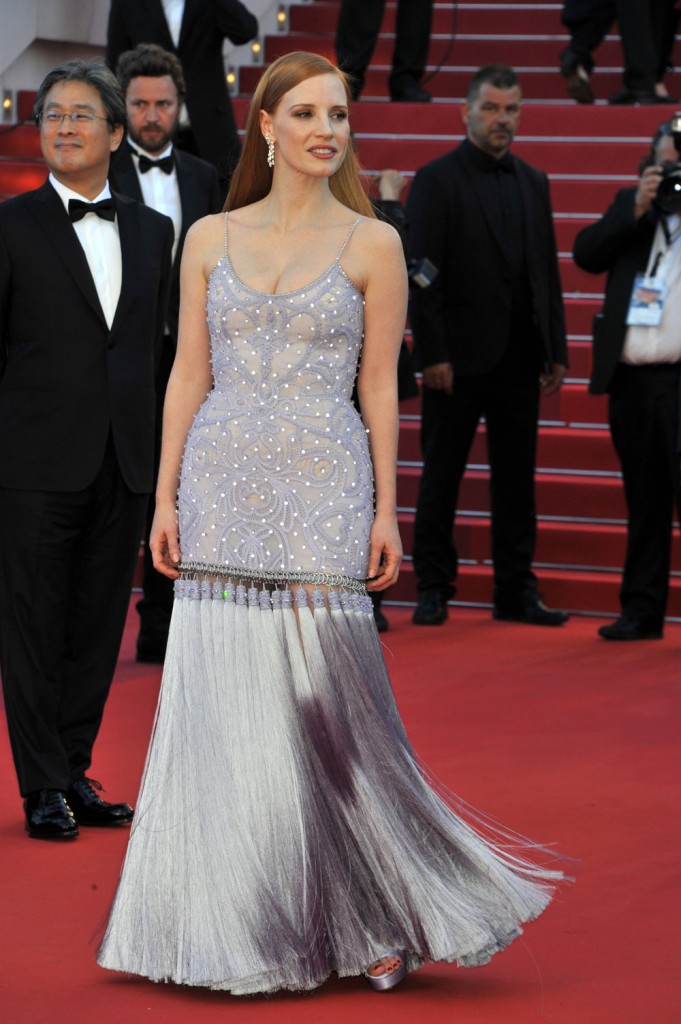 Here's Chastian in a Dior Spring 2017 coatdress at the premiere of another Netflix movie, The Meyerowitz Stories. (The film stars Emma Thompson, Dustin Hoffman, Ben Stiller and Adam Sandler and is getting overwhelmingly positive buzz.) This looks like a coat over another dress, right? It's like something Duchess Kate would wear, but she would add giant buttons to it. The color is just too much and too monotone I think, but as a coat it's amazing. Check out her gorgeous statement ring.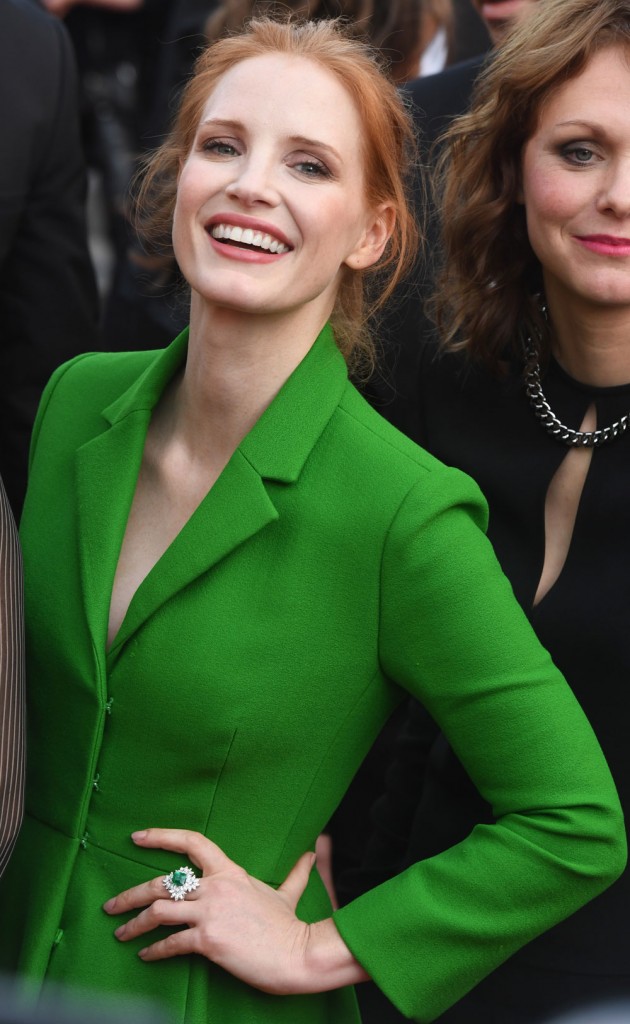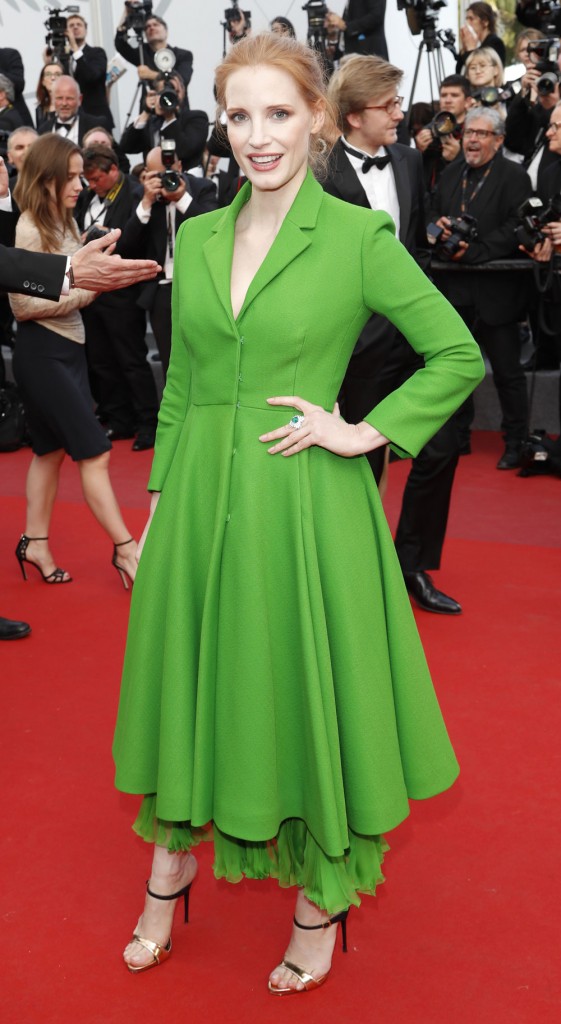 Julianne Moore was in this long Louis Vuitton dress at the Okja premiere which was very staid and full coverage from the front but featured a high side slit and what looks like a little white minidress underneath. The belt is cool and I like the mesh allover half circle pattern, but this dress is underwhelming.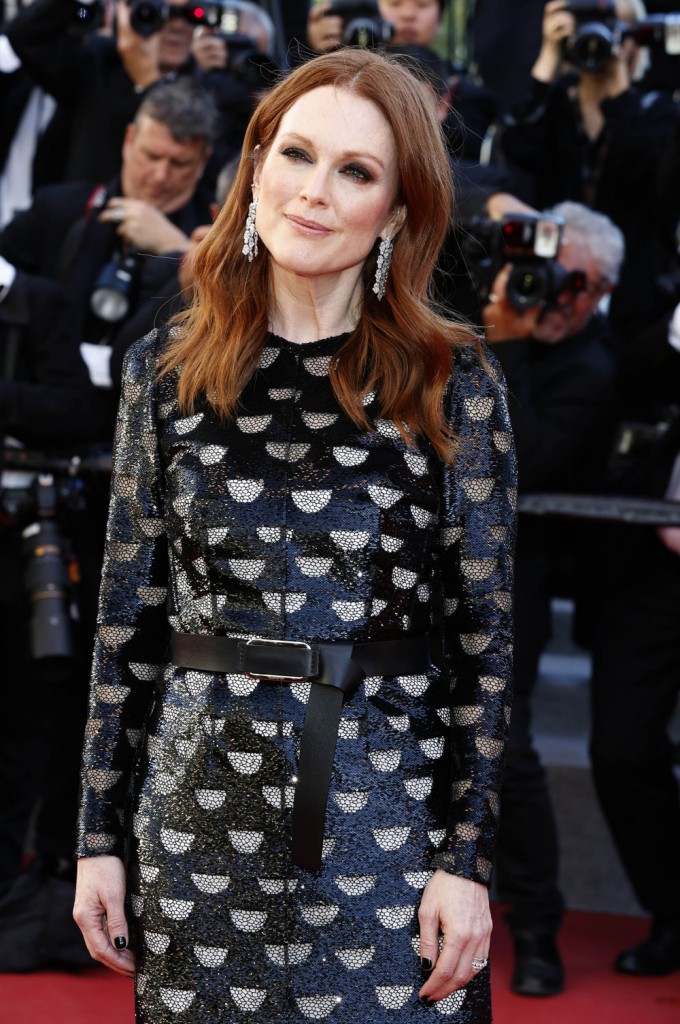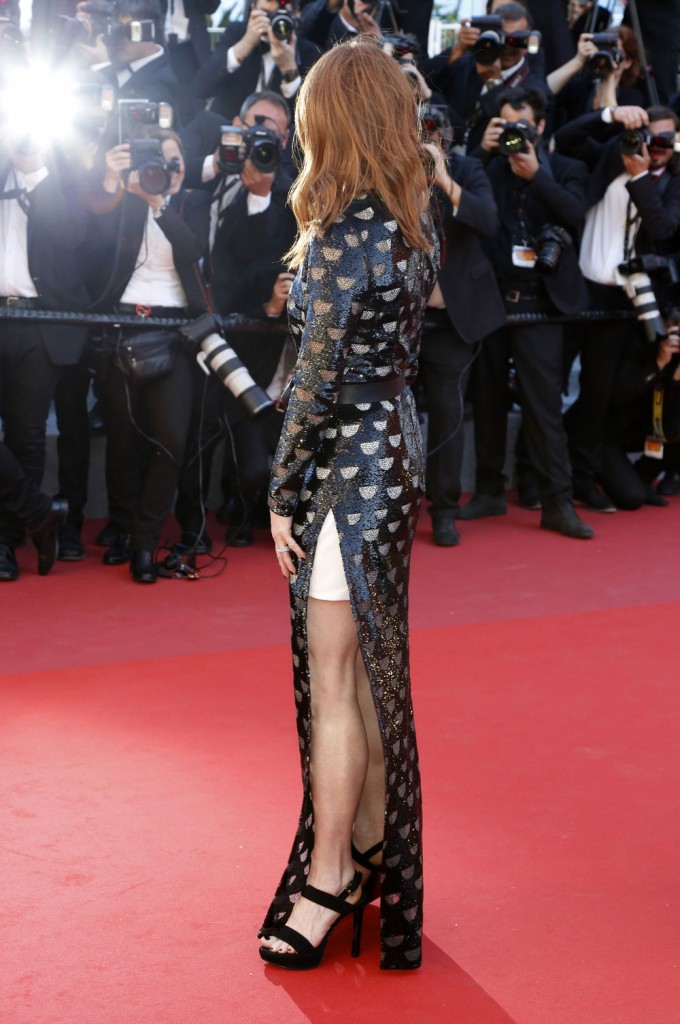 Moore wore velvet Alexander McQueen to the Chopard party. The deep v-neck and wide piping and loose fit make this look like fancy loungewear. There are some cute photos in the gallery of her losing an earring and then putting it back in on the red carpet.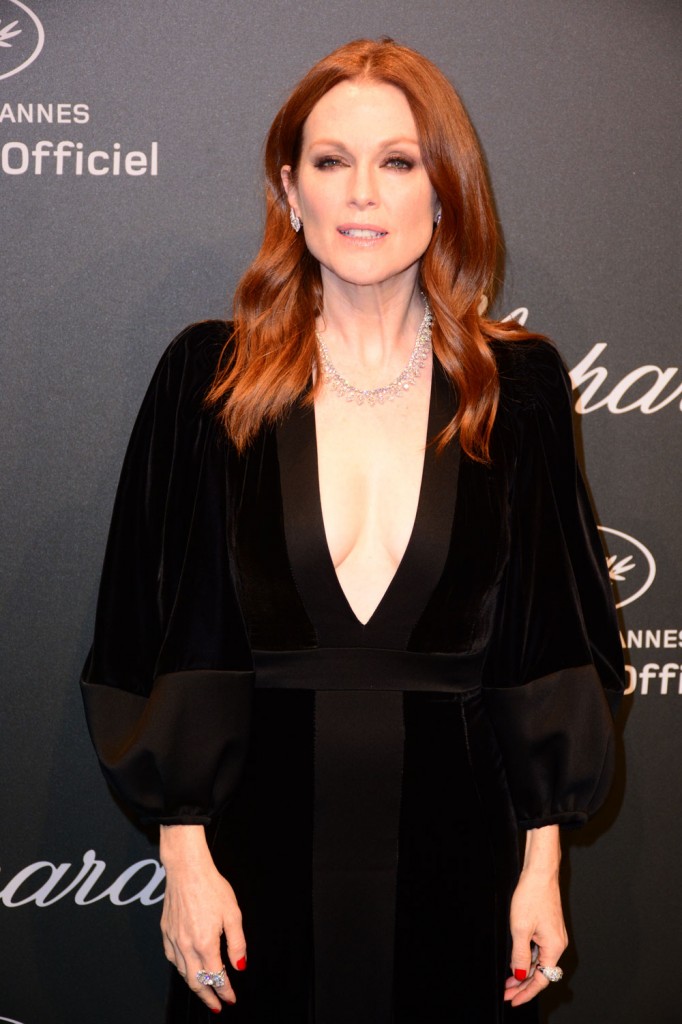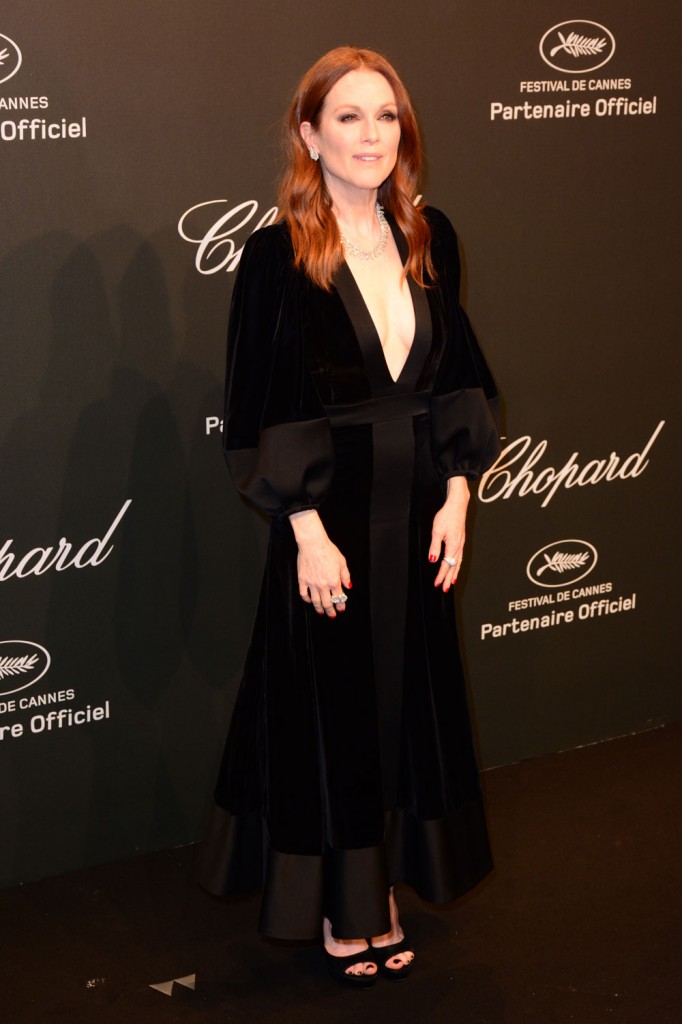 Also at the Chopard party, Isabelle Huppert was in yellow Nina Ricci. This is a rare miss for her in that the bodice meets the skirt in a way that mirrors her cleavage and just looks awkward. Imagine if the top wasn't sheer and if it had a typical straight cut to the second half of the dress. It would be striking.
Finally here's Huppert in Chloé at the photocall for her film Claire's Camera, a French-Korean film by director Hong Sang-soo. Only Huppert could pair frayed bell bottoms with a white shirt with an giant untied red collar and make it work. Incidentally, Elle is available on demand and on DVD. Rent that movie when you get a chance.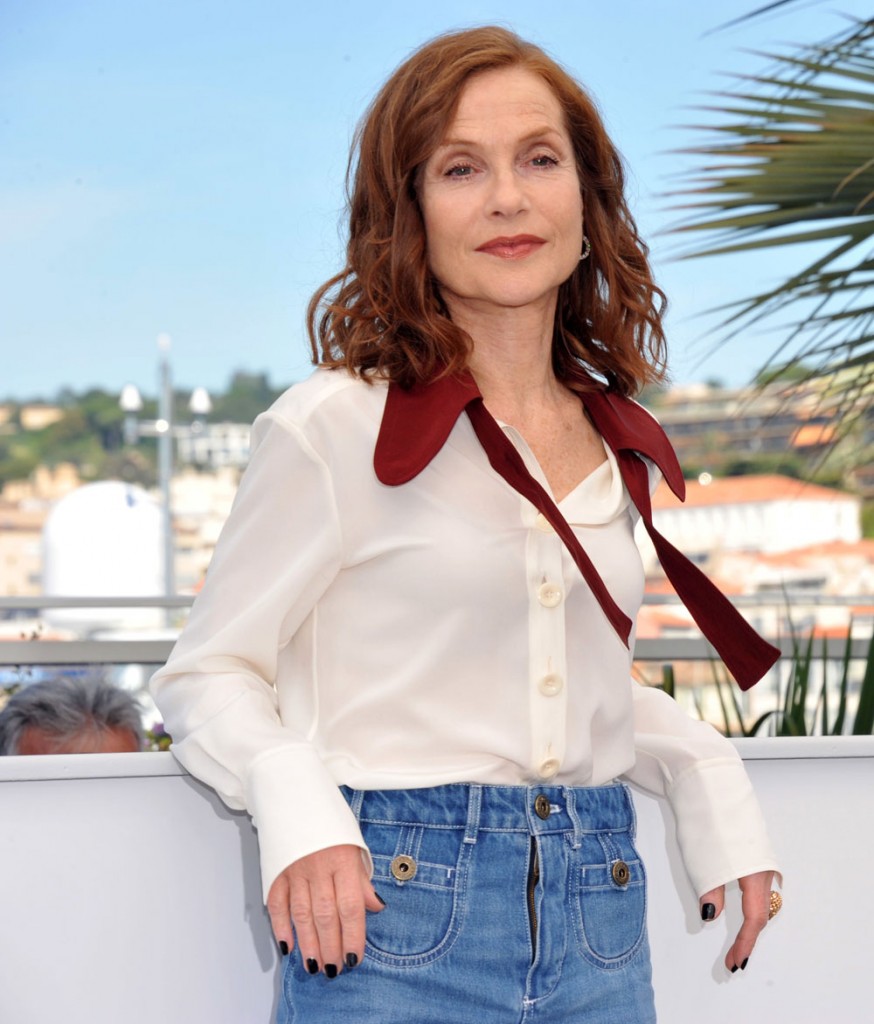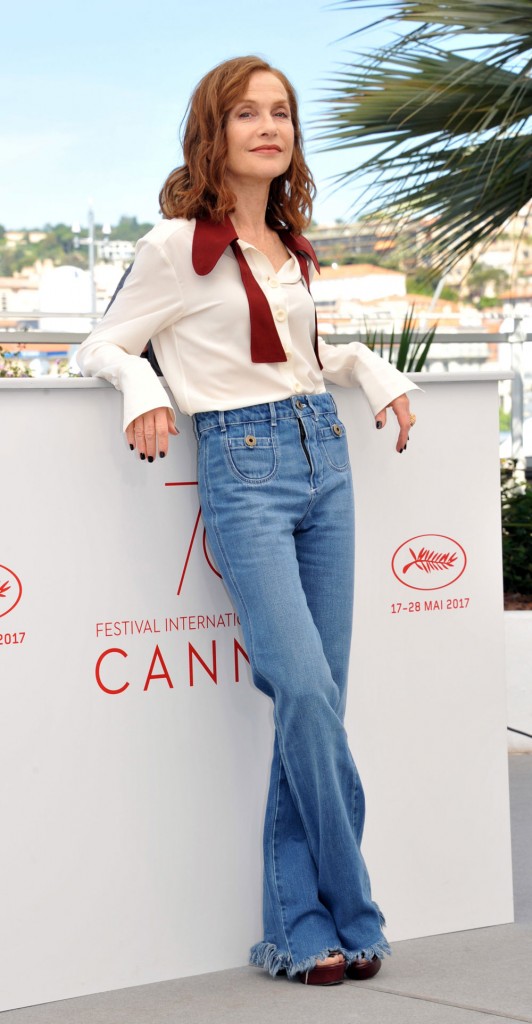 Photos credit: WENN and Getty