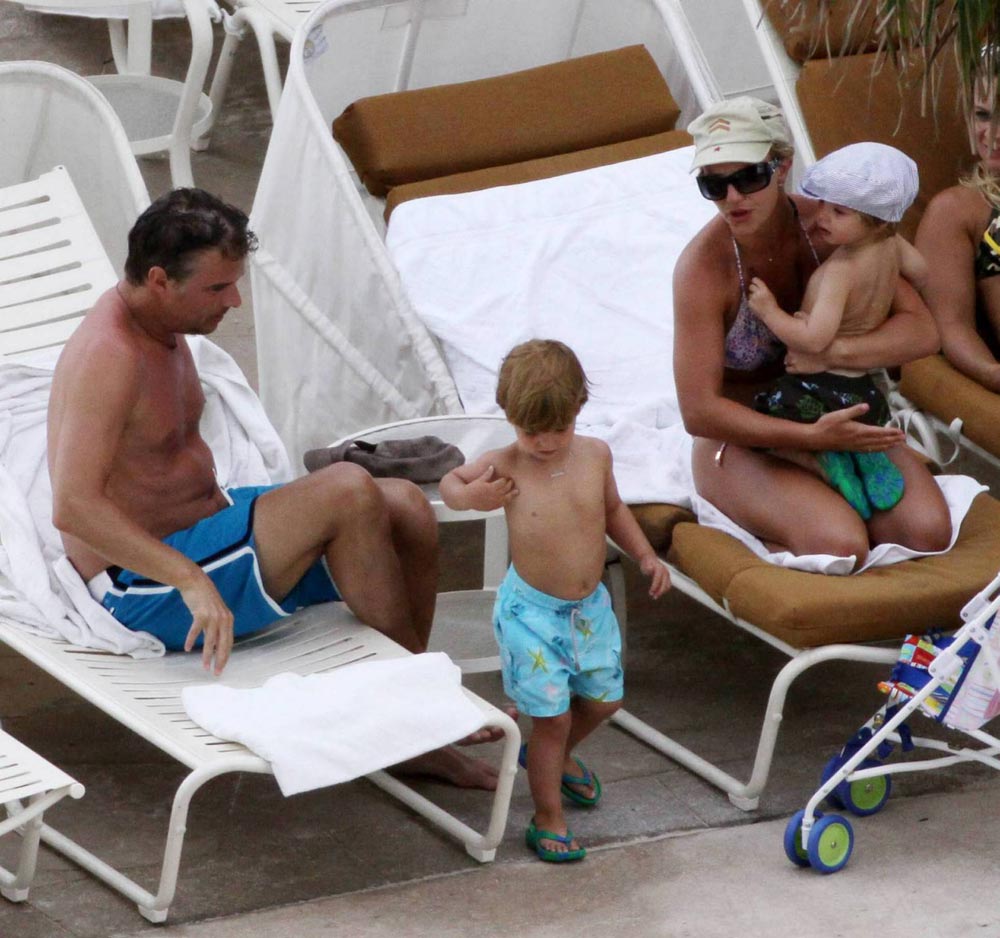 Britney has been seen all over the place with her agent, Jason Trawick, with whom she's been linked in the past. There's plenty of speculation in the tabloids that the two are an item, but since Trawick works for Britney and was seen with her way back when she was still married to K-Fed, it's hard to tell if their relationship is more than just professional. The paparazzi who trail Britney say it's clear that there's some kind of romance there, especially considering how much Trawick is around. I've seen photos of the guy on vacation with her in the Bahamas, and in a golf cart in Florida holding one of her boys. He's been Britney's agent for five years, and the romance rumors have been around since November, 2006 and were reignited again last year when Trawick joined Britney at Mel Gibson's estate in Costa Rica. She was since briefly linked with a backup dancer, but not much seemed to come of that. Did she fall back into her agent's arms or was he always just a friend and employee?
Spears and agent Jason Trawick have been spending more and more quality time together, according to celebrity photography site x17online.com.

"In my eyes, Britney and Jason are definitely together," one of their paparazzi says. "I've never seen any other celebrity spend as much time with their agent as Brit does – vacation in Costa Rica, dinner, the Bahamas, running out to get Starbucks on a Saturday afternoon – I mean, it's not just business as usual."

PHOTOS: Click for the full gallery of Brit and Jason's coffee run on x17online.com.

A quick review of the maybe-couple's sightings shows them in several closer-than-friends scenarios over the past few years.

Plus, Spears has a history of hooking up with her employees: K-Fed was her backup dancer before he became her lead partner.

With her career back in full swing, with her Circus tour and successful guest spots on "How I Met Your Mother," Trawick is obviously earning his 10 percent.

Whether he has taken similar interest in personally resuscitating her personal life, remains to be seen.
[From Fox News]
Fox News offers a few photos of Britney and Jason together and they do look like more than just co-workers and friends. I hope this is true and that Britney has a great new boyfriend who just likes her for her and isn't out for fame and cash. He's earning money from her of course, but he doesn't seem like a leech like K-Fed and he's not a scary creep like Sam Lutfi or Adnan Ghalib. Britney has had a few minor setbacks on tour, but she's doing great. If she has a hot guy by her side and that's what she was hoping for more power to her. If Trawick is just an attentive agent then Britney is still lucky to have someone who is looking out for her best interests. This wouldn't be the first time she's been incorrectly linked to a male employee – remember her hot manny?
Britney, Jason, her assistant and boys are shown in the Caribbean on 5/20/09. Credit: Mavrixonline.com