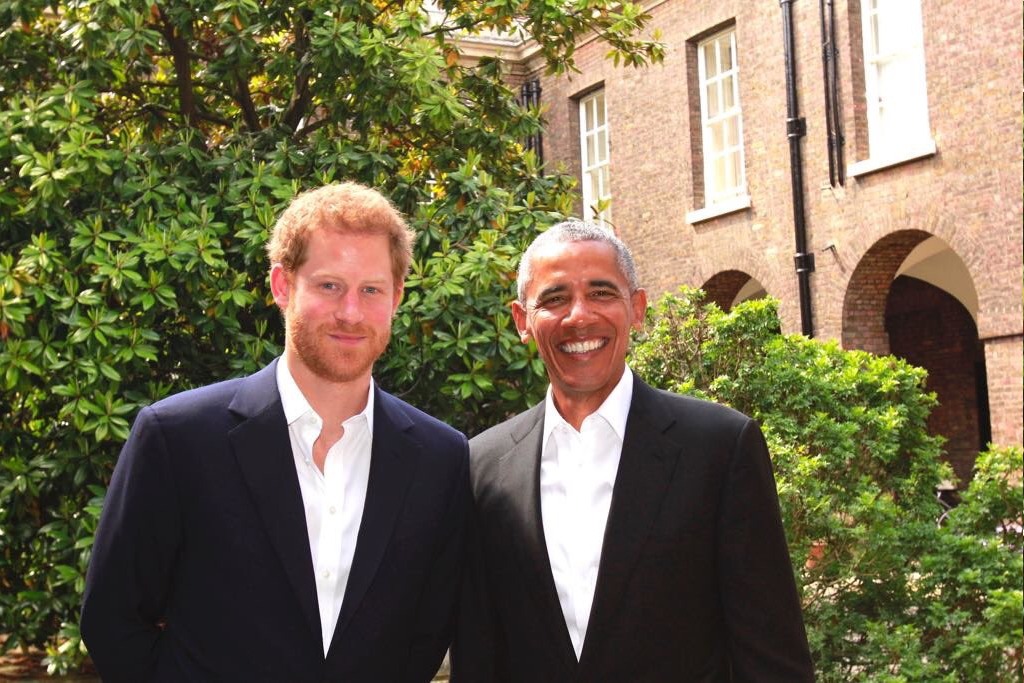 When President Obama was in office, he did a lot to help Prince Harry promote veterans' issues and the Invictus Games. Michelle Obama did too, and I personally still believe that Harry and Michelle had very substantial crushes on each other. The Obamas went to Kensington Palace last year, and had dinner with Harry, William and Kate as well, so the Obamas are no strangers to stopping by various palaces to hang out with royals. Which is what happened on Saturday: President Obama was traveling through Europe for various reasons, and he stopped by Kensington Palace and hung out with Harry.
On Saturday, former President Barack Obama met up with Prince Harry at Kensington Palace — where Harry lives in London — for an informal chat. The visit came a little over one year after Obama's headline-making visit to the Palace where he met with Harry, Princess Kate, Prince William and a bathrobe-wearing Prince George. The two discussed "a range of shared interests," a palace spokesperson said in a statement — including "support for veterans, mental health, conservation, empowering young people and the work of their respective foundations."

Obama, 55, also offered his condolences to the victims and support for those recovering from injuries from Monday's tragic attack in Manchester, that left 22 people killed and 119 injured from an explosive device detonated by a suicide bomber moments after an Ariana Grande concert ended.
I wonder if Harry and Obama met at Harry's Nottingham Cottage, one of the smaller properties within the palace grounds, or whether Harry has "office space" within the grander part of KP? I suppose it doesn't matter too much, I just wonder how informal it really was. I also wonder if Harry was a little bit disappointed that Michelle wasn't there. While I enjoy a repeat of "When Harry Met Barry," let's face it: Harry's favorite Obama is Michelle. I want to believe that President Obama said something about it too, like, "Bro, can you stop calling my wife?" And Harry was like, "Once she went ginger, she never looked back, bruh."
Photos courtesy of Kensington Royal's Twitter, Getty.
https://twitter.com/KensingtonRoyal/status/868418451970379776