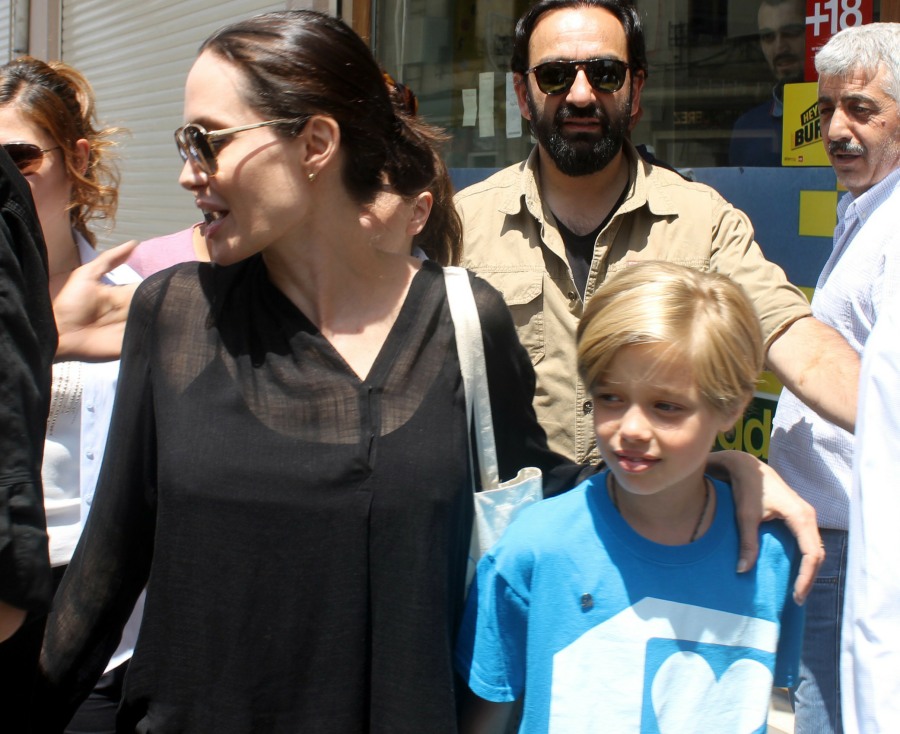 Out of all the kids, doesn't it feel like Shiloh takes the most interest in whatever her mom does? Shiloh was the kid who wanted to go to a refugee camp with Angelina. Shiloh is the one who loves Cambodia so hard, just like Angie. Shiloh is the one who seemed to really bond with the late Louis Zamperini, even wearing some of his running medals to the premiere of Unbroken. Shiloh is, I believe, the "wild child," probably a lot like Angelina was at her age, although much like Angelina, Shiloh has a big heart and a big worldview. So, Shiloh made a bunch of friends when the family was in Cambodia last year. And for Shiloh's 11th birthday, she wanted something special: she wanted her Cambodian friends to come to America and go to Disneyland with her. So that's what happened:
Angelina Jolie took her family and friends to the happiest place on earth for her daughter Shiloh's birthday. Jolie, 41, and her kids, along with some of their friends from Cambodia, went to Disneyland on Friday to celebrate Shiloh's 11th birthday. Their Cambodian friends are some of the same child actors who appeared in Jolie's film First They Killed My Father, which airs on Netflix this fall.

"All [Shiloh] wanted for her birthday was to see her friends from Cambodia," says a source close to the family. "She wants to show them America."

And what better introduction to America than Disneyland? The group was spotted around the park by ecstatic fans on social media throughout the day. At one point, Jolie and the kids were photographed inside the Ridemakerz store in Downtown Disney, which is like a Build-a-Bear for toy race cars.

The outing was a fun reunion for her kids and their friends from Cambodia. Speaking to reporters at the Cambodian premiere of First They Killed My Father in February, Jolie said, "[My] children have close ties to the children here, many of them are their best friends."
That's very sweet, right? All Shiloh wanted was to hang out with her Cambodian peeps. At Disneyland, which was probably a huge culture shock for the Cambodian kids too. But I bet they loved it, because Disneyland is crazy. I wonder how Angelina arranged everything with the kids and their parents. Anyway, I'm glad Shiloh got the birthday of her dreams. Maybe a trip to the RenFaire is next!
Y'all I saw Angelina Jolie this morning and she's cool af pic.twitter.com/RaDwPU7Cm3

— megan (@Megggeers) May 26, 2017
Photos courtesy of WENN, PCN.