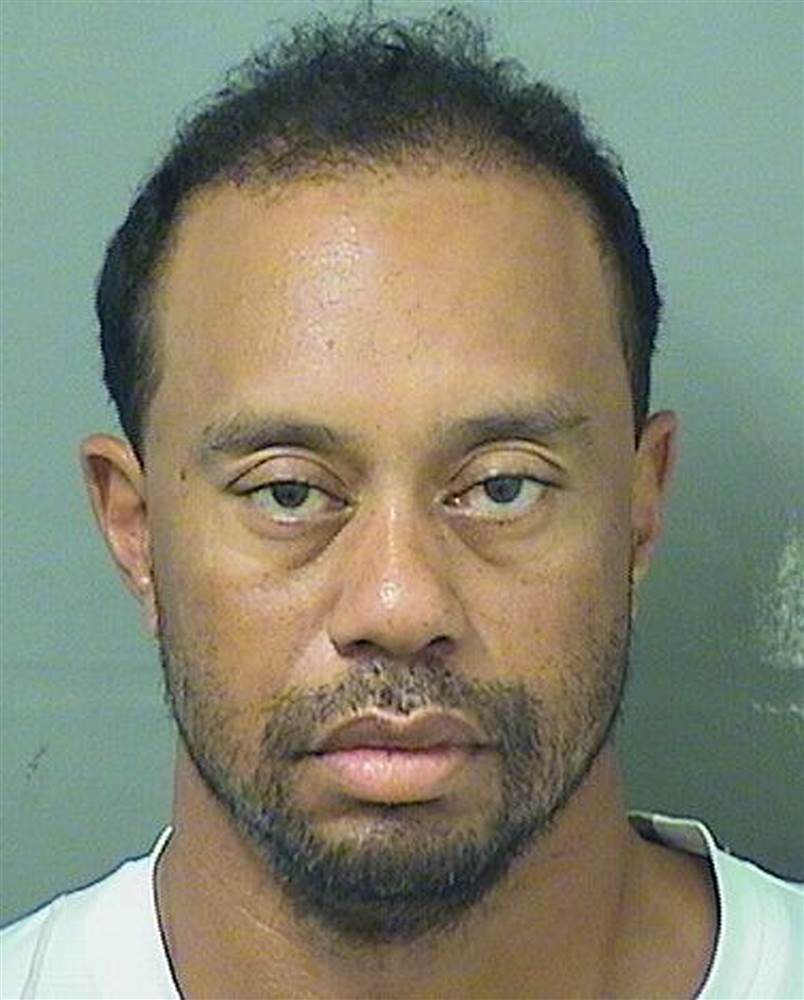 More details are out surrounding Tiger Woods' arrest in Jupiter, Florida early Monday morning for driving under the influence. Outlets have obtained the police report, which describes how Tiger was found pulled over on the side of the road and asleep at the wheel in his car. Tiger's car was running at the time and his right blinker was on. Cops woke him up, and his behavior is described as "cooperative" (which somewhat contradicts TMZ's earlier report that he was "arrogant," although both could be true I guess) but "confused." Tiger's eyes kept closing and he had trouble staying awake. He is said to have not known where he was initially and to have given a statement indicating he was leaving a golf tournament in LA, when in fact he was in Florida. Also in contrast to TMZ's report, which claimed he refused a breathalyzer, the police report states that while he failed a field sobriety test no alcohol was found on the breathalyzer and he blew a .000. This supports Tiger's statement that he was taking prescription medication and wasn't under the influence of alcohol at the time.
According to a police report obtained by Us Weekly, authorities had to wake up the golf legend, 41, when they found his 2015 black Mercedes-Benz stopped in the right lane of Military Trail south of Indian Creek Parkway early Monday morning. His car was running with the brake lights on and the right blinker flashing.

The police report says Woods "had extremely slow and slurred speech." His attitude was described as "cooperative" but "confused." Woods told police he was coming home from a golfing trip in Los Angeles and did not know where he was when he was awoken.

According to police, the athlete failed a field sobriety test, though his breathalyzer test results were 0.00. He told police that he takes several prescription medications.

Woods was arrested on a charge of driving under the influence and was also cited for improper parking in an illegal place. He was booked at a local jail at 7:18 a.m. and was released on his own recognizance at 10:50 a.m. He is scheduled for an arraignment hearing in Palm Beach County circuit court on July 5.
CNN adds the detail that Tiger's car was damaged on the driver's side, and that it had two flat tires and scrapes on the bumper. This of course indicates that he got in an accident just prior to pulling over and passing out.
The breathalyzer results work somewhat in Tiger's favor in that he wasn't drinking, was still recovering from back surgery a month prior and had a valid reason for the prescriptions. That doesn't mean he wasn't abusing them or mixing them improperly, just that they were prescribed to him. I would wonder if he might go to rehab, but if he went to rehab during his scandal, as was rumored, he didn't go public with it. His apology tour back then was weak so I don't expect much this time. Hopefully he's learned his lesson and will hire a driver or call an Uber next time. He clearly should not be driving. Whatever is going on with him, his career is no longer at the pinnacle, his comeback didn't materialize after his big scandal and he may be mourning that.
Photos credit: Getty and Palm Beach County