My mother was a teacher. She's now retired, but she has particularly strong feelings about any story involving teachers having relationships with students. If you want to get her riled up, just ask her what she thinks of a teacher sleeping with some 13-year-old boy. You'll get a lecture about how all kids that age are "smelly booger-eaters" and how those teachers are disgusting. So, I don't find the teacher-student-relationship stories to be particularly sympathetic whatsoever. Mary Kay Letourneau was one of the first of these teacher-student stories to really get national (or even international) attention. Back in 1996, Mary Kay Letourneau, a 34-year-old married mother of four, abused a 12-year-old sixth grader in her class, Vili Fualaau. She became pregnant. Years of chaos followed, including a stint in jail and Mary Kay's name on the sex-offender registry. She eventually married Vili and had a second child with him. Well, now Vili has filed for separation. Sigh…
Former schoolteacher Mary Kay Letourneau and husband Vili Fualaau, with whom she began a sexual relationship when he was her sixth-grade student in Seattle in 1996, have legally separated and a reconciliation seems unlikely, PEOPLE confirms.

"They've been having issues for a while now," says a source close to the couple. "They tried to work through them, but it didn't work. They're still committed to being good parents to their children."

There is no third party involved in the relationship, the source says. Letourneau's attorney, David Gehrke, says it was Fualaau who filed for separation.

"She could try to contest it, but that's legally tough to do," he says. "Perhaps if they want to figure out about the children and child support, but their kids are getting pretty old now. When one person is unhappy in the relationship, the other person can't be happy either," he continues. "And there are two people in this relationship."

Their initial affair — which began while Letourneau was a 34-year-old mother of four and Fualaau was 12 — ignited national controversy and revulsion, particularly after she defied a court order to stay away from Fualaau. "The two of them want to be together," a friend of Letourneau's told PEOPLE in a 1998 cover story. "They're drawn together like magnets."

Prosecutors took a different view, arguing at the time that Letourneau "doesn't believe she did anything wrong." After the relationship was revealed, she pleaded guilty to two counts of second-degree child rape and was sentenced to seven and a half years in prison. She and Fualaau married in May 2005 after she was released, and they have two children.

"I'm convinced they were totally in love," Gehrke says. The couple's second child, Georgia, was born while Letourneau was behind bars.
So, he was 12 years old in 1996, which makes him 32 or 33 right now. Which is close to the age that Mary Kay was when she abused him. I remember this happening when I was a teenager (I was just a few years older than Vili) and I thought, at the time, that Mary Kay just seemed so OLD and that's why it was gross. But now, looking back on it at my current age, Mary Kay seemed like such a damaged woman. She abused him, of course, and she was completely deserving of all of the punishment she received (and then some). But there was always something messed up/not-right about the way she dealt with everything. And yeah, of course Vili is probably pretty tired of this. It's been twenty years. He never had a childhood.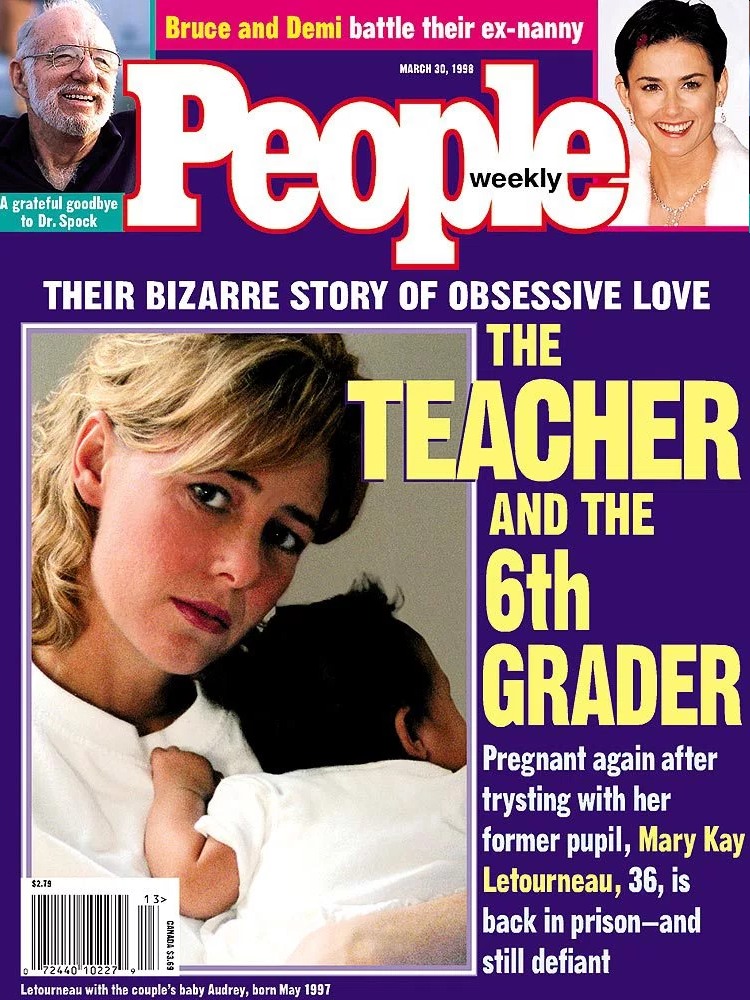 Photos courtesy of Getty.