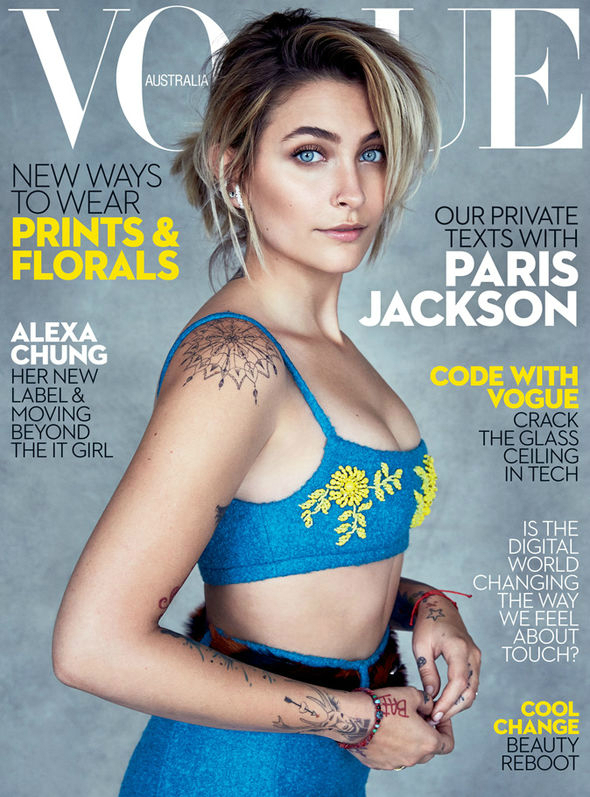 Paris Jackson gave her second interview via text, this time to Vogue Australia. I would think it would be vexing for an interviewer, having to infer all inflections and emotion into what is typed. And humorous asides would be lost. I feel like something other than laziness is at play in texting interviews, though – like it's more of a self-preservation thing? In Paris's case, she lived cut off from the outside world so much of her life and now being out in it, maybe she just feels safer hiding behind a screen. I know she's the one who turned all the spotlights on her, but it still must be overwhelming and I could see her working out some coping techniques (or someone suggesting them to her).
The editorial is fine. I am not particularly wowed by the fashion or Paris' modeling in the shots. The cover is the only one I kind of like. As for the interview itself, the few quotes released ahead of the issue are about how she sees herself as a role model to young girls and she reiterates that she's modeling to build her platform so she can leave a "positive imprint."
Her causes: "I have so many causes that are dear to my heart and fighting for the people, I feel, is my duty. But right now I'm doing the fashion thing, a huge focus – well, mostly what I'm putting a lot of effort into – is making sure my own personal creativity shows through whatever I'm doing while I'm working."

Leaving her mark: "I want to leave a positive imprint in the fashion world. Mostly regarding the media and the stereotypical beauty standard that is blasted all over every magazine you see."

On being a role model: "I already have many young girls looking up to me and I want to be something their parents are OK with them looking up to." 

The five words that define her essence: "Determined, passionate, hopeful, natural and honest."
I like the idea of fighting against the stereotypical beauty standard but isn't that the very definition of Paris? She's beautiful but she's not an unusual beauty. I assume the "fashion thing" is modeling? That is, she hasn't decided to be a fashion designer in addition to a singer, actor and model, has she? These photos resemble her normal style so I'd believe she had input on her looks. I'm still grappling with her forging a modeling career so she can become well-known and save the world. It's an interesting approach at the very least. Maybe I am misunderstanding her, maybe it's the modeling/beauty standards world she plans to change and she's going to do it from the inside out. I have no idea if that is accurate but it makes a lot more sense to me so I'll watch how that plays out.
I do think Paris believes what she's saying – the five words she picked for her essence seem an apt description of her. She's just so crazy ambitious. I have no problem with her aspirations but I think she thinks they're all just going to magically happen. And I see why – so far they have. I don't doubt young girls are looking up to her, she a lovely young lady with a famous name who's living the dream presently. But it's her comment, "I want to be something their parents are OK with them looking up to," that I just love. Every time I want to write Paris off, she says something like this that keeps me interested in her. Like I said, I am interested in seeing how this one plays out.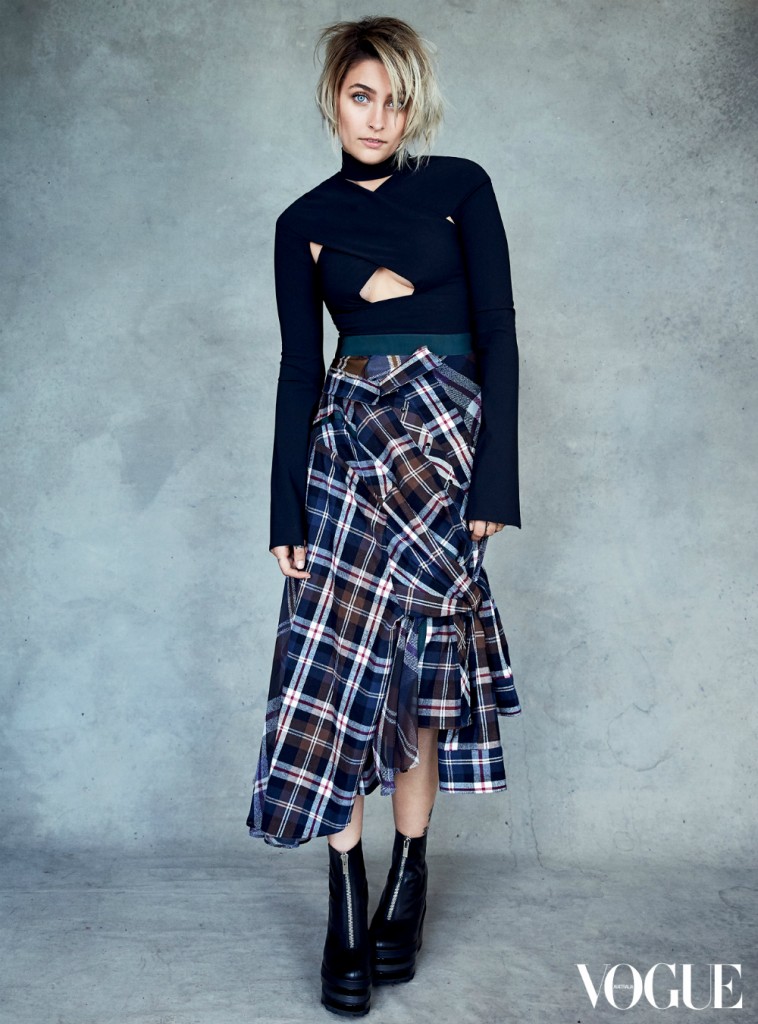 Photo credit: Patrick Demarchelier/Vogue and Instagram