I know Kaiser posted these pictures of Kirsten Dunst at the Cannes premiere of The Beguiled but I so adore this gown – front, back and sideways. And Kirsten looks beautiful in it. Speaking of The Beguiled, it is playing in limited release currently but opens wide June 30th so the cast is out promoting, which, of course, includes Kirsten. Among the many things she is talking about, one topic she keeps coming back to is her her cat Tito. She loves to tell the rescute that brought Tito to her. What is a 'rescute', you ask? It is a typo CB made today (she claims on accident but it's too clever to be that accidental) that is a meet cute story involving a rescue. Apparently other people have coined it prior though. Most rescue stories are rescutes, are they not? Kirsten's rescute involves Tito ambling in to her life one day and selecting her as family.
Tito, Kirsten Dunst's adopted feline, is quite vocal about his love for the creamy treat.
The Beguiled actress told PEOPLE that she discovered Tito's deep devotion to ice cream with her fiancé Jesse Plemons.

"He was finishing the last of a pint and he gave him a little bit and he ate it and now if anyone has ice cream or he thinks it's ice cream he's like 'Helloo, give me some!' It's funny," she said. "He's a cute kitty and he's kind of a dog cat, which I appreciate. Very talkative."
The former street cat chatted his way into the star's heart three years ago, when he started showing up at her front door looking for delicious handouts like the ice cream he enjoys now.

"Tito is a street cat that became my cat, he just was in the neighborhood. He started coming around my house and I started feeding him and he became my cat," Dunst said. 

Now that Tito has transitioned from stray to celeb pet, he is enjoying the perks of his Hollywood life. Along with lapping up ice cream, Tito is also bringing in the Instagram likes, making frequent adorable #Caturday appearances on Dunst's social networks
All of my cats had/have their own rescute but one of my current cat's stories is similar to Tito's, only I know from whence she came. My neighbor had to move and the only apartment she could afford did not allow cats. We were in my backyard and she was crying because she didn't know what to do when the cat walked in with one of her toys, jumped up on a patio chair next to my other cat and fell asleep as if to say, "I shall live here now." And so she does. Kirsten did the E!Q in 42 (similar the Vogue 73 but less rehearsed) and she said that the first person she spoke to that morning was her cat. I wonder if they argued about ice cream for breakfast.
The movie's many sex scenes are getting a lot of attention because, as the adage goes – sex sells. Kirsten has already spoken to her distaste for sex-scenes in general but she said that for her scene in The Beguiled, they tried to make it as awkward as possible given its circumstances (being her character's first time, among other plot points). To do so, they decided to forego any kissing. Honestly, I can't ever see me willingly giving up the option to kiss Colin Farrell, even in the name of art. However, the film was loved in Cannes and is being pretty well received in limited release so I guess they know better than me. Kirsten also said the film's shooting location, New Orleans, made her very popular among her friends who all wanted to visit while she was there. I'll bet that did not include Tito who was too busy with his ice-cream and fan base to make the trek to The Big Easy.
This is the back of her Cannes gown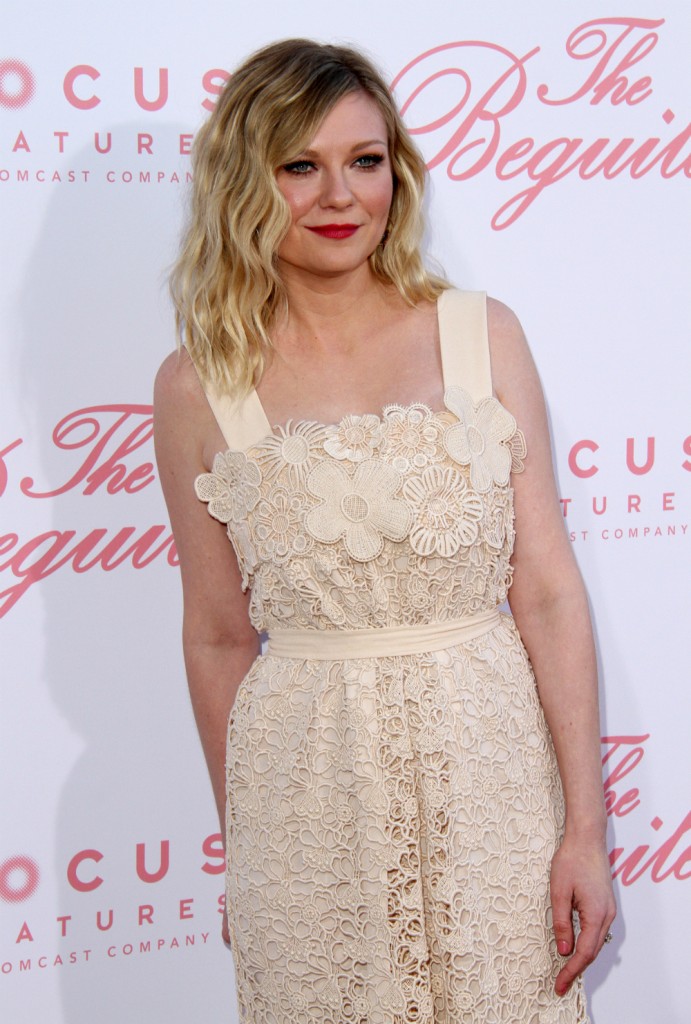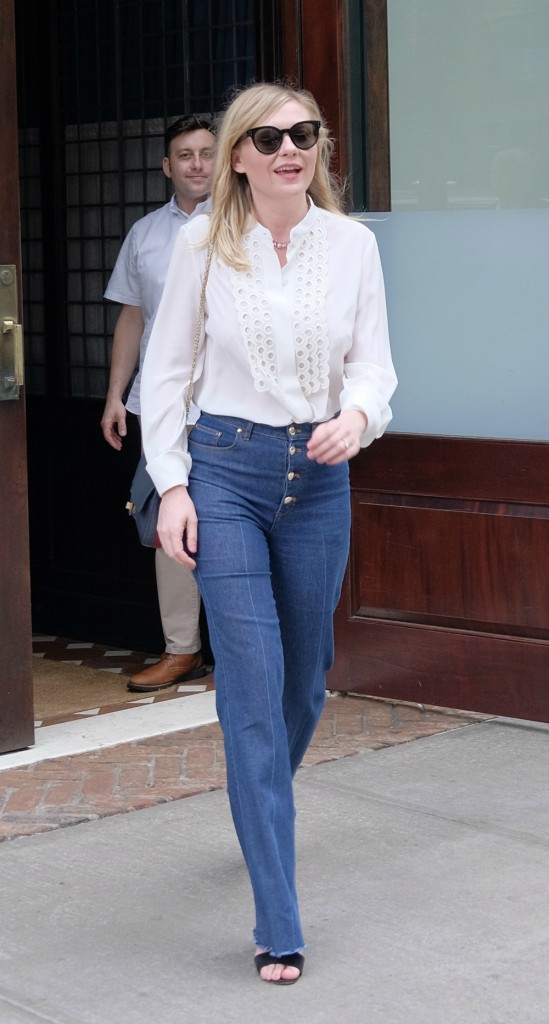 Photo credit: Instagram, WENN Photos and Getty Images