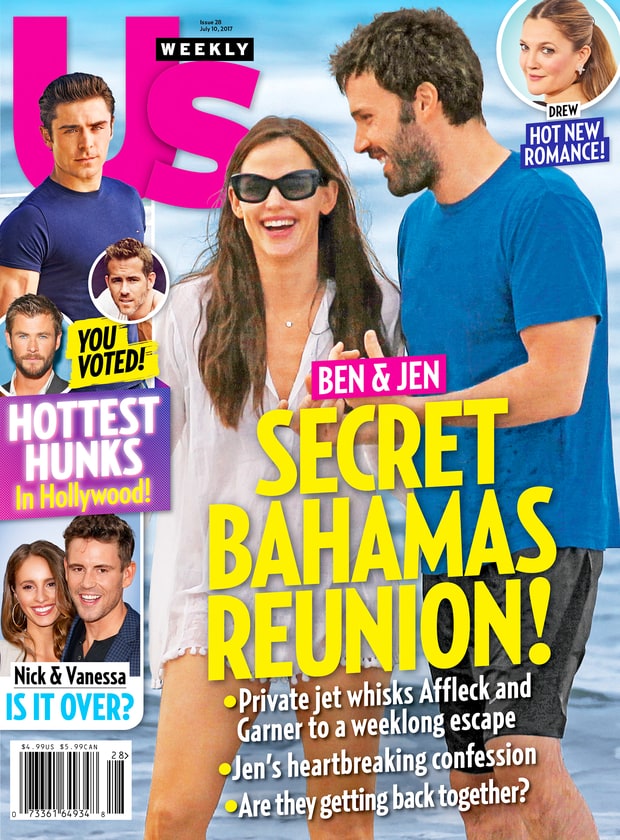 There's been speculation that US Magazine, which was purchased by American Media in March, is going tabloid and is no longer relying on publicist-sanctioned stories. That would be a logical conclusion, given that American Media also owns The National Enquirer, Star, Radar and OK! Magazine. However just because US is becoming more sensational, that doesn't mean they still don't have the same sources (i.e. publicists) they've used in the past. Hence this cover story about Jennifer Garner and Ben Affleck, who filed for divorce this April without dishing the dirt, on vacation together in the Bahamas. US Mag is the same outlet that ran exclusive details of their first breakup vacation, when Garner learned that Affleck was boffing their nanny, back in 2015. They had information that only Garner or someone close to her would know, and it was heavily slanted in her favor. (As it should have been, given the circumstances.) With that in mind, here's part of US's report:
Jennifer Garner knows how to negotiate. Before agreeing to speak to a room of 160 executives from software company Fast Enterprises at the Atlantis Paradise Island resort, the actress had a list of requests. In addition to her appearance fee, she would need a private jet to transport her to and from the two-hour June 20 engagement and a local glam squad to prep her for the meet-and-greet (no selfies, please!) and subsequent dinner. She would also need adequate accommodations: two adjoining two-bedroom suites and an addition suite for a five-night stay.

After all, she would need plenty of room for her traveling companions: daughters Violet, 11, and Seraphina, 8, son Samuel, 5 . . . and their father, Ben Affleck. Despite officially filing for divorce from the two-time Oscar winner, 44, in April, nearly two years after they announced the end of their decadelong marriage, the 45-year-old star of The Tribes of Palos Verdes asked him to join her and their kids on the Bahamian getaway, sources reveal in the new issue of Us Weekly.

Though a Garner insider insists the couple aren't reuniting, "Jen feels it is most beneficial for the kids to have their father present." That means the Live by Night actor was on hand to watch their offspring enjoy their beach vacation, much of which, says a source, was spent 100 miles away at Baker's Bay in Great Guana Cay — the same spot the family escaped to in 2015, when Garner and Affleck revealed they had split.

There, the kids could swim in the infinity pool, explore the white sand beaches and take advantage of the club's many offerings. (On the list: snorkeling, tubing and even a Bahamian cooking class.) For Affleck, who recently spent time away filming, "it was a great opportunity to keep the norm going for the kids," says a close Ben source. Garner was also eager to present a united front, says the insider: "Jen will always do whatever it takes to provide the best arrangements for them that she can."
This makes me wonder – will Jennifer Garner call out US Magazine for making up a story about her? She just did this to People Magazine, claiming she didn't grant them an interview for a recent cover story. I doubt she'll do this to US, considering this story is probably from a "source" and they've had so many other cover story exclusives with her before. Also it's all about what a great mom she is, and how reasonable she is with Ben, which I buy somewhat. He's said as much in interviews. There's a side to her that we see when reading between the lines though and it's one of a control freak who will do anything necessary to maintain the perfect image. I'm not saying she's a bad person or anything, it's just clear that's what's happening. Also she's making side money by giving paid speeches and doing credit card commercials. All of that requires a certain public persona and that she continually gets positive press. One caveat though – it's possible US's source is someone at the company who paid for her appearance, considering that they lead with those details. Maybe that was strategic to throw us off the scent.
True to form, E! has some "insider" quotes too. They write that "Ben and Jen took a family vacation with other family friends. There was never any question that Ben would be there. All the dads went along, and it would have been strange for the kids not to have their dad there." As for whether they're reuniting, "They are not getting back together at all. They are both moving on, but will continue doing things together as a family." There are even more quotes if you care, which add that Ben only came a few days at the end of the trip. There are more over-the-top details including the fact that Ben and Jen worked out every day and that the kids swam in the pool and in the ocean. Yes but was the nanny there?
I don't believe that Garner and Affleck are getting back together, but I bet that Affleck wouldn't mind, as long as things could continue as before and he can sneak around on the side. She shouldn't take him back just because (or if) he's sober. They're doing the right thing for their kids, that's the takeaway here.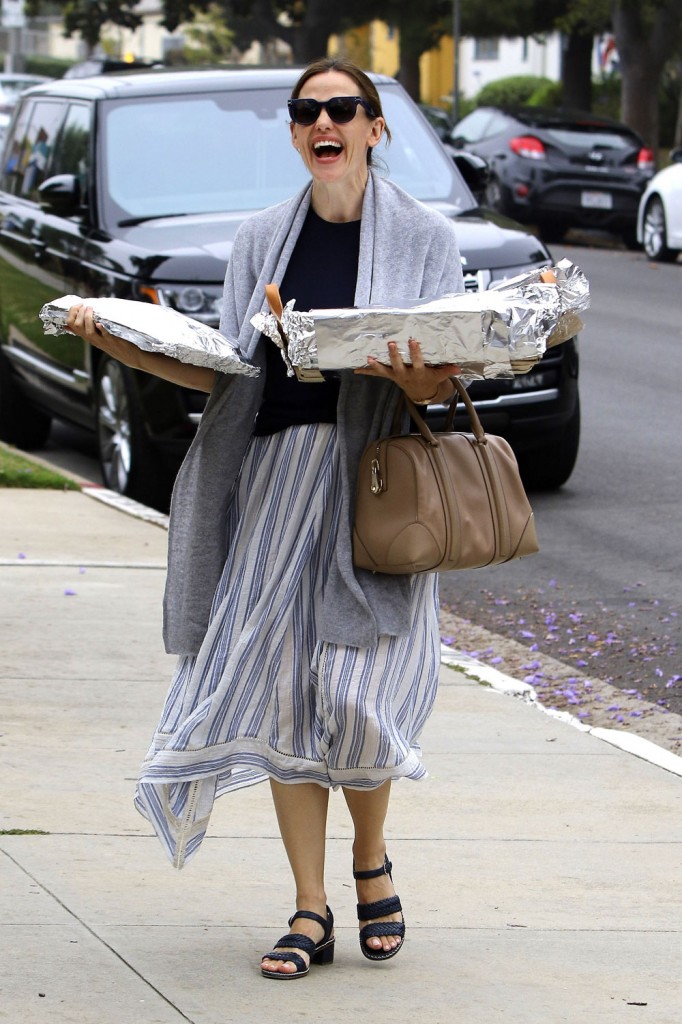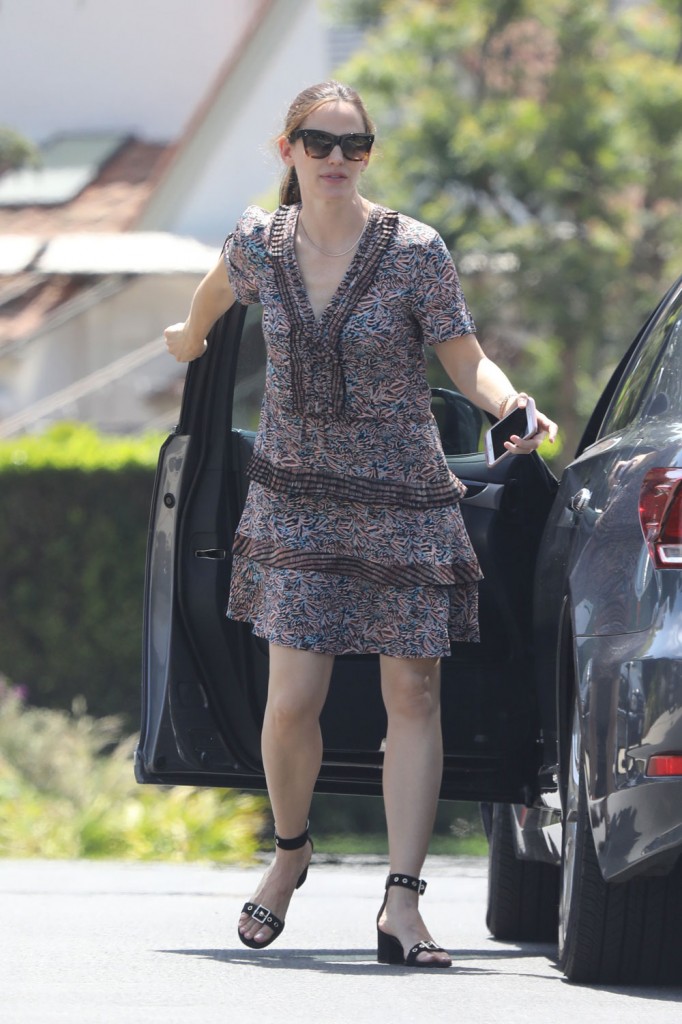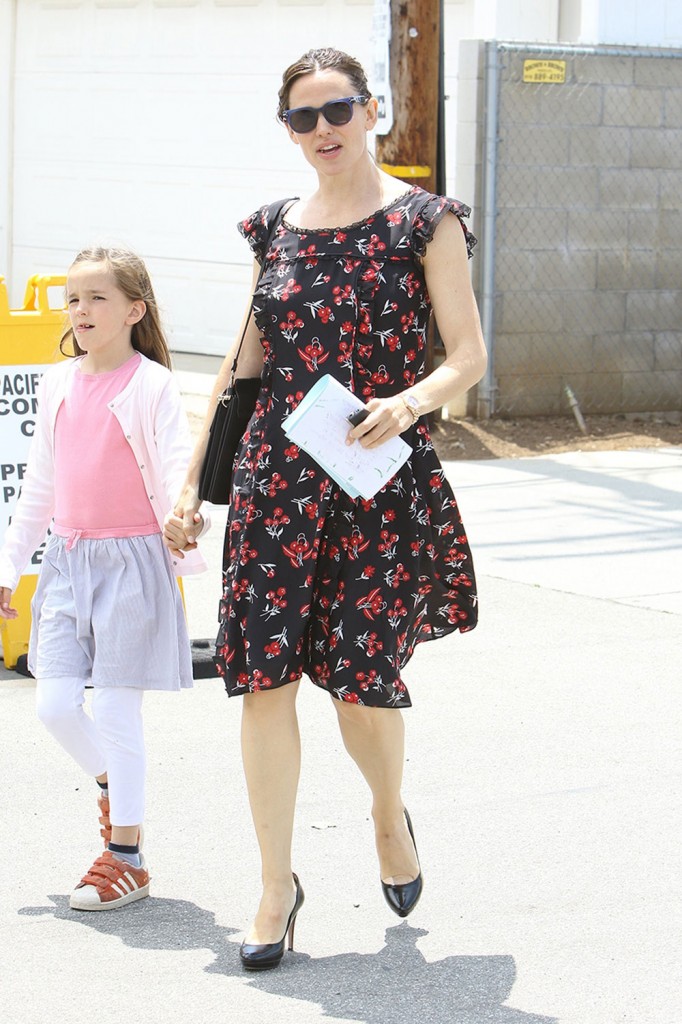 Photos credit: Backgrid and WENN
photos credit: Backgrid and WENN