Lately, it seems that everything is coming up Demi Moore. The 54-year-old actress was out of the spotlight for a while, but is coming back in some high profile projects, including the recent comedy Rough Night. She's also going to appear on the season premiere of Empire this fall, (daughter Rumer is also on the series) and the drama Love Sonia, co-starring Freida Pinto.
In addition to these projects, Demi is starting alongside Alec Baldwin and Dylan McDermott in the film Blind. In it, she plays a woman who has an affair with a novelist who was left blinded after a car crash that killed his wife, serving as the muse to get him writing again. The movie, which opens on July 14, had its premiere at the Landmark Sunshine Cinema in New York on Monday. Demi showed up in her take on the current summer suit trend. wearing a pink and green floral print suit by Gucci. And, while stars line Zendaya, Rita Ora and Kendall Jenner have been rocking white sneakers with their suits, Demi opted for blue Christian Louboutin heels. She wore her long, dark locks straight (does she wear them any other way?) and rocked a pair of black framed glasses to complete the look. I'm not a big fan of floral prints, and this suit doesn't really for it for me, but I love the shoes.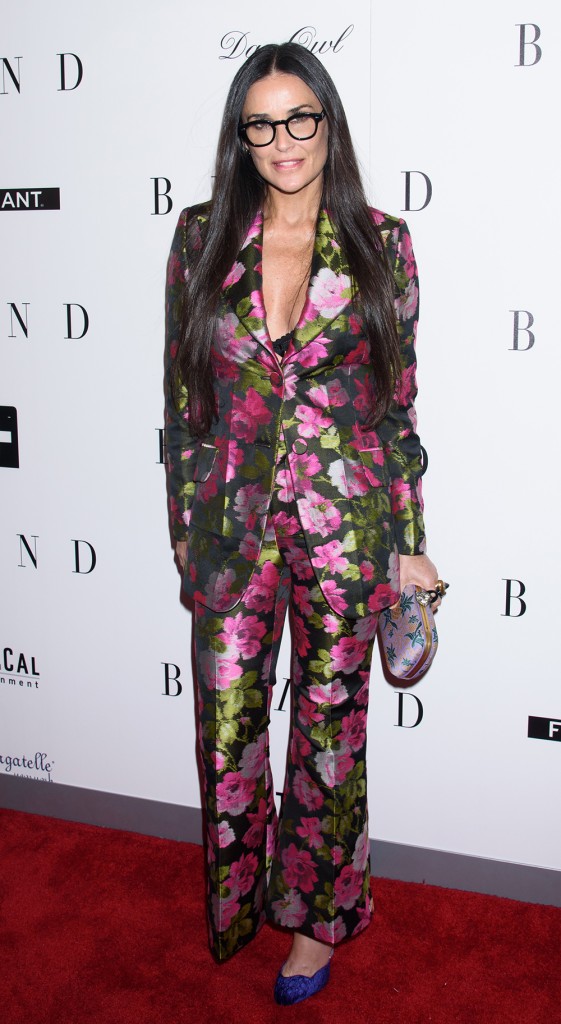 On the red carpet, Demi discussed the toothless photo she shared on The Tonight Show with Jimmy Kimmel a few weeks ago with US Magazine, giving her reason for showing off her gapped grin as, "I think it was literally just me being silly you know? It was a truthful thing. We are all human and everything is all relative. Sometimes it's nice to share so that people see all of you."
Of course, Demi got more than the attention of TV audiences with the photo, it also drew some good-natured ribbing from her daughters, Tallulah, Scout and Rumer. Demi told US, "My kids had made such a funny thing about, 'Oh, it made me look more human and vulnerable. I'm sitting there lisping and they're making fun of me like I'm an eight year old waiting for my tooth to grow back in!" Demi and her girls recently attended a wedding together in Aspen, Colorado. Scout posted a photo of the group to Instagram with the caption, "Marriage is what brings us together today #jenjenandcappy 4 ever!!!"
As you can see, there are advantages to having good-looking parents. What a beautiful family.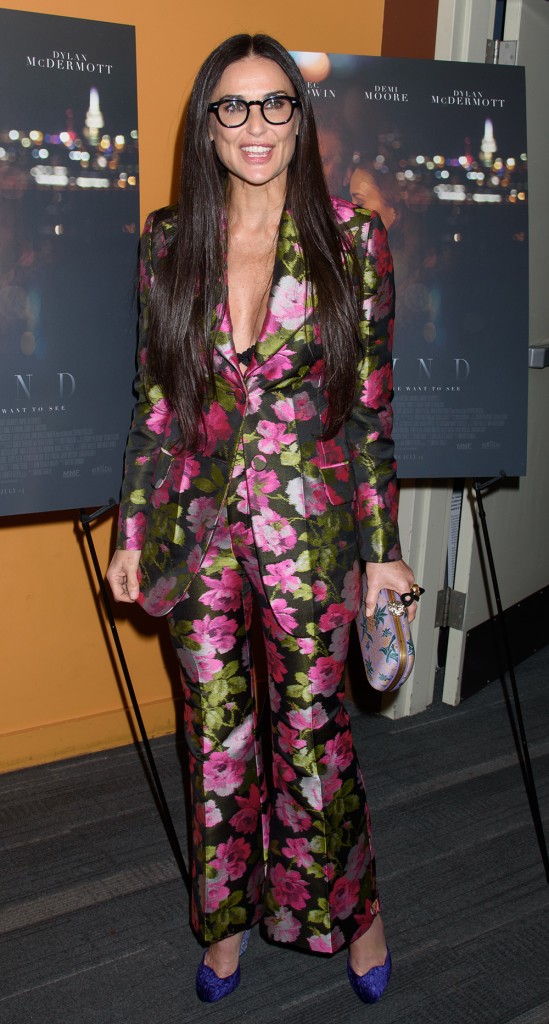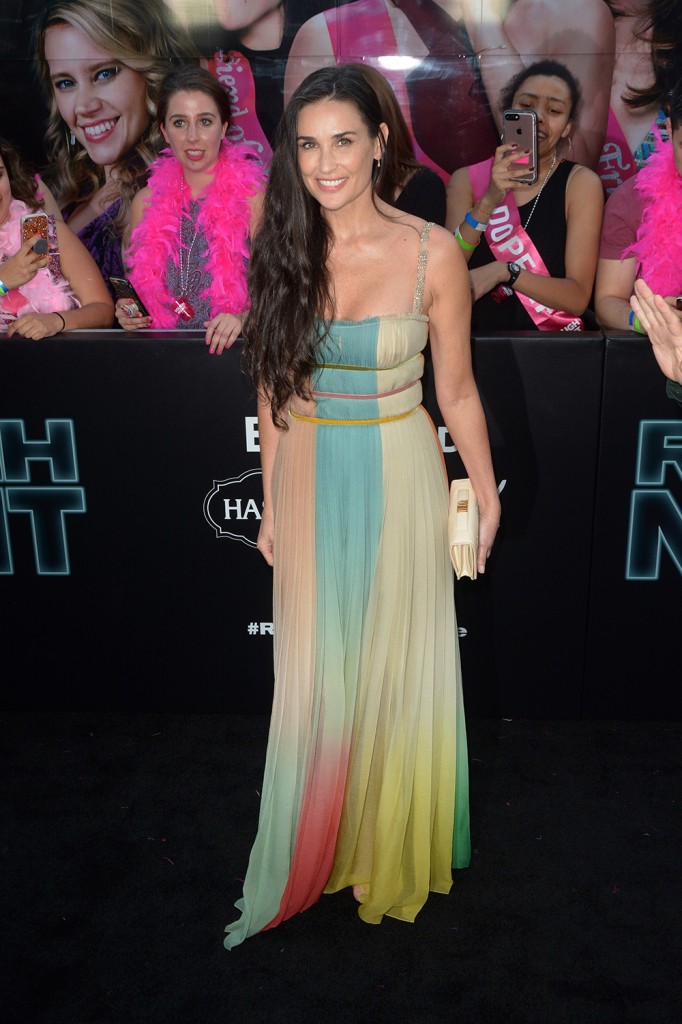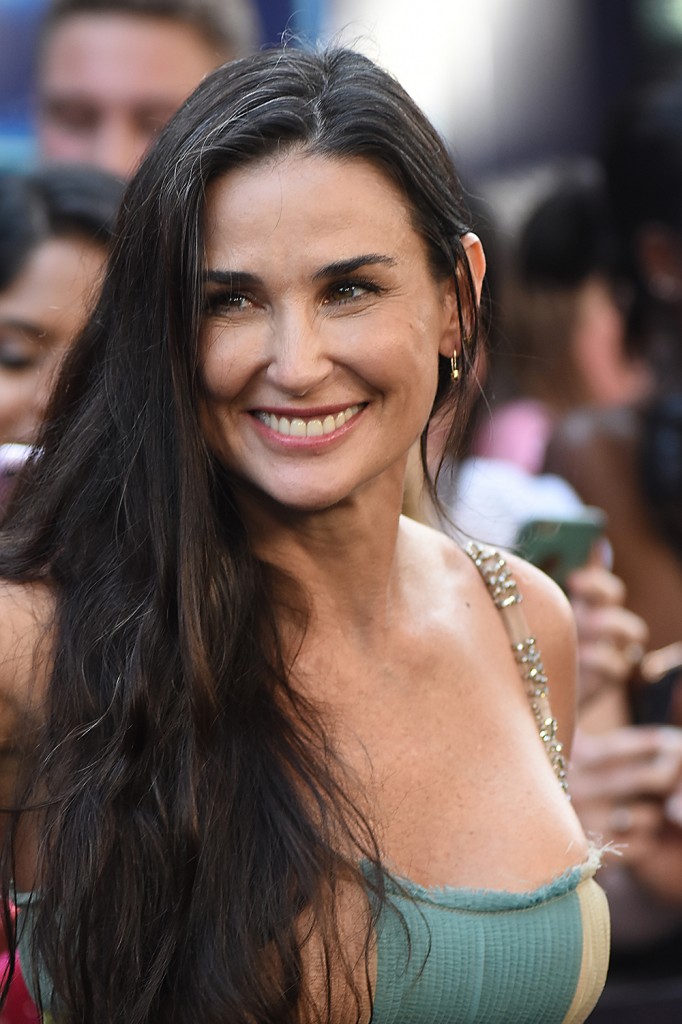 Photos: Getty Images, WENN.com