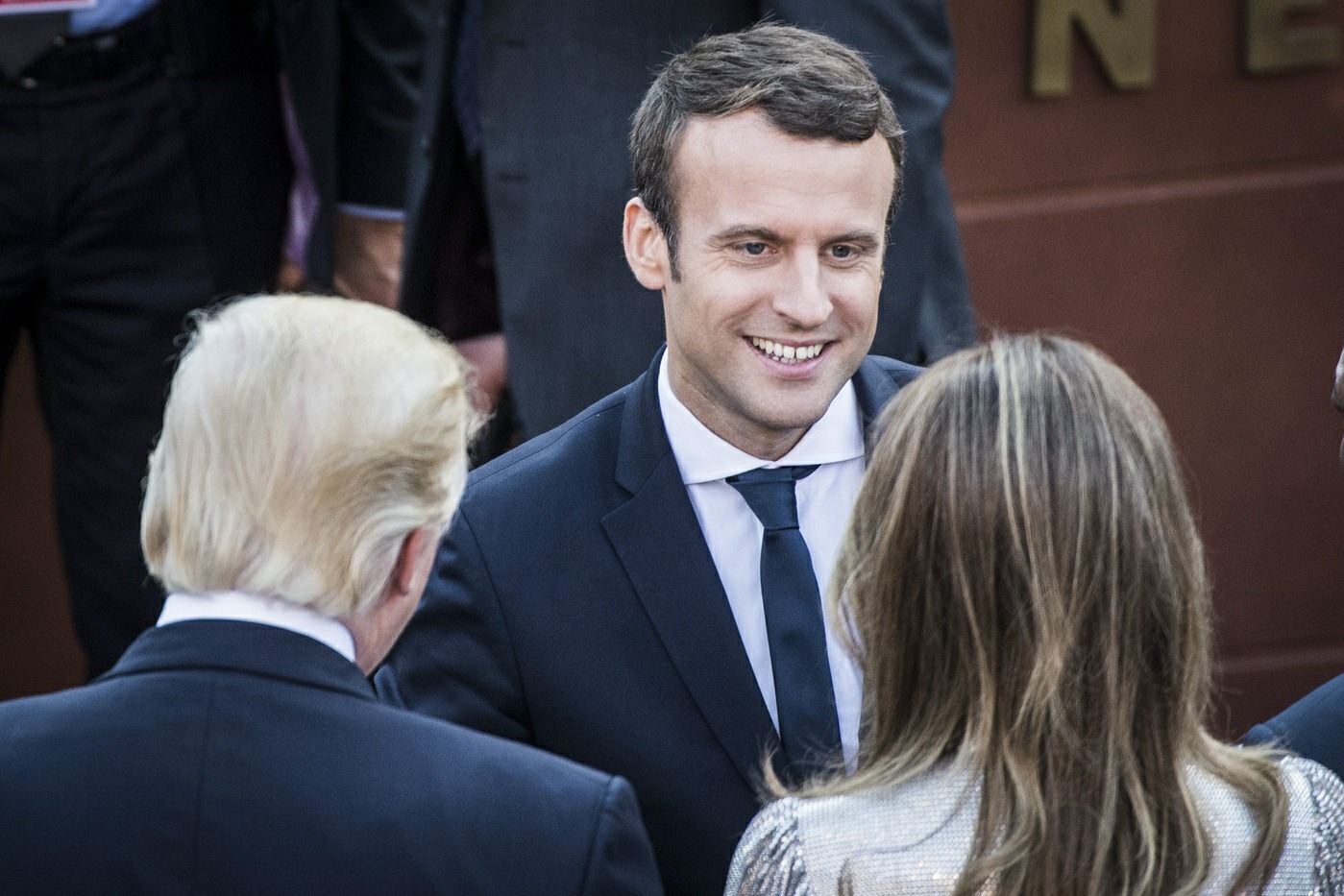 French president Emmanuel Macron is pretty clever. He's a lot smarter than I originally thought, actually. He proved himself during the G7 summit last month, where he outsmarted and outmaneuvered Donald Trump physically and intellectually at every turn. Macron squeezed the life out of those sad baby fists and it was glorious. So I have to wonder… what does Macron have up his sleeve now? World leaders will be gathering in Germany in the middle of July for the G20 summit, and Trump is expected to make the trip, of course. He'll also be traveling to Poland, and it was just announced yesterday that Trump will be tacking on a trip to Paris. He'll attend the 100th anniversary parade for Bastille Day. Macron invited Trump over the phone, and the White House confirmed that Trump will be tacking on the trip to Paris.
President Donald Trump has accepted an invitation from French President Emmanuel Macron to visit the nation on Bastille Day next month, the White House said Wednesday.

"President Trump looks forward to reaffirming America's strong ties of friendship with France, to celebrating this important day with the French people, and to commemorating the 100th anniversary of America's entry into World War I," the statement said. "The two leaders will further build on the strong counter-terrorism cooperation and economic partnership between the two countries, and they will discuss many other issues of mutual concern."

Trump spoke by phone with Macron on Tuesday. According to the White House, he congratulated the French president on "France's successful parliamentary elections" during the call and complimented his French counterpart "for his leadership of the new political party that secured a majority in the French National Assembly and wished him luck in launching his legislative agenda." A French readout of the call said Macron "renewed his invitation" to the president and first lady Melania Trump "to attend the parade on July 14th," marking 100 years since the entry of the United States into World War I.

An Islamic State-inspired Bastille Day attack last year in Nice, France, killed more than 80 people after a truck plowed through a crowd celebrating the French national holiday. Then-President François Hollande called it an act of "terrorism." In a pair of tweets last year, Trump called the attack "horrific" and offered his "prayers and condolences to the victims and families of the terrible tragedy. When will we learn?" he added. "It is only getting worse."
What does Macron have up his sleeve? Is he going to showcase – once again – that he is the alpha? Does he want to crush the baby fists once again on home soil? Unknown. But I'm sure Macron knows what he's doing. And whatever it is, it's going to be awful for America, because Bigly is a buffoon.
Some other pieces of news – Bigly screeched at a $35,000-a-plate fundraiser at his DC hotel last night. Parts of Bigly's Muslim Ban take effect today. And even some Republicans wonder if the GOP health care bill is a little bit TOO tax-cutty.
Photos courtesy of Getty and Pacific Coast News.