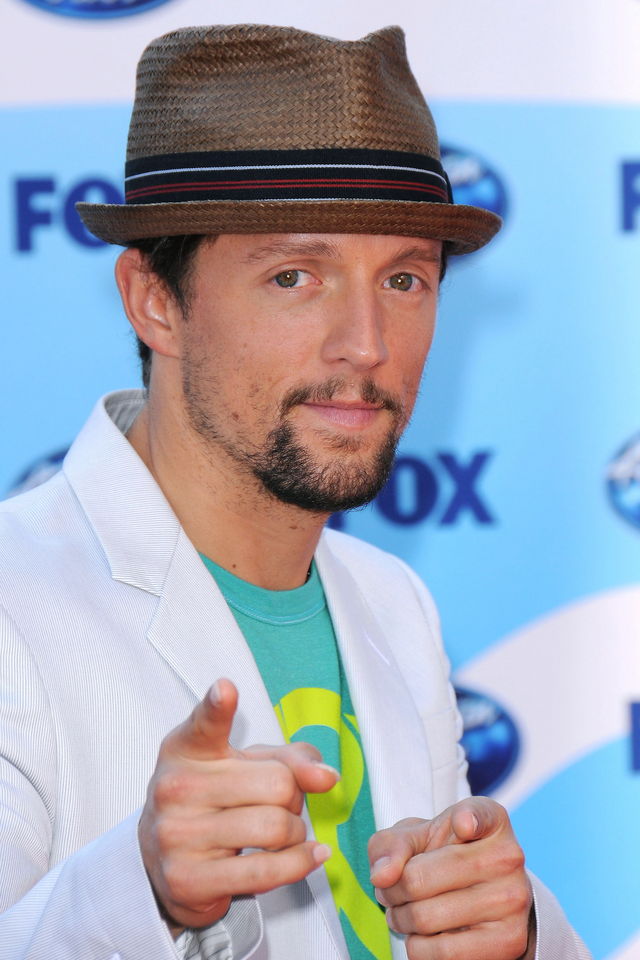 We don't hear a lot about singer Jason Mraz, whose catchy upbeat single "I'm Yours" has reached quadruple platinum status and is the fourth most downloaded (paid-for) song of all time. Mraz leads a low-key lifestyle out of the spotlight, and as MSat pointed out in the only other story we've run on the guy, he could easily change that. He's a superstar and could be hitting the Hollywood hotspots, dating famous women, and hamming it up for the cameras like John Mayer. That's not what he's about, though, and he's happy to live a normal life that isn't documented by the tabloid press.
In the June issue of Cosmopolitan, Mraz, 31, gives some advice to women who are hoping to have a chance with him. Whatever you do, don't talk about celebrity gossip on the first date. While reading Mraz's contribution for "10 Things Guys Wish You Knew," below, I was listening to this excellent acoustic live version of "I'm Yours". I was thinking about what he wrote while hearing him sing and I have to admit my stomach fluttered a little. There's something about this normal attractive guy with big talent who finds down to earth women sexy:
1. You look sexy when you're puffy from lying on the pillow all night.

2. We don't understand your addiction to celebrity gossip. Whatever you do, don't talk about it on a date.

3. Guys get a monthly type of PMS too. We get moody and need our space.

4. It's the hottest thing when you say, "Are you going to kiss me now?"

5. We read and reread your texts and e-mails.

6. It's annoying when a girl continues to ask, "What's really on your mind?" Eventually, the answer is going to be "You asking stupid questions is what's on my mind."

7. A lot of us are insecure about our bodies. Women look like beautiful, soft, gorgeous angels when they're naked. We look like hairy ogres or little scrawny trolls.

8. It's cool when a girl isn't weird about food. I love a woman who will eat something slimy.

9. Never tell a guy he's just like your father. It creeps us out.

10. Put on a men's dress shirt and nothing else. We'll be able to unbutton it no problem, and it shows off your legs in a wonderful way.
[From Cosmopolitan, print edition, July, 2009]
Mraz has given us some tried and true advice about men that is also mirrored by the experts: don't ask "What are you thinking?" and don't bug guys when they're in their "caves" – give them space and they'll come back to you.
Talking about celebrity gossip on a date is probably akin to a guy blathering on about sports. It's something that a date might have little interest in or knowledge of, and you want to keep the conversion on topics to which you both can relate. I can't tell you how much baseball talk I've endured with various boyfriends, and it seems only fair that they should have to listen to some gossip, though. All of that should come after the relationship is established and the flush of love is still high, when the guy will sit through chick flicks and listen to you talk about Brad and Angelina, a goofy grin on his face as he stares into your eyes. I can see Mraz as the type who will put up with celebrity talk once he's totally taken with a woman. She just needs to hide it from him during that critical "get to know you" period.
Jason Mraz is shown on 5/20/09 at the American Idol finale. Credit: WENN.com