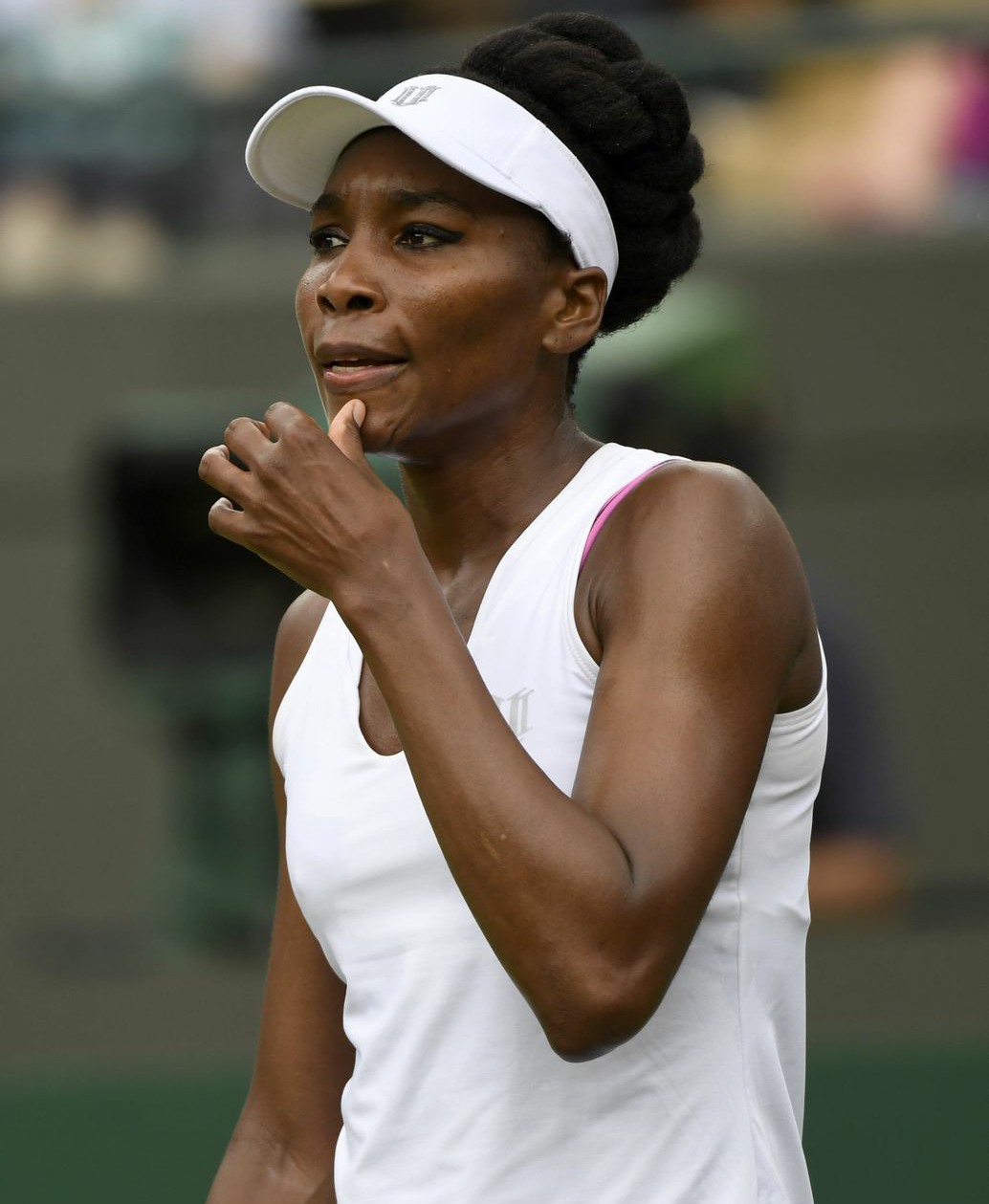 A week ago, there was a lot of conversation about how Venus Williams could possibly make a very deep run at Wimbledon this year, with Serena out for the rest of the year on maternity leave, and some of the other strong contenders like Petra Kvitova and Victoria Azarenka only returning to the tour in the past month. Venus has won Wimbledon five times, and it's arguably her favorite tournament and it's where she gets her best results. The issue is that Venus is now being sued as a result of a deadly car accident near her home in Florida – I covered the accident and Venus's statement about it over the weekend. A man died as a result of a two-car accident, and his widow is suing Venus, claiming that Venus caused the accident (Venus claims she had a green light, but got caught in an intersection because of traffic).
In any case, Venus is feeling pretty raw. If this was any other tournament, I suspect Venus might have just gone home, spent some time talking to her lawyer and her insurance company, and processing everything. But because Wimbledon is Wimbledon, Venus is there. She won her first-round match on Monday, and during the media availability after the match, a reporter asked her about the car accident. Venus was so upset, she couldn't even get a full sentence out, and her voice broke with emotion: "There are really no words to describe how devastating… I'm speechless, and I'm just…" She wiped away tears and the moderator told the reporters that Venus cannot really speak about this (likely under direction from her lawyer). Here's the video:
I don't want to be accused of… whatever, being a Venus Apologist, but this video is heartbreaking. From what we know of the car accident, it was just that, an accident. Both drivers made bad decisions and Venus is being sued and she will probably end up settling with the man's widow. She likely made her statement on Facebook over the weekend so that she wouldn't have to sit there in a press conference and get these questions, because she knew she would end up crying. I genuinely feel sorry for her. Every single person has made a bad call or a mistake while driving and most of us are lucky that those mistakes don't end up being life-or-death decisions for which we'll be judged for the rest of our lives.
Photos courtesy of Pacific Coast News and Getty.