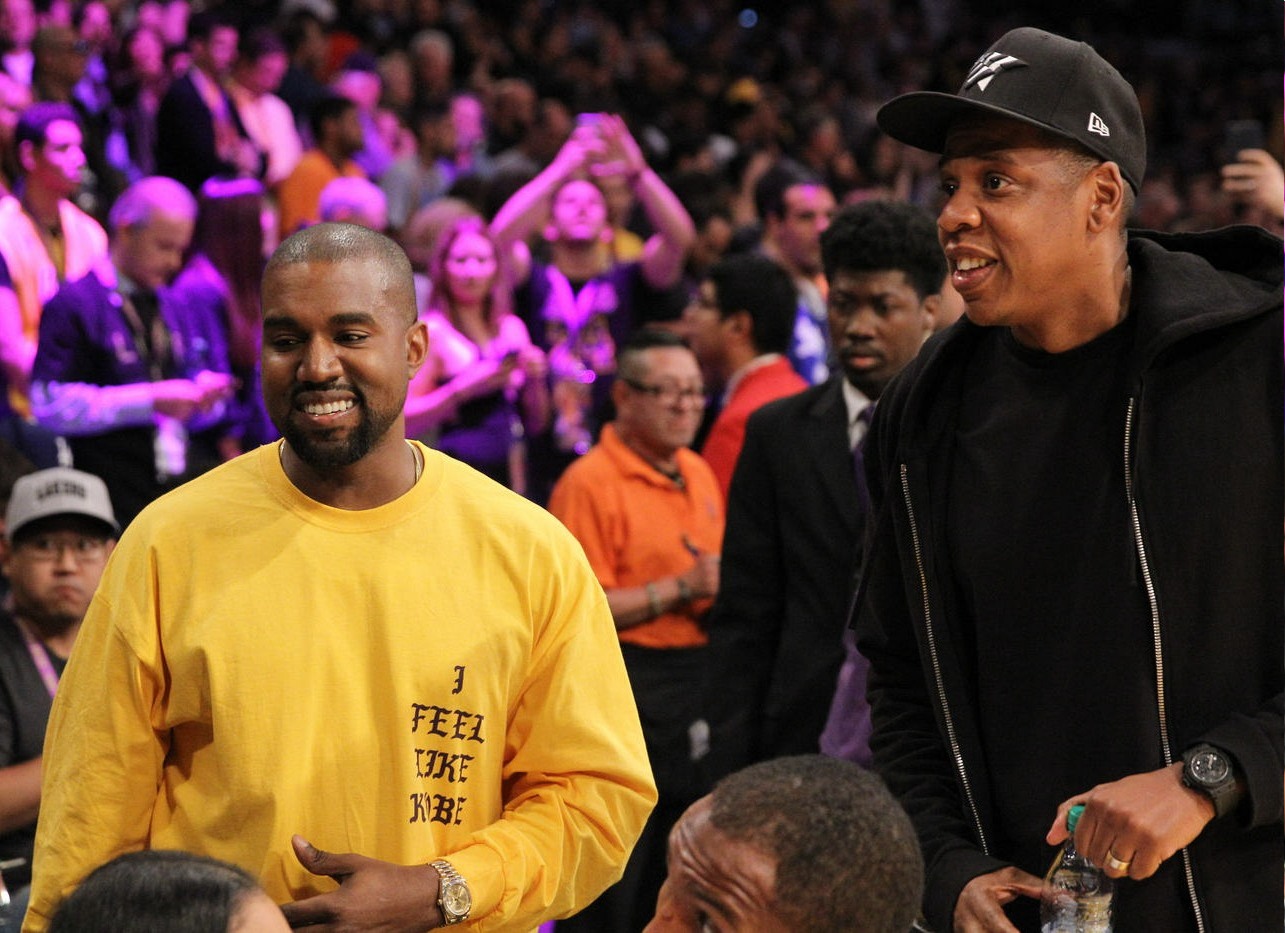 I realize that the Jay-Z/Kanye West story might be a legitimate fight, feud or beef, but surely it occurs to people that it's very possible that Jay and Yeezy are actually sort of fine? Like, Jay might be trashing people in his new album but he gave them a heads-up and everyone involved is like "sure, make that money, Jay." It just seems like Jay-Z and Kanye are not really "above" publicly milking some kind of conflict for record sales, downloads and/or publicity. In any case, the beef – real or procured – continues unabated. In the past week, Jay's album dropped and he seemed to call out Kanye for being mentally ill and for taking a $20 million loan from Jay. Kanye in turn made noise about pulling out of Tidal, claiming that Tidal hasn't been paying him what he's owed. So, what now? Team Yeezy sources went to TMZ to talk about how Kanye is really mad that Jay decided to diss Kanye because of his mental illness.
Jay Z's attack against Kanye West on 4:44 has nothing to do with Kanye bailing from Tidal … it's all about Kanye's concert rant … and Jay clearly does not think Kanye's mental condition at the time was an excuse. Sources connected to the 2 moguls tell us Jay was enraged when Kanye went on stage November 19th in Sacramento and first went after Beyonce with thoughts that were difficult to understand and then calling out Jay for shutting him out of his life.

As one Kanye source put it, "Kanye was days away from going to a psych ward with some really serious mental issues. We get why he [Jay] was upset, but give Kanye a break." We're told Kanye had no idea Jay would go after him on 4:44 and when he heard it he was "shocked." Jay's new album contains the lyrics, "I know people backstab you I felt bad too. But this f*** everybody attitude ain't natural. But you ain't a saint, this ain't kumbaye. But you got hurt because you did cool by 'Ye. You gave him $20 million without blinkin'. He gave you 20 minutes on stage, f*** was he thinking'? f*** wrong with everybody is what you sayin'. But if everybody's crazy, you're the one that's insane."
Which… I kind of agree with. Even though I said that we should keep an open mind about whether Jay and Kanye are in cahoots, if Jay didn't give Ye a heads up, then Jay was kind of off-side for trashing a guy who legitimately had to be hospitalized because he was in the midst of a nervous breakdown. As for that $20 million loan? Team Yeezy says it wasn't a loan.
The $20 million Jay-Z fronted Kanye West was NOT a gift — as Jay insinuated on his album 4:44 — it was all part of Jay's deal with 'Ye. Sources with direct knowledge of Jay and Kanye's business relationship tell TMZ, the $20 million was an advance from Roc Nation to cover expenses — including the floating stage — for Kanye's "Saint Pablo Tour." The money covered various production costs and staff.

It's actually standard for artists at Kanye's level to get such an advance. It's part of the deal. Jay certainly made it sound like he and Roc Nation gifted Kanye the dough. In the song, "Kill Jay Z" Jay raps … "But you got hurt because you did cool by 'Ye // You gave him 20 million without blinkin' // He gave you 20 minutes on stage, f*** was he thinkin'? // 'F*** wrong with everybody?' is what you sayin' // But if everybody's crazy, you're the one that's insane."

We broke the story … Kanye bailed on Jay-Z's streaming service, Tidal, over a money dispute. Kanye's decision to leave had nothing to do with the $20 mil. He claims he's owed unrelated millions for subscription bonuses and music video expenses. Jay has threatened to sue Kanye if he make an exclusive deal with another streaming service, but we're told Kanye's done with exclusive deals. Jay and 'Ye were once like brothers, and they still are … Cain and Abel.
While I feel confident with making educated guesses about movie industry deals, I really don't understand the financial arrangements with elite musical artists. Like, at all. The Kesha mess was confusing and frustrating on many levels, partly because I didn't understand how she could still be forced contractually to work with Dr. Luke, and how she had lost so much money. What I'm saying is that the financial stuff behind the music industry is pretty sketchy. What I'm saying is that I don't know if it's reasonable to assume that Kanye would have expected $20 million for his tour, or if that money would have to be paid back or whatever. I just don't know.
Photos courtesy of PCN and Getty.