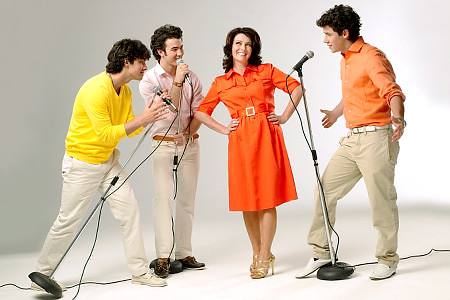 No joking. The Jonas Brothers appear on July's cover of Good Housekeeping with their mother, and their mom sat down for the interview (story via US Weekly). The Jonas Brothers are famously virgins, and they wear their purity rings proudly, and mom Denise seems to be defending them and their chastity. Denise Jonas says she totally gets that her son are "men" who have "desires" and "testosterone". Then Denise comes out with this bold statement – "I don't think they're above or beyond being seduced." Seduced? Because it's the girls who are sluts, right? Not her little boys:
The Jonas Brothers may be virgins, but that doesn't mean they don't look at women, their mom admits in the July issue of Good Housekeeping.

"They are men. They have desires. They have testosterone," Denise says of Kevin, 21, Joe, 19 and Nick, 16. "If they make a mistake, I'm not going to hate them. I don't think they're above or beyond being seduced."

"They have been hurt in relationships by girls," Denise goes on — without naming names. (Nick has dated both Miley Cyrus and Selena Gomez, while Taylor Swift has written songs about her split from Joe.)

"But it's just about growing up and learning what it means to be in a relationship," she continues.

Denise defends her sons' decision to wear purity rings and talk about waiting until marriage to have sex.

"They've been criticized for proclaiming things they never proclaimed. And what's the criticism?" she asks. "They don't want to go out there giving everyone an STD? What's so terrible about that?"

When her boys do fall in love, she only has one requirement before accepting her: "She must sincerely and totally love my son!"

So how to land a Jonas Bro?

"People always ask, 'What's a girl have to do to get your attention?'" Joe says. "She has to be good to Mom."
[From US Weekly]
I don't have a problem with the whole idea of waiting until you're in love, or waiting until marriage, or teaching kids that it's okay to be a virgin, et cetera. But there comes a point – perhaps when you, your brothers, and your mother are appearing on the cover of Good Housekeeping - when parts of it become a little creepy. Like Stephen King's Carrie creepy. Like Denise Jonas is going to start talking about "dirty pillows". It becomes less about waiting for love, respect and safety, suddenly virginity and "purity" becomes a fetish. Maybe I'm totally off-base, though. I think it's great that there's a movement afoot to teach both boys and girls to wait to have sex. But, I hope these kids realize that their virginity isn't the property of their parents, that having sex doesn't make them bad people, and that it's not the end of the world to experiment and find what gives them pleasure.
Joe Jonas and Camila Belle are shown below out in LA on 6/3/09. Joe turns 20 in August. Credit: WENN.com. Header image from Good Housekeeping via NY Daily News