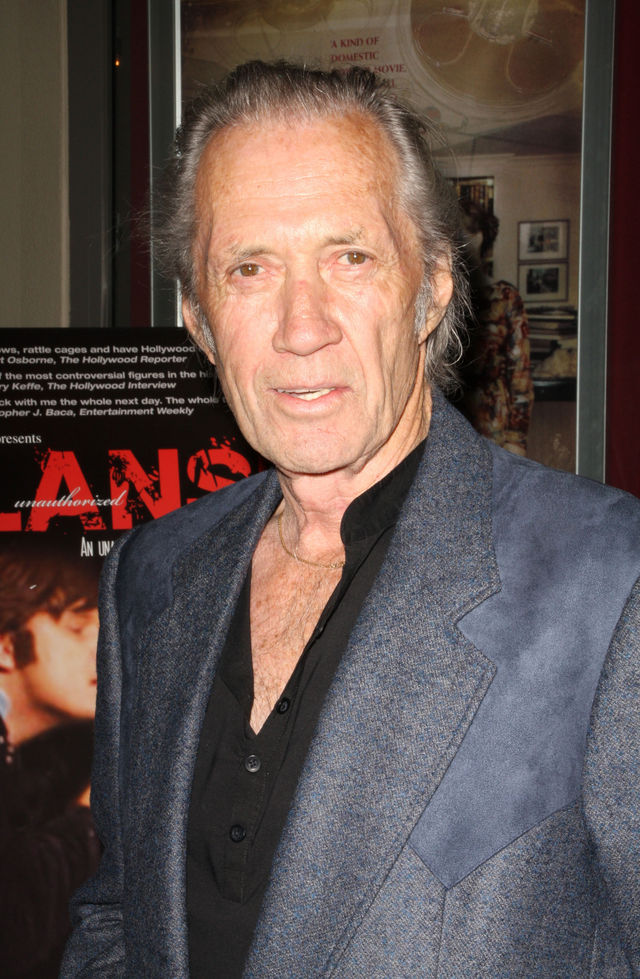 David Carradine, hero to every guy in the world, is dead today at the age of 72. The first report coming out of Thailand is that Carradine committed suicide in a hotel room in Bangkok, where he was about to star shooting a movie. Carradine was the star or guest star of more than 200 films and television shows – his IMDB page is huge. His most famous works include the television shows Kung Fu and Shane, and many of the younger people will know him from Quentin Tarantino's Kill Bill, Volumes 1 and 2, where Carradine was brilliantly cast as Bill. Carradine was famously a practitioner and promoter of martial arts, like Tai Chi and Qi Gong. Carradine is survived by his wife, Annie, whom he married in 2004 in Malibu.
"Kung Fu" and "Kill Bill" star David Carradine was found hung himself in a closet in a hotel room in Bangkok on Wednesday, Thai police said.

Police believed he committed suicide.

Carradine, 72, was in Bangkok to shoot a movie and stayed at a Suite Room 352 of the Park Nai Lert Hotel on Wireless Road since June 2.

The film crew were aware of his absence when they went to dine out at a restaurant on Sathorn Road on June 3.

Carradine did not show up at the dinner and the team could not reach him. They assumed that he took a rest because of his age.

It was a hotel's maid who opened his suite on Thursday at 10 am only to find Carradine in a closet. He was described as behind half naked.

Police investigation showed that he hung himself with a rope, the kind that is used with curtains.

Police said he was dead for not less than 12 hours and found no sign of fighting and assaults.
Kung Fu Man

Aside from Quentin Tarantino's twopart "Kill Bill" in 200304, Carradine was perhaps best known for his role as the fugitive halfChinese Shaolin monk Kwai Chang Caine in the 1970s easternwestern TV drama "Kung Fu". He also starred in Martin Scorsese's "Boxcar Bertha" in 1972, portrayed folksinger Woody Guthrie in "Bound for Glory" in 1976, acted in Ingmar Bergman's "The Serpent's Egg" in 1977 and costarred with half brothers Keith Carradine and Robert Carradine in the 1980 western "The Long Riders".

His father was the noted actor John Carradine.

In Thai cinemas, Carradine was recently seen as a martialarts guru in the Rob Schneider comedy "Big Stan" and as a perverted elderly Chinese mobster in "Crank: High Voltage" starring Jason Statham.
[From Thailand's The Nation]
This report from Thailand is just the initial report, and it could be wrong on some or many of the details. Carradine's manager Chuck Binder is already saying that he believes Carradine's death was from natural causes, and not from a suicide as reported in the Thai press. Carradine was known in Hollywood circles as an utter professional, a good, decent, brilliant, funny man who simply loved to work and loved his fans. Our thoughts and prayers are with his family.