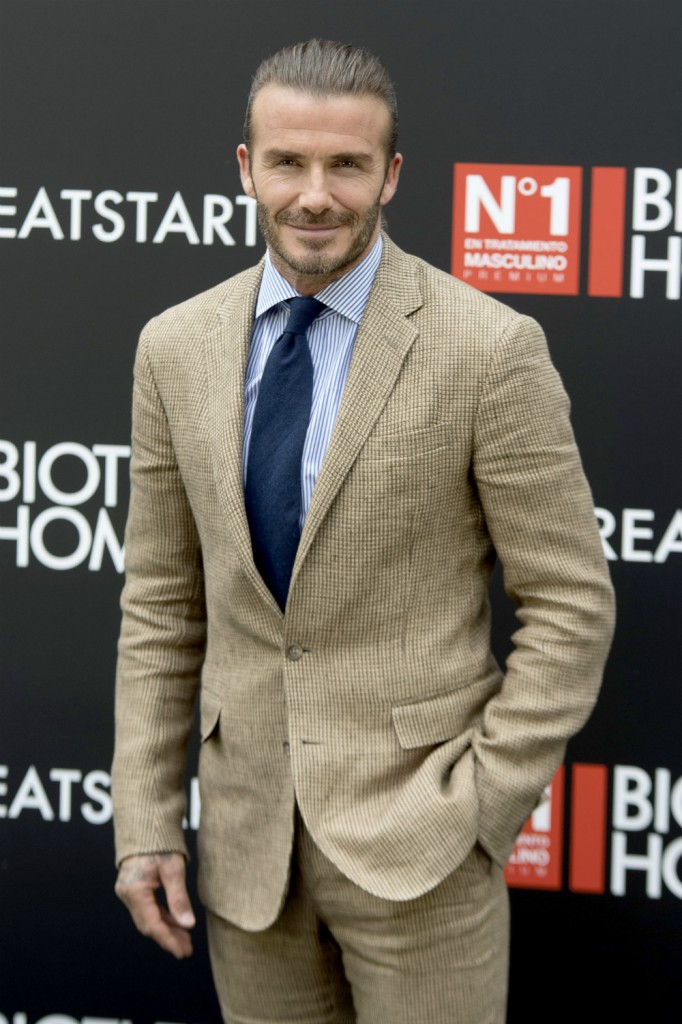 I know I'm a Beckham family apologist but I honestly cannot see the other side of this issue. Truth be told, the outrage over a parent kissing their child has kind of ticked me off. David Beckham, who has four kids, all of whom he is openly affectionate with be it verbally or physically, posted this picture to Instagram last month with five-year-old daughter Harper.
To me, this is a darling pic of a dad and his child. But, according to David, people took the opportunity to attack him for it. The issue was that he chose to kiss his daughter on the lips. During a Facebook Live interview with TV host Woody Milintachinda while in Bangkok last week, Woody asked David if he still kisses and hugs his kids. David said, without reservation, that he does and then he mentioned that he had received flack for the Instagram posted above:
"I got actually criticized for kissing my daughter on the lips the other day. I kiss all my kids on the lips. Brooklyn, maybe not. Brooklyn's 18, he might find that a little bit strange. But I'm very affectionate with the kids. I think, it was how I was brought up and Victoria, and it's how we are with our children. We want to show our kids love. And we protect them, look after them, support them, and, you know, we're very affectionate with them."
Victoria was criticized for this exact thing last summer when she posted this:
Hilary Duff also got flack for this picture, to which she had a great response:
I'll be upfront, I kiss my kids on the lips. And I apologize if it further grosses everyone out, but I still kiss my own parents on the lips as well as a few random friends, albeit outside my kids and husband it's purely for greeting and exiting. I'm not a huge fan of Parenting Police to begin with but this is just beyond me. Christ, showing my children affection is one of the few things I do right as a mom.
Speaking of the Beckham children, Woody asked David about their passions. As we know, the Beckham children all seem to have been fast-tracked for careers that they may or may not be prepared for. Initially, it looked like all of them were headed to Hollywood. This may not be the case. Whereas Brooklyn has his photography and Cruz does seem invested in singing, Romeo, the model, is developing a passion for tennis. And Harper just told her father she thinks she wants to pursue – wait for it – football! How amazing would it be if Harper was the football legacy in the Beckham clan? Somebody must be making up the Bend It Like Beckham memes as we speak. And after she kicks in the winning goal in the Champions League Final, I hope Harper runs over and plants one right on both her parents' lips.
Photo credit: WENN Photos, Facebook, Instagram and Getty Images