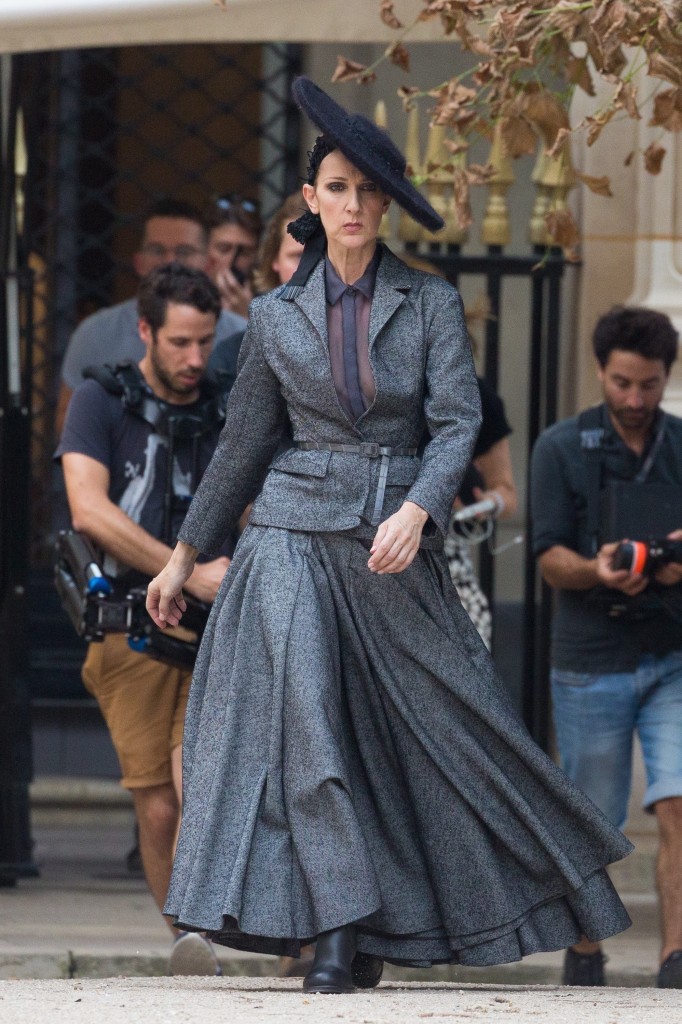 Céline Dion's ongoing Parisian fashion parade is the gift that keeps on giving, and the 49-year-old singer is working the streets of Paris as if they were her own personal runway.
Céline's stylist, Law Roach, has been working overtime to keep his client in eye-catching fashions, and he has failed to disappoint. On Thursday, Céline rocked a tweed, Victorian-inspired outfit by Dior haute couture for a photo shoot for Vogue. The magazine has been documenting her Parisian exploits on Instagram. The magazine posted a snap from the shoot and said that Céline had one request for the shoot, telling the editorial team, "I want to be treated like a model."
I'm sure she was treated like a model, because she was sure posing like one. She was giving us 90s supermodel realness, striking poses that would made Vogue-era Madonna jealous and even artistically pruning a bush in a few shots. Back in the day, when I was into my 90s Sheena Easton/Karyn White/Pop Diva phase, I loved Céline's song "Misled" (it's actually the only song of hers I've ever liked.) I like to think that's playing in the background during the shoot. I do love the coat, skirt and (of course) the boots, it's fun fashion, certainly not practical, but it's not supposed to be. Not crazy about the chapeau though.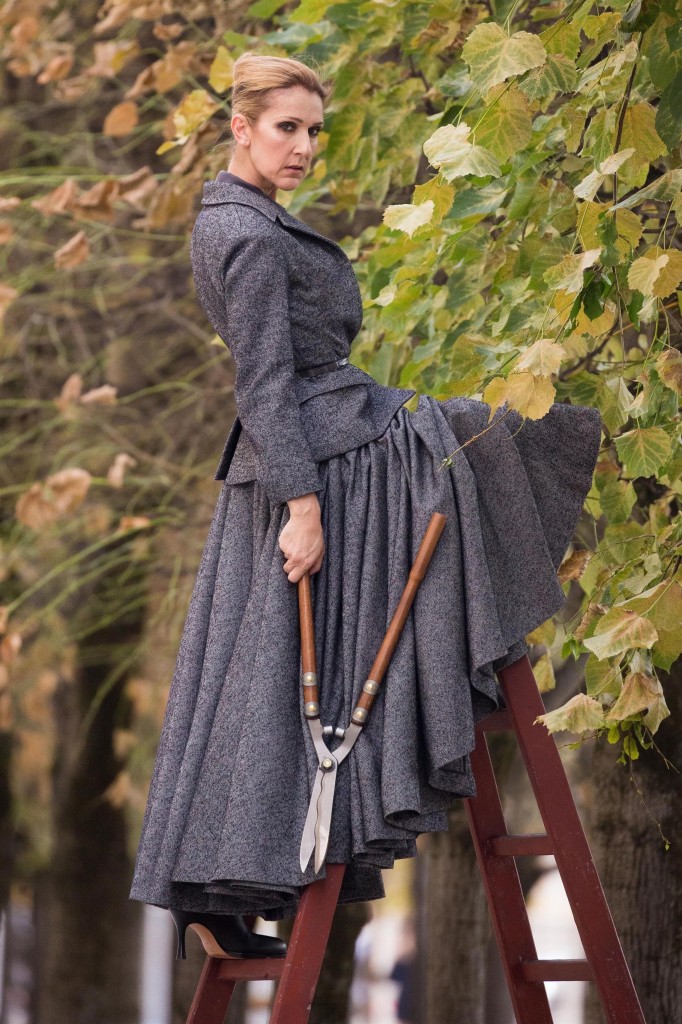 Also on Thursday, Céline was spotted in this pouty-sleeved, checkered blouse with an enormous black silk bow at the shoulder. She paired this with slim-legged pants and heels. It's not my taste, but I have to admit it looks elegant on Ms. Dion.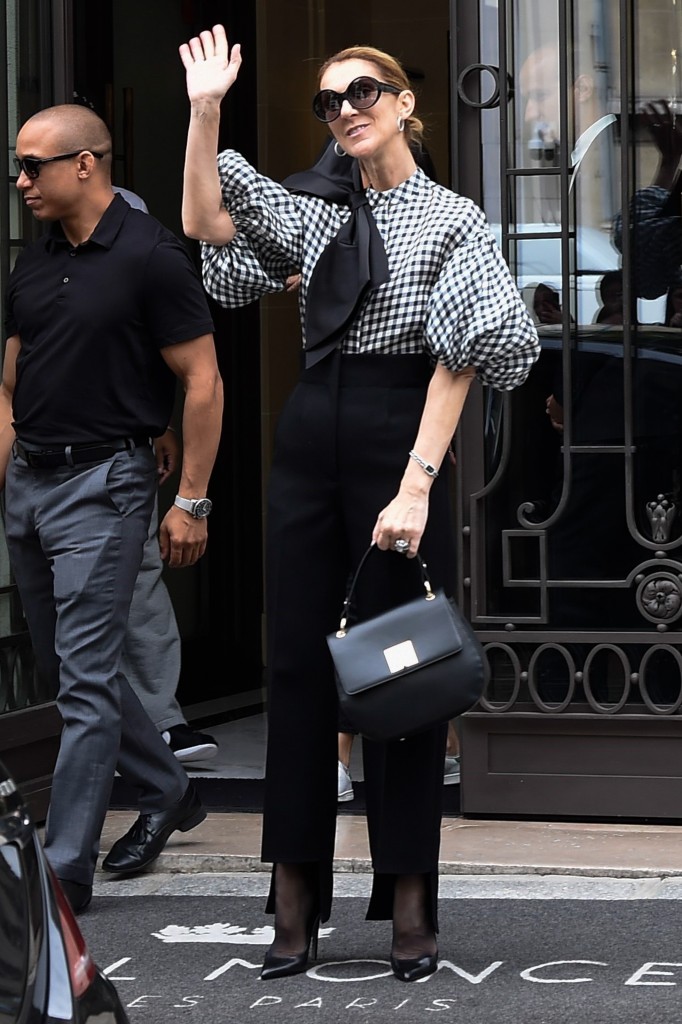 Céline channeled her inner Sergeant Pepper on Saturday while greeting her throngs of fans, donning an elaborate, embellished gold jacket with lilac bows at the shoulders. She blew her proverbial fashion wad with that jacket, wearing it with high-waisted, acid washed and distressed Mom jeans, which she wore rolled up to highlight her tie-up gold sandals. I know I could never get away with it, but is it wrong that I kind of love that jacket? I'm a sucker for the military-influenced vibe, and the design on the back of the piece is pretty cool as well. The Mom jeans though…that's a trend that never needed to come back.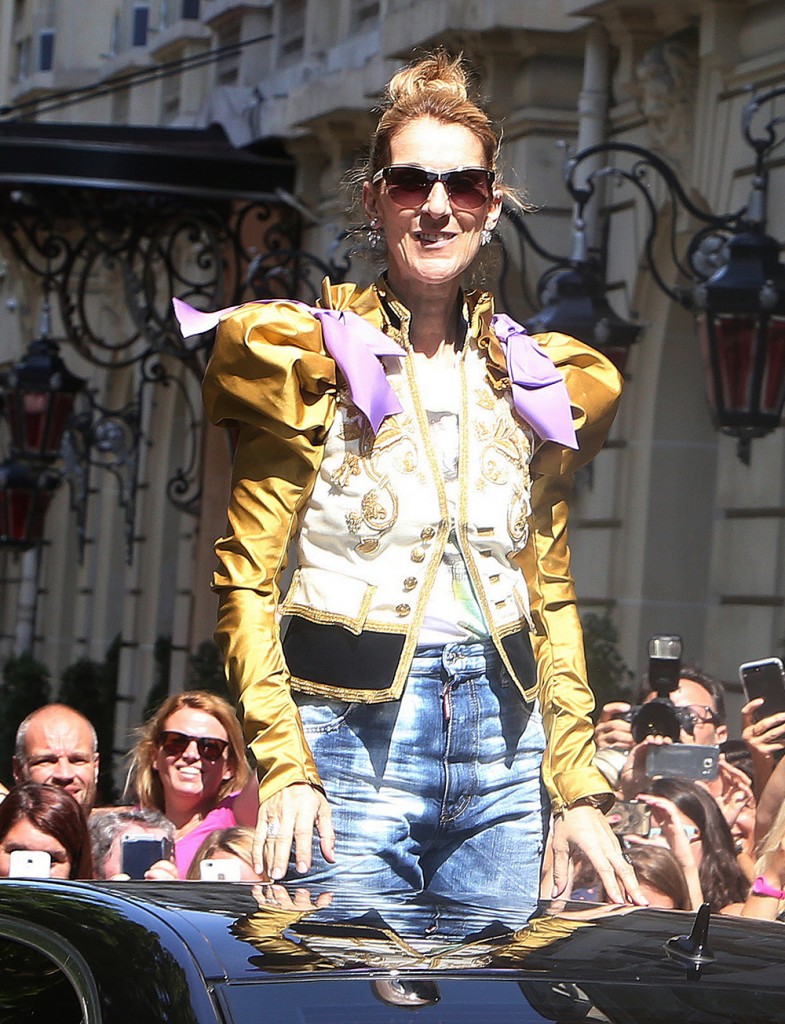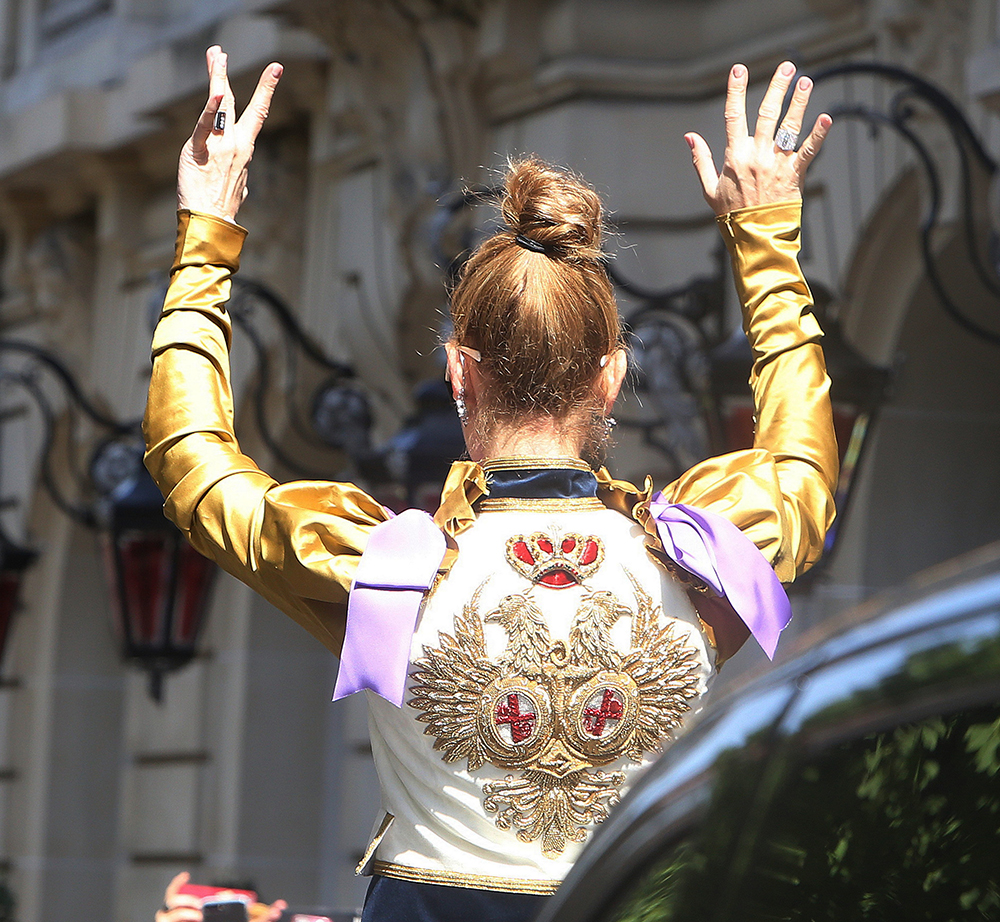 On Sunday, Céline once again emerged from her Parisian hotel, the Royal Monceau, in another eclectic, elegant example of high fashion. She greeted fans in an asymmetrical tangerine-hued blouse and a metallic pencil skirt with beaded abstract embellishments. The blouse featured a thin collar, a plunging neckline and full, puffed sleeves. She tied up the look with a silk belt and retro, rounded sunglasses (just like my Mom used to wear.) The blouse is interesting. I'm not a fan of the color, and I'd be so scared something would pop out with that generous neckline. The skirt, however, I adore. Céline can definitely work a pencil skirt.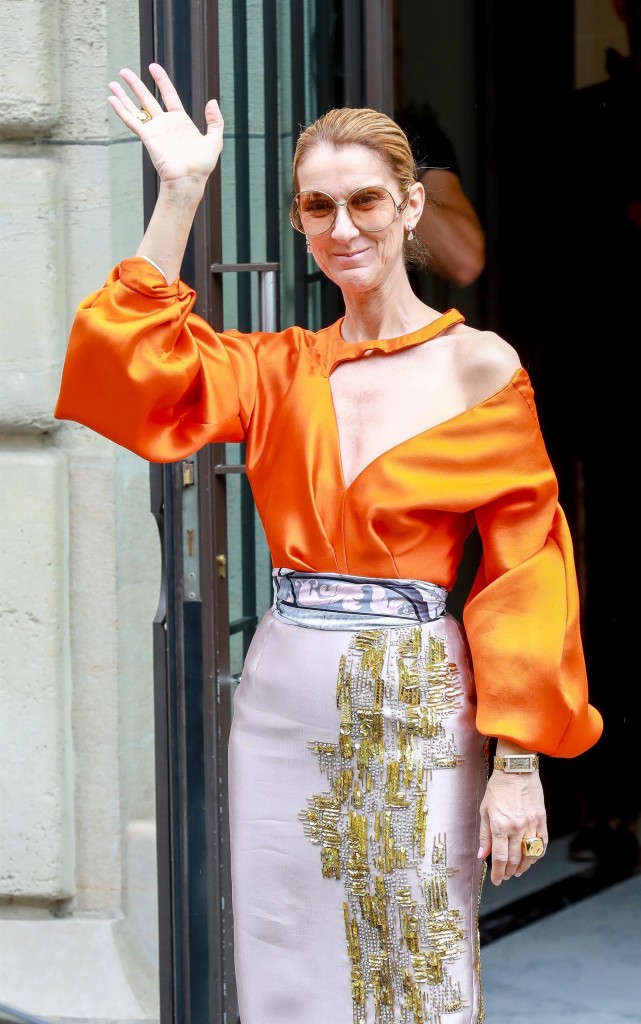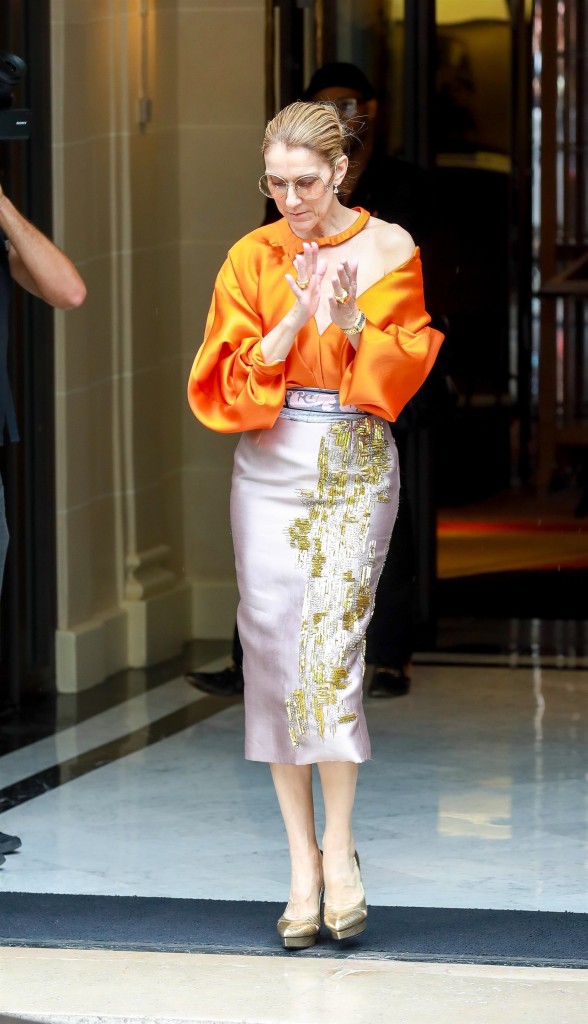 After all of this elaborate fashion, it was almost off-putting to see Céline in a simple black corset top, jeans and boots on Monday. But, this is the most relatable thing she's worn on her entire trip and I am 100% on board for this ensemble – and I'm sure she didn't mind the break from the acute couture either. Brava.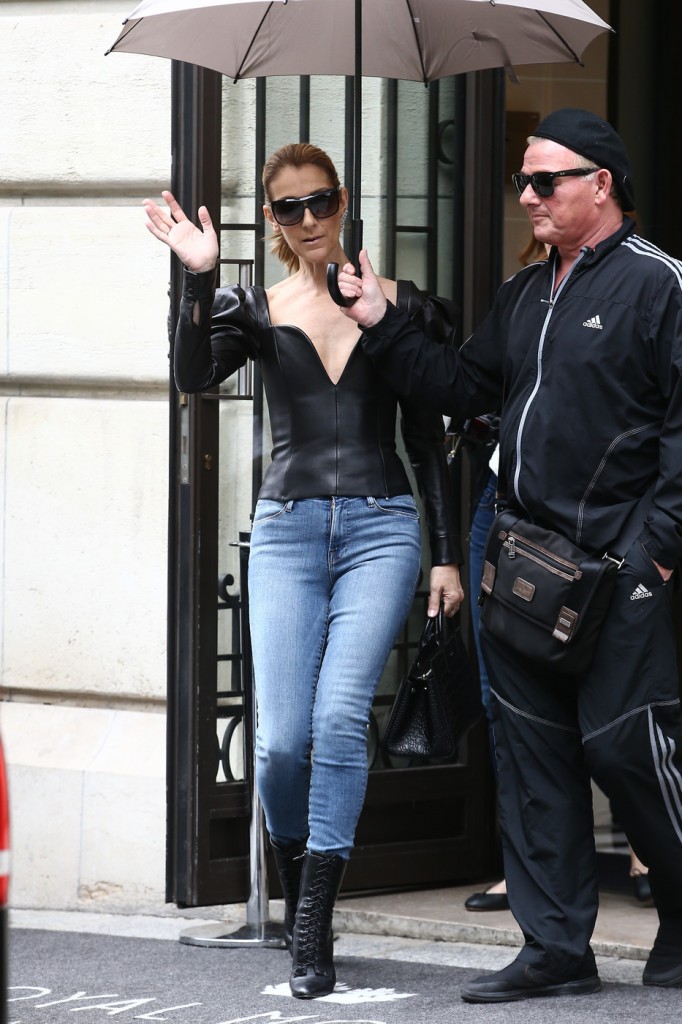 In an interview with Women's Wear Daily, Law said of Céline's fashion choices, "There's no plan, there's no reason to it, it's all about the way we feel. We try to do things that make sense for her and she's fearless, she's a risk-taker, she really doesn't care what people think." As for critics who questioned Céline's omnipresence at Couture Week, Law defended her, stating, "She's a fashion girl. She buys couture, so it was only right for her to be at the couture shows." He went on to add, "she is definitely a visionary. She's been doing this for 30 years. I'm a baby compared to her, you know I'm happy to be along for all her fashion journey."
Love her or hate her, Céline has definitely kept us entertained during her French jaunt – even wearing those god awful leather overalls. She's been through a lot, and she looks so happy, so good on her. And, if you want to unload any of your shoes Céline, I am a 7.5 and would be more than happy to take them off your hands.
Photos: WENN.com, Pacific Coast News, Backgrid