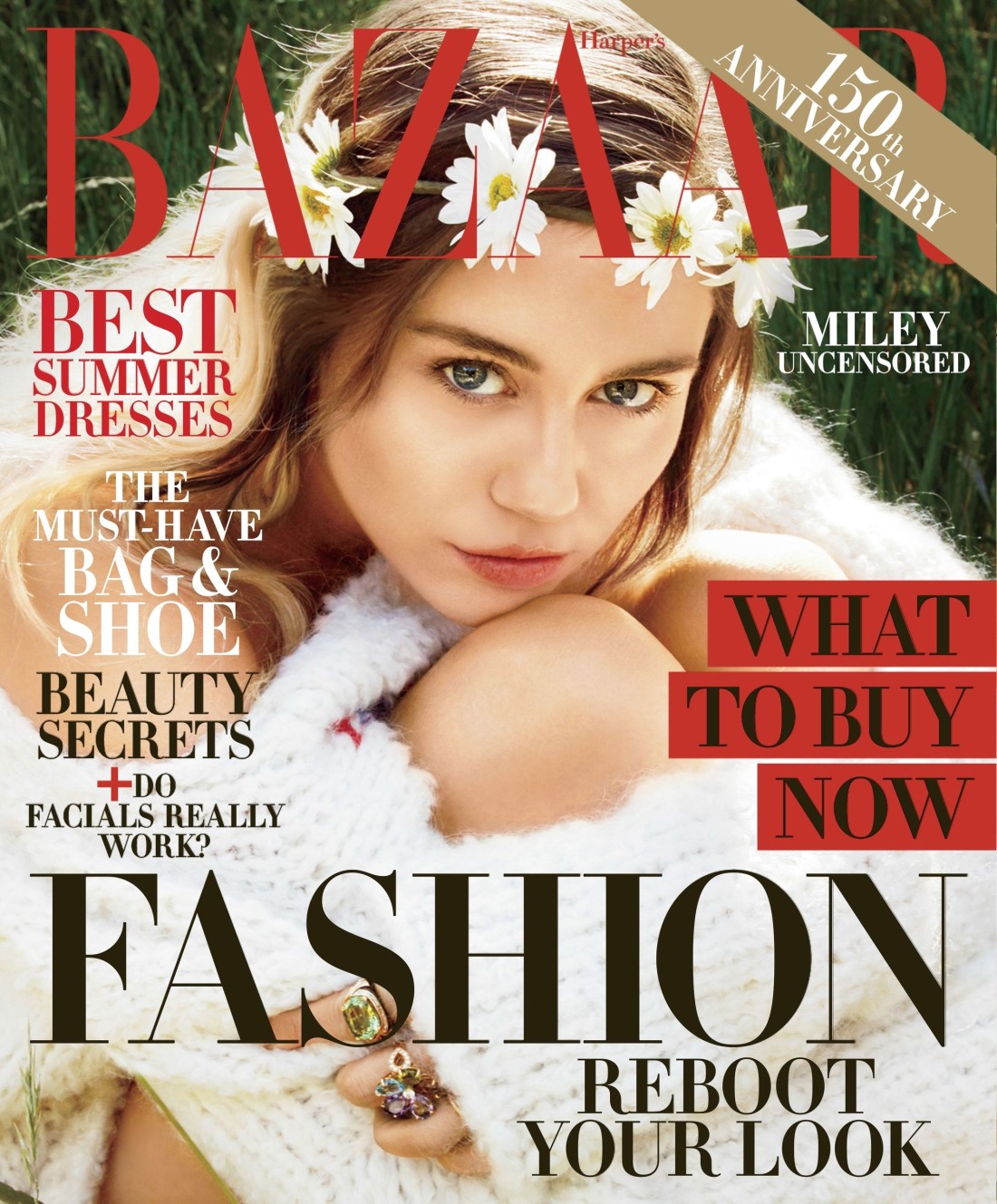 A few months ago, as Miley Cyrus began promoting her new album, several sites ran thinkpieces about whether it was fair to say things like "Miley Cyrus is white again." I stopped myself from writing those exact words because I honestly didn't want to offend people, but how about we say it this way: Miley Cyrus is no longer doing racial or cultural appropriation. She is no longer culture-vulturing. She's back to being a sort of wholesome-looking blonde white woman. She's even dressing in all-white, like she's willing herself to be literally whitewashed. So, Miley covers the latest issue of Harper's Bazaar, and the bulk of the interview is about Miley's "transition" and how it's a good thing that she's totally over twerking. You can read the full piece here. Some highlights:
On her previous incarnation: "I feel really kind of far away from that person. I just want people to see that this is who I am right now. I'm not saying I've never been myself. Who I was on the last record was really who I am. It's just myself has been a lot of different people because I change a lot…. I think I'm just figuring out who I am at such a rapid pace that it's hard for me to keep up with myself. People get told that it's a bad thing to change. Like, people will say, 'You've changed.' And that's supposed to be derogatory. But you are supposed to change all the time. It's really scary sometimes, someone saying, 'This is who I am.' People have known me since I was so young, they think they know me. I heard so many comments like, 'We just want Miley back.' But you can't tell me who that is. I'm right here."

The Twerking Period. "People were so shocked by some of the things that I did. It should be more shocking that when I was 11 or 12, I was put in full hair and makeup, a wig, and told what to wear by a group of mostly older men. I didn't want to become any sort of man hater because I love all humans; I am a humanitarian. Beyoncé said, 'Girls run the world,' and that was an important thing to say because I think subconsciously we are beaten down to believe that it isn't true our whole lives. It's no wonder that a lot of people lose their way and lose who they really are because they always have people telling them who to be."

She was "super distraught" after the election: "It took me, like, three days to stop crying."

Her previous persona: "It became something that was expected of me. I didn't want to show up to photo shoots and be the girl who would get my t-ts out and stick out my tongue. In the beginning, it was kind of like saying, 'F–k you. Girls should be able to have this freedom or whatever.' But it got to a point where I did feel sexualized." Plus, everyone else is doing it. "Even at the Met Gala, everyone had their boobs out, everyone had their ass out, so what's punk about that now? It's more punk actually for me to not."

On being a role model: "How can I f–king be the role model I'm supposed to be? Yeah, I just said f–king role model. Who gives a sh-t? Because I got my t-ts out before doesn't make me less of a role model. I think I show people that they can be themselves. I also think something that has been important for me, in this next little, like, transition phase of my career is that I don't give a f–k about being cool. I just want to be myself."
Obviously, this is a gentle cover interview in a fashion magazine, but even then, Bazaar seems to gloss over certain things and go out of their way to make Miley seem sympathetic and/or not call her out on her bullsh-t. They reference the Nicki Minaj "WHAT'S GOOD?" moment from the VMAs and Bazaar notes that some people "felt sorry" for Miley. Really? Did they? Because it was an amazing moment where Miley had talked sh-t about Nicki and Nicki called her out publicly for being an idiot. The fact that Miley was standing there in her blonde dreads and her culture-vulture look was just priceless. Bazaar also claims that "Miley retreated" after the Minaj incident. I don't remember it that way. Miley was still in our faces a lot after that, then she "retreated" and worked out her latest persona: countrified white blonde woman who sings twangy love songs about her movie star boyfriend and their life in Malibu.
Also: "I didn't want to become any sort of man hater because I love all humans; I am a humanitarian." She's saying that in the context of why she chose to "wear" a heavily sexualized image. It's not great. Time to retreat again, Miley.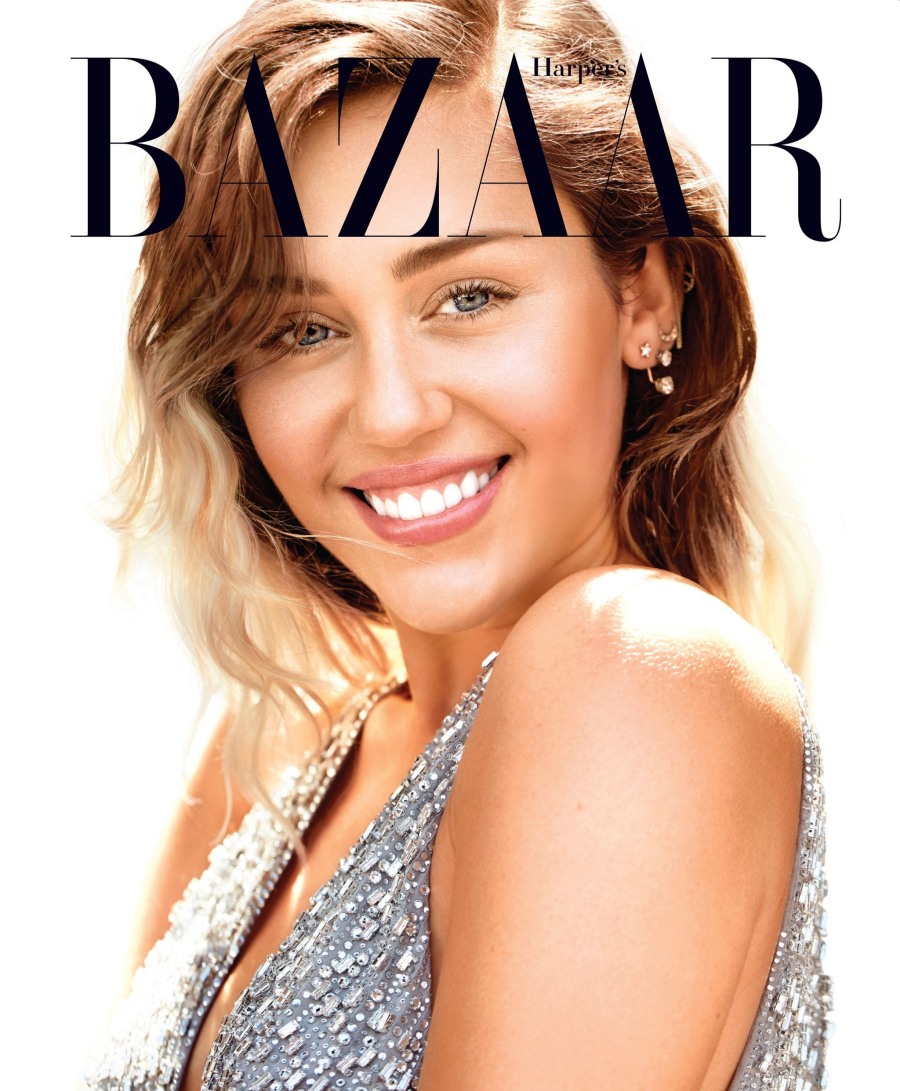 Photos courtesy of Camilla Akrans/Harper's Bazaar.