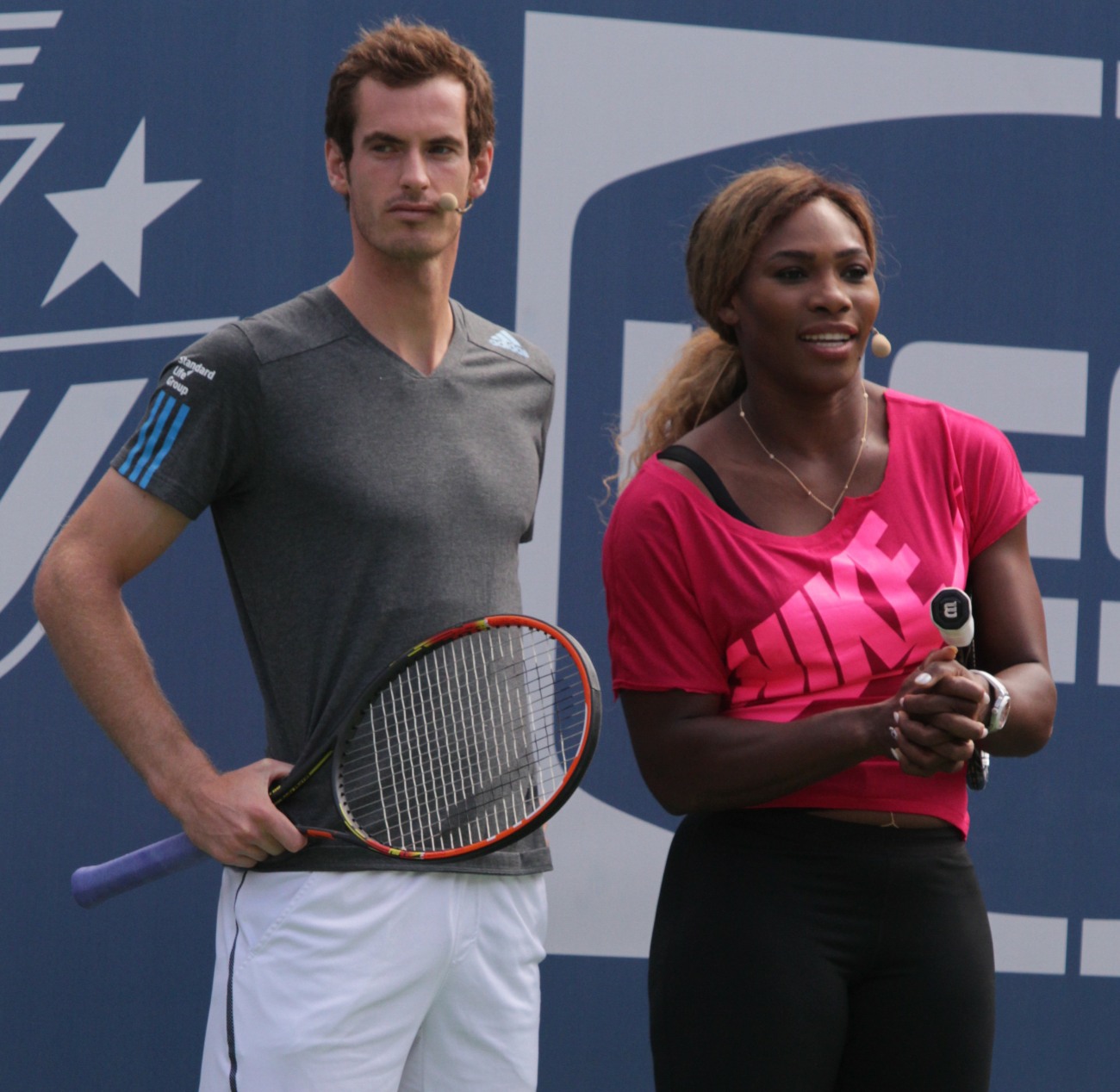 It's a little bit funny to me that the two #1 British players were both taken out of Wimbledon by American players. Sam Querrey took out an injured Andy Murray in the quarterfinals on Wednesday, and on Thursday, Venus Williams took out Johanna Konta in the SFs. Konta was the big British hopeful this year, and the Brits were really hyping her. I think Konta still had a great tournament, and there's zero shame in losing to a Williams sister in the semifinals of Wimbledon, which is arguably Serena and Venus's favorite tournament of the year. It even felt like Venus had a lot of support with the British crowd too, although I'm sure most of the people there wanted Jo to win. Still, Venus is still making history – she's on the ladies' final on Saturday. I'm rooting for her!
So, not to make Venus's amazing accomplishment all about Serena Williams, but here we go. Serena is obviously too pregnant to be at Wimbledon right now. I'm sure she would love to be cheering on Venus from the stands, but I think Serena is too far along to travel (their mom is at Wimbledon though). Serena has been doing press all week on behalf of her Tempur-Pedic mattress endorsement, and so of course she's chimed in about some of the Wimbledon stories of the week, and some other stuff. Some assorted quotes:
On Venus making it to the finals: "I feel like I'm there, in a weird way. I feel like I've been there for the whole journey. We talk every day and we text every day, not about tennis always – our relationship isn't based around tennis so it's just been really great. I miss her a lot and I look forward to her coming back….All my energy is towards making her want to be great and making her want to win. It's just a totally different feeling."

On Andy Murray's feminist clapback: "I don't think there's a female athlete who isn't totally supportive of Andy Murray. He has spoken up for women's issues and women's rights, especially in tennis, forever. And now he does it again. That's one thing we love about him. He has such a wonderful mother who has been such a strong figure in his life and she's done so much for us and our tour. We love Andy Murray."

She has no chill when she's watching Venus: "I'm as calm as a sister can be, which really isn't that calm. It's hard to watch her because I know her so well, but she's been playing really well. I'm so proud of her. It's more nerve-wracking watching her because when I'm playing, it's all in my hands. It's up to me. But with her, I always want her to win and do great and it's out of my hands."

She's had a great, easy pregnancy: "I have been really fortunate and I have had a really good pregnancy, and everything has just been really good. Sometimes I am walking in my house, and I'm like, 'I really like being pregnant.' I never thought I would say that. I am definitely [the type] that enjoys it."

She doesn't have cravings: "I don't have the cravings. So I am a little disappointed with that. But I am OK with it because I feel like, maybe if I had the cravings, I would have a tougher pregnancy. I have just been trying to eat healthy and stay fit and definitely eating healthier than I normally do. It's pretty backwards… lots of greens, lots of vegetables" and getting proteins through "either fish or different types of nuts and seeds."

She might not go back to the tour right away: "If you know me, you know that I have the most unrealistic goals. I'm having a baby in the fall, and I am talking about playing in January. That is ridiculous! But who knows. If it happens, great, but if it doesn't happen, it's not the end of the world. I am OK with that, too. Big deal, I will just keep going until the next goal!"
[From E! News, Express, ESPN and WTA Tennis]
I always think of Serena being closer to players like Roger Federer (they're the same age and friends IRL) and Novak Djokovic, so it's nice to hear her praise Andy Murray for being such an amazing feminist ally. She's right too – Murray has been an ally for years, and he's always been a big supporter of the women's game. As for what she says about Venus… of course she's going to be screaming at the television! We're all going to be screaming!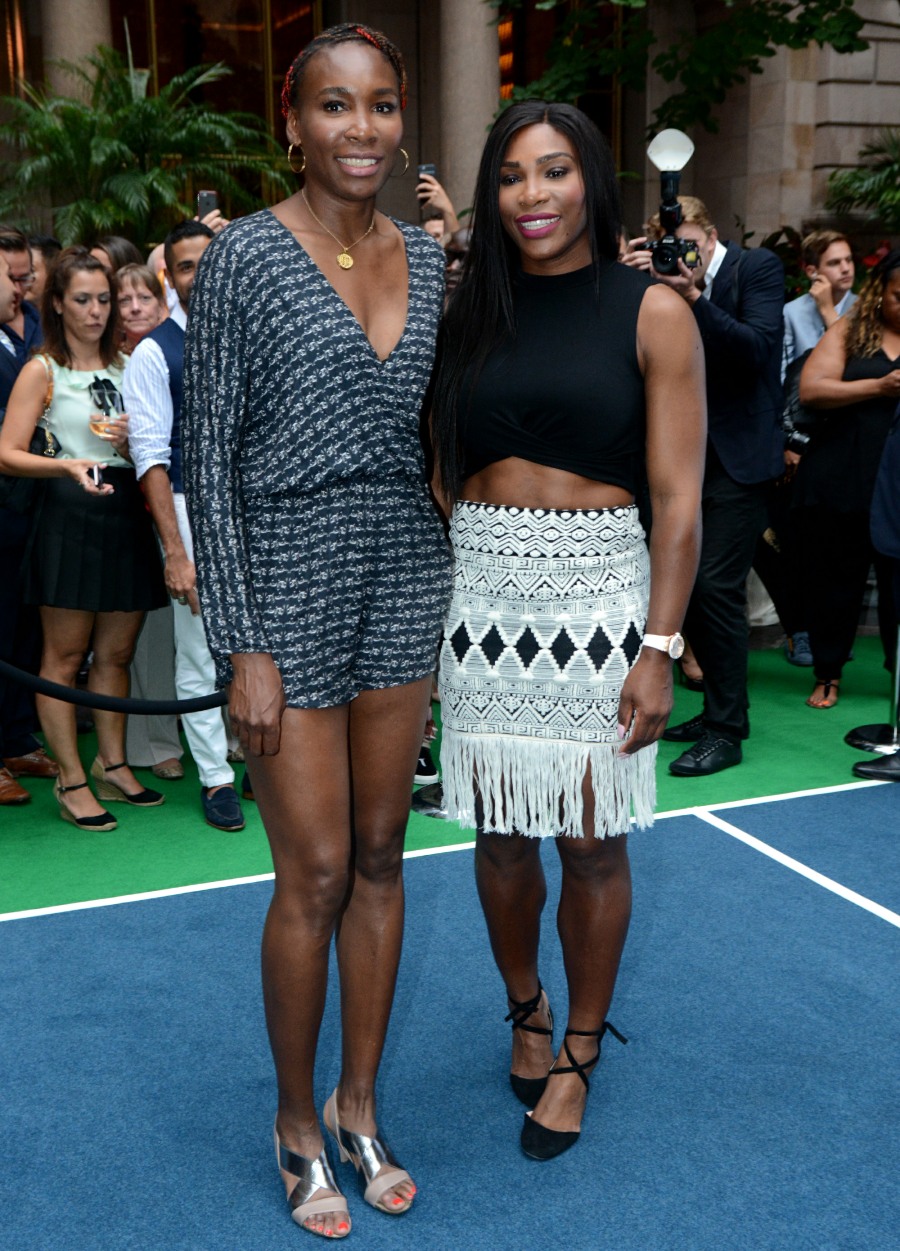 Photos courtesy of WENN.