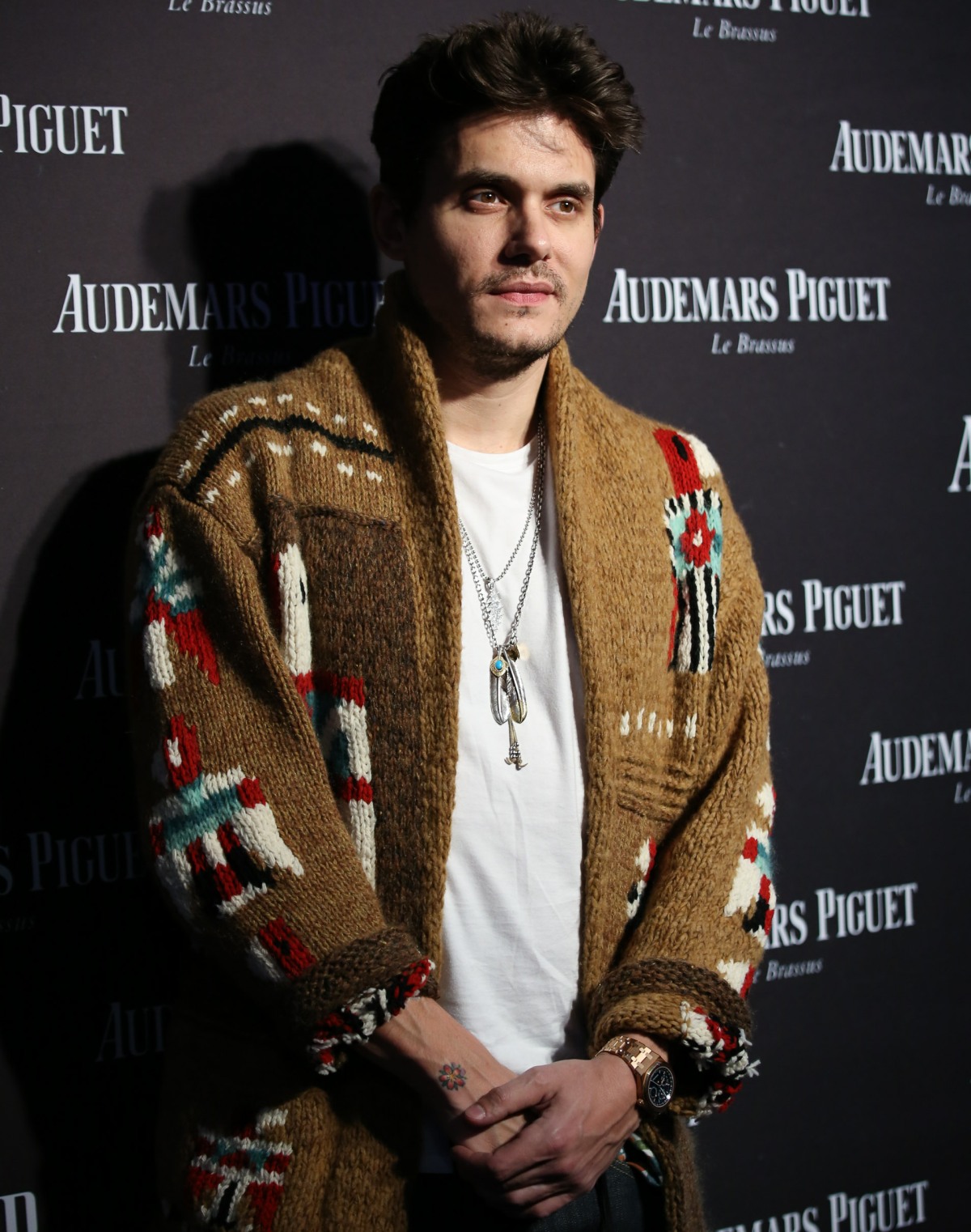 John Mayer is a legend in his own mind. We already knew that about him, that if you speak to John Mayer, he will tell you how brilliant, how legendary, how special he is. He has a new interview with GQ Style and I wish I could even describe how much I enjoyed this piece. It's so… niche. It's all about clothing and fashion and his obsessive collecting habits. He collects everything from expensive watches to vintage luggage to vintage t-shirts to special sunglasses and more. He sat down with GQ Style and this is how they describe him: "He's wearing Visvim boots, a white gold Rolex, and rocking what he calls 'autumn sunrise' highlights in his hair." That may be the most perfect sentence in the English language.
At the end of the day, this interview increased my hate-respect for Mayer. He's not really a legend, but he's a bright guy and I love it when public people fly their freak flags proudly. Mayer is Peak Hipster, but I feel like he can't help a lot of it – he has an obsessive, collecting nature and he's lucky that his habits are so wholesome. He blows most of his money on stuff that will likely increase in value over time, so he's actually making smart investments. You can read the full piece here. There are parts of it that are so Kanye-esque, I actually did a double-take. Some highlights:
His obsessive interest in certain things, like watches, sneakers, t-shirts: "Always had it. And I met really cool people when I began to extend beyond music. I met [Fragment designer] Hiroshi [Fujiwara] in Japan. Then Hiroshi would come to New York and I'd lend him an acoustic guitar. Then I'd go to Japan and Hiroshi would take me out. And then Hiroshi introduced me to [Supreme founder] James Jebbia. Eric Clapton was also in the mix, he walked me over to [now-closed streetwear boutique] The Hideout in the UK. And that really turned me on to it—'cause I've always had this collector mentality. I got very interested in fashion and how it connects with ambition to just go deeper into a world."

He was horizontal before horizontal was a thing: "It's only different if you look at the genre of music as the definer of what culture you can be involved in. I mean, I was sort of horizontal before anyone else went horizontal in terms of just breaking down the barriers. Because I was always far more interested in stuff other than the scope of music that I made. And so if you take the musical genre partitioning away, then none of it's all that strange. It's just that I don't necessarily connect my interest in fashion to the main event of what I do musically.

Literalism is dead: "The new metric is your level of balancing different tastes, creating your own tastes out of them. Literalism is dead. Literalism is gone. Even the literalism of Free & Easy magazine, like, going head-to-toe with it, or Supreme head-to-toe. Literalism is easy now because all you have to do is click follow on an Instagram account and it's a subscription to a certain amount of cultural influence. So the real question—or the only question I'm interested in—is how do you implement that in a way that's authentic. And you can even push the boundaries of authentic, right? Even authenticity is up for debate."

He feels good right now: "It's my job as an artist is to never complain. Artists should never complain about other art. You just shouldn't. And I'm only making 12 songs every couple years. That doesn't take up most of my time."

His t-shirt obsession: "So like I was just saying, I just DM'd this guy on Instagram, and he said he had 20 of these shirts that go up tomorrow at 9:00AM, and I'm excited—if he told me that he didn't have an extra and that it would be unfair, theoretically, I would set an alarm. I'm into setting alarms, man. I'm into refreshing the site until it goes up and then grabbing the large, shoving it into the cart, and then checking out before someone steals it out of the cart. That excites me more than the idea of going to a Mercedes dealership. I'm into t-shirts now like you have no idea. They're evidence of people's creativity that you can wear. And when someone gets it right—when they really nail it—it's killer.

His Grateful Dead t-shirts: "I must have a couple hundred. And again, in terms of not being too literal, I don't wear them on the stage with the band, because it's too on the nose. But where I'm interested in making it click is wearing it where you don't normally see it. That's what makes it so interesting. Like, Future wearing a Grateful Dead t-shirt. That's where hip-hop is so smart right now. Hip-hop understands exactly what we were talking about, how to defy literalism. I just saw Big Sean wearing a Rick and Morty t-shirt. That's great. That's exactly what I'm talking about. Hip-hop's always been that way. A lot more than rock and roll. And to me, it just represents freethinking. I love freethinking, and the people that I look up to are free thinkers.
This interview literally goes on like that for like five pages. How is it that no one has put John Mayer and Kanye West in a room together with five articles of clothing and let them just talk to each other for hours as they nit-pick the clothing, brag about their fashion visions and their music and try to one-up each other? That's the reality show I want. In case you can't figure out what Mayer means by this whole "literal" and "horizontal" part of the conversation – I took it to mean that he feels like he was one of the first guys to go "horizontal" in that he has always had a wide array of interests – in fashion and obsessive collecting – that stand side-by-side with his musical career. The "literal" thing is, I believe, Mayer saying that he doesn't want to dress in a costume or uniform when he's on stage, or as part of some kind of rock star persona. He's not going to hang out in leather pants and a Pixies t-shirt because that would be too "literal."
Oh, wouldn't you know? Mayer did send some love to Kanye, his brother from another mother.
Photos courtesy of WENN.