My mom is always telling me not to overshare on social media. I try to be careful, keep my friends list low and not share things publicly, but you never know if that new acquaintance is a stalker or thief. And if you're a celebrity and you're posting things publicly of course there are stalkers, thieves and worse people watching. When it comes to mid and low-level celebrities they have to balance out their need for publicity, as social media is their bread and butter, with the risk to their security. Hence Hilary Duff, a staple of the dude blogs, posting some sweet photos and videos from her vacation with her five year-old son, Luca. Hilary posted a photo of herself with Luca on a plane, using a plane emoji, on July 15. Then there were beach and water sporting posts and, four days ago, a video of Hilary doing a handstand into a lake with the caption "Canada." At some point last week, maybe after that post, Hilary's house was burglarized.
Hilary Duff's Los Angeles home was burglarized last week while she was away on vacation, E! News has learned.

The Lizzie McGuire alum and Younger star was with her 5-year-son Luca in Canada, where her ex and his dad Mike Comrie is from. She had posted photos and videos from their trip on Instagram.

"This is a scary and upsetting situation for anyone to go through, but Hilary is thankful that her family, her staff, her home and her pets are all safe," Duff's rep told E! News Sunday. "That said, she has a significant security team in place that will work with the authorities on this incident and handle security measures moving forward."

TMZ, which first reported the news, said jewelry worth hundreds of thousands of dollars was stolen from the house and that a security alarm never went off during the burglary.

Police confirmed to E! News that a home in the actress' neighborhood was burglarized but did not offer further details.
So Hilary did have a burglar alarm but it was probably deactivated. I wonder if she has a camera system too. Probably not or she would have released footage if there was any. You know she's scared because she hasn't posted anything to social media for days. I hope she's ok and that she didn't lose anything of sentimental value. That story about Emma Watson's ring really got to me last week. It sounds like she's going to put a lockdown on her place so this doesn't happen again. This is a lesson my mom tried to teach me and one I'll take to heart – stop sharing so much, or at least put a time delay on it. Poor Hilary.
Also, it's known Hilary was in Buffalo, NY last week (holla! I used to live there) because she was photographed with a Chipotle employee there. She was just being friendly posing for photos, which is nice.
We had a special guest at chipotle today @HilaryDuff !!!! pic.twitter.com/xKWAg4Emps

— Emily McIntosh (@_emily_mac) July 22, 2017
I don't think this is Hilary's dog because I can only find three posts of this beautiful pup, but look at him!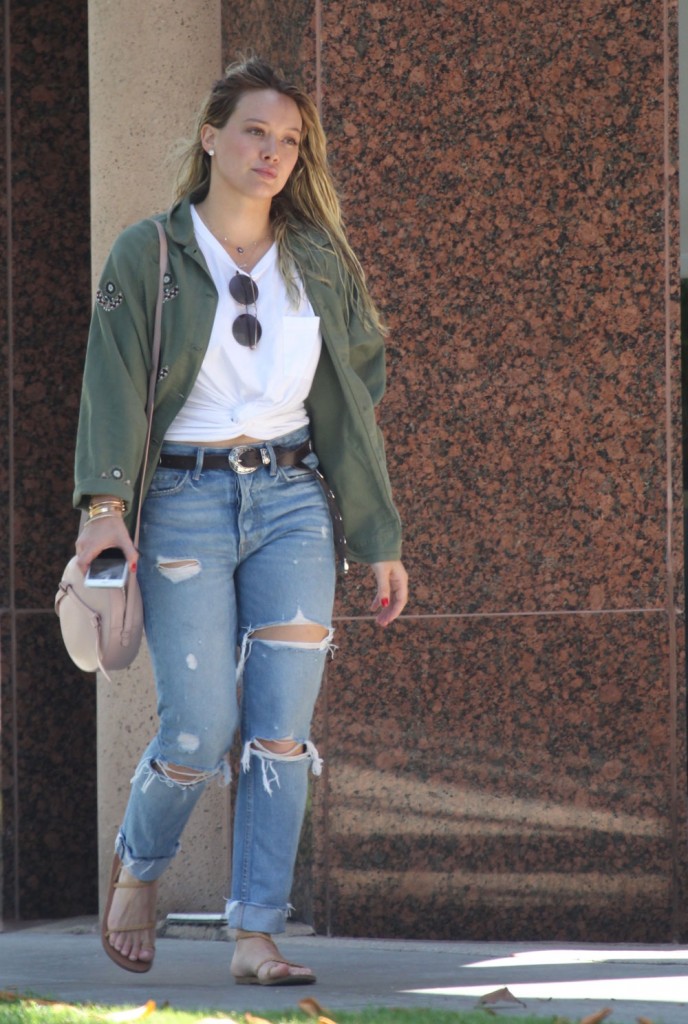 Photos credit: WENN and Instagram/Hilary Duff