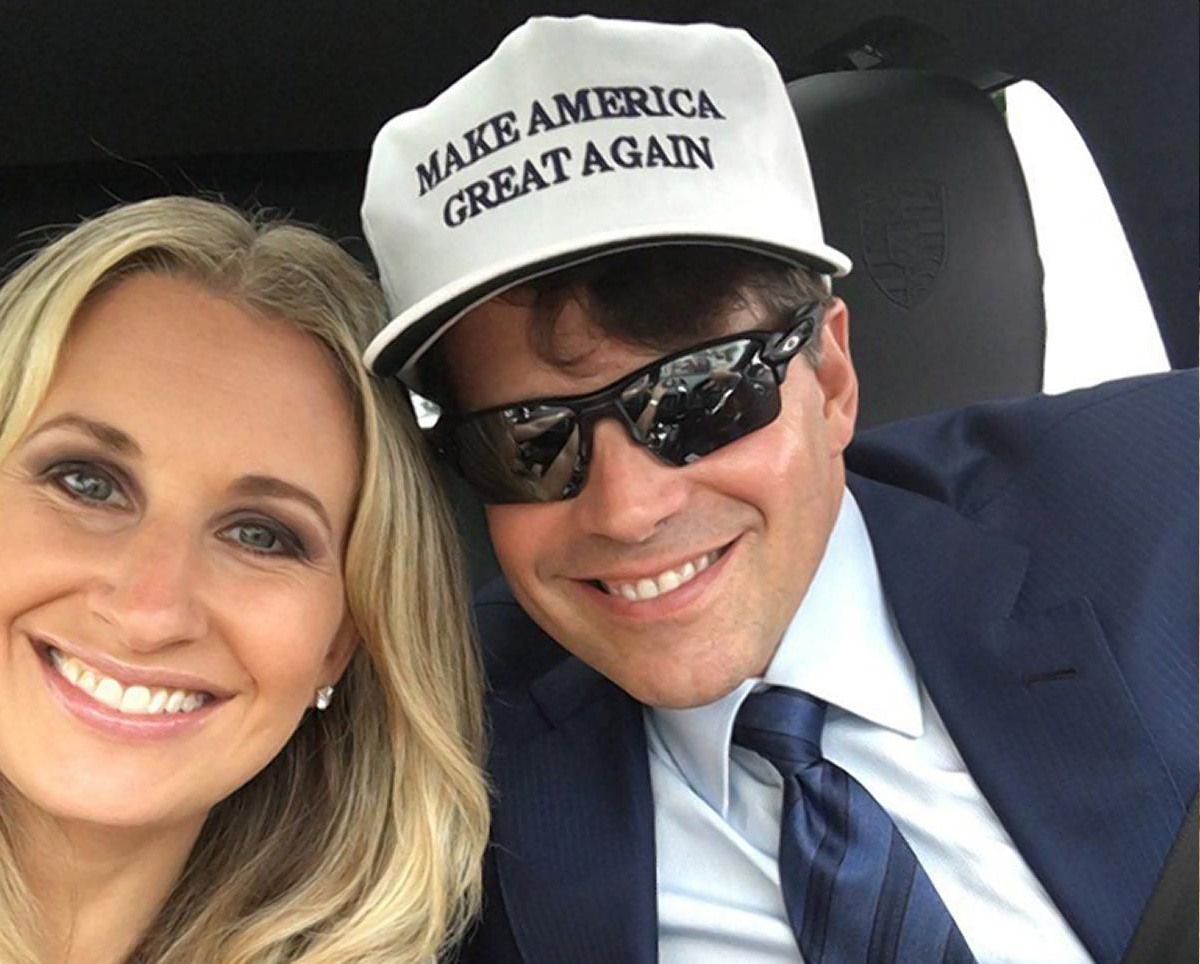 I'm not prone to violence whatsoever, but if my significant other wore that hat, I would truly feel the urge to violently barf him, regardless of whether or not I was married to him. The above photo is of Anthony "The Mooch" Scaramucci and his wife Deidre Ball, also known as Mooch & Ball. Mooch & Ball have been married for three years and they have two children together. Mooch & Ball are no longer happening. Deidre filed for divorce, according to Page Six. She filed this past week, apparently, because she loathes Donald Trump and hates that her husband has become an unhinged Deplorable. I would imagine the New Yorker interview didn't help things whatsoever too.
Anthony Scaramucci, the White House's potty-mouthed new communications director, has been dumped by his beautiful blond wife because of his "naked political ambition," multiple sources exclusively tell Page Six. Deidre Ball, who worked as a vice president in investor relations for SkyBridge Capital, the firm he founded in 2005 and sold to ascend to the White House, has filed for divorce from "The Mooch" after three years of marriage after getting fed up with his ruthless quest to get close to President Trump, whom she despises.

One source told Page Six, "Deidre has left him and has filed for divorce. She liked the nice Wall Street life and their home on Long Island, not the insane world of D.C. She is tired of his naked ambition, which is so enormous that it left her at her wits' end. She has left him even though they have two children together."

Scaramucci and Ball, 38, began dating in 2011 and are believed to have married in 2014. The source said that the Wall Street financier, 52, had been "hell-bent" on claiming his position at the White House after he was originally pegged for a senior role and sold SkyBridge Capital in preparation in January. He was blocked by Reince Priebus, Trump's chief of staff. But, after an aggressive campaign, Scaramucci was made communications director on July 21 by Trump, prompting Sean Spicer to quit. A second source close to Scaramucci — who has alternately not been wearing his wedding ring, or has been sporting it on his right hand — said the former couple had fought over his loyalty to Trump. This was his second marriage and Ball was noticeably not present at his recent SALT conference in mid-May.

The source said, "Deidre is not a fan of Trump, and she hasn't exactly been on board and supportive of Anthony and his push to get back into the White House. Anthony is focusing on his children, his work for the president and the American people. There is nothing more important to him. I don't know who Deidre thought she was marrying but anyone who knows Anthony knows he's an ambitious man."
This is bad, right? But wait… it gets much worse. As it turns out, she was nine months pregnant when she filed for divorce and the Mooch didn't even bother coming to see his newborn son:
Anthony Scaramucci's wife demanded a divorce three weeks ago, while she was nine months pregnant, sources told The Post. Deidre Scaramucci, 38, fed up with her three-year marriage to the new White House communication director, filed divorce papers on July 6 in Nassau County Supreme Court. On Monday, while Anthony was in West Virginia with President Trump for the Boy Scouts Jamboree, Deidre gave birth to the couple's baby boy James. As of Friday evening, a full four days after delivery, her 53-year-old husband had yet to meet his newborn son, though an associate close to Anthony said he visited the child late that night.

"When James was born, he sent her a text saying, 'Congratulations, I'll pray for our child,'" said a source close to the situation.

Anthony's associate said, "There was discussion between him, her and the divorce attorneys about Anthony going to the hospital and unfortunately … the delivery was sudden."

Deidre's anger with her husband was a factor. "There's been … a lot of lies," said the source. Asked if any other person was involved in the split, those close to Scaramucci said no. Arthur Schwartz, his rep, told The Post that "There's absolutely zero truth in that." The associate added, "The only one he's dating right now is the West Wing of the White House."

While Anthony was having dinner with President Trump and others in Washington Wednesday night, Deidre was home in Long Island recovering from labor. The source said that Deidre gave birth at Lenox Hill hospital on the Upper East Side. Deidre's attorney, Jill Stone, told The Post that her client "is not making this into a circus. She has children to protect and that's what she's concerned about."

Deidre's infant son, who was born two weeks before his Aug. 8 due date at 5 pounds, 13 ounces, was admitted on Thursday to the neonatal intensive care unit at North Shore Hospital.

"She's mad. They aren't really speaking right now," the source said of Diedre."The [pain] runs deep. [Anthony] tells her she's not that smart, that he's out of her league."
Read that Page Six story if you'd like even more sordid details. This is a gigantic mess. Here's the Mooch's tweet about it:
Leave civilians out of this. I can take the hits, but I would ask that you would put my family in your thoughts and prayers & nothing more.

— Anthony Scaramucci (@Scaramucci) July 28, 2017
Which leaves me to wonder… does the Mooch think he's not a civilian? He will soon be a federal employee, but he's still a civilian. Anyway… yeah, it sounds like the Mooch will fit right in with Easy D.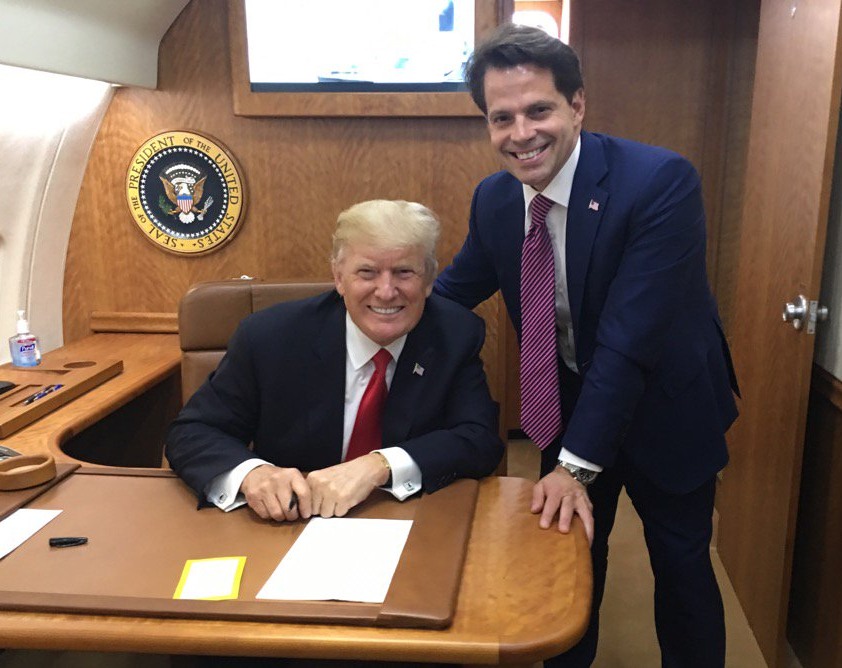 Photos courtesy of Twitter, Getty.