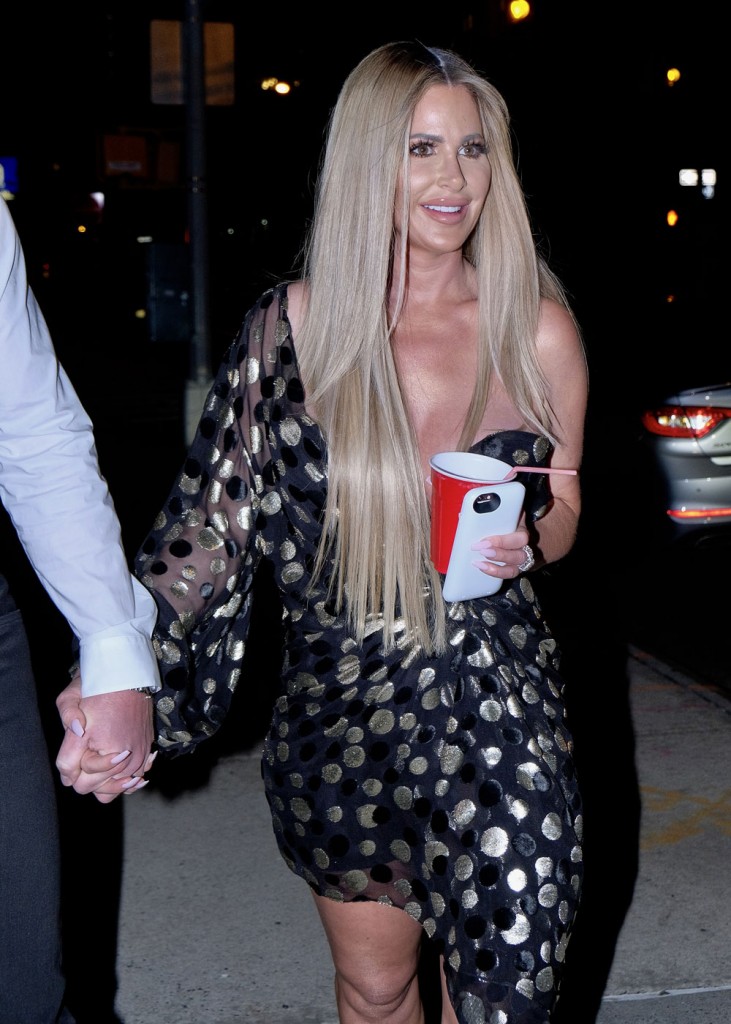 Do you guys remember when Kylie Jenner posted photos of her greyhound dogs to social media and got dog mom-shamed and investigated by Animal Control because the dogs were "thin"? In reality that's how greyhounds are supposed to look and her dogs were perfectly healthy. Well something similar happened to Real Housewives of Atlanta's Kim Zolciak, who is fostering three puppies. Kim has been posting photos of the dogs to her social media, and she's been showing her nearly five year-old son, Kash, cuddling them. Kash was the victim of a violent dog bite this April that required hospitalization and stitches and almost affected his vision permanently, but he's in the clear now. Kim has been trying to reintroduce Kash to dogs safely and gradually and has been fostering the puppies to help him. Apparently someone saw a Snapchat of the puppies that Kim posted, took offense to it and thought there was abuse happening, and contacted animal control. (I'm sorry that I'm unable to locate the Snapchat in question after looking for two whole minutes.) The animal control officers visited Kim's house and saw that the puppies were well cared for and left. Kim got so outraged about it that she promised not to share any more photos of the dogs to social media.
Kim Zolciak-Bierman… took to Snapchat earlier today to express her "disgust" towards an unknown social media follower who called animal control on her, complaining that the reality star wasn't taking care of her foster dogs properly. Talk about a dog day afternoon…

In the video, the mom of six revealed that a stranger had called animal control to complain about her treatment of her three foster puppies, Shiloh, Sage and Stella. According to the reality mom, Fulton County Animal Services came and checked on the condition of the animals.

Kim said, "Apparently somebody thought it would be really cute to call the animal control center on my dogs today and say they were not being taken care of."

The 39-year-old lashed at the unknown person, saying, "I am utterly f–king disgusted and appalled by the person who did this."

The reality star, who is an avid poster of both her personal dogs and foster dogs, said that all the hubbub was for nothing.

"Of course we are in the clear because my dogs are very well taken care of," she said. The blonde also revealed that she'd actually shelled out more than $3,000 to take care of the pups.

The Real Housewives of Atlanta star concluded, "I will no longer be sharing any part of my dogs and their life on my social media any longer."

That's a pretty big deal for the social media savvy star, as she's frequently featuring the animals on her pages.
Kim's evidence for the puppy's well being is the ridiculous amount of money she's spent on them. That's not the point, idiot! I'm team dogs, but I get it somewhat. Kim is mad that people are scrutinizing the photos and videos she's putting out to the public, upon which her popularity depends. I would be more on Kim's side except this over the top testimonial that her family's chef, Tracy Bloom, posted defending Kim and her family against a few trolls online. You can read Tracy's very long post below, but it boils down to a rant against a minor inconvenience, on which Kim is capitalizing. How long do you think it will be before she posts photos of the dogs again? She'll probably wait 4-5 days so she can take advantage of the next news cycle.
Also, in Bloom's Instagram below, there's a very telling sentence. "They don't post pictures of cute puppies for likes they have plenty of cute kids for that."
photos credit: Getty, Instagram/Kim Zolciak