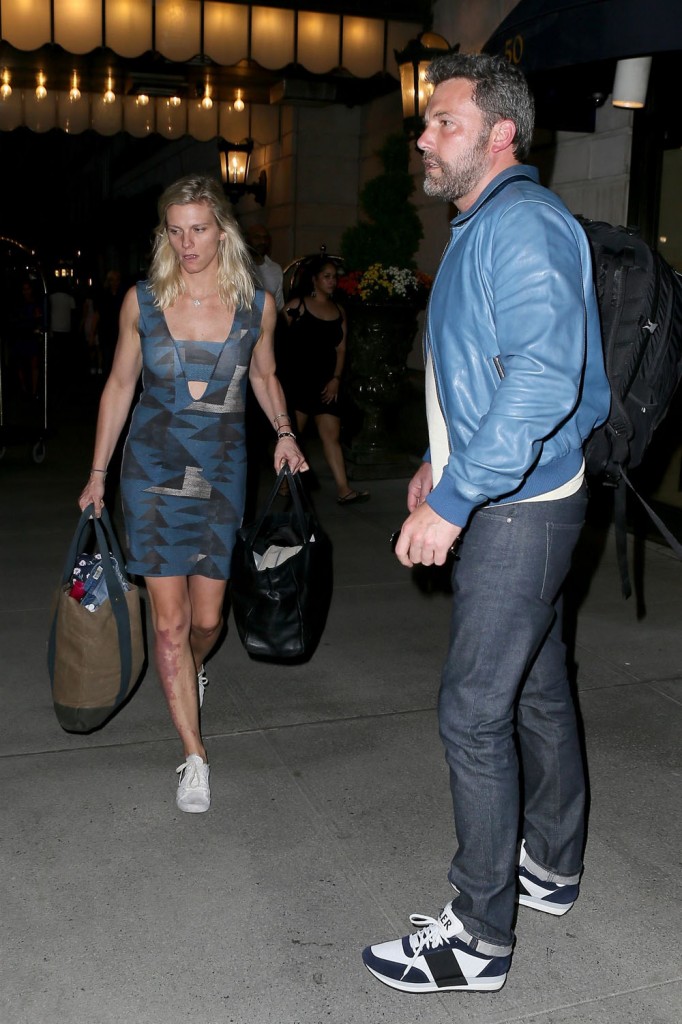 I was waiting for this, I was waiting to hear the next chapter in Ben Affleck's cool chick/girlfriend rollout. Lindsay Shookus is the one who managed to climb to the top of the flying monkey heap, by sheer force of will and accommodation. She's the one who managed to get some pap strolls as Ben needed an out to his marriage that didn't involve actual confrontation on his part. And she's the one he's vacationing with in remote places where he hopes not to be recognized. Affleck and Shookus are in Maine for a little getaway after he finished wrapping Justice League. This trip also comes after his promotional duties at Comic-Con a little over a week ago, where Affleck swore he was still going to play Batman, despite rumors to the contrary. Rumors which likely center around his reliability, the fact that he's not in physical shape for the role (I'm sorry but it's true) and the fact that he doesn't seem to have remained sober after his trip to rehab earlier this year. I guess we have confirmation of that, because Affleck was spotted at a liquor store while in Maine. In fact he went there two days in a row. Even People magazine is reporting this. However a post on Facebook, a photo of Affleck taken by an employee of the liquor store on his second day there, was removed, as was a photo she snuck of him on his first day, which she posted to Twitter. (Remember how that Uber story about him being spotted with a blonde was deleted?) He was just buying the booze for Lindsay though right? People also has some insider quotes about Affleck and Shookus's summer plans.
Ben Affleck and Lindsay Shookus's summer of love continues.

The Oscar winner, 44, and his new girlfriend, 37, were spotted out on vacation in Maine over the weekend.

"He recently wrapped filming on Justice League and is enjoying his summer," a friend of Affleck's tells PEOPLE.

Another source adds, "He also really enjoys spending time with Lindsay. It won't be surprising to see them out and about and together in the coming weeks."

The duo were spotted together on Sunday at a liquor store, where the actor posed for a picture with store employee Jenna Noyes, who posted the photo on Facebook, captioning it, "Met Ben Affleck at work today." She has since deleted the post.

Affleck and the Saturday Night Live producer visited the same store the day before. Noyes later posted a screenshot of security footage on Twitter in another post that has since been deleted. She captioned, "The one time I don't look up at the customer AT ALL."

It's not clear for whom they were buying the alcohol. In March, Affleck revealed in a Facebook post that he had completed treatment for alcohol addiction…

A friend of the actor tells PEOPLE that Affleck is "committed to bettering himself and continues to stay on his path of wellness and spends time with his family."
Even Affleck's publicist/the "friend of the actor" is phoning it in. I shouldn't be so cynical, it's entirely possible that Affleck was buying the booze for Shookus. Either way, he thought he wouldn't get busted at a liquor store. He could have sent her in to buy their booze (or her booze, although that scenario is doubtful). Shookus isn't that recognizable, only hardcore gossips like us would know who she is. Instead Affleck went in with her like it's not a big deal. Hundreds of millions are riding on this guy's sobriety and he can't maintain it, isn't bothering to hide it, and is likely justifying that to himself. It's sad and honestly, as someone who has been sober over a year now, I would rather feel like this, and think this clearly, than live with the drinking every day and have all that money. I don't mean to sound fatalistic, and my life wasn't the worst when I drank. I didn't black out, I didn't lose anything tangible, but my relationships suffered, I was a much more negative person, and life was bleaker. It's so much nicer waking up and not worrying how sh-tty you're going to feel, and not having those few moments, before you sit up and feel the pain, when you're trying to remember how much you drank the night before. That's priceless.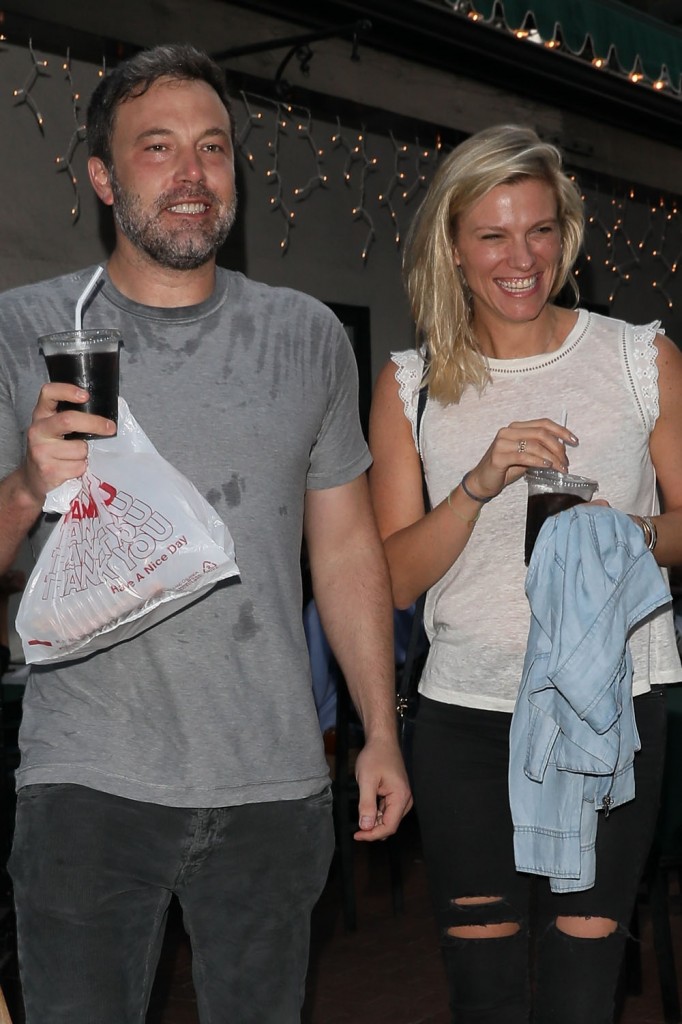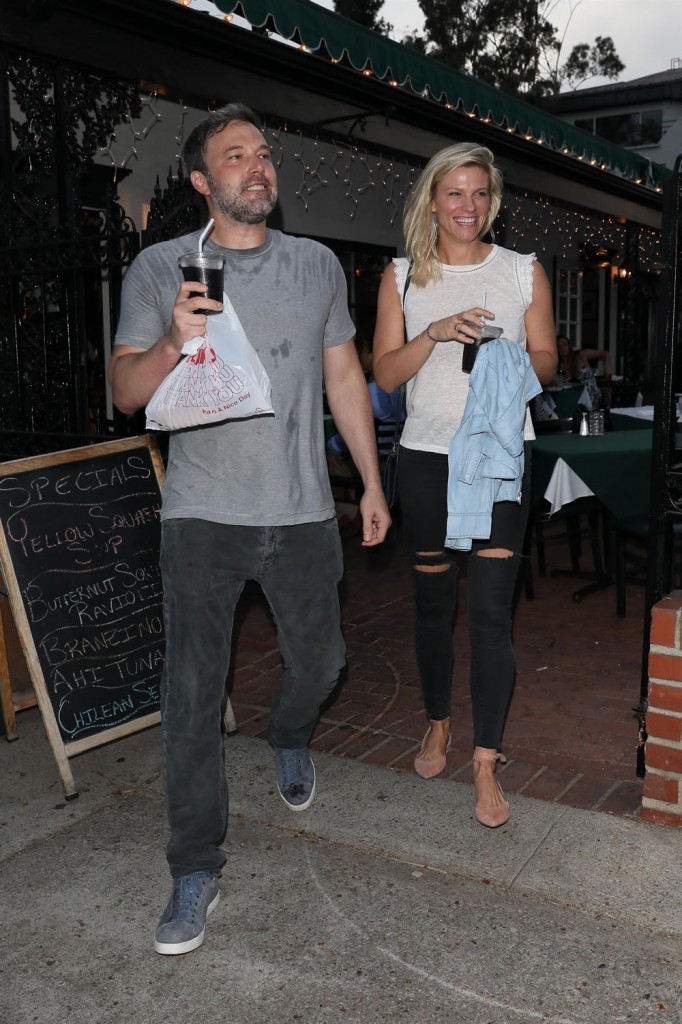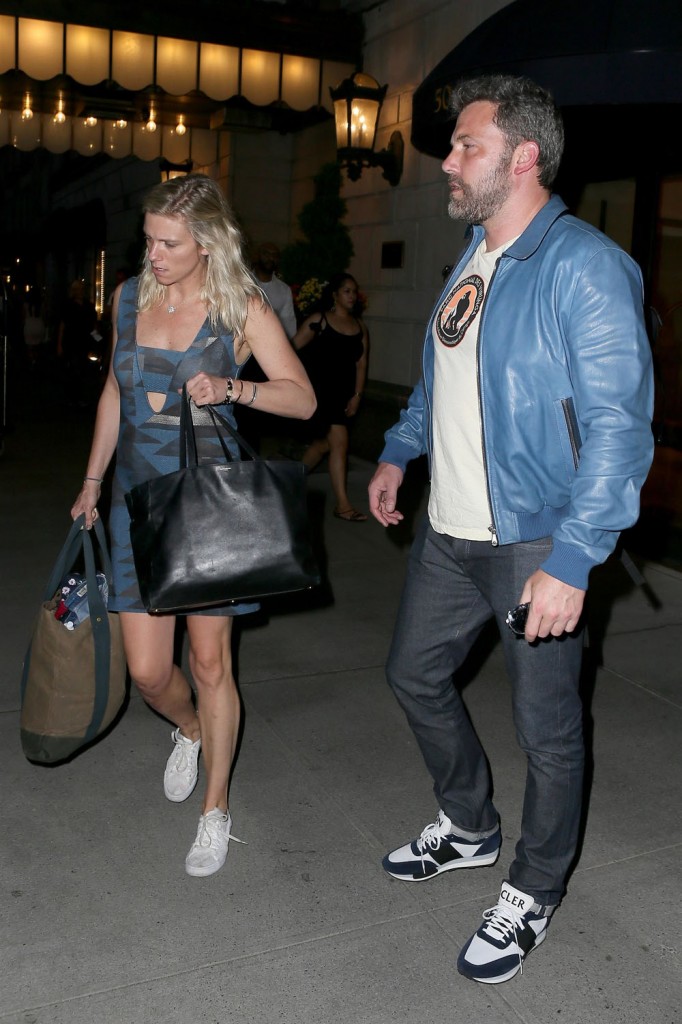 photos are ones you've already seen from Backgrid