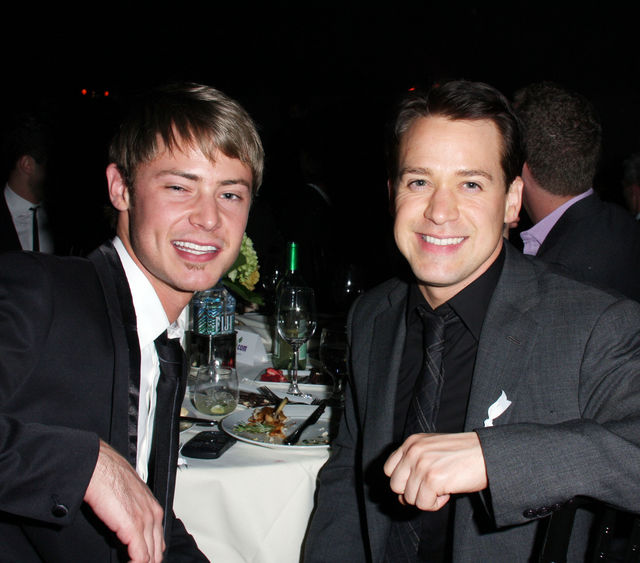 Grey's spoilers below
Grey's Anatomy star T.R. Knight's young boyfriend is said to have advised him to leave the show in favor of pursuing a movie career. It's a risky move that Knight may have to follow through with, now that it's rumored that he's off the show after a cliffhanger season closer that seemed to show his character George's death:
T.R. Knight was pushed to quit his starring role on "Grey's Anatomy" – by his 20-year-old boyfriend, who thinks he should be a movie star!

That's the shocking real story behind the TV doctor's apparent decision not to return to the hit ABC show next season, sources say.

While it's no secret that the openly gay 36-year-old actor has been unhappy with his lack of screen time, insiders say his boyfriend of 1 1/2 years, college student Mark Cornelsen, has been trying to convince T.R. that he's destined to be a movie star.

"Mark definitely has stars in his eyes," an insider told The Enquirer. "Ever since he came into T.R.'s life, he's been pushing T.R. to shoot for a bigger career.

"Before Mark, T.R. was thrilled to be just a regular on a hit TV show…

"T.R. is unproven on the big screen, and no one is knocking down his door to star in A-list projects," the insider pointed out.
[From The National Enquirer, print edition, June 15, 2009]
Unlike his co-worker buddy Katherine Heigl, T.R. Knight has no virtually no movie credits to his name. From what I could see on IMDB, he's made only two movies, one in 2002 and another in 2006, each of which I've never heard of.
Hiegl made the cross over to film while she was still starring on Grey's, and it's thought that her character could live although we'll have to tune in this fall to lean Izzie and George's fate. Starring on a TV show where you're making good steady money and branching out into film are not mutually exclusive. Knight's partner is just 20 years old and it sounds like he gave him some dumb, immature advice. Knight had a sweet job that he may have thrown away. Hopefully it isn't true that he's leaving or he has something else lined up. For now, his IMDB page ends at Grey's.
Grey's creator Shonda Rimes sort-of denied that Knight is leaving, and twittered that it was a " hilarious ridiculous rumor" that he was leaving. On the other hand, she has refused to address in interviews whether Izzie and/or George were leaving so why would she be so quick to call the rumors "hilarious"?
T.R. Knight and Mark Cornelson are shown out together on 3/13/, 4/18 and 5/16/09. Credit: Fayes vision/WENN.com