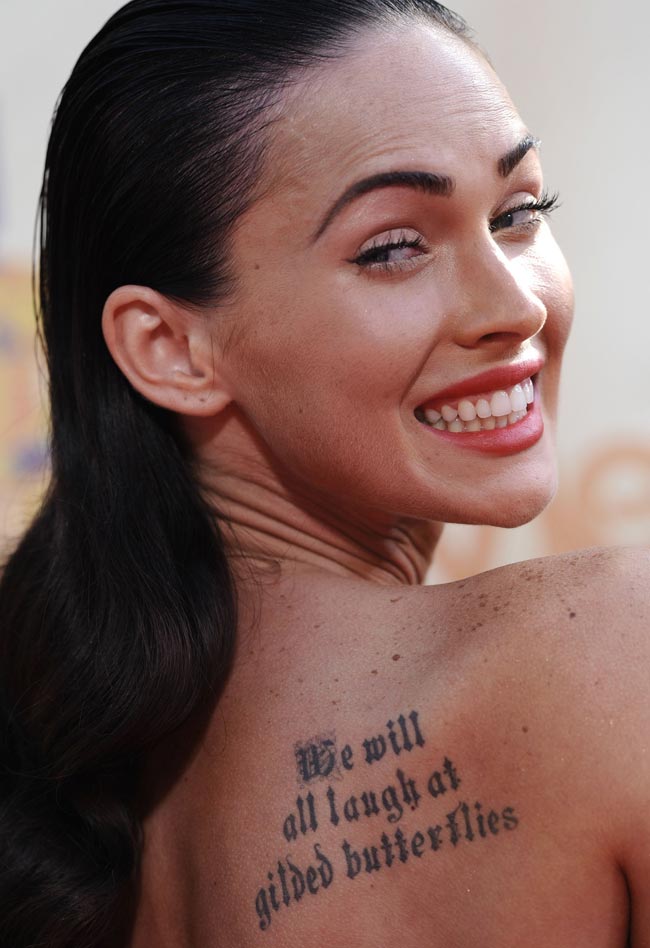 We've already heard a little from Megan Fox's epic GQ (UK) interview – namely, that all actors are prostitutes, and it's totally gross, in Megan's mind. Now we've got some more excerpts from the interview (because GQ didn't release the complete interview, we're just getting excerpts here and there), and they're just as… is there really a word for what Megan is? She's very quotable, and nearly every interview she gives gets massive publicity, which I suppose is good if you're promoting a movie. But after reading and covering my fair share of Megan Fox interviews, I think I'm qualified in saying that the girl's not very bright, and it wouldn't be the worst thing if her publicist or the studio told her not to speak anymore. She seems to be hellbent on talking herself out of jobs. Which is fine (if you like movies with good acting).
First up, Megan Fox is talking about how she's so hardcore because she smokes weed, and she defends pot-smokers everywhere. She says that when pot is finally legalized, she will be "the first f*cking person in line." She's so tough. But they also have another little excerpt from the interview where she's talking about how Sex and the City: The Movie totally sucked. Megan wins that point:
Megan Fox wants the government to legalize cannabis.

The Transformers star, 23, insists there is nothing wrong with enjoying the occasional spliff.

"America's war on drugs is propaganda," Fox tells GQ magazine. "I can't tell you how much bulls**t I've been through because I will openly say that I smoke weed. People look at it like it's this crazy, hippy, f***ed-up thing to do. And it's not!"

"I hope they legalize it and when they do I'll be the first f***ing person in line to buy my pack of joints."

Megan then went on to criticize the recent Sex and The City movie.

"Sex And The City: The Movie was so tragic," she said. "Costume dramas bore me and Hollywood comedies are total garbage, not funny at all. Fame doesn't mean anything because anyone can be famous, and TV news is mindless bulls**t."
[From Showbiz Spy]
SATC: The Movie was tragic! I was so disappointed. Lord, Megan Fox and I have something in common. Does this mean I have to get some big, ugly tattoos now? Anyhoodle, in the next excerpt from GQ, we have Megan talking about the casting couch. The casting couch is always interesting Hollywood lore, but I always wonder how much of that sex-for-stardom stuff really happens anymore. According to Megan, she's had to deal with casting-couch situations several times:
Megan Fox has blown apart Hollywood's casting couch culture – insisting several leading film directors have tried to bed her since she found fame.

The Transformers beauty has attended a number meetings with top moviemakers to discuss potential roles. But she was shocked when they made moves on her during the interviews – and immediately turned them down.

Fox, who refuses to name names, tells Britain's GQ magazine, "Any casting couch s**t I've experienced has been since I've become famous. It's really so heartbreaking. Some of these people! Like Hollywood legends. You think you're going to meet them and you're so excited, like, 'I can't believe this person wants to have a conversation with me,' and you get there and you realize that's not what they want, at all. It's happened a lot this year actually."
[From Starpulse]
Do you think it's really happened to Megan? Here's what I think happened – some of those older Hollywood heavyweights simply hit on her, and tried to get her into bed, but it wasn't necessarily a casting couch situation. It wasn't like Megan came in for a meeting with a producer and was told that she had to have sex to get the part. That's what I think, anyway – but I could be wrong. Maybe the casting couch is an prevalent today as it was during Hollywood's Golden Era.
Header image credit: AXELLE/Bauergriffinonline from 5/31/09. Other images are of Megan at LAX on 6/6/09. Credit: WENN.com