Don't worry, it's not 2003, but Paris Hilton is once again in the spotlight. The 36-year-old socialite-turned-reality personality-turned-DJ is promoting her 23rd fragrance, Rosé Rush, which you'll probably be able to pick up at your local TJ Maxx in about 6 months. People Magazine chatted with Paris about her new scent and her summer DJ stint in Ibiza.
Of the fragrance, which I would never buy but can admit has a pretty cool bottle, she says "It's just really romantic and feminine and beautiful. I just wanted that feeling when you feel in love and confident and happy. And I tried to capture that with the fragrance." I know marketing speak (it's kind of what I do for a living), but doesn't it sound like she's describing pretty much every fragrance?
I'm sure Paris packed some bottles of her new scent in her bags for her working vacation on the Mediterranean island, considering how many suitcases she took with her. She confessed, "Every summer I'm here for a few months so I bring over 30 suitcases. I usually end up not even wearing most of the things and buying new things. I just pack everything I own." 30 suitcases? I don't think I could pack all of my worldly possessions in half that many bags, but we are talking about Paris Hilton here. Oh, but, as Dolly Parton said, "It costs a lot to look this cheap," so Paris packs her bags with a lot of lotions and potions to maintain her look. She said, "I have an entire suitcase just full of beauty products. Just a full on suitcase that has everything in it." And it's not some Oil of Olay and Noxema in there. She's got products from her upcoming skincare line (have we been clamoring for this?) as well as "face masks, eye moisturizer, serums, stem cells and gold facials." Sheesh.
Let's face it, the woman has a lot of stuff. She admitted, "I not only have all designer bags that I've bought from other designers, but also my own. I have probably like 5,000 bags. I have so many shoes as well cause I have a shoe line, so every season they're sending me 200 shoes and I'm going and buying a bunch of shoes." As someone who always appreciates a good stiletto, this is the only thing I can feel any sort of kinship with her about – and purses. I currently have "the beige one" and "the black one", so I'm only 4,998 bags short of Paris' collection. #pursegoals
Paris also, as you might imagine, has a closet packed full of clothes that probably didn't come from Kohl's or H&M. What's in her closet? "Any dresses that I've got that are couture, like some Versace gowns and other couture pieces, I'd like to keep those for one day for my daughters." Paris went on to say that, "My mom kept some of her really nice pieces for me and my sister. I think it's nice to keep for when I have daughters one day. Some really special pieces that are timeless."
During her summer job, Paris has been accompanied by her 32-year-old boyfriend, Chris Zylka. It's his first time on the exotic island, and Paris has been happy to play tour guide, "I'm just showing him around the island," she shares. "It's insane every single weekend, it's been amazing."
Chris surprised Paris about a month ago with a Disney-fied font treatment of her name tattooed on his arm, a gesture which "surprised" her. "He literally just went and got it in the middle of town in Ibiza, and he was so sweet and he told me that I'm his Disney princess and his most magical place on earth. It made me cry, I was so happy and it was so romantic and sweet of him to show me how much he loves me."
I guess it's a nice gesture, and at least if they break up, Chris can say he got the tat after a life-changing trip to Disneyland Paris, right? I just can't believe we are still talking about Paris Hilton. She could probably make quite a bit of dough teaching wannabe celebrities how to make the most of their 15 minutes of fame, because, like her or not, she sure mastered that.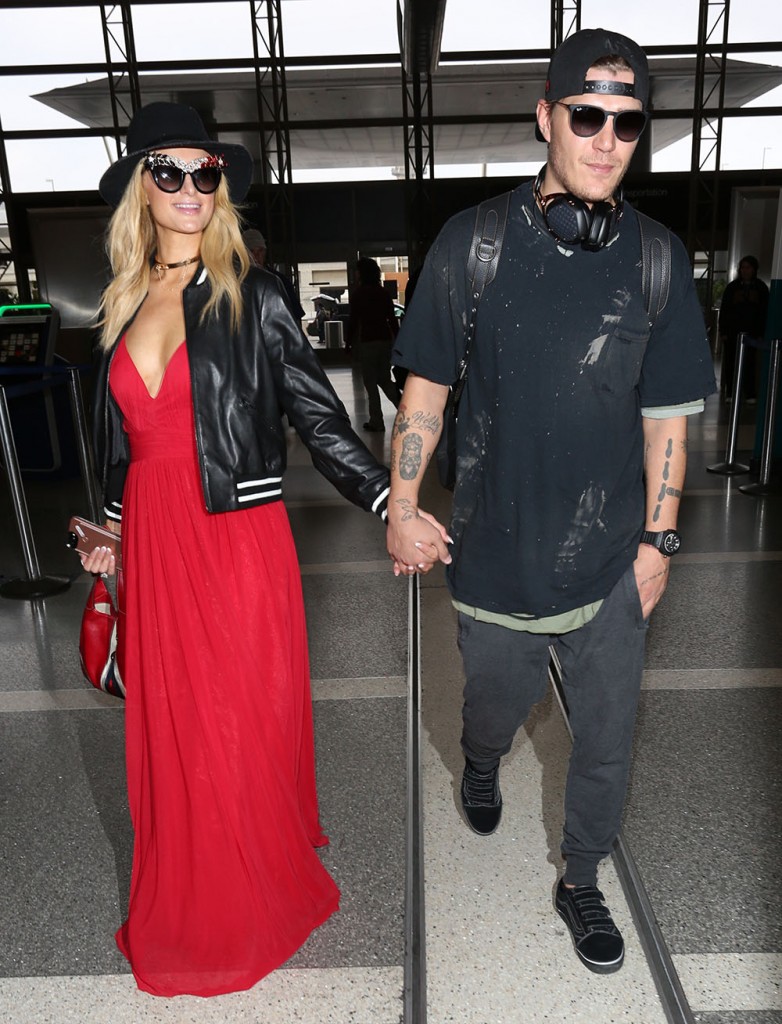 Photos: Instagram/Paris Hilton, WENN.com