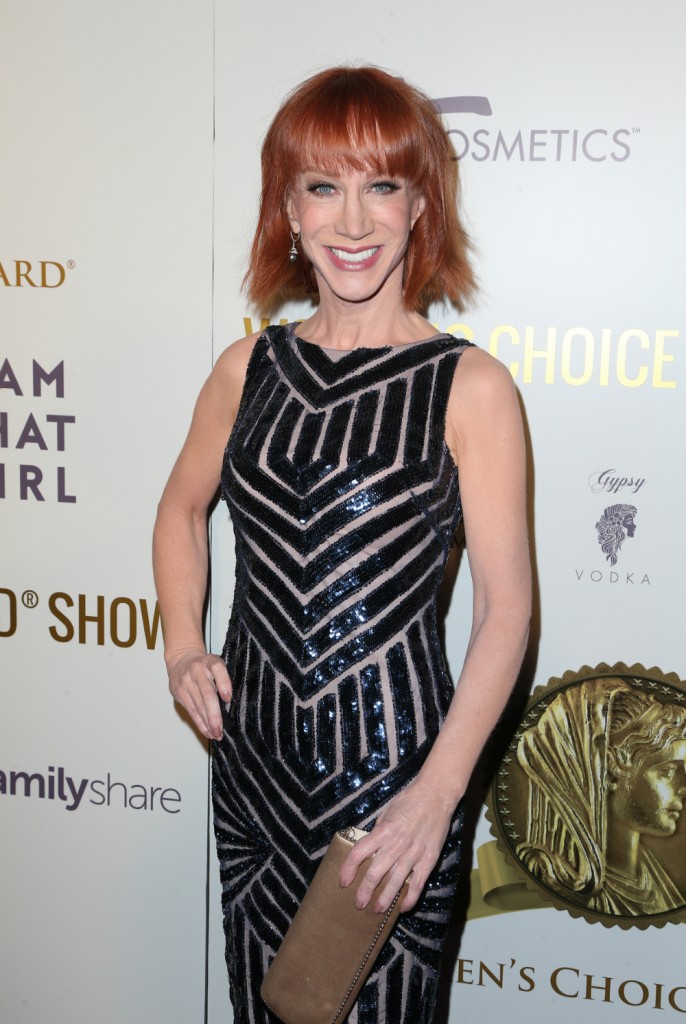 I can't believe we are still talking about Kathy Griffin's controversial photo holding a bloodied #45 mask. So many offensive things have happened since then, mostly by #45 and his administration, that have jettisoned this particular controversy from my short-term memory. However, one of those people still talking about it is Kathy herself. I don't think the argument 'but the interviewer asked about it' applies here as well because Kathy's new tour is called "Laugh Your Head Off" and the promotional image is of Kathy in the same blouse and pose as the photo, only she is holding the earth as opposed to a mask. Kathy gave an in-depth interview to The Cut about the stunt and its aftermath. It's a great article and if this holds any interest for you, I recommend you read the whole thing. Full-disclosure, I like the article so much because it speaks to exactly how I feel about the situation. I have and do maintain that I thought the photo was distasteful but I was not shocked nor particularly outraged by it. I think #45 was wrong to come after Kathy and that, as usual, the reaction from his supporters was deplorable. However, I also thought Kathy's handling of the fallout bordered on absurd and, as she admits in the interview, she played the victim. She also, as a few people in the article point out, fed the #45ers exactly what they needed to attack the left.
I also supported Anderson Cooper's denouncement of Kathy and her photo. Kathy understands it too but said that the amount of time it took Anderson to reach out to her ended their friendship.
Griffin's best-known celebrity friendship, going back 17 years, is with CNN anchor Anderson Cooper. But after TMZ published the photo, Cooper came under tremendous pressure to repudiate it. Without reaching out to Griffin, he tweeted the same night: "For the record, I am appalled by the photo shoot Kathy Griffin took part in. It is clearly disgusting and completely inappropriate." Griffin acknowledges that Cooper was in an untenable position, but she feels that their long friendship afforded her a call or text message beforehand.

In the following days, Griffin says four of Cooper's CNN colleagues reached out repeatedly to Griffin to check on her and offer private support (I independently confirmed this). But Cooper didn't contact Griffin until August 10, CNN confirmed to me.

On July 26, when asked about Griffin on Andy Cohen's talk show, Watch What Happens Live with Andy Cohen, Cooper claimed that Griffin was still a friend. "Yeah, we're still friends, and look I said what I said about — I didn't think what she said was appropriate, but I wish her the best and I hope she bounces back," he told Cohen.

The fact that Cooper was telling people publicly they were friends, while not checking in with her, hurt Griffin deeply. When he finally reached out to her in a series of text messages, she told him their friendship was over.
A source close to Cooper tells me that Cooper was "shocked and upset by the photo, and while he was not ready to talk to her personally about it, he still considered her to be a friend, and was publicly supportive when asked about the controversy."
This will not be a popular opinion but I see both sides on this. I get that Anderson was a close friend and regardless of Kathy's own exploitation of her actions, she was probably hurt by his radio silence as she came under attack. I wonder, though, if Anderson didn't feel he deserved a heads up before the photo was posted. Most people know they're friends, he's a journalist on a news station that is directly in #45's sights and is run by Jeff Zucker, who gave Kathy her comeback. Of course he had to denounce it. I'll bet the calls started coming in the minute that photo went live and Anderson was caught completely unprepared. That would tick me off. As for Kathy being fired from her New Year's Eve gig, based on reading this article, I think that's all on Zucker. I think he and Kathy have been at loggerheads for years and this just gave him the excuse he needed.
Unrelated to Anderson but the article mentioned that amidst all the people telling Kathy the photo was a dumb move, the one call that made her realize she crossed a line was from Rosie O'Donnell. Rosie asked: "What is James Foley's mom going to think when she sees this?" Journalist James Foley was beheaded by ISIS, most of which was broadcasted in a viral video. It speaks volumes that it was Rosie who showed Kathy her error in judgement, lord knows there's no love lost between #45 and Rosie.
As I said, the article is comprehensive. It's shows how Kathy is still using the controversy to her advantage. It also notes that Kathy talked throughout about all the support she received however no public figures would comment on the record when asked. It also details how every one of the politicians who embraced Kathy's endorsement (and massive fundraising efforts), turned their backs or cancelled events arranged by or involving Kathy. I get why Anderson's snub cut the deepest but he was not alone in distancing himself from this until it blew over. Of course, in order for it to blow over, Kathy would have to stop talking about it.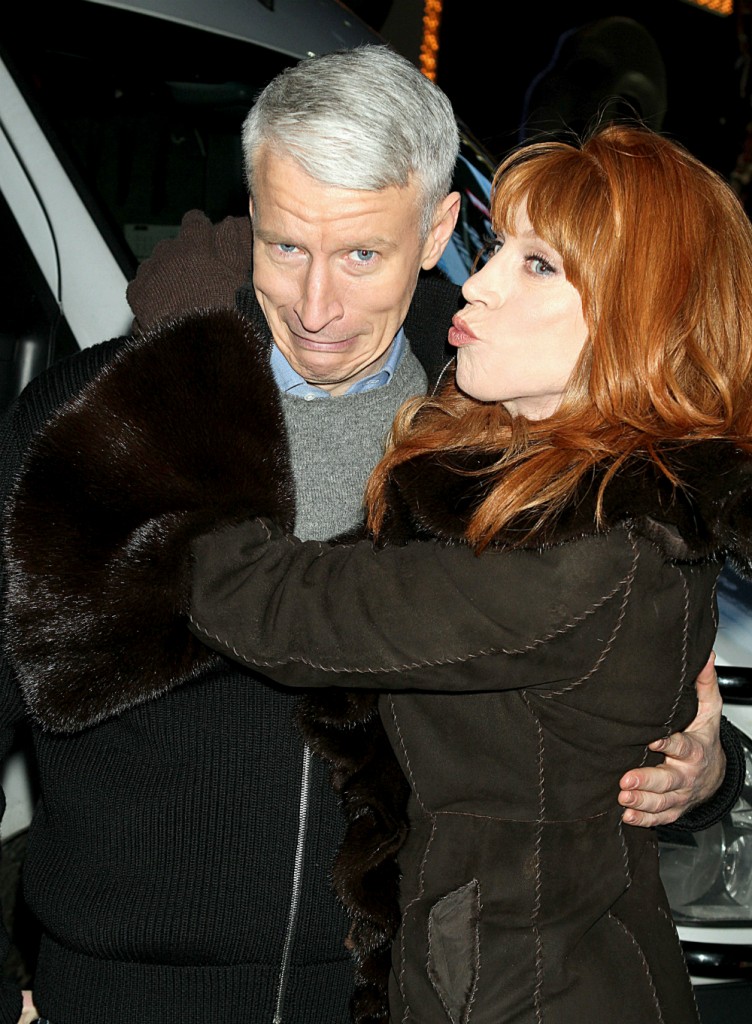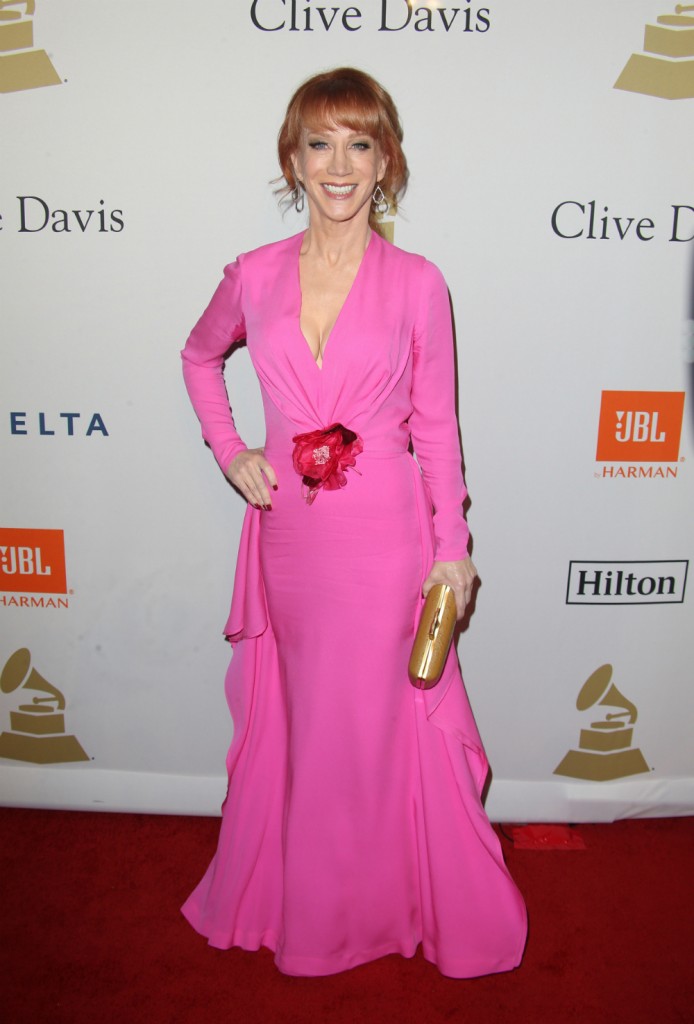 Photo credit: WENN Photos and Getty Images