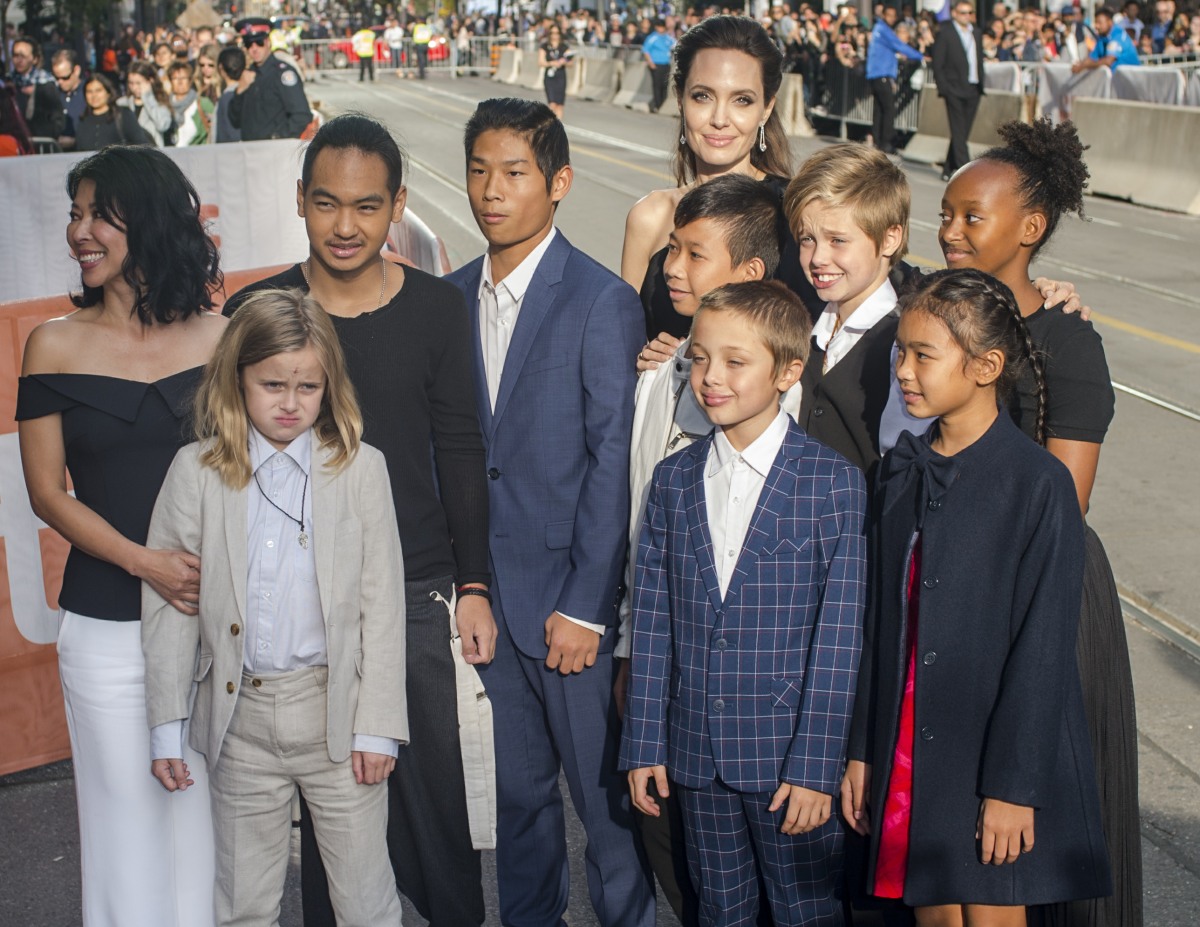 Angelina Jolie and all of her kids are in Toronto right now. The group arrived over the weekend, and Angelina and four of the kids attended The Breadwinner premiere on Sunday night – that's an animated film which Angelina produced. But the big red carpet was last night, for Angelina's latest directorial effort, First They Killed My Father. For the premiere, Angelina wore a skiny black sack dress from Ralph & Russo which is not the best but not the worst either. The sleeve is odd and the dress doesn't really fit, but I still think she looks good.
All six of Angelina's kids came to this premiere, and Angelina even did separate photos with Maddox and Pax. Pax is really cute, you guys. Like, he has amazing bone structure. He could be a model. Maddox seems to be a bit more camera-shy, but the vibe I'm getting from both of the older boys is that they're doing this to make their mom happy, because she asked. The rest of the kids were hanging out with the child actors from the film. Angelina told Extra:
"When I first read it, it really affected me, but I didn't think of making a film… Loung [Ung] became a friend and we became girlfriends for 16 years." They went on to co-write the screenplay together. Jolie's kids now call Loung auntie. She added, "They love her, she is family, Loung and I wrote the script years ago and we talked about it being a film, but we said it really has to be about Maddox, he goes back to Cambodia often he knows what it is to be Cambodian, but to work for months and go this deep into the history, was going to be another level of understanding he had to be old enough to absorb it."

Maddox, now 16, was an executive producer on the film, "He was amazing, he actually really impressed me, he had to earn it. I was able to say, you have a job, get over here, help me with this… I would say more notes, type it up, he was great." Maddox helped make the film relate to Cambodians from the perspective of a child, "He was able to say to me, I don't understand this, you have to make it clear." She said, "He and Pax helped and did photography."

Jolie brought all six of her children to the premiere and they spent time together during the festival, calling it, "Wonderful." She went on, "They're having a great time. They are really close friends with the cast's kids, so while they are working they are trashing a hotel room."

The 42-year old, who is dealing with a public divorce from Brad Pitt, simply said this about dealing with all the ups and downs, "You move on."
I have mixed feelings about Angelina's insistence that Maddox was the executive producer. I think it's smart/interesting that she waited to do this film until Maddox was ready to be involved, but to have him as the executive producer is just… odd. I don't know. But it's cool that the kids are hanging out with the cast members.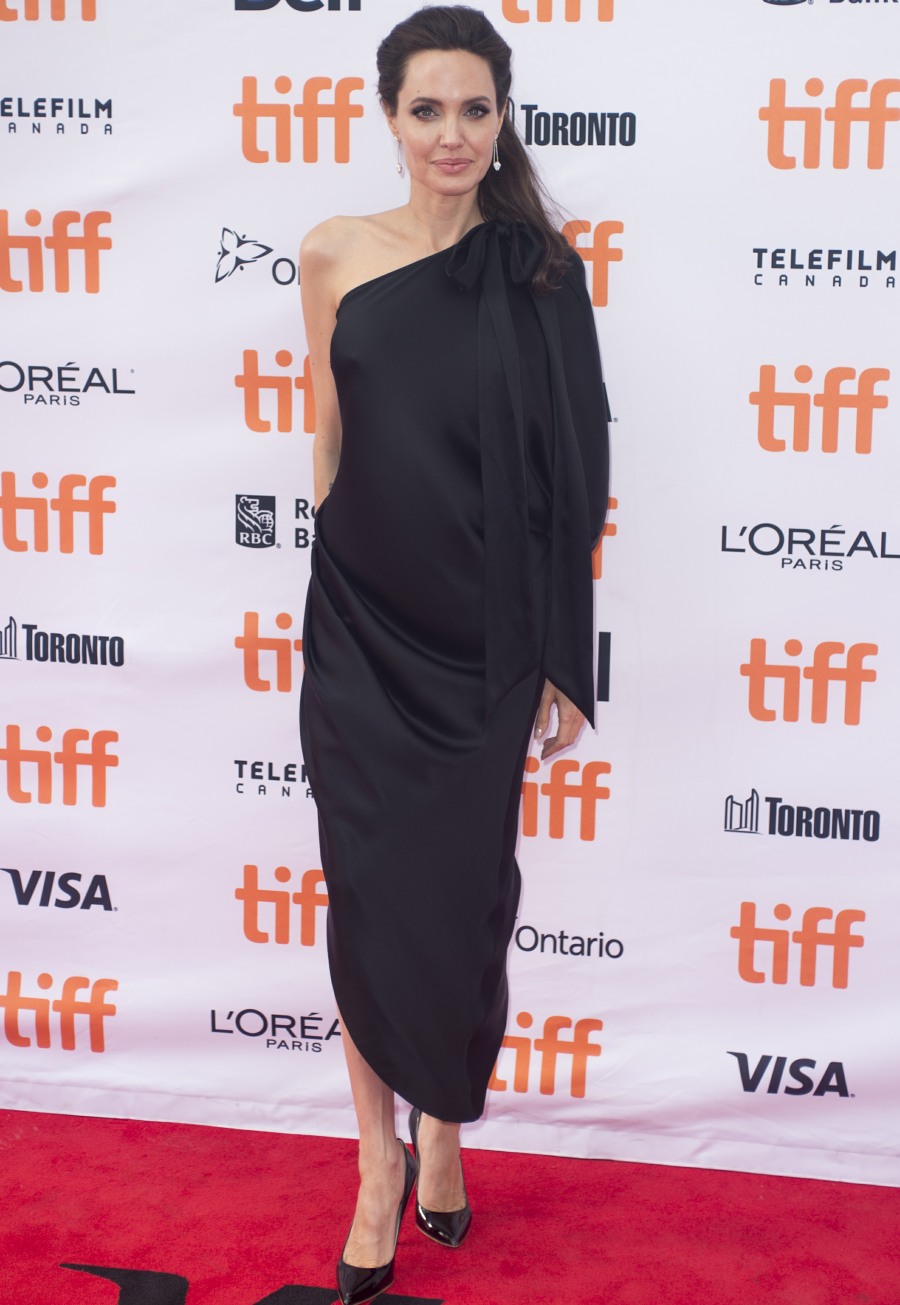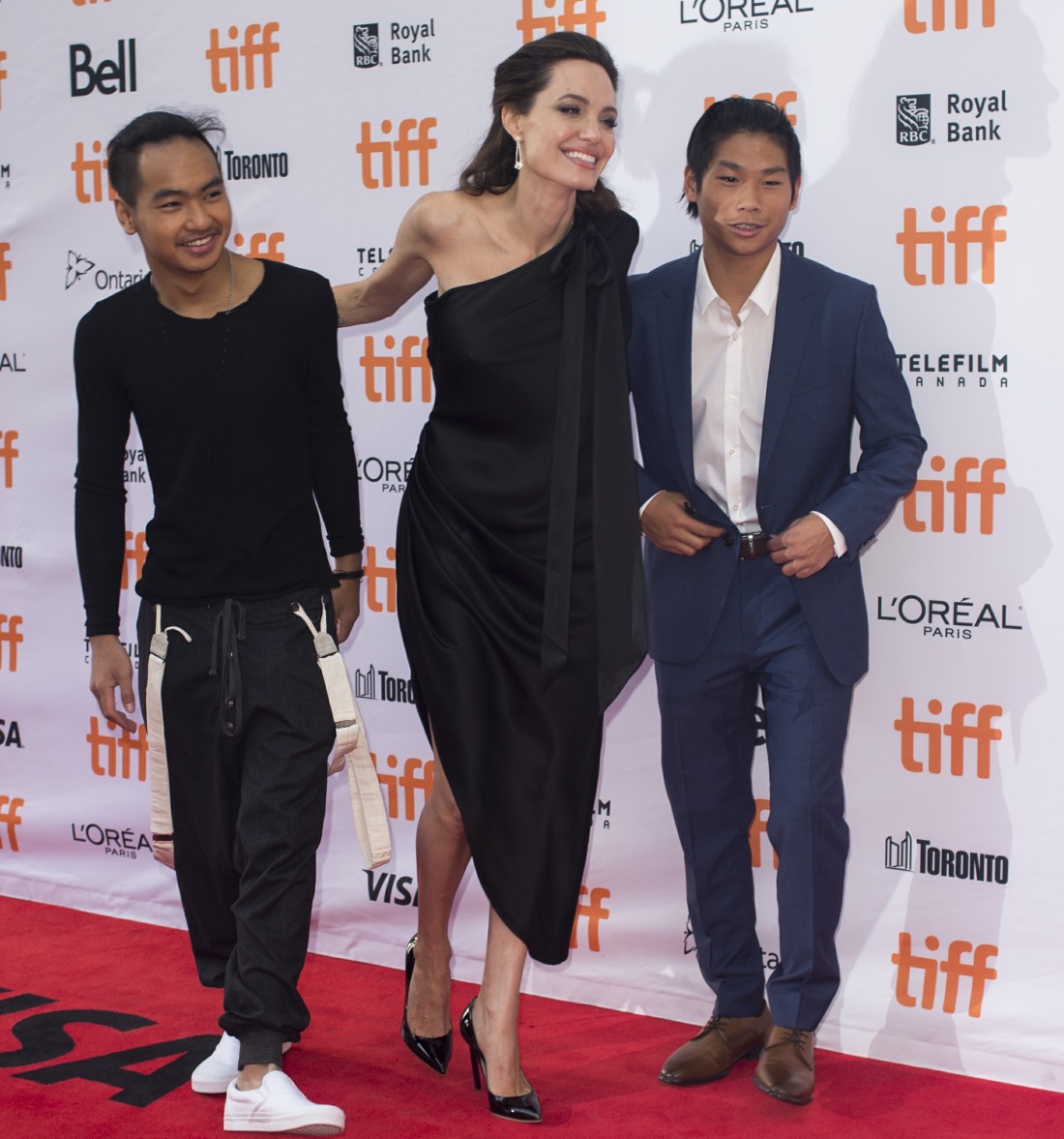 Photos courtesy of WENN.