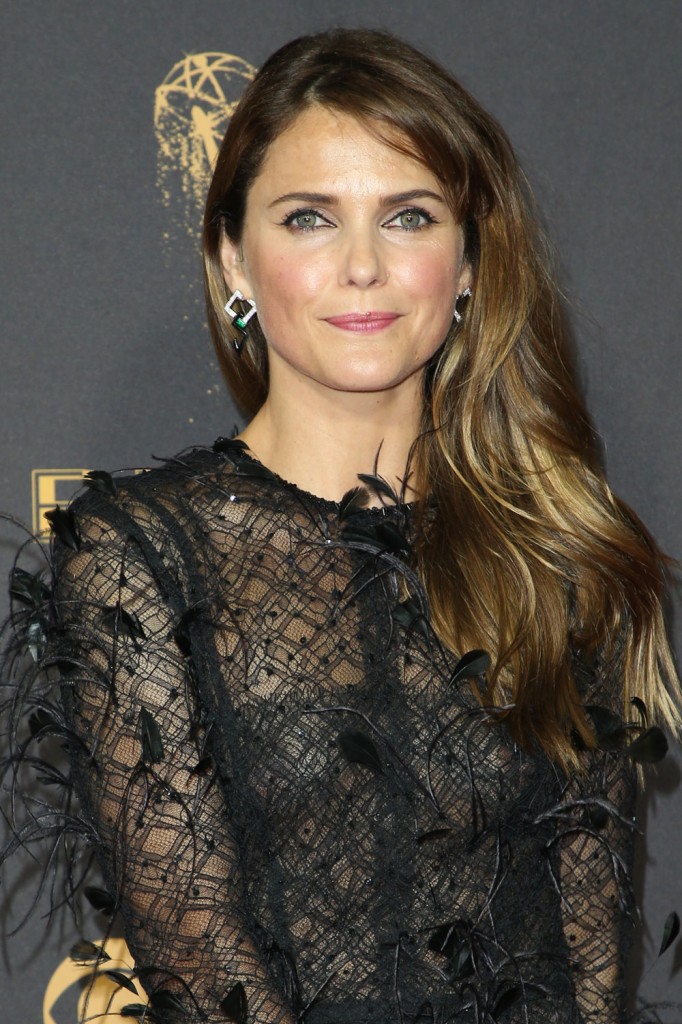 The Americans has finally been getting some Emmy recognition in non-acting categories over the past couple of years. Only Margo Martindale has won anything, and she's so deserving, but this show is deep, it's cinematic, it's an immersive, nostalgic experience every week and it needs more recognition. Admittedly I had to give The Americans a couple of chances before I was hooked, and I've heard this same thing from several friends. It's so different from most other shows that you have to adjust your mindset, but once you do it's so worth it. So that's probably why it's been overlooked until recently, because it's a slow burn. The Americans was nominated for Outstanding Writing this year, along with Best Lead Actor and Actress for Keri Russell and Matthew Rhys. Alison Wright (Martha!) was recognized in the Guest Actress category. (Last year it was also nominated for Outstanding Drama.) Unfortunately Americans lost across the board this year. I think that Handmaids Tale was just easier to digest and more relevant.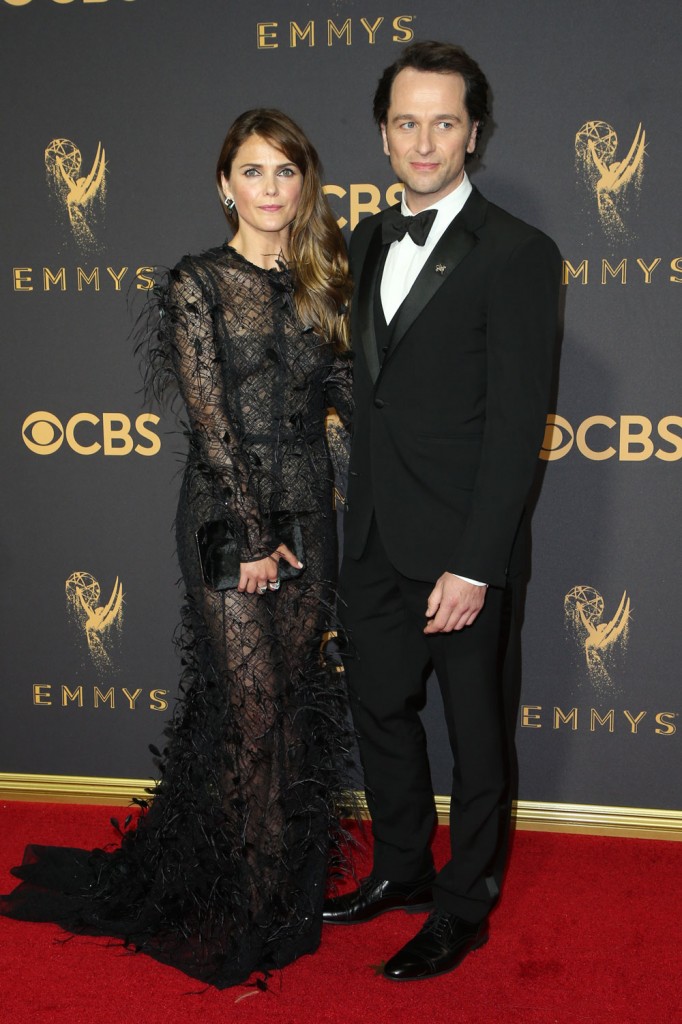 Getting into the fashion, Keri Russell was in a full-length black J. Mendel with so many details I don't know where to start. It had a sheer overlay with a criss-cross stripe pattern, a strapless corset-type mini skirt underneath, and it was embellished with feathers. I'm so glad the feather trend is fading. This isn't setting new records for fug or anything, it just is a bunch of styles thrown together and it's in need of editing. Maybe it would be ok if the feathers weren't so long or the minidress wasn't too short. I really like these two together, even if their beginning is questionable.
Also in J. Mendel we have presenter Rashida Jones. There's something off about the color and that slight cutout under the bust, which is unnecessary. This dress looks so typical, we've seen it often, and the only thing that differentiates it is the cutout, which makes it look like she's wearing a boob sling. Her hair and makeup are so sleek and pretty though and did you see the cute clear glasses she wore on stage? I want some just like those now.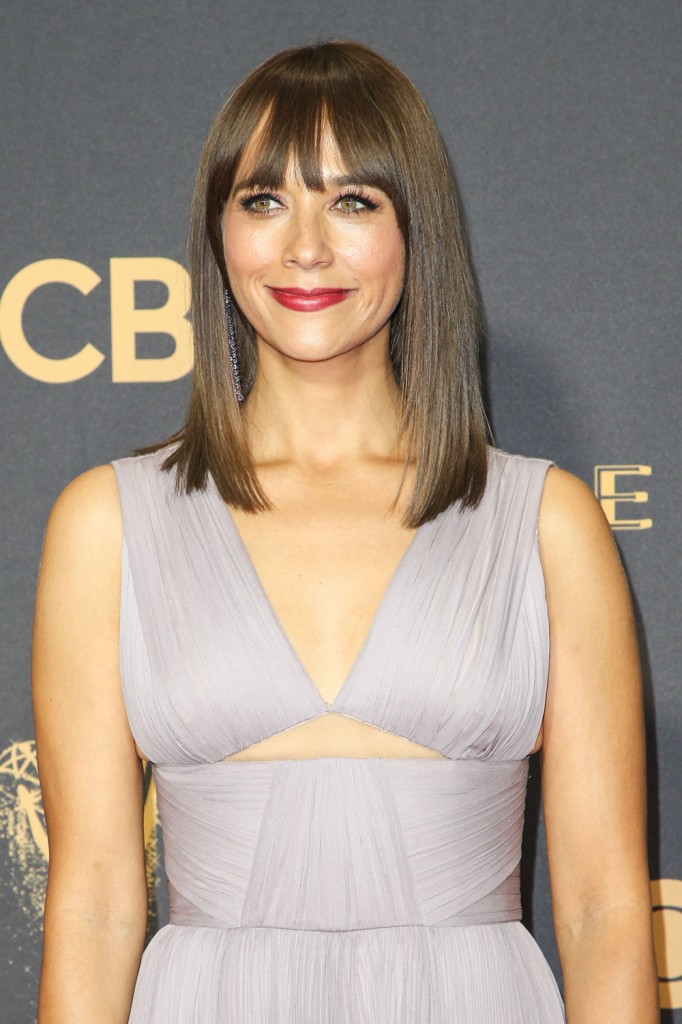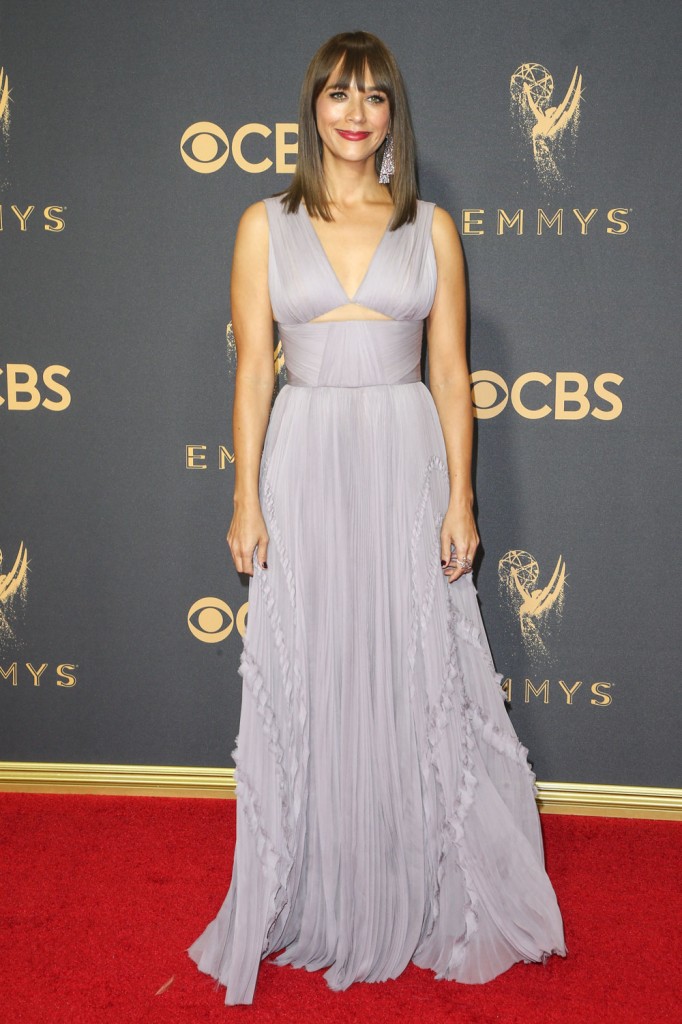 Like Keri Russell, Michelle Pfeiffer was also in a black gown with sheer panels but hers was so much better. Michelle was wearing Oscar De La Renta. I like how the pattern along the top is repeated at the skirt but with black tulle on top, so it shows through just slightly. I think the sleeves and the neckline are see through but then there's a nude-colored fabric at the bodice. Either that or the fabric lines the entire dress and they added the seam at the bodice to give the illusion that only that area is lined. This is gorgeous. Michelle was nominated for Supporting Actress in a Limited Series or a Movie, for Wizard of Lies about the Bernie Madoff scandal, which aired on HBO. She played Madoff's wife, Ruth. Also I have to say that Pfeiffer just looks ageless here. I want to get whatever she had done.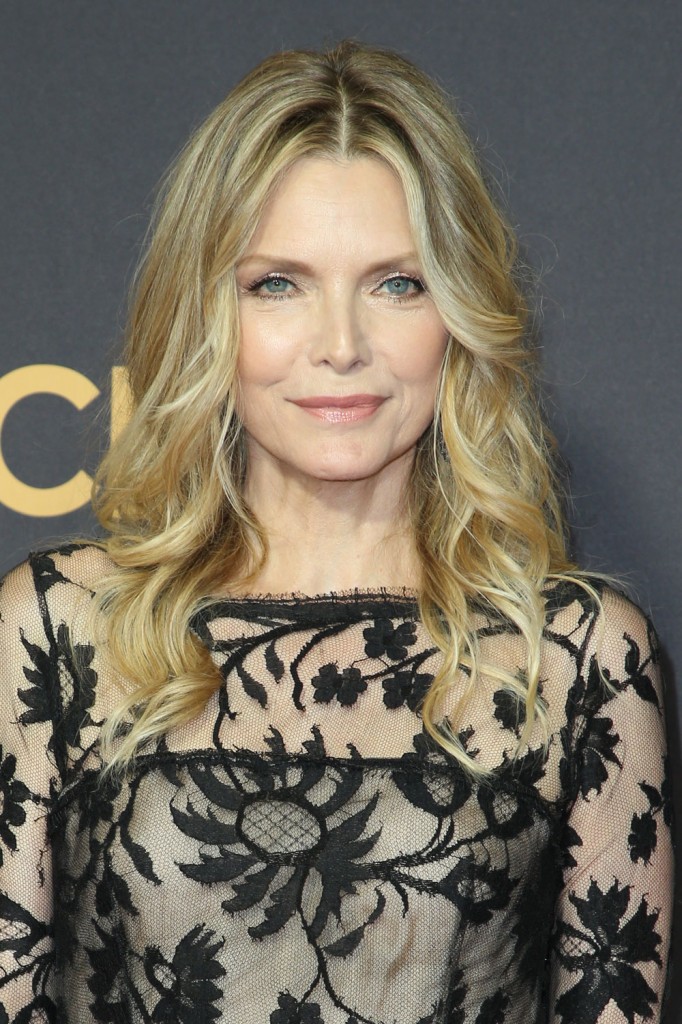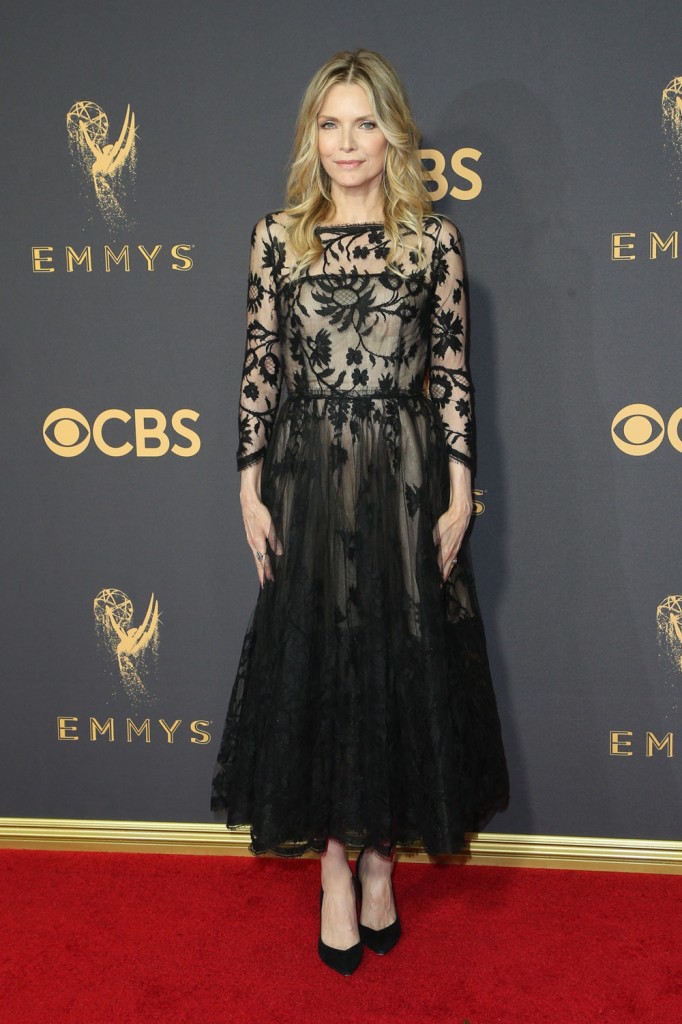 Here's Kathryn Hahn, nominated for Outstanding Supporting Actress in a Comedy, for Transparent. She was in a vintage Courreges Couture sequined polka dot column gown with striped sequins at the bustline. I really like the pattern on this dress but it needs some cinching at the waist. Personally I do not look good in straight up and down dresses as I have larger hips. Hahn doesn't seem to have that issue but I don't think these type of dresses flatter most body types.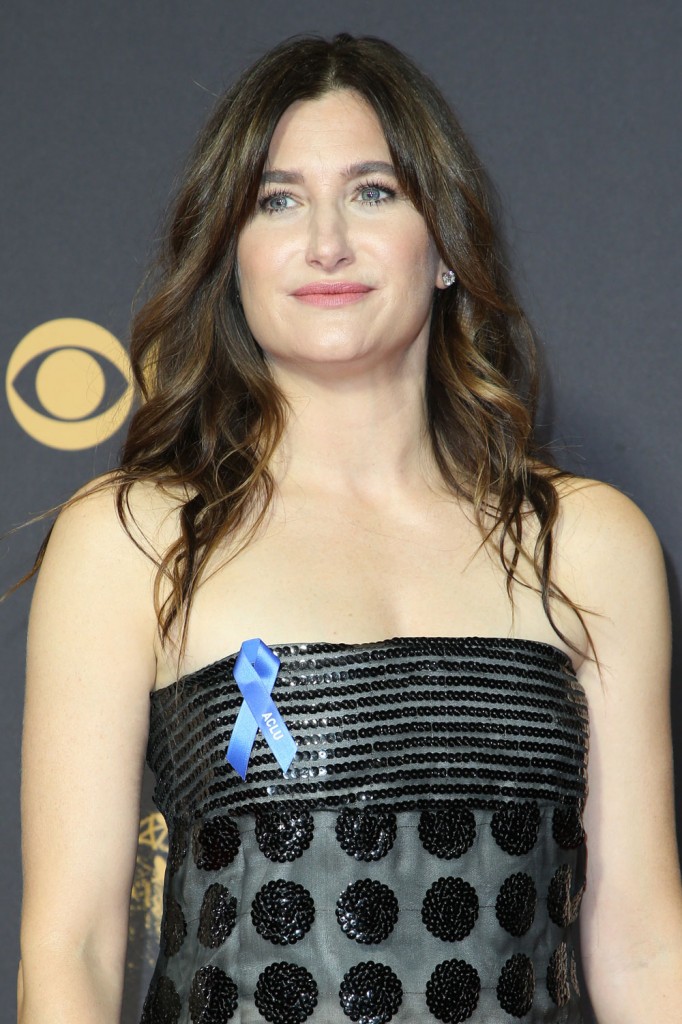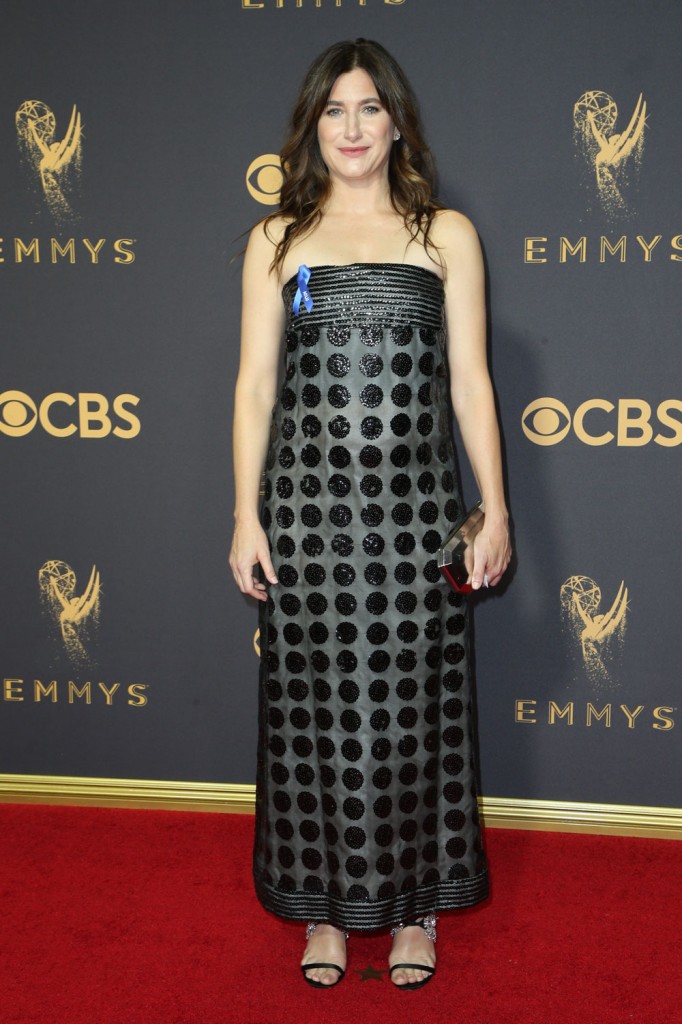 photos credit: WENN