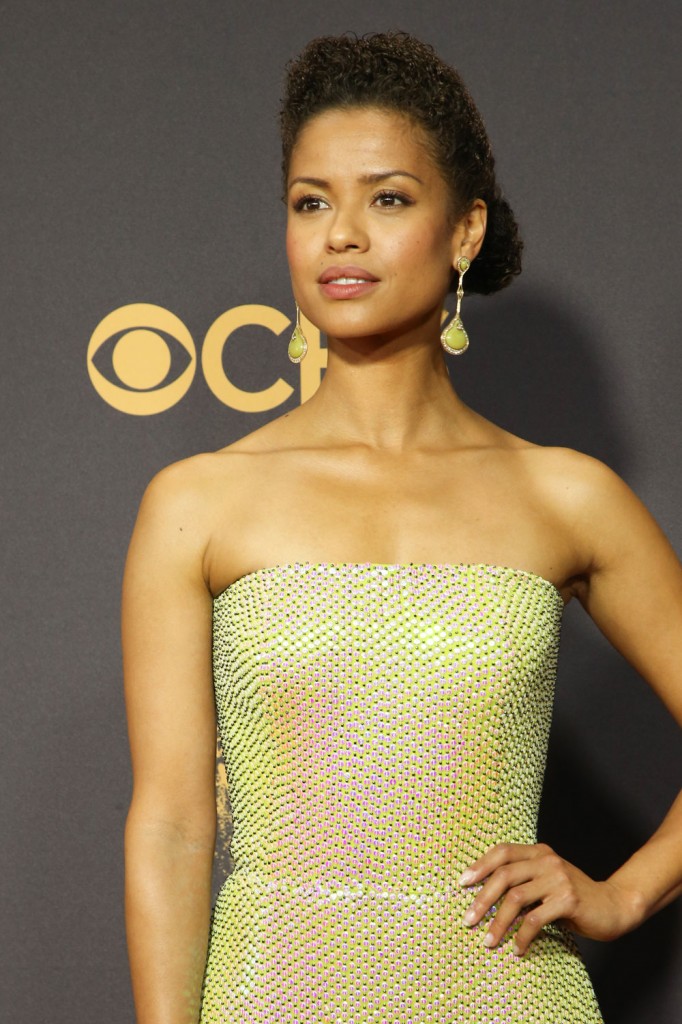 Earlier this year I was watching Black Mirror on Netflix, but gave up after a few episodes. There are three seasons and a special currently available and I was just picking and choosing the standalone episodes that people said were the best. Without giving away spoilers, it's been compared to The Twilight Zone but with a focus on how technology can screw us over and ruin our lives. I hate to sound so negative but at the end of an episode I usually felt like my emotions were being manipulated and at times it was devastating and hit too close to home. There was one exception though, and my friends who watch Black Mirror agree that this was the best episode – San Junipero, a story of two women falling in love in the 1980s. The setting and fashion were perfect, that romance was heartwarming, and the twist was bittersweet. (I don't think that's spoilery because every BM episode has a twist.) So that's why I was so happy that San Junipero won two awards last night, Outstanding TV Movie, and Outstanding Writing for a Limited Series, Movie, or a Dramatic Special. It was so deserving and now I want to watch it again.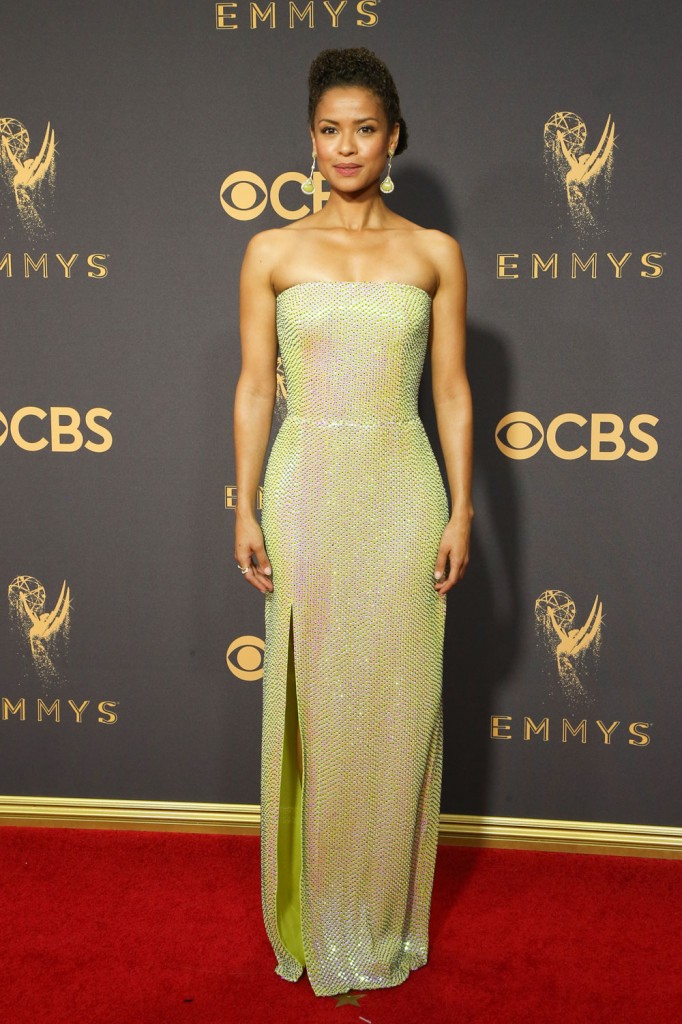 Gugu Mbatha-Raw wore this absolutely stunning strapless dot sequin Boss gown with green undertones. This is gorgeous, she looks amazing and check out how she subtly matches her costar, Mackenzie Davis, (below) without looking like her twin. However one of the best things about San Junipero was the spot on 80s fashion. Gugu's character did the glam look complete with a bedazzled suede fringe jacket, curly hair and lace bustier a la Madonna. Mackenzie Davis's character was the conservative nerdy one until she started trying after she met Gugu. So I would have liked to see a nod to 80s fashion in her gown, like shoulder pads, puffy sleeves, maybe some piecework embellishments. Instead she went modern, which is OK but seems like a lost opportunity.
Mackenzie Davis was in lime green and white Delpozo Resort. I'm getting the vibe that the neon color is an 80s throwback, and now that I'm seeing her awesome bright pink shoes with those cool 3D cubes I see where she added some 80s flair. This is awesome I love it, especially the folded sides along the front and the big bow. This needs moar 80s but she's working it.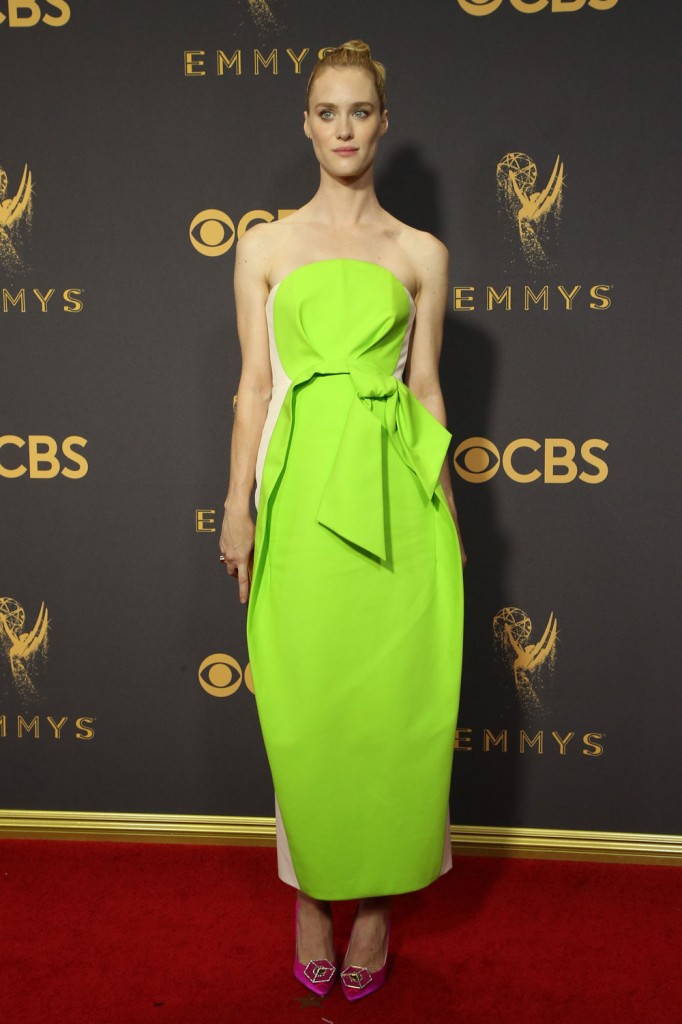 LOOK AT THEM HOLDING HANDS. I am here for this and am getting the feels just thinking about this episode.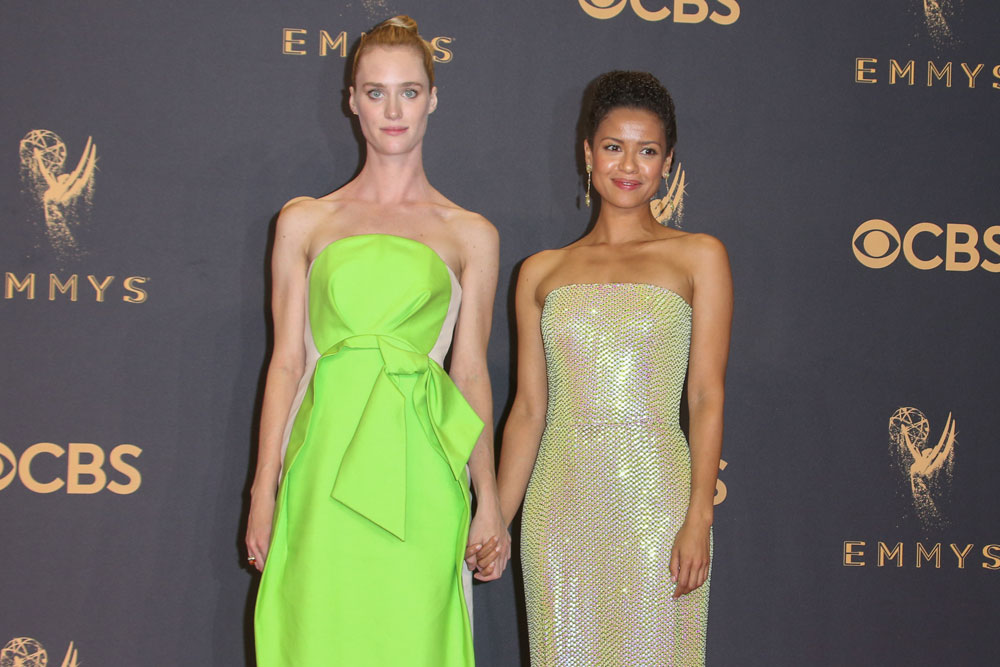 I'm adding Natalia Dyer, 20, from Stranger Things in here because she's also in a shade of green. This gown is Vera Wang and it's awesome. I like how the top has a deeper cut to the sides than we normally see in formal gowns and this pastel color sets it apart. The four folded panels along the skirt are princessy and the simplicity of the gown keeps it from being cloying. This is excellent.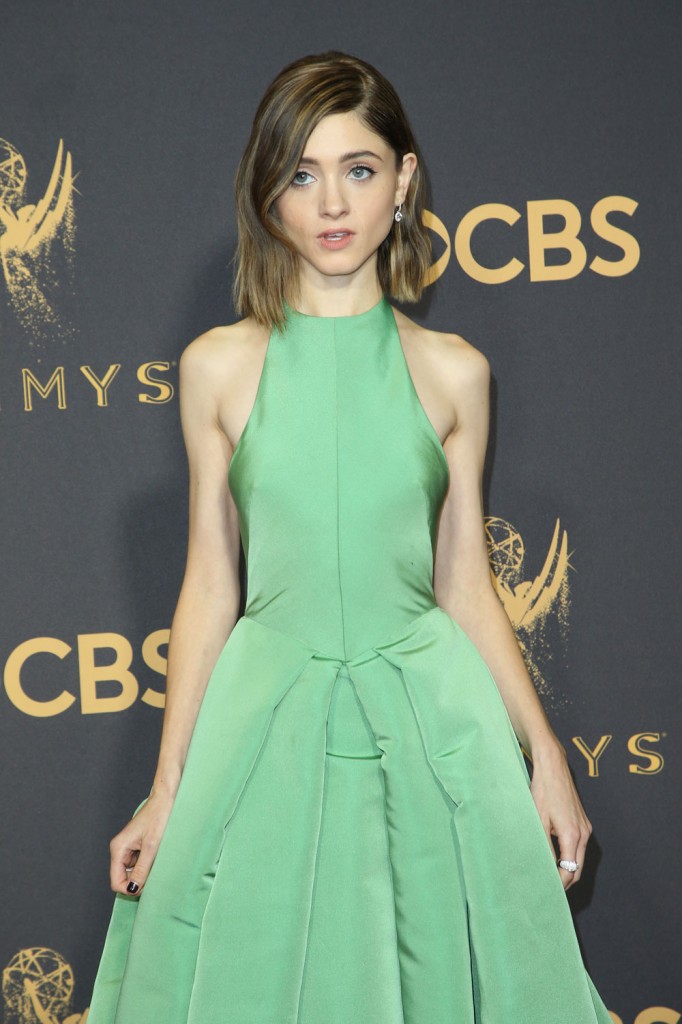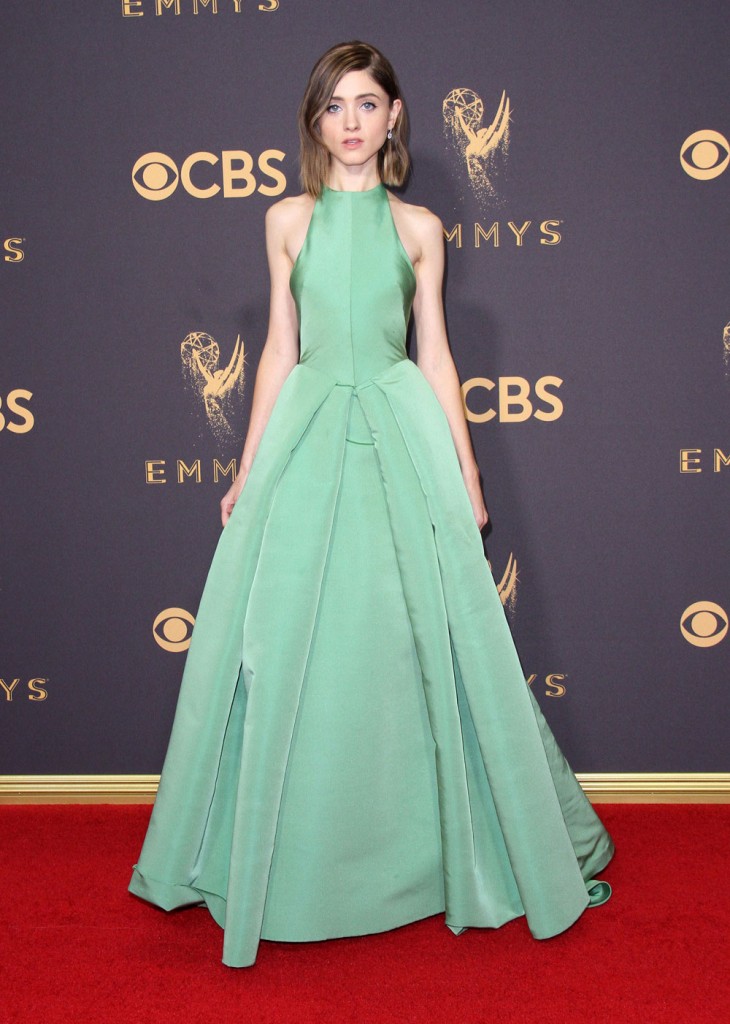 Shannon Purser, also 20 (Barb from Stranger Things), was in emerald Sachin & Babi. This isn't bad but there's something weird about the bust and that half-cape sleeve with the dragonflies on it. The fabric is great though. Shannon and Natalia must have coordinated their colors too.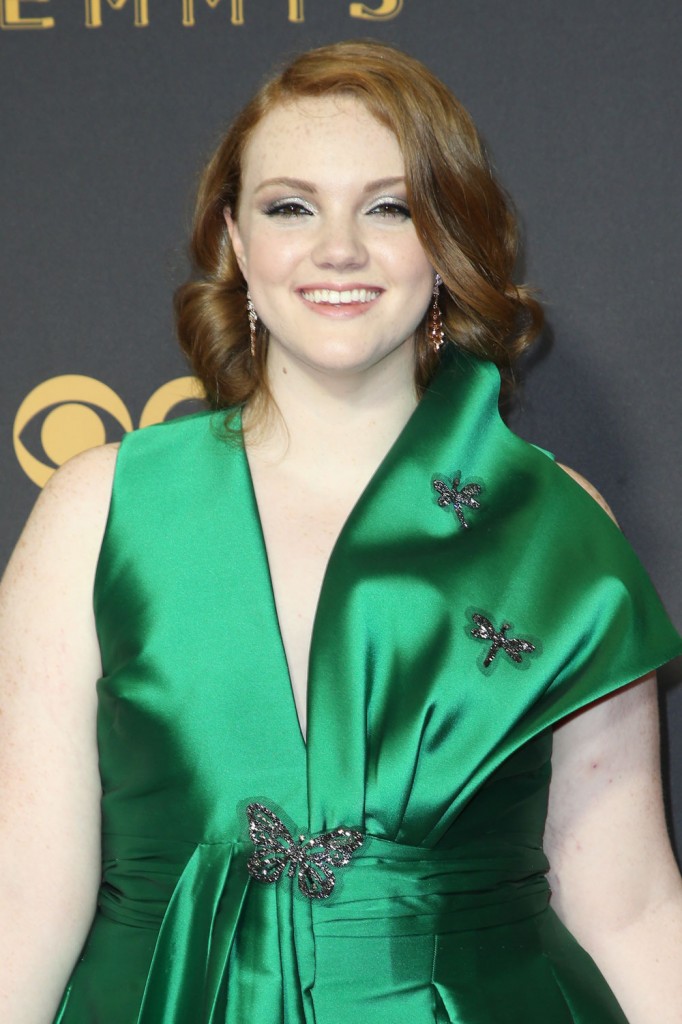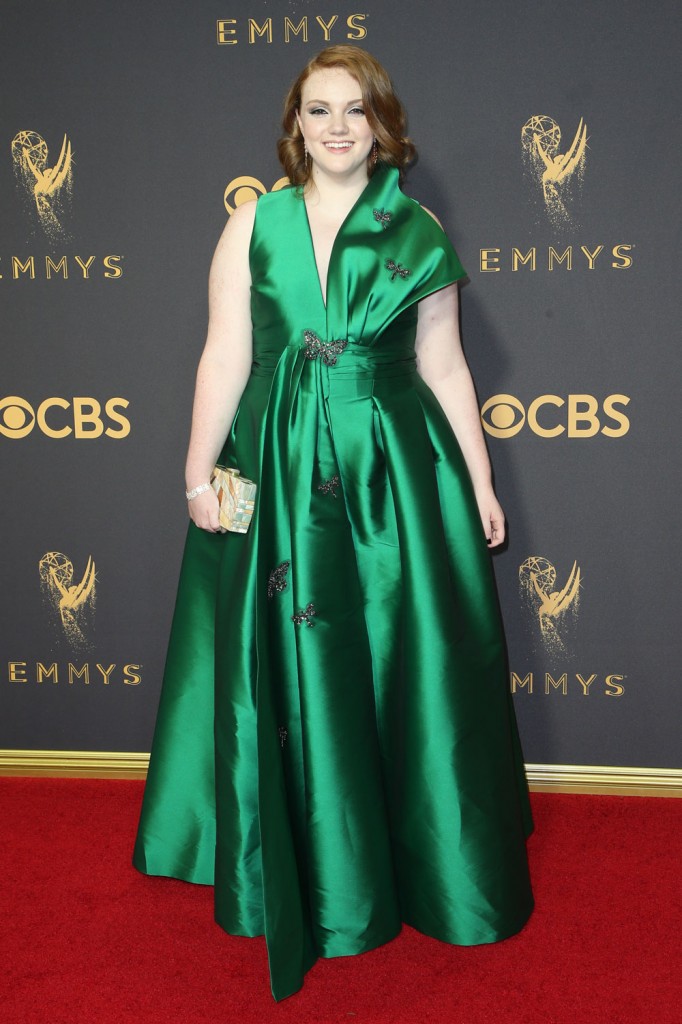 Yara Shahidi, 17, of Blackish was in nude-colored tulle Prada with a green abstract floral sequin pattern. I really like this on her. On another actress this might look twee but she's young and it's so pretty on her.