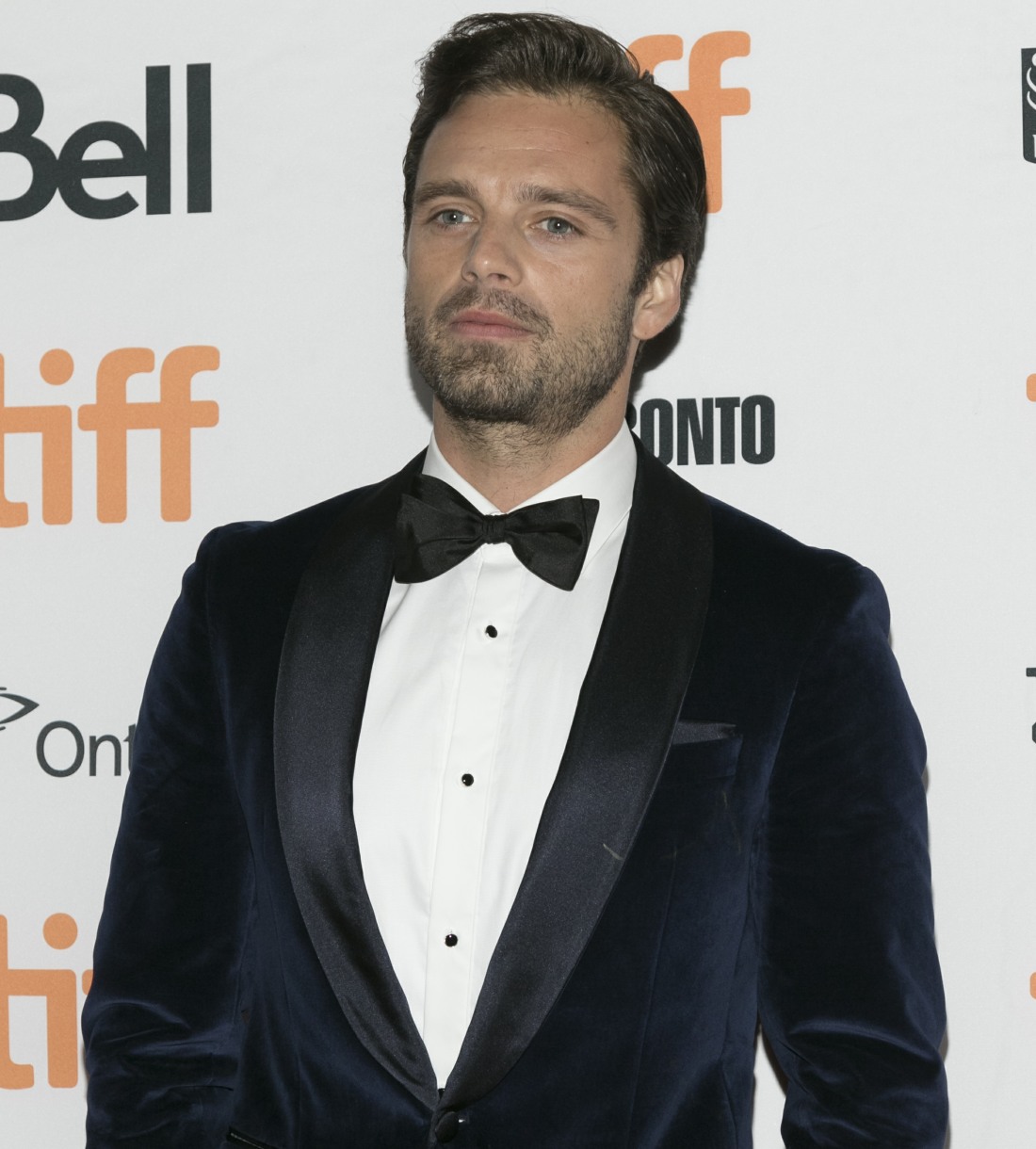 Much like Sebastian Stan, I was surprised by the reaction to Stan sharing a meme about Tonya Harding and "taking a knee." Last week, Stan decided to repost a meme on Instagram, and he did so as a funny-stupid way to promote his role in I, Tonya, the Tonya Harding bio-pic making its way through film festivals as we speak. This was the Instagram: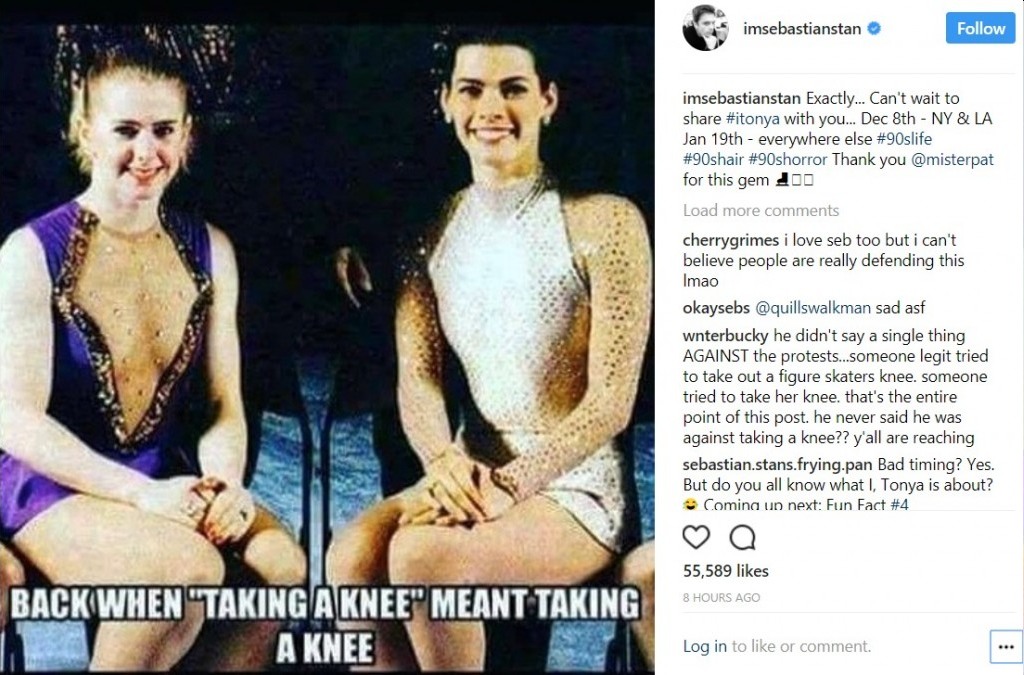 Stan posted that following Donald Trump's "lost weekend," where Trump decided to spend the entire f–king weekend on Twitter, bitching about the NFL and any (black) player who dared to "take a knee" like Colin Kaepernick. Kaepernick's act of civil disobedience started as a way to protest and raise awareness of police violence against communities of color. Trump called them all "ungrateful" and "sons of bitches." I still believe that Sebastian was not "punching down" and making a joke about football players or police violence. I still believe his joke was always about Tonya Harding and Nancy Kerrigan. If you want to burn him for that – like, making light of a violent act against a woman – so be it. Anyway, Sebastian originally left the IG up and made an apology in the comments. Now he's deleted the IG and offered several more apologies and clarifications.
After reading some negative Instagram comments, Sebastian Stan cleared the air. "For anyone confused for whatever reason right now, please know that this was not meant to be offensive or make fun of a serious matter, but a lighthearted way to promote my movie, which is ALSO about a very serious subject matter," he wrote. "So before you start throwing stones at me, recognize where I come from and the kind of person that I am and what I stand for. I've been very vocal about that. Thank you." Amid backlash, Stan decided to delete the Instagram meme.

In the following weeks, Stan apologized for sharing the post by commenting on fans' accounts. "Listen, guys, I'm sorry. I recognize the bad timing of my last post and I truly apologize to anyone who may have been offended by it," he said. "It was in reference to an actual event that took place in 1994 which is now depicted in the movie I'm currently promoting. Nothing more."

In response to the fan account@cinnamon_stan, the 35-year-old actor wrote, "I am truly sorry to the people that I have hurt and offended. I made a stupid joke. It was ignorant and careless. When I put up the post, I had not carefully researched the kneeling reference. In the past few days I have done the homework I should have done before absentmindedly posting that…To be clear on my values and where I stand…I am an immigrant and now an American citizen," said the actor, who was born in Romania and also lived in Austria. "My parents and I came to this country when I was 12 years old. To be an American, growing up I have learned that you agree to support and uphold the constitution and all of its amendments, the freedom of speech and the right to peacefully protest in order to ensure equality and justice for all. Like many people, I am extremely anxious and worried about the things that I see on the news and in the world these days. I wish I could take it all back but here I am. I will strive to learn from this issue."

Offering his sincerest apologies, Stan continued, "I appreciate the time and thought you put into your post, and going forward I promise to do the same. Lesson learned. Thank you again!"
Since I'm not a Stan stan, I didn't know he is an immigrant and a naturalized American citizen. So, I learned something new today. It sounds like Stan also learned something from this: don't share memes on social media. Is that the lesson? Or is the lesson a bit trickier? So, is Sebastian Stan canceled now/still or should we accept his apology and understand that it was just a mis-timing, or a failure to properly read the national mood?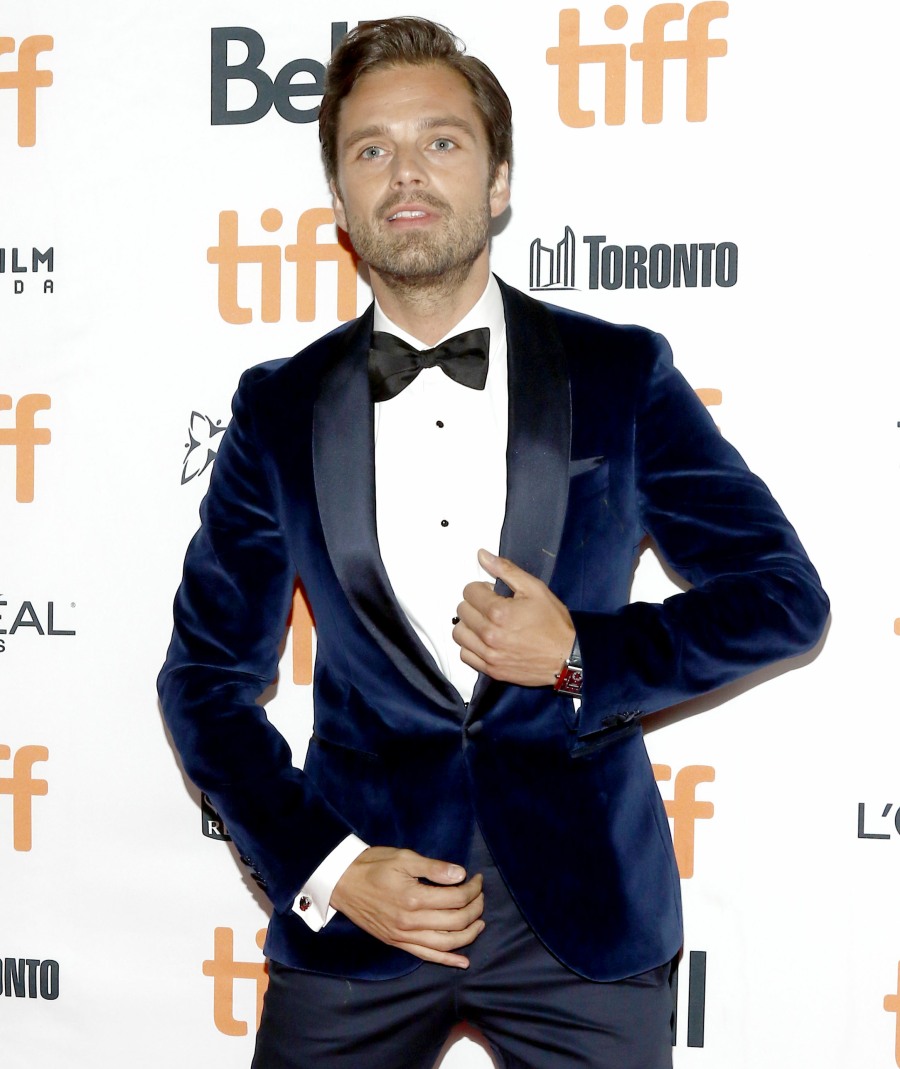 Photos courtesy of WENN.