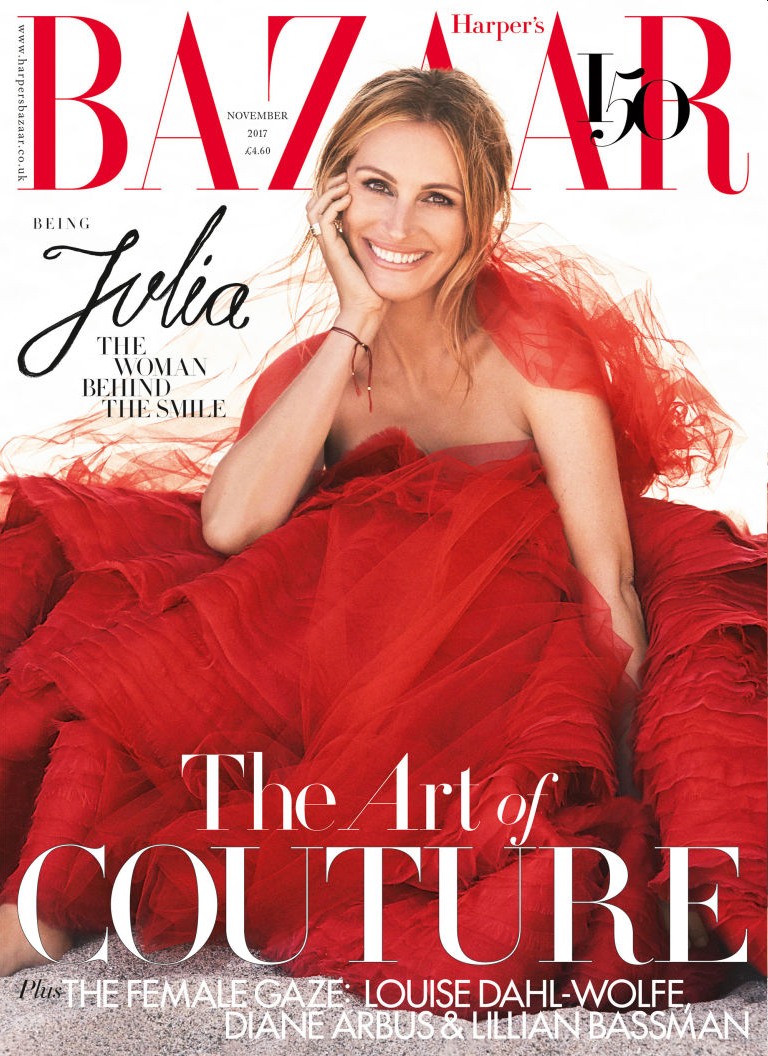 Julia Roberts turns 50 years old at the end of October. I sometimes think about what could have been with Julia – she was once the biggest movie star on the planet, pulling in $20 million per film, a full-on member of the Hollywood Boys' Club, one of the most famous women in the world. Then she married Danny Moder, had three kids and "settled down." And since then, her picker – when it comes to movies – has been sort of off. I mean, she's made some good choices here and there (I was watching Charlie Wilson's War over the weekend and it's still great), but really… it feels like she lost her career-mojo a little bit. Maybe that's on purpose though – obviously, being the biggest movie star in the world isn't her priority any longer. The problem, though, is that we're still supposed to treat her like she's the biggest thing around. Is she?
Julia covers the November issue of Harper's Bazaar UK. She's likely promoting Wonder, a family film where she plays the mother of a kid with facial differences (played by Jacob Tremblay). It's the kind of role I would expect from Jennifer Garner, honestly. Still, it's not like Julia actually talks about Wonder in this interview. No, she's too busy talking about how normal she is. Real question: is Julia trying to BE Jennifer Garner?
On what she was like when she was younger: "I was my priority, a selfish little brat running around making films."

She changed when she became a wife & mother: "It was meeting Danny…finding my person. When I think about what makes my life my life, and makes sense and just shine inside of me, it's him. Everything has come from that for me."

Insisting that most days she is a regular 'soccer mom' and housewife: "If I wasn't here today, I'd be in the carpool lane ferrying my kids to school."

On turning 50 and preferring to look ahead rather than back: "Too much thinking and pondering, it's exhausting me. Because we're still moving forward, aren't we?"

On whether she would consider giving up acting: "Well, if I did much less, I wouldn't be in the business at all. I was saying to my husband the other day that I haven't worked in almost a year."

On always being selective when choosing her roles: "Remember why you're doing what you're doing. That's your anchor. Cultivate your taste and decision making. I didn't work for a couple of years in my twenties, because I was being offered scripts and thinking 'Is it me or is this all just crap?' I figured I could cover my rent and wait for something good. I'd been spoilt with some great jobs already, so I was like, 'Why do that part with that person, when I was just doing that part with these people!"

On the gender pay gap in Hollywood: "I put down my stone in a path that will keep going, and I'm proud of that, but I don't feel it's my place to bang the drum at this time. I just don't get all crazy over things. I have a maternal approach: 'OK, everybody settle down, we'll figure this out.'"

On feeling content about what she has already achieved in her career: "Deep down, we all know you can't stand on the top point of a pinnacle on your tiptoes, and not at some point lose your balance, or get tired, or say, 'OK somebody else take over, I have to go to the bathroom.' There are great things I've accomplished and I'd be happy to accomplish more, of course, to impress my children and my husband. But you know what? I've been spoilt already."
Nothing says "I'm so normal" than talking about yourself endlessly to a fashion magazine. I mean, God bless Julia Roberts. I actually believe she spends most of her time as a somewhat normal soccer mom and "housewife." But I also believe she never lets anyone forget that she's Julia F–king Roberts. Her answer about pay equity bugged me too: "I put down my stone in a path that will keep going, and I'm proud of that…" Julia wants you to know that she, like, invented the fight for equal pay. "…But I don't feel it's my place to bang the drum at this time. I just don't get all crazy over things." Remember, girls, Auntie Julia says to always remember to be likeable and sexy even when you're fighting about money. Auntie Julia got hers and the rest of you can rot!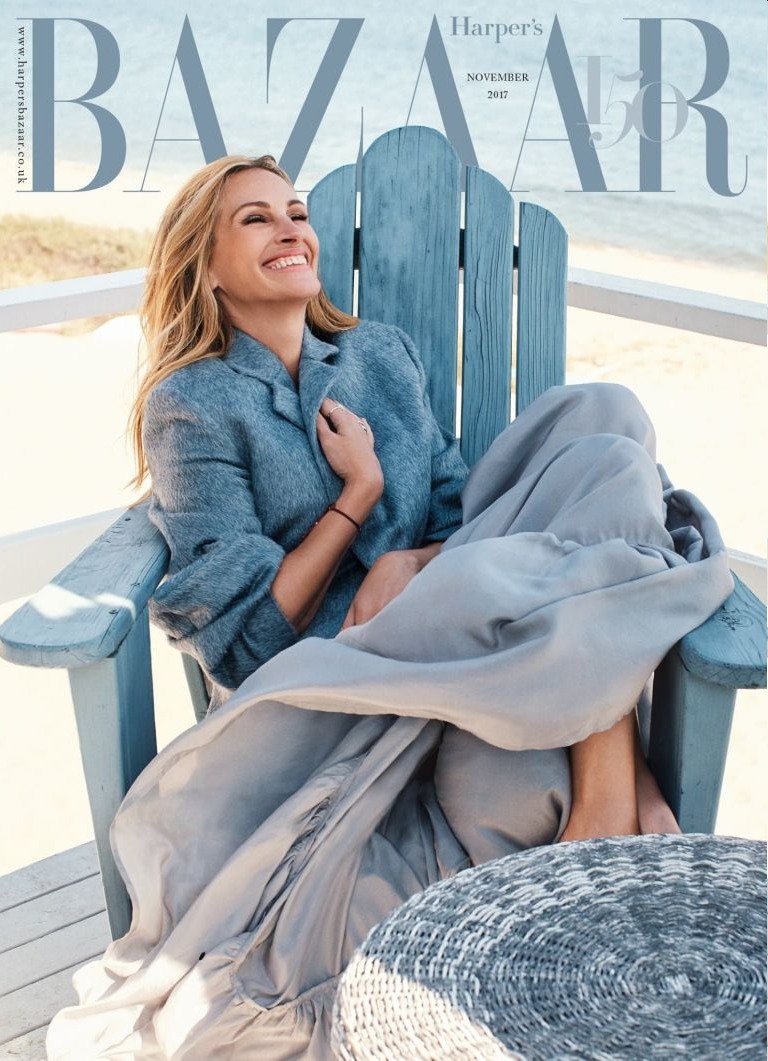 Photos courtesy of Harper's Bazaar UK.