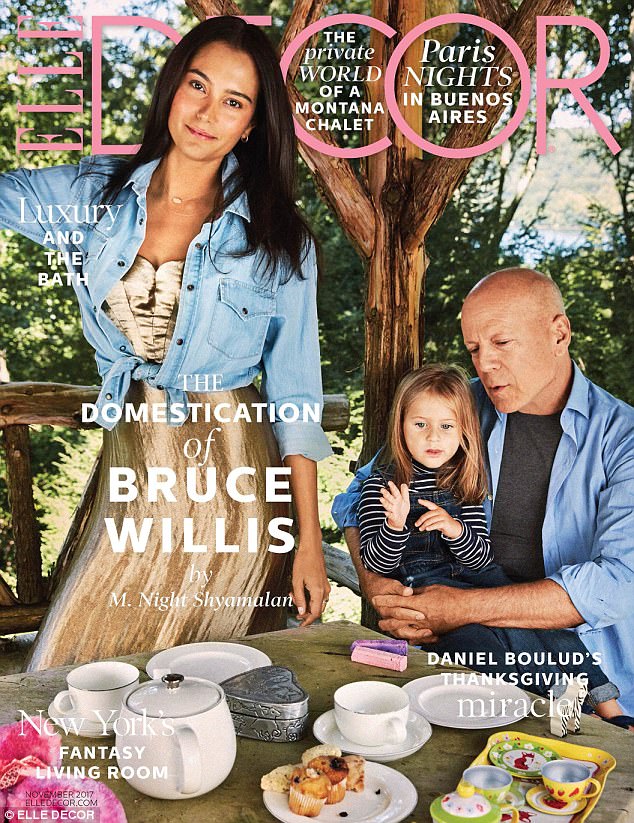 Action star Bruce Willis and his model/skincare maven wife, Emma Helming Willis, are on the cover of the November issue of ELLE Decor. The magazine features photos of their gorgeous estate in Bedford, New York, a suburb about an hour outside of Manhattan.
In the photo spread, 62-year-old Bruce and his 39-year-old bride, along with their daughters Mabel, five, and Evelyn, three, are shown enjoying quality time together on the property's grounds. We also get to see Emma frolicking in her gold lame Bottega Veneta gown, which is exactly what I wear when I kick around the house.
The accompanying interview is conducted by director M. Night Shyamalan, who directed Bruce in The Sixth Sense and Unbreakable. Unlike most Shyamalan efforts, there's no twists to be found in this interview. Here are some highlights:
Where is Bruce's "Zen Zone"?:
"With two kids? Not many places to find peace, but my office works. I've made it so boring in there that the kids want nothing to do with it."

Bruce dislikes social media:
"I want nothing to do with social media, so I leave that up to Emma, who's much savvier in that department than I am. I check e-mails and texts at some point during the day, but that's the extent of being connected for me."

They were asked which habit of the other's drives them crazy
Bruce: "Emma tends to set lids back on the top of jars and the cap on top of the toothpaste tube instead of twisting them down. Drives me nuts when I go to pick them up and everything spills out."

Emma: "I grab from the base and not from the cap, so I find it's one less thing for me to do when I go to use the item. Screwing things back on is an extra, unnecessary step; it's time I could use on other things. But I feel I've improved in the area greatly because I know what a hot topic this is for Bruce!"

Emma says Bruce likes to keep the house clean
"Bruce is very domesticated. His mother taught him well! He really is great at housekeeping. I mean, granted, we have a housekeeper, Lety, who has been with Bruce for more than 30 years — she is family to us and has helped me so much with our girls; she's also a big part of Bruce's older girls' lives. But he's very proactive! She's probably stuck around as long as she has because Bruce really helps keep everything in tip-top condition, which makes her life easier."
Bruce is currently working with M. Night on Glass, which brings together Bruce and Samuel L. Jackson from Unbreakable with James McCoy and Anya Taylor-Joy from Split. Bruce is also resurrecting John McClane for a sixth Die Hard movie. The new film is set to be directed by Len Wiseman, who was responsible for the fourth film in the series, Live Free or Die Hard. This latest installment centers around John McClane in present day (played by Bruce) and in his early career as a beat cop in 70s-era New York (played by a still-to-be-cast actor.)
I always liked Bruce Willis (although he remains the most famous person to back out of an interview with me) and he's got a lovely family. But that house, wow. Definitely #lotterygoals for me.
Bruce Willis' Life at Home with Wife Emma and Two Daughters is 'Filled with Joy' and the 'Chatter of Little Girls' https://t.co/Ru6FkwKvEo

— People (@people) October 4, 2017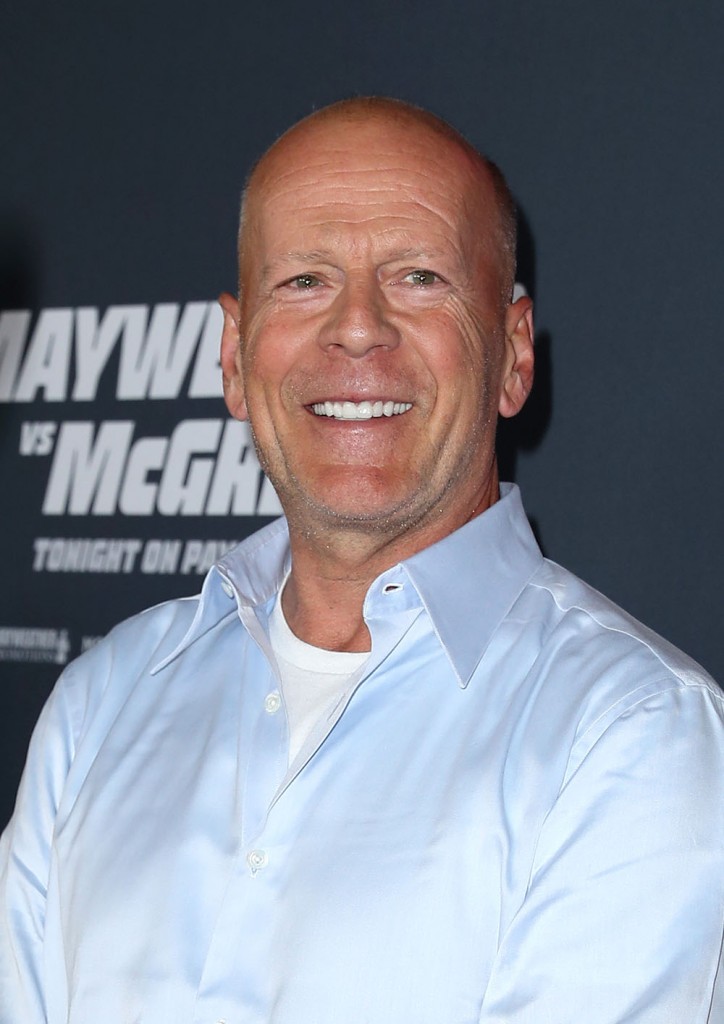 Photos: WENN, ELLE Decor