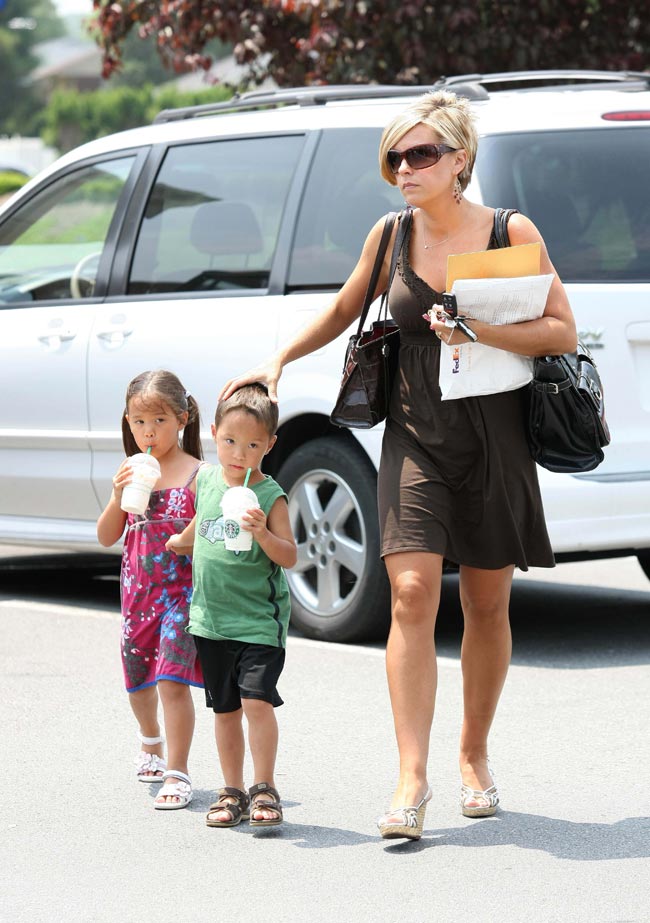 I don't believe in corporal punishment for a few reasons. First of all, it's cruel to hit your child, even if you justify that it got their attention or if you think it works for whatever reason. Second, it really doesn't work and can cause lasting damage. If you hit your child, they're going to remember that you hit them, not that they did something wrong. To your child, you're the one that's wrong when you hit them, and they tend to focus on that and not the thing you're trying to discipline them for. If you use other methods like taking away privileges and time outs, they'll reflect on their behavior and will hopefully change in time. Otherwise they're thinking about how much it hurts and how they were wronged. Plus it makes them think that it's ok to hurt others because mom and/or dad do it to them.
Many people reason that they got smacked on the butt as kids and that they turned out fine. While I find that unacceptable for my child, I try not to judge others for a light occasional spanking. That is as far as it should go though, and using any kind of object on your child like a spoon or a belt is akin to physical abuse. How can we expect to raise children who solve problems effectively when we're teaching them at home that aggression is an acceptable response to frustration? If you hit your child with an object, you are out of control and need help.
The National Enquirer has a new interview with a former staffer of Kate Gosselin. The person who worked with her closely says the mother of eight has taken her children off camera and disciplined them by spanking them hard on the butt with a plastic spoon. If this is true, I am disgusted with this vile woman.
The former staffer also claims Kate would routinely drink a bottle of wine a night. She seems to be laying off the sauce recently, though, at least in comparison to absent husband:
Kate Gosselin is a regular boozer with a hair-trigger temper who has angrily paddled her kids with a kitchen utensil, an ex-staffer for Kate and her estranged husband Jon charges.

In an explosive exclusive interview, the former employee also reveals that she saw Kate getting cozy with bodyguard Steve Nield, the silver-haired hunk with whom she's been rumored to be romantically involved…

"By the end of the day after the kids were settled, Kate would drink a bottle of wine by herself. This happened several nights a week," said the source, who worked with the Gosselins for six months and quit at the end of summer 2008…

Kate was "short-fused and demanding," according to the source, and while off-camera, she often disciplined the children in a very harsh, sometimes even violent, manner.

"When one of the boys closed a door on another one once, Kate got in their faces and yelled, 'You tell me the truth about what happened!'" the source revealed.

"The children just stood there, terrified. Then she dragged one of the boys into the bathroom and spanked him five or six times with a large plastic mixing spoon.

"You could hear Kate forcefully whacking the child and the child screaming at the top of his lungs. People told me it happened more than once, but it was off-camera because Kate didn't want it in the show.

The source also witnessed the growing closeness between Kate and her bodyguard, New Zealand native Steve Nield.

In a surprisingly intimate gesture, "Steve often put his hands on her hips to guide her."
[From The National Enquirer, print edition, June 22, 2009]
So do you think that Kate was cheating with the bodyguard for a while before her marriage fell apart? She did supposedly write up that whole separation contract letting Jon go out and see other people as long as he showed up for tapings. Maybe she did it to make herself feel better about the guilt.
I hope she's no longer using corporal punishment with her children. If this story is true and anyone filming the show knows about it, they should ensure that Kate gets into counseling and learns how to control her anger. Her kids deserve way better. They already have to have their whole childhood chronicled to satisfy their mean mom's quest for fame and cash. Their absent dad with his new earring, girlfriends, and lame-looking "hip" clothing isn't much better but at least he's not smacking his kids with a spoon.
Katie Gosselin is shown out on 6/10/09 with two of the five year-old octuplets, Hannah and Aaden. Credit: INFphoto.com