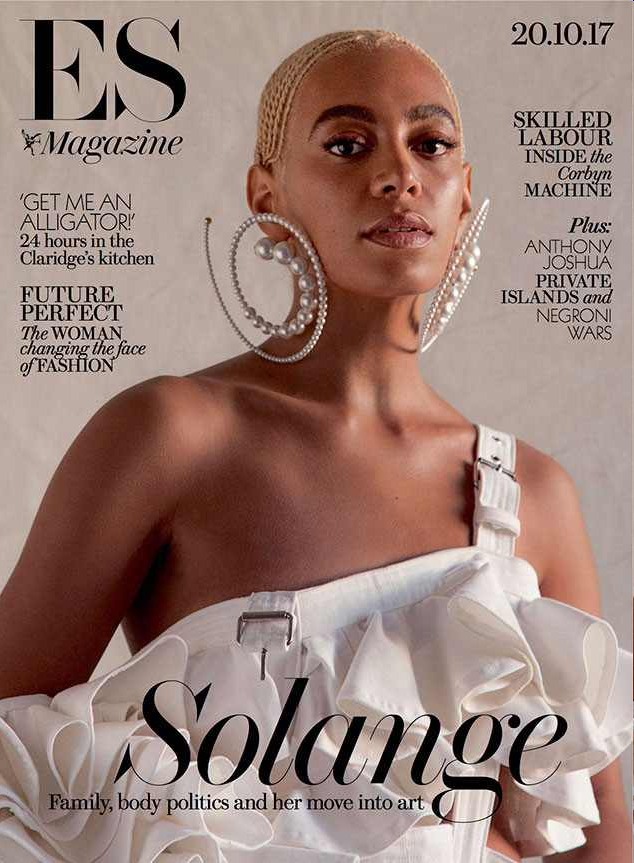 Solange Knowles got the cover of ES Magazine, the in-house weekly magazine for the British paper the Evening Standard. The above cover shot is what the editors of ES Magazine chose. It's a striking image, Solange is giving FACE, and I can understand why the editors liked this image for the cover shot. But there's a problem! Apparently, this cover shot has been photoshopped to hell and back and there's a racial element to it. The original image (which Solange posted to her Instagram) shows that Solange was photographed with an elaborate braided-headpiece look:
I had to look up "DTMH" because I am not cool. It's an acronym for "don't touch me ho." Update: apparently it means "don't touch my hair." Here's a bit more – this whole thing sounds like a fiasco from start to finish:
Solange took to Instagram Stories with a repost of the cover and made her discontent known when she circled the blank space where the braid originally was. The Grammy winner, who released the song "Don't Touch My Hair" as part of her third studio album, captioned the original image on her account with the abbreviation "dtmh." Solange even spoke about the significance of hair braiding in her interview with the magazine, calling it "its own art form."

"I got to experience women arriving in one state of mind and leaving in a completely transformed way," she recalled to the magazine of her experiences at her mother's salon. "It wasn't just about the hair. It was about the sisterhood and the storytelling. Being a young girl who was really active in dance, theatre and on the swim team, the salon was a kind of safe haven."

Meanwhile, the piece's writer, Angelica Bastien, took to Twitter to reject the piece. "I am publicly disowning the Solange piece London Evening Standard published today. The entire piece was a fiasco despite my efforts," she wrote on Twitter. "I told my editors to take my name off of the byline because they distorted my work and reporting in ways that made me very uncomfortable. Disowning the piece this publicly is meant to get across my displeasure with what was published," Bastien continued. "I don't want this piece attached to my rep as a writer at all. Hopefully disowning it gets that across."
The Evening Standard later apologized to Solange – you can read their apology here. You can also read the original interview here, which as E! News reported, the actual interviewer wants no part of. Solange apparently stood up Angelica Bastien because she (Solange) was getting this braid work done. But the piece reads as an eyeroll to Solange, like Solange is kind of an a–hole who just wants to talk about the pyramids at Giza and not talk about her family. Eh.
Incidentally, I understand why the editor chose to Photoshop out Solange's braids. I'm not saying it was the right call, I just understand why it was done editorially and visually, and that's because if they had included the too-high "headpiece" aspect of the braids in the cover shot, there would be too much "dead space" on the cover and they wouldn't have been able to crop it close enough to Solange's face.
Photos courtesy of ES Magazine and Solange's IG.