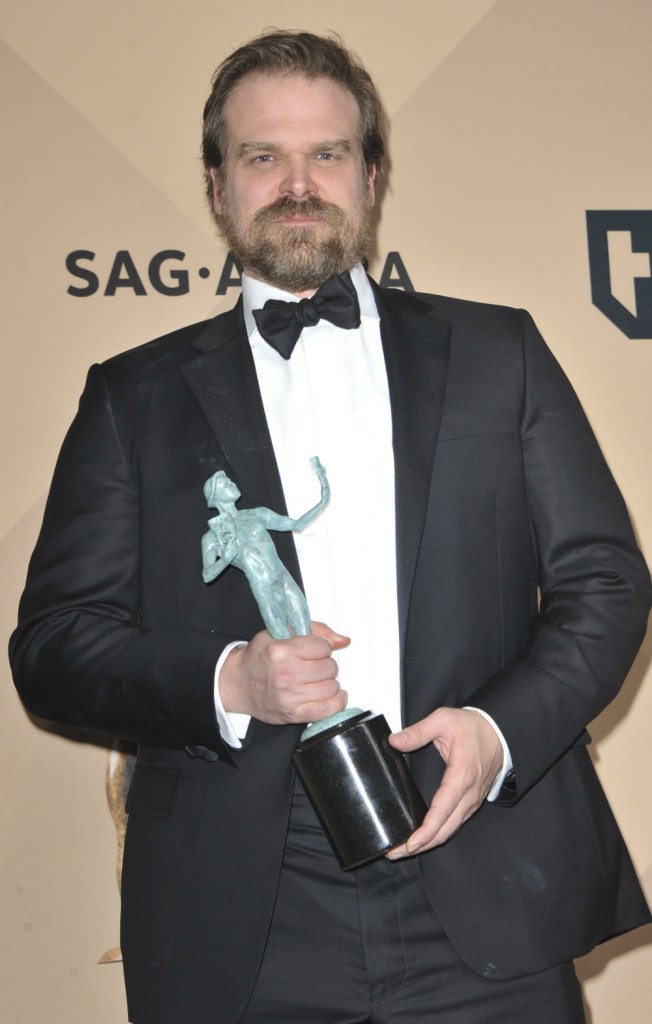 Next week brings us the return of Stranger Things. I know a bunch of people that are more excited for that than Halloween. I think CB is counting down the hours. One of the best things about the show for me is the cast, most of whom are people I quite like. That includes sheriff Jim Hopper, who is played by David Harbour. David always has a Brian Cox feel for me: he pops up in a bunch of things but it's always a solid performance. He also has that everyman quality that makes me think he'd have a cup of coffee with me if he had the time. David recently gave an interview to Women's Health in what I assume was promotion for Stranger Things. The interview is quite charming and sort of reinforces my idea of relatability to David. Because it's Women's Health, they spoke of body ideals and his idea of sexy.
ON HOLLYWOOD'S BODY IDEALS: I auditioned to play the Blob in a Wolverine X-Men movie, and at the end of the audition, I squeezed my stomach and was like, 'I got your Blob right here!' Then I met with the director and he said, 'David, you're a wonderful actor, but we're worried about your health.' I was like, 'What do you mean, man?' And he was like, 'We saw you had some fat, and we're worried you're not healthy enough to carry the suit.' I was like, 'Dude, you're telling me I'm too fat to play the Blob?' The irony was priceless.

ON WHAT'S SEXY: I think about the sexuality of various generations, and I feel like we're getting less sexy. I look back to the '70s and '80s and of course we always want to see a beautiful body, but there's something about showing the sexuality of someone who lives their life, somebody who knows how to eat a sandwich, who occasionally lets this kind of demon out of them—I want more of that. Those are the people I find sexy. I want to bring love handles and eating sandwiches back.

ON LOOKING FOR LOVE: I'm easily swept away, but I'm trying not to be as much. I'm better at the fantasy of relationships than I am at the daily real life, but I'm trying to steer myself into a realist. What I find most exciting now is sharp, intelligent, insightful women. People who are deep thinkers, who have sort of a weird way of looking at the universe, are wildly attractive to me. So if I can find one of those gals who can stand me, then maybe I might have something.
I think that Blob story is funny. I mean, obviously, it's kind of sad but I could picture him laughing when he told the interviewer he was too fat to play The Blob. And what the heck? I don't think I've ever seen him as big, big. Sometimes a little chubby but never "we're worried about you" weight. Like I said, I think David seems like a good guy but I won't take bets on him showing up with a sharp, sandwich eating woman any time too soon. Actors always say this and then walk a 20+ model down the red carpet. But, until that happens, I want to believe this is what David is looking for. Plus, I don't think enough people extoll the virtues of sandwiches. I'm a huge sandwich enthusiast so if David is campaigning for more sandwich visibility – sign me up.
As for the love-handles being sexy thing, again, I'm skeptical. I love what he said about someone who shows they live life. It does seem, though, that men are given allowances and even praise for love-handles and wrinkles but women aren't. I want to believe it's because women are more forgiving and value the person over their appearance, but it doesn't make it any more fair to us. I dug his comments about deep thinkers having "sort of a weird way of looking at the universe," though. According to some light Googling, it looks like David was engaged to actress Maria Thayer but I couldn't find anything else on him romantically. So I don't know if he was just answering the questions or putting his availability out there in the universe. It could be, however, that a relationship is not his first priority right now. I think whomever he ends up dating will be lucky. A life of sandwiches and weird world view sounds pretty cool.