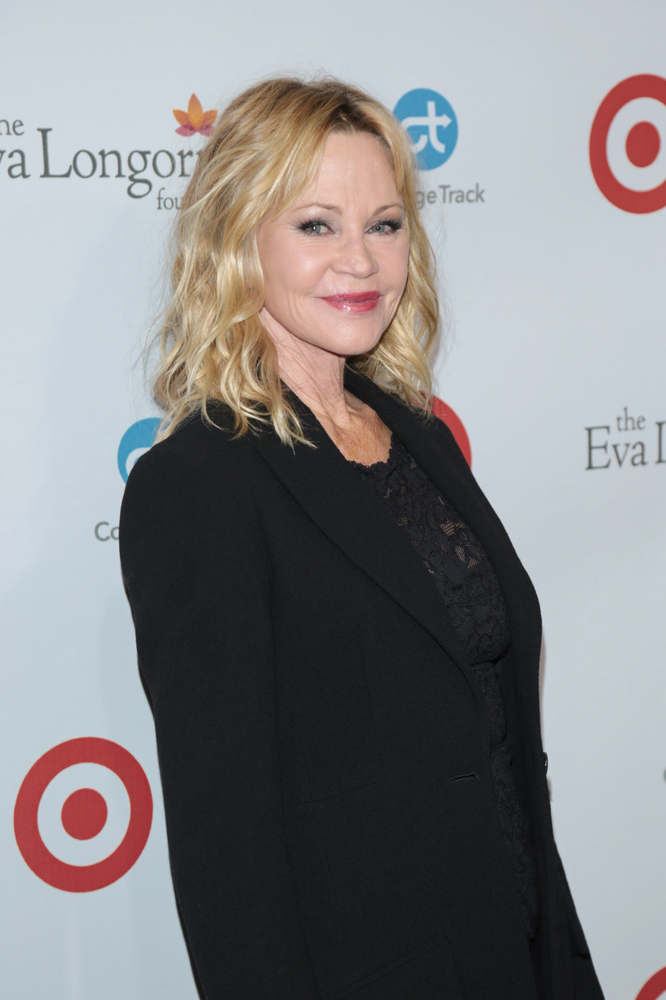 Melanie Griffith participated in a brain health initiative panel in Beverly Hills last week. As People Magazine reports, the event was moderated by Sharon Stone, who suffered from a stroke in 2001. (Sharon has since become an advocate for stroke awareness. She spent two years learning to speak, read and talk after that and considers herself lucky to have her vocabulary back.) Melanie revealed that she'd been having seizures for 20 years, specifically in times of stress, but that she didn't receive a diagnosis until she was in Cannes in 2011 and had two seizures in succession. She later learned through genetic testing that her condition was caused by stress. Thankfully she's been seizure free for four years now. Griffith made some insightful comments about how long she waited for a diagnosis and how frustrating and impossible medical conditions can be for people without her means.
[Melanie Griffith] revealed she had been diagnosed with epilepsy six years ago during a Women's Brain Health Initiative panel Wednesday night in Beverly Hills, California. The panel was moderated by actress Sharon Stone, who suffered a stroke in 2001.

Griffith was diagnosed after she had two seizures, which occurred on a yacht outside of Cannes, France, during the Cannes Film Festival in 2011.

She continued, "When I came back [to the U.S.], I was diagnosed with epilepsy and nobody had said to me over a period of 20 years, no one paid enough attention to even diagnose me."

The three-time Golden Globe nominee said she began to have fewer incidents after her divorce to actor Antonio Banderas, to whom she had been married to for 18 years.

"I was extremely stressed out," she said. "Every seizure that I had was at a point when I was extremely stressed."

"I got divorced, which is a real healer for me," she joked, earning laughter from her audience.

She said that despite her health troubles she still feels grateful she was able to access the best health care. Griffith revealed she had recently visited the Health Nucleus facility in San Diego, California, for genome testing to see if she still had epilepsy. The results turned up negative.

"They did all the tests on my brain," she said. "They couldn't find the epilepsy; they couldn't find anything wrong. It's pretty much that it was stress. My brain is f—– up. Really — you know? I thank God that I'm in a position where I was able to, like, find out where I could go to that's the newest high tech place to find out the most information that I possibly can."

She continued, "If I was living in poverty with four kids, and I couldn't make ends meet and I had a f—— seizure, what do you do?" she asked. "How does the average person, man or woman, get the help?"
I often think of how Catherine Zeta-Jones blasted her husband Michael Douglas's doctors for not finding a walnut sized tumor under his tongue for weeks to months (the time window is unclear) after he he sought help for throat and ear pain. If the (presumably) best doctors in New York City can't find a visible tumor on one of the world's biggest celebrities, what chance do the rest of us have? I'm thinking of those of us who have health insurance, hoping it will protect us from bankruptcy in the event of a medical emergency or chronic condition. We still have to find a doctor who is skilled enough to listen, order the right tests and provide a diagnosis without dismissing our symptoms. There are so many people who rely on the ACA to meet their basic medical needs as Griffith alluded to. If the creeps in power have their way that minimal protection is about to be stripped away. If that happens, people will suffer and die from treatable medical conditions. The men pushing to dismantle that either don't understand the consequences or are so heartless they don't care.