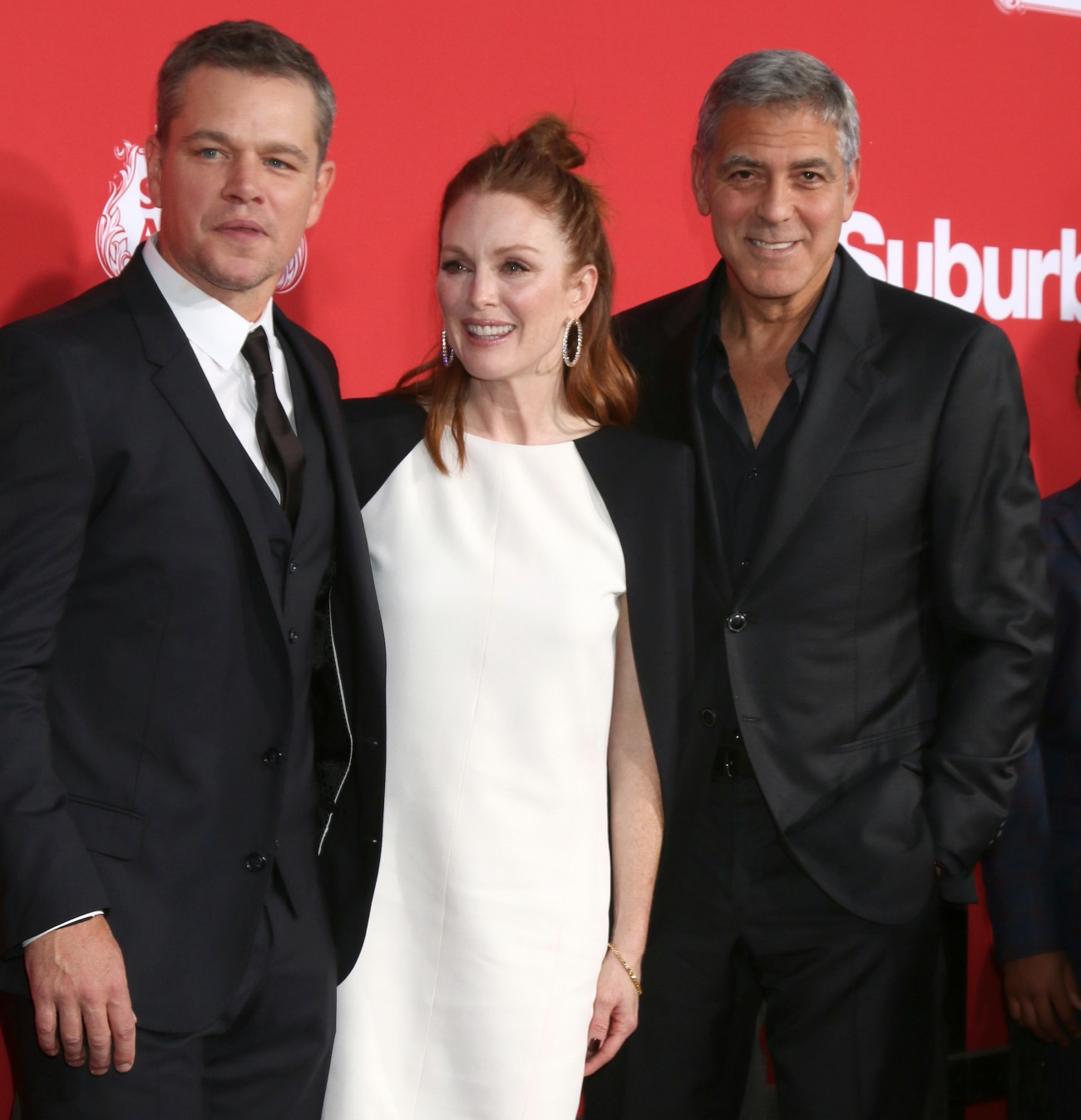 I tend to believe that George Clooney "gets it" more than Matt Damon. "It" being the scope and reach of the Harvey Weinstein story, and how attitudes and conversations need to change. It feels like George understands that business as usual in the boys' club of Hollywood needs to shift and change. Matt Damon doesn't get it. Matt hasn't gotten it this whole time, and it seems like his "what, I never heard anything about that" story about Weinstein was absolute bullsh-t. George and Matt sat down for a Good Morning America interview and guess what? Matt Damon had some idea. He knew second-hand that Harvey Weinstein sexually harassed Gwyneth Paltrow, who was dating Ben Affleck at the time. These quotes are a mess.
Matt Damon knew Harvey Weinstein was a "womanizer" and an "a******" but said he never thought the disgraced producer engaged in "criminal sexual predation." Damon told ABC that Weinstein, who has been accused by dozens of women of sexual harassment and assault, signed Damon up for a three-picture deal. On one of those films, "The Talented Mr. Ripley," he worked with Gwyneth Paltrow, one of the many actresses who has come forward in recent days to say that Weinstein sexually harassed her. Paltrow, who dated Affleck in the late 1990s, told Affleck about Weinstein's inappropriate advances. Affleck, in turn, told Damon.

"I knew the story about Gwyneth from Ben," Damon told Strahan. "I never talked to Gwyneth about it. Ben told me . . . but I knew that . . . they had come to whatever, you know, agreement or understanding that they had come to, she had handled it."

Clooney said that Weinstein had told him that he'd had affairs with numerous actresses, but the actor said he never quite believed it. "But the idea that this predator, this assaulter . . . was out there silencing women like that . . . it's beyond infuriating," Clooney said.

While Damon told ABC that "You had to spend about five minutes with [Weinstein] to know that he was a bully. He was intimidating. Miramax was the place, really the place, that was making great stuff in the '90s. And it was like, 'Could you survive Harvey?' " Despite hearing the rumors, Damon told Strahan he never saw such behavior from Weinstein in public. "If he did . . . if there was ever an event or something that I was at in public with Harvey, and he was doing this kind of thing . . . I missed it. And if I somehow missed it, then I'm sorry. . . That darkness was his . . . he did that in private."
Again, the story here is not what these men think it is. They want the story to be "Movie stars say women are brave for speaking about Weinstein, who is the only predator, they swear." There are a lot of men who need to give themselves good, hard looks in the mirror and really think about and examine their own attitudes and what they're turning a blind eye to. I believe that George gets that, and I believe that Matt Damon does not. The fact that Matt can utter the words "he did that in private" while simultaneously acknowledging that he had heard the story about Gwyneth… well, he sucks as a person. Not to mention "she had handled it" – oh, good, then no follow-up questions were needed, Matt! Case closed!
Matt also told Variety this about the "fallout" from the Weinstein thing: "The fact that somebody that powerful, his career has been completely ruined, that's a real message to anybody who would behave like this." Matt, Weinstein behaved "like this" because he's a sexual predator who was enabled by men willing to look the other way. The message to men should not be: "don't assault and rape women, you'll lose your career!" The message should be: "don't assault and rape women because THAT SH-T IS ILLEGAL AND YOU ARE HURTING WOMEN." Matt also told Variety: "Maybe I'm totally naive, I just don't see how somebody could even think they could get away with this anymore in this day and age." People are getting away with it. And you're not naive. You're just an a–hole, Matt.
Photos courtesy of WENN, Getty.