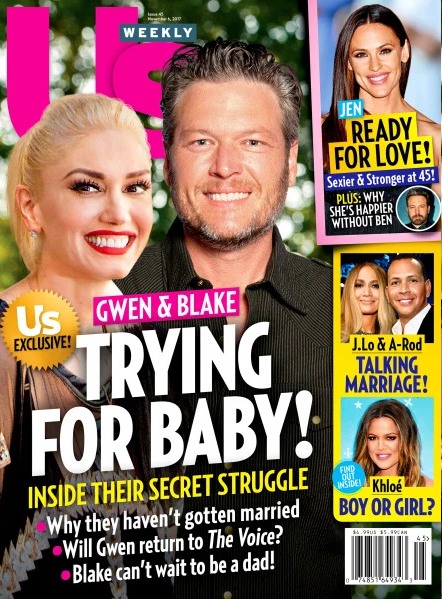 Let's face it: no one believed that Gwen Stefani and Blake Shelton would make it this long. I mean… I didn't think they would last one solid year. It seemed like their coupling had been dreamt up as a cocaine-addled fantasy by NBC executives, with two valuable commodities (Blake and Gwen) suddenly finding themselves single. Maybe that's how it happened in the beginning, but let's be real: if they were JUST a fauxmance couple, they wouldn't have been able to "fake it" this long, and so convincingly. They really are dating, and they really are into each other. I wouldn't be surprised if they got married. I also wouldn't be surprised if this Us Weekly cover story is true, and Gwen is trying to get pregnant:
Of all Blake Shelton's roles, there are few he relishes more than Oklahoma tourist guide. Introducing girlfriend Gwen Stefani and her boys — Kingston, 11, Zuma, 9, and Apollo, 3 — to his home state is thrilling, he recently told Entertainment Tonight. "It's been a lot of fun for me to be the one to get to expose them to this," he said of bringing everyone to the September 30 opening of his Tishomingo eatery, Ole Red. "They love it so much, her entire family." Everyone from her sons to her parents are enamored with the country life, insists Shelton: "There's times when we've had holiday gatherings, and I'm talking about 30-plus family members from her side, from my side."

Come Christmas 2018, they're hoping to make room for one more. Blissful two years into their surprising romance, the country music sensation, 41, and the 48-year-old rocker turned fashion mogul are eager to expand their family, multiple sources reveal in the new issue of Us Weekly.

The divorcées — he announced the end of his marriage to Miranda Lambert in July 2015; she split with her husband of 13 years, Gavin Rossdale, a month later — "will get married one day," says a Shelton insider, "but right now they are hyper-focused on getting pregnant."

Noting the No Doubt front woman learned she was expecting Apollo at the age of 43, the source says she and the nine-time Country Music Association Award winner are confident they'll have a child together. "They believe there is still a chance for Gwen," says the Shelton insider. "They are incredibly hopeful."

Becoming a dad has long been on Shelton's wish list. His urge to start a family was a factor in his split with Lambert, says a friend. So when his romance with Stefani became serious, he was upfront about his future plans. "Blake told Gwen he does want kids of his own," says a Shelton source, "and Gwen was willing to try. With her, Blake has the exact relationship and family life he'd hoped to have with Miranda. Gwen's everything he wants."

A child of their own would be the icing on the proverbial cake. "Gwen and Blake started talking quickly about having a baby," says a close Shelton confidante. But so far that dream has been elusive, says the Shelton insider. Though the couple first began trying for a baby last year, "starting a family has not been easy for them," says the insider. "It's something that they really want and it's just not working out the way they wanted it to."

Despite the hardship, the pair are rock solid. "They struggle they're facing is making them stronger," says the Shelton insider. "They are so committed to one another and protective of one another."
I had to look it up – Apollo Rossdale was born in February 2014, when Gwen was 44 years old. Halle Berry gave birth at 47 (to son Maceo), so it can be done, although I would assume that it will take some help from fertility doctors. I think Halle always said that Maceo was conceived naturally and it was a surprise, so it does happen to some (repeat, SOME) women in their 40s. Considering what we know about Gwen and how baby-oriented she is, the only real surprise is that she only started trying to get pregnant a year ago. I would have thought she would have started trying like ten seconds after she got with Blake. Also: why not adopt? It's a decision every person/couple has to make for themselves, but why does it feel like adoption isn't part of their conversation?
Photos courtesy of Getty, cover courtesy of Us Weekly.