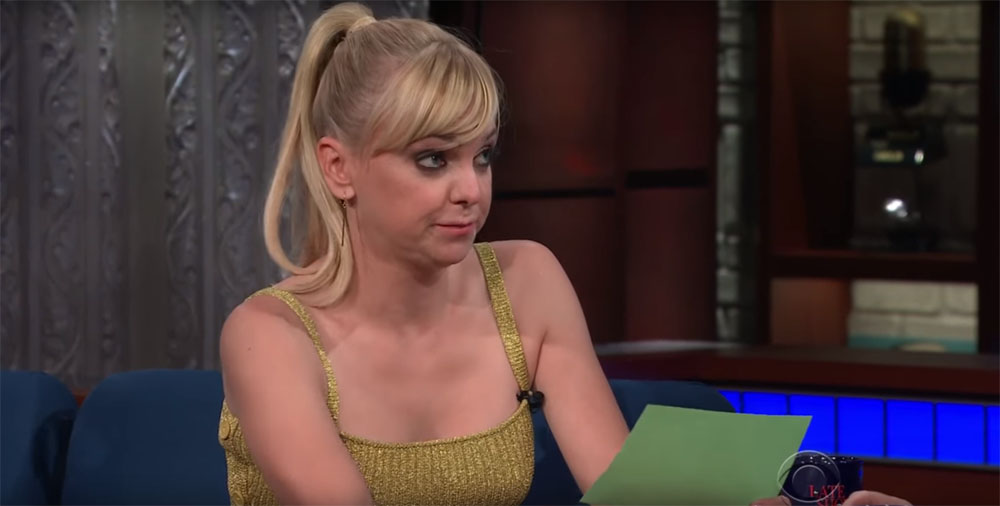 Anna Faris is promoting her new memoir, Unqualified, in which she gets extremely candid. Yesterday we covered the story that she was wooed by Chris Pratt on set while she was married to her first husband, Ben Indra, and had been with him for eight years. Faris admitted that she broke up with Indra over the phone in order to sleep with Pratt. Apparently that wasn't "cheating" because she held off on the sex. She also wrote that if she hadn't met Pratt she would not have left Indra because "Chris was my cattle prod" to leave the marriage. It sounded incredibly self-centered, but as many of you pointed out in the comments at least she was honest about it.
Another story that is getting headlines from Anna's book is the fact that Jennifer Lawrence apologized to her for the tabloid rumor that she was sleeping with Pratt while they were filming Passengers, which was of course untrue. Anna wrote that "Jennifer and I are really friendly, and she was apologetic even though she didn't need to be, because she hadn't done anything wrong. She's awesome, but of course it's hurtful and also embarrassing when people are saying your husband is cheating on you, even if it's patently untrue. You still feel, and look, like a fool." E, tu Anna?
Now Anna has a new boyfriend, a 47 year-old cinematographer. As I mentioned yesterday I wonder if the story she shared in her book about needing someone to show her the way out of a relationship is her MO and if it applies to her current situation. Like maybe Chris isn't the one who was cheating.
Anyway this is all preface to the story that Anna appeared on The Late Show with Stephen Colbert earlier this week and was slurring her words. She didn't seem completely wasted, just mid-level drunk. She made funny faces, was slumped over at times and it took a while for her to find her words. I've heard rumors for some time that she has a drinking problem. I used to be a daily drinker (15 months sober now) and I can relate to her here. Like it's sad but it's not surprising. When you're used to being half blotto by a certain hour it can seem impossible to hold off getting started when you're supposed to show up sober-ish for something. I would often not go out at night just so I could stay at home and drink. Plus I would convince myself, when I did go out, that it was fine because I was sociable and funny. I was fooling myself and everyone knew.
Here's that clip and just watch it with the sound off if you're in a place where you don't have headphones and can't play sound. You'll see what I mean. At 4:04 it gets weird when she asks Colbert if she can look at his question cards. After that she pulls it together a bit and is funny. She mostly talks about her relationship advice podcast and the kinds of guys you should avoid. If Gwyneth Paltrow can give health advice I guess Anna Faris can be a relationship expert.
To be fair to Anna, I saw a segment of her appearance on Late Night With Seth Myers, which aired Tuesday night. She seemed much more sober and coherent there, although that bar is set low.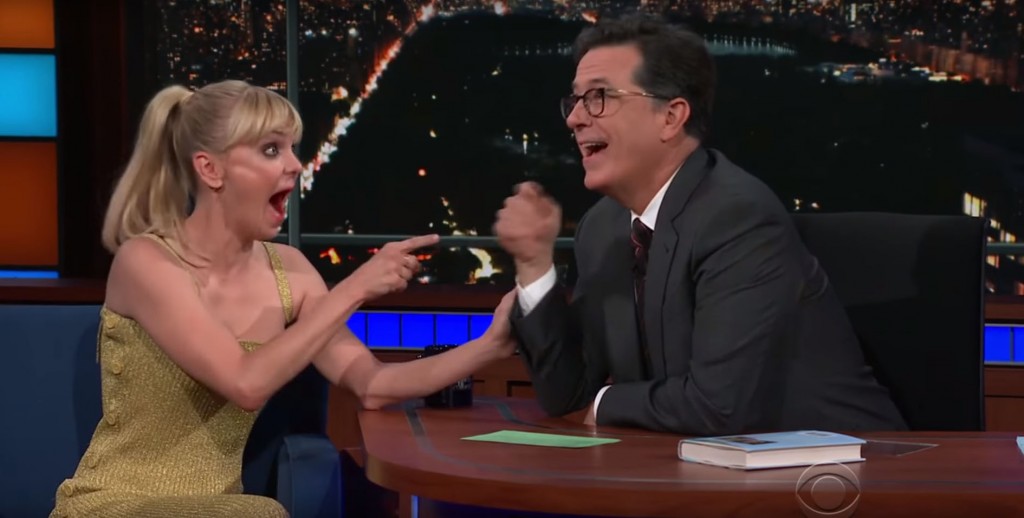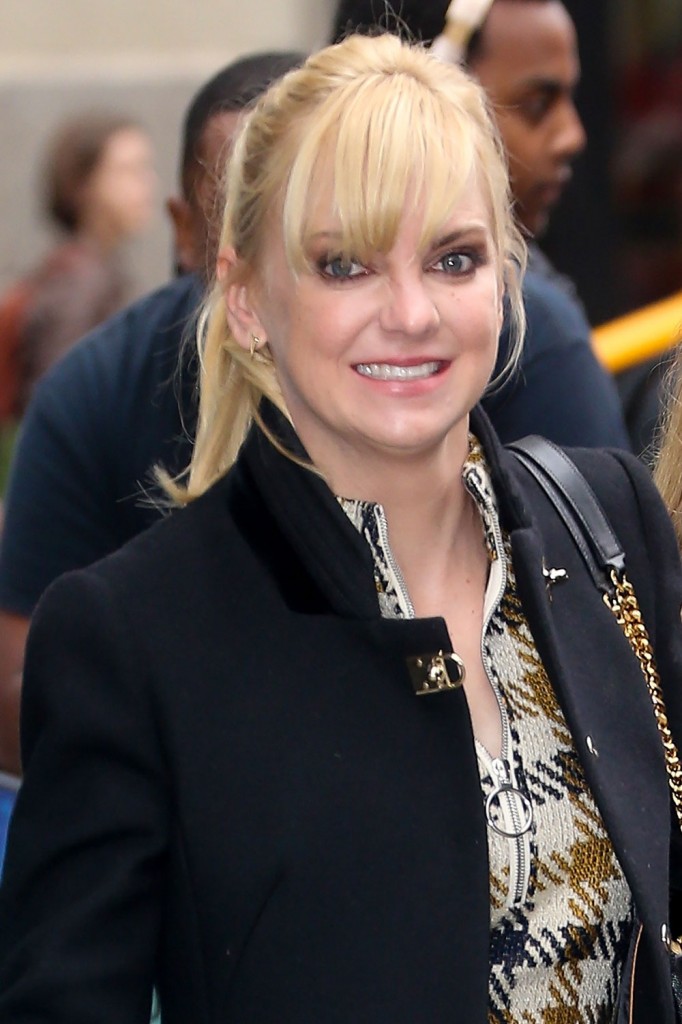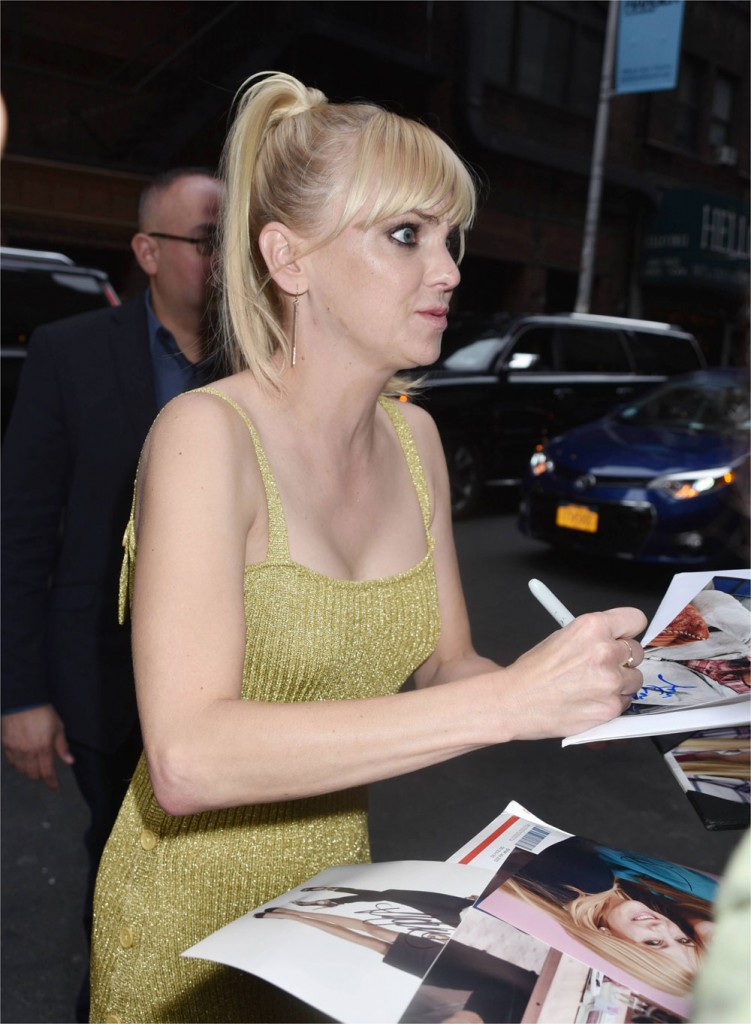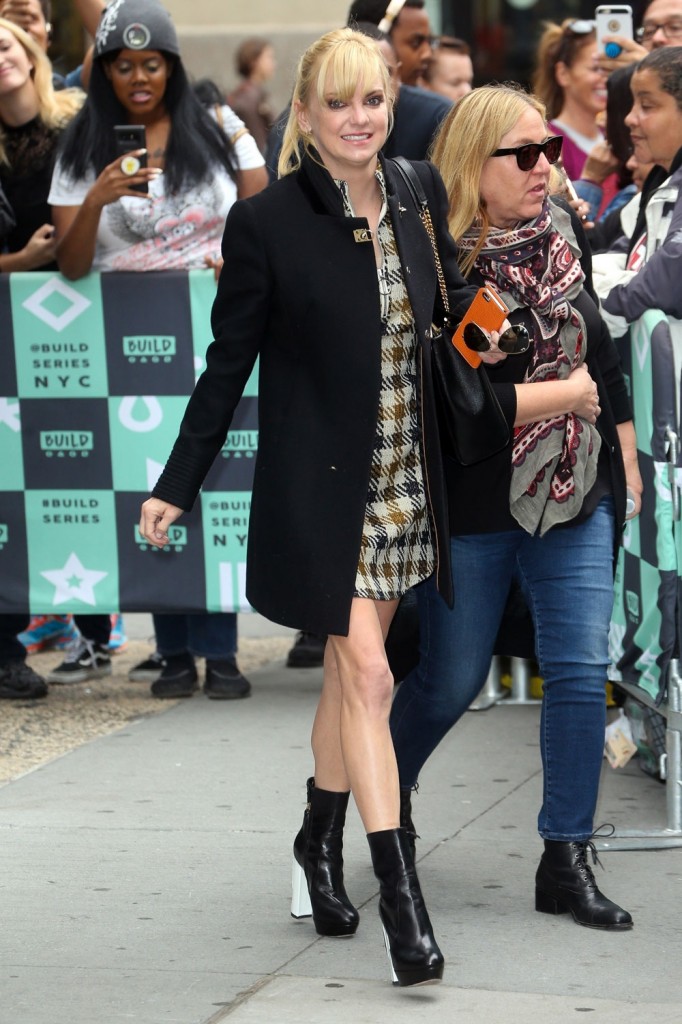 photos credit: Backgrid and WENN