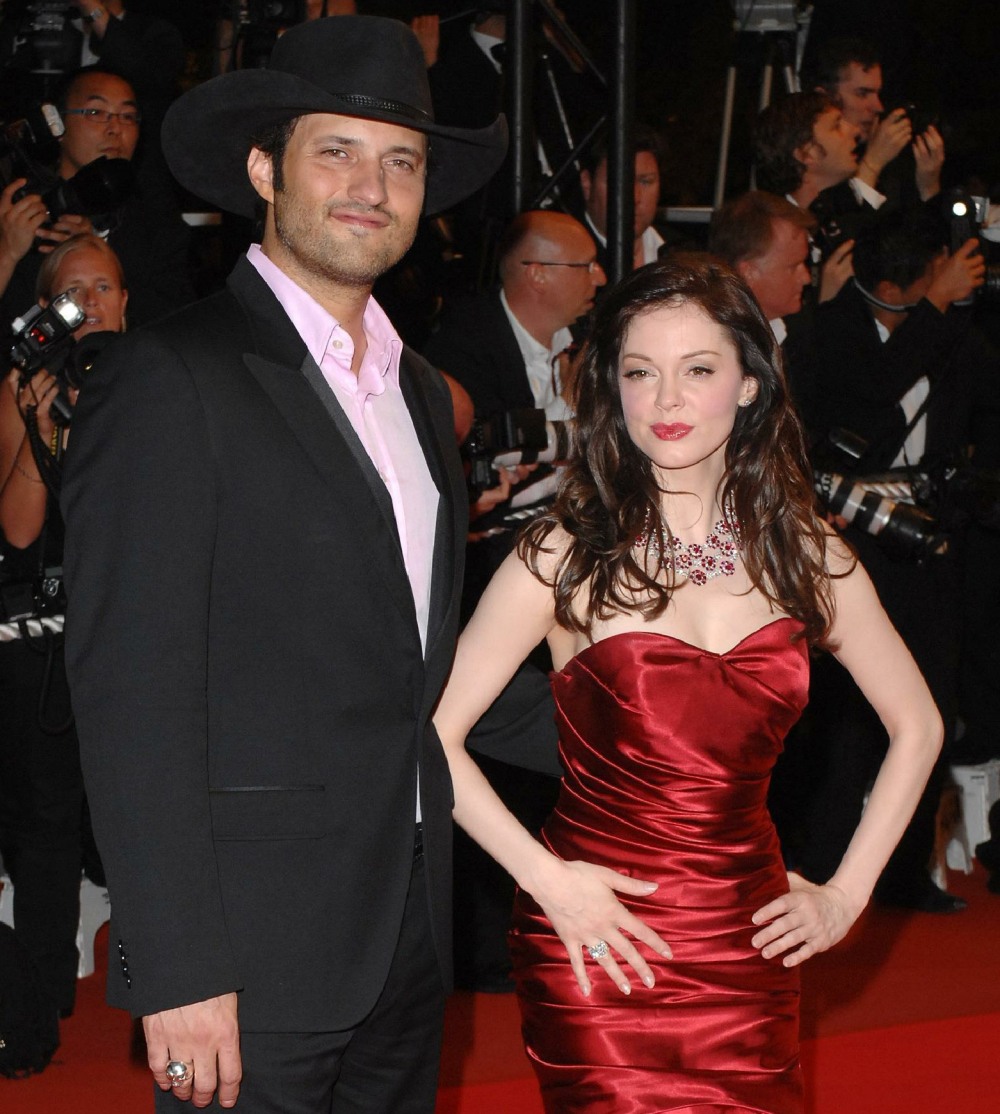 On Friday, Rose McGowan appeared at the Women's Convention in Detroit, and gave her first in-person public statement about Harvey Weinstein. She didn't say his name, which is her right and I don't blame her. She's been living under the threat of the nondisclosure agreement for 20 years. McGowan talked about being shamed and harassed – you can see some of her speech here. McGowan also wrote a piece for the NY Times this weekend, and she claims that just before everything came out this month, Weinstein's people offered her $1 million in new hush money (which she refused).
One of the things that confused me about the history of Quentin Tarantino and what he did and didn't know about Weinstein was that… QT is really good friends with director Robert Rodriguez. Rodriguez dated (and was engaged to) Rose for several years, 2006-09. Rodriguez and QT made Grindhouse with backing from Miramax/Dimension. What did McGowan tell Rodriguez, and what did Rodriguez tell Tarantino, and why did QT and Rodriguez continue working with that company? Well, Rodriguez felt it was time to tell his side of the story, and he did so on Friday, as McGowan (his ex) spoke at the Women's Convention. He wrote his story and Variety published it – go here to read the full piece.
When Rodriguez first met McGowan: "I met Rose in Cannes on May 19, 2005, at an amfAR after party. "Sin City" had just screened at the Festival the night before. Rose and I were talking, and she told me she was a film noir fan and that she wished she could have been cast in "Sin City." I asked her "Why didn't you audition for it? You would have been terrific." She said that she couldn't because she had been blacklisted from working on any Weinstein movies. When I asked what she meant by that, and how could she possibly be blacklisted, she told me the horrifying story of what Harvey did to her seven years earlier.

Rodriguez instantly wanted to cast her in Grindhouse: "Incensed at what I heard, I told Rose that she was not blacklisted from MY movies and that Harvey couldn't tell me who to cast. The reason was that Harvey didn't work on my movies, I made movies all those years for Dimension and Bob Weinstein. So I explained that if I cast her in my next film, Harvey couldn't suddenly tell me no, because my first question would be "Oh, really? Why can't I cast her?" And I was sure he would not want to tell me why. I then revealed to Rose right then and there that I was about to start writing a movie with Quentin Tarantino, a double feature throwback to 70's exploitation movies, and that if she was interested, I would write her a BAD ASS character and make her one of the leads. I wanted her to have a starring role in a big movie to take her OFF the blacklist, and the best part is that we would have Harvey's new Weinstein Company pay for the whole damn thing.

That same night, he spoke to Weinstein as McGowan was sitting there: "Just as I finished telling Rose this, I saw Harvey walking around the party! I called Harvey over to our table, and as soon as he got close enough to see that I was sitting with Rose, his face dropped and went ghostly white. I said, "Hey Harvey, this is Rose McGowan. I think she's amazing and really talented and I'm going to cast her in my next movie." Harvey then dribbled all over himself in the most over the top performance I'd ever seen as he gushed, "Oh she's wonderful, oh she's amazing, oh she's fantastic, oh she's so talented… You two should definitely work together." And then he skittered off. I knew right then that every word Rose told me was true, you could see it all over his face. I looked over at Rose. Her mouth was open, and her eyes were wide. "WOW. I've never seen that before," she said. I then told her that if she wanted a role that I would write it for her and Harvey's company would have to fund it. Rose agreed, and the deal was done. I found it so commendable that she was putting the incident behind her and moving forward with her career. I wanted to help. We had a plan, and more importantly, we had a mission.

Even though they kept quiet about their scheme, Harvey still buried them: "To our horror, Harvey buried our movie anyway, and because we did not want to risk getting sued, we never spoke publicly about the matter. It would have been much easier on both of us if we could have just revealed why we were doing it…. even though "Grindhouse" received great reviews, Rose got terrific notices, and the film is still a fan favorite today… it was heartbreaking to see Harvey simply bury the movie for its release.

He wonders if it was all worth it: "Looking back over the years, I have wondered if I would have made the same choices, knowing the bleak outcome. We all suffered greatly on the film, and the journey ended up costing us all more than we ever bargained for. For me personally, it cost me my marriage of 16 years, my family, a large dose of sanity, and for years I have grappled with the sobering idea that maybe I made a grave error in standing up at all, when no one was even asking me to. I know that's not the message I'd ever want to send out, but it's been hard to justify something that now is clear was a lose/lose situation from the get-go, and that in the end failed and simply caused more damage. The reason I'm saying this is because it's very clear to me now that when someone does what Harvey Weinstein did, the devastation goes far beyond predator and victim.
I get the feeling throughout the piece that Rodriguez meant well and his intentions were good, and that he honestly believed he was Rose's passionate advocate and supporter. But there were several parts of his story that left me cold. The first night he met McGowan, she told him what Weinstein had done to her and Rodriguez still called Weinstein over. If you believe Rose (and I do), she told a man that Weinstein had raped her eight years prior and that man's first reaction was to coax her rapist over to the table. It also seemed like Rodriguez was more worried about Rose's blacklisting than the sexual assault, and that the worst part of all of this was that his film got buried. I mean… again, I think he has good intentions and there's a lot of stuff in his essay which Comes across as sympathetic to survivors of sexual violence. But there's a lot of stuff that comes across as very "what's your main priority here again?"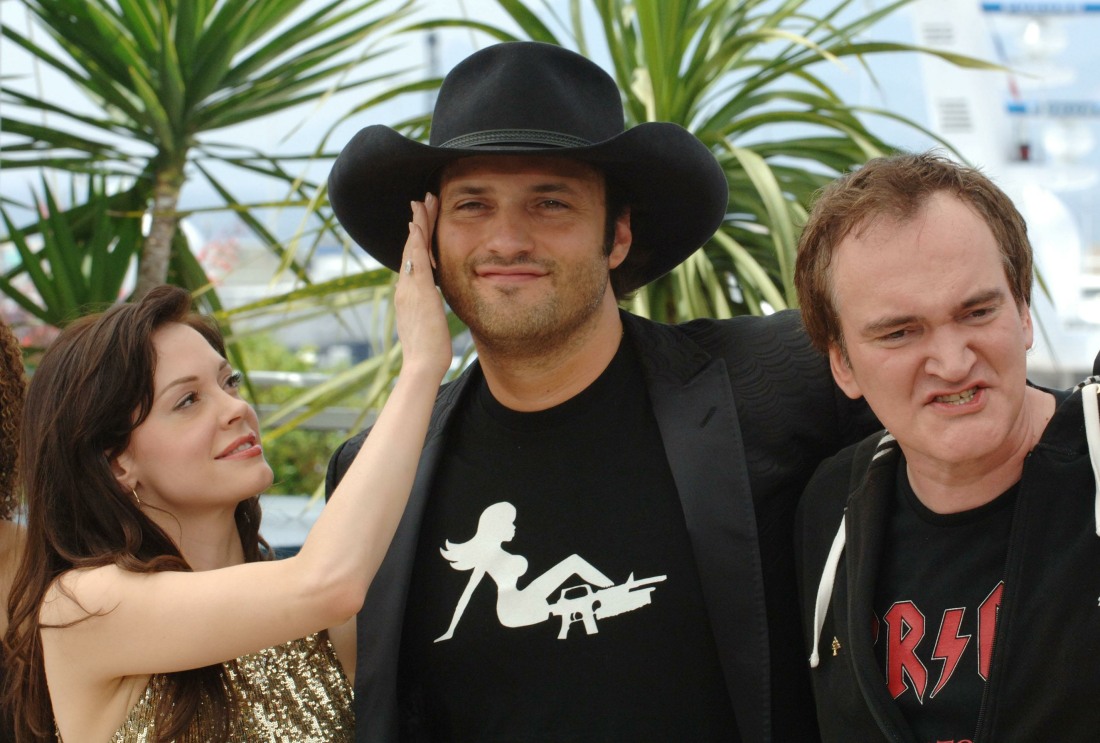 Photos courtesy of WENN.