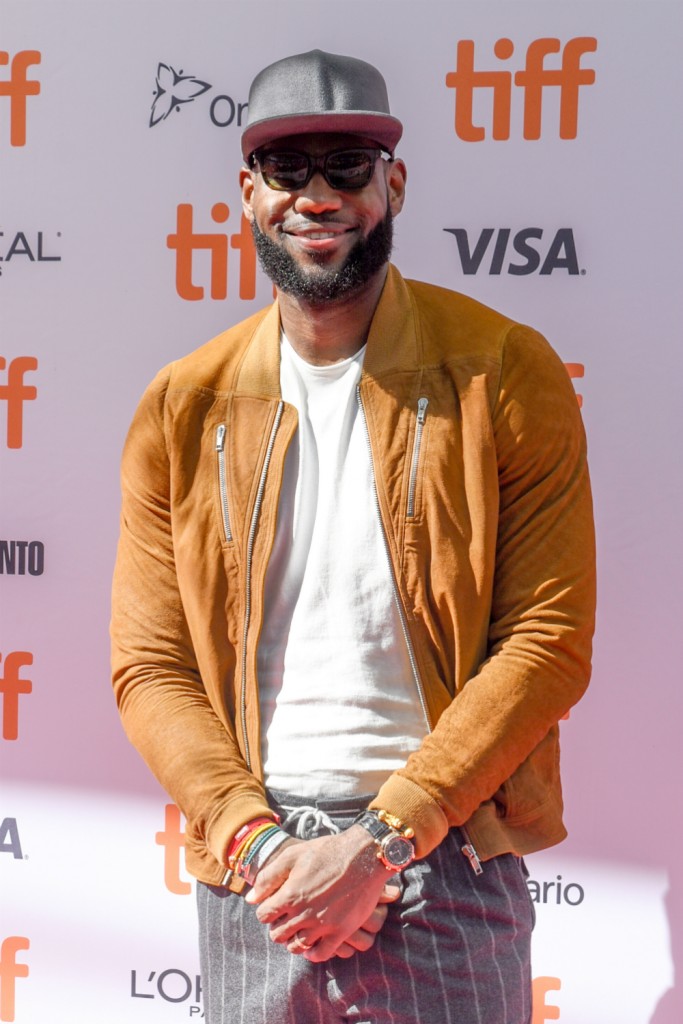 How was everyone's Halloween? I noticed there wasn't enough Halloween music on the radio this year so I had to create my own play list. As a result, I've had This is Halloween from Nightmare before Christmas in my head for two days – I think it's stuck on loop in my brain. So who dressed up and if so, what were you? I'm always looking for new costume ideas. Unfortunately, y'all have some stiff completion for the Halloween costume title. One of the top contenders is LeBron James who dressed up as Pennywise from It:
Think about it, LeBron is 6'8" so if he, unbeknownst to some poor unsuspecting party guest, was standing behind them and they turned around? Drink – meet floor. It turns out, that's a mask he's wearing. I'm not dinging LeBron, he still gets all the points, just that I originally thought it was makeup and wanted to give someone a huge 'holla' for their talent. LeBron leaned into to his inner demonic clown (don't we all have one inside us) and terrorized the partygoers:
.@KingJames as Pennywise is terrifying 😂😂 pic.twitter.com/LY1FKd7GQa

— Bleacher Report (@BleacherReport) October 31, 2017
But then he did this and that's why he wins:
Winning in the family category this year are reigning champs the Burtka-Harrises. The fact that they stage these shots each year is just so next level. I am both shamed and dazzled by their dedication:
Look at Gideon and Harper – LOOK AT THEM!. #facegamegoals Jay-sus – David is terrifying. I would keep that getup and bring it out every once in a while to keep my kids on their toes.
In couples costumes, first up, we have newlyweds(ish) Anna Camp and Skylar Astin as Wayne and Garth from Wayne's World:
I must take away points due to degree of difficulty but their commitment to character is impressive. Next we have country singer Lauren Alania and her boyfriend Alex Hopkins dressed as Foxxy Cleopatra and Austin Powers from Austin Powers in Goldmember.
I like it, it's a cute interpretation. Plus, they have a history of dressing up together so they're fellow costume enthusiasts – +4 nepotism points
Jaime King dressed as Joyce Byers from Stranger Things for Just Jared's party. She looked great and her expression in the photo is spot on. Next to her is Westworld actress Angela Sarafyan dressed as generic medieval woman
I'm sorry, I don' know who the man with them is. Would it be too shallow to give them an additional five points because he's so pretty? You should check out Jared's GoT Night King costume – it's so good, all his guests get three proximity points.
Jennifer Garner was 'super cute' dressing as a catnap:
Get it, she's a cat and napping. Ha haha ha. Fortunately for Jen, I love punny costumes so she'll get the base amount of points. But that shirt she's wearing really is super-cute so she can have a couple more points for that.
January Jones went as the Black Dahlia and whoa – it's chillingly accurate:
Big points for January, especially for being frightening without being disrespectful to the victim.
Obligatory Paris Hilton as Sexy (Fill in the Blank). This year, she went with Princess Jasmine. It's not much of a stretch to make Jasmine sexy:
I actually kind of like her costume. But she doesn't get extra points because it didn't make me laugh, which "sexy" costumes usually do. However, she and 'The One' Chris Zylka were eliminated from couples category because I can't figure out why Jasmine would be anywhere near a gladiator. And he's not 'sexy', he's just gladitator-y.
And last but never least is America Ferrera. She looks awesome as the late singer Selena but I'm deducting points only because this was for her show Superstore's Halloween episode. But the episode was really good so I'm giving her back some points. And I love her, so she can have them all back. And *grabs some points from Paris* she can have these too:
Honorable mention goes to Robert Downey, Jr. for whatever this is because it makes for a great picture.
Really makes my eyes pop. #HappyHalloween pic.twitter.com/PuZMBafpsU

— Robert Downey Jr (@RobertDowneyJr) October 31, 2017
Photo credit: WENN Photos, Instagram and Twitter