Embed from Getty Images
Nobody does Halloween like Heidi Klum, which may be due to the fact that she grew up in Germany and discovered the awesome holiday later in life. Last year she was a clone with lookalike models complete with prosthetics, which seemed uninspired compared to some of her past looks including Jessica Rabbit, a massive intricately painted butterfly, a realistic elderly lady, Cleopatra, a cadaver (that was probably my favorite), and a Transformer alien hybrid and a Hindu goddess. I appreciate it when Halloween costumes are scary, with bonus points if they completely transform your appearance. So it's wonderful to see her look this year, the werewolf from Michael Jackson's Thriller video! (Is anyone else getting that song in their head now?) If you're like me and have a memory like a sieve, here's a link to the part of Thriller where MJ transformed into the werewolf. Heidi even showed up to her party with an entourage of zombies, which was incredible. Her attention to detail is so appreciated. Heidi explained to People magazine why she chose this look, which took seven hours! She worked with her usual makeup team from a studio called ProRenFX:
"It takes a long time to lay the prosthetics but then putting it all together, it took seven hours," the Project Runway host told PEOPLE at her 18th annual Halloween party inside Moxy Times Square in N.Y.C.

"Michael Jackson was always such an icon and the 'Thriller' video is such an iconic video and I was like, 'I have to redo that,' " Klum said of why she chose this year's garb. (She even had an entourage of zombies!)

Once again, Klum teamed up with special effects make-up studio ProRenFX to create her hair-raising look that took a total of seven hours to complete.

Though she has the look to match, the mother of four admitted that her dance abilities are not on the same level as the late music legend.

"Obviously it's difficult because I can't dance like Michael Jackson. I don't think anyone can dance like Michael Jackson, but I tried my hardest," Klum told PEOPLE.

And the dancing wasn't the only difficult element of her overall look.

"It's always hard when you have contact lenses," Klum said. "I don't wear contact lenses so anything that goes in the eye … we had to do it a few times."
That's too bad that she can't tolerate contact lenses. I have white prescription lenses for various costume looks and they don't bother me as I'm used to wearing contacts. (Sometimes I see white in my peripheral vision as they float more than my typical contacts, but it's not bad and I forget they're in.) Heidi also told People that she wanted to be scary this year "because last year I was just me, and I had five clones." At least she realized that and self corrected. I think the lack of usual press interest may have helped. Here's a link to Heidi's Instagram posts which show her being fitted for her werewolf teeth and getting ready.
Anyway Heidi didn't get a lot of big names at her Halloween party, she usually doesn't and I chalk that up to the fact that she holds it on Halloween night. One of my friends had a party last night and while I always appreciate a good Halloween party I'm not leaving my house on Halloween! So many people want to take their kids trick or treating or be available to hand out candy. (Incidentally, I wish we had another holiday where random people could come to your house and get treats and/or food. How about some kind of post-Easter event where you give out leftover candy and hard boiled eggs?)
Here's Heidi with Mike Myers as some kind of paramilitary person and Nick Cannon as a Black Panther.
Embed from Getty Images
Heather Graham wore sugar skull makeup. You guys were debating a couple of days ago whether Nina Dobrev's similar makeup was offensive, with the verdict not coming down firmly on either side.
Embed from Getty Images
Look at Heidi being sexy
Embed from Getty Images
This is Zac Posen!
Embed from Getty Images
This is a photographer named Jamie McCarthy and his Negan costume was so dead on I had to include it. There are photos of him on Instagram that show how different he usually looks before dyeing his hair and beard for this.
Embed from Getty Images
These people are just labeled "guests" so they may be random models, but their costumes were so good I wanted to share.
Embed from Getty Images
Heidi with Zac Posen:
Embed from Getty Images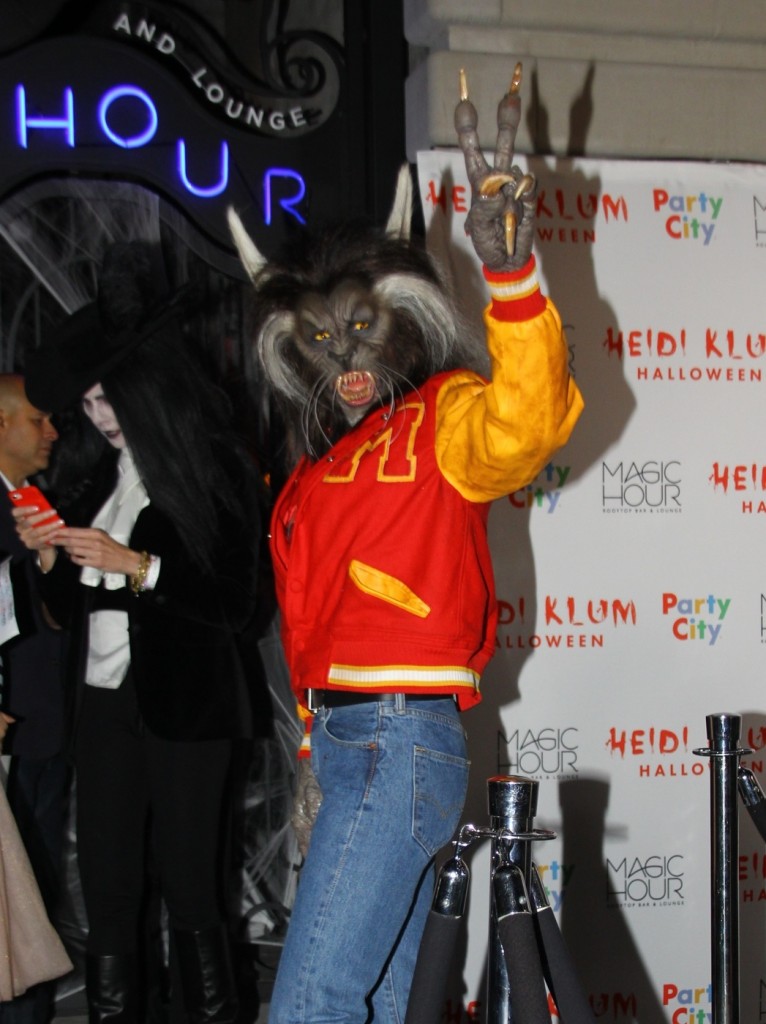 Photos credit: Getty and Pacific Coast News