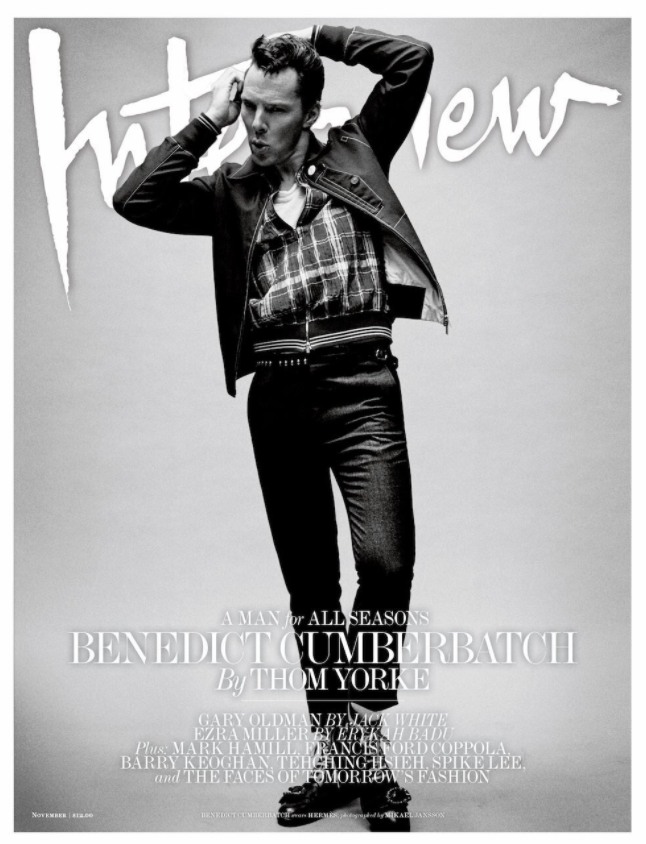 The Current War won't be coming out this year. Harvey Weinstein was going to release it this month, and it was going to be the centerpiece of The Weinstein Company's Oscar season campaigning. Once Harvey was ousted from his company, they pushed back the release date. Still, Benedict Cumberbatch had done some interviews to support the film before all of those stories broke, which is how he ended up on the cover of Interview Magazine. The photoshoot is… odd. Like, Bendy as a rockabilly, which doesn't really suit him, but it's not terrible either. The interview was conducted by none other than Thom Yorke from Radiohead. Shockingly, this is a fairly interesting Q&A session, and it's not all about sonic reimaginings of Proust, which is how I imagine Thom Yorke spends his days. You can read the full piece here. Some highlights:
On Nikola Tesla: "He was such an outsider in New York. People didn't understand his Serbian accent. It didn't help that he was speaking like a prophet. He was talking about things he'd formulated in his mind, but didn't have models for: the wireless delivery of energy, let alone communication. Like all visionaries, he dared to formulate beyond the constraints of the status quo. The awful lesson of history is that we too often ignore these people, just because they're foreigners or different from us.

Whether he's a good driver: "I think I'm a very good driver. Apparently, the cause of road rage—as with most anger—is some kind of superiority complex, which, god knows, cars foster.

Whether he trusts very easily: "Yeah. You [have to], and sometimes you don't. Sometimes during a conversation with a journalist— where you are answering things you never normally talk about, not even with some of your closest friends—you end up being quite confessional, and you don't think about the amplification of that. No matter how fancy these journalists are, they have editors or political leanings behind their publications, which means that, basically, they're going to shape what you've said into an article they've already written. So you have to be really careful with your words. I still find that difficult, as any person who deals with the press will tell you. That's why it's nice, with this one, to talk to a friend. But sometimes with a coffee and a friendly smile, I suddenly start talking without thinking about how it's going to be read.

Being emotional & mouthing off: "I think I've had very knee-jerk emotional reactions to things, and sometimes I've said things without thinking. Being overly emotional clouded my judgment… [In interviews,] stuations where what I say echoes much further than what is healthy. I would love to just have the work do the talking. We're in positions where people ask us questions; they want to know about more than just the work. And it can go into areas where I've completely shot my mouth off, whether it's too much about my private life or being too opinionated about things in the world. I think the better thing to do—I've learned this from people far wiser than me—is to do very good, quiet work behind closed doors.

Whether he has reading glasses: "No, but I am shortsighted. I need them for watching movies or concerts. It's not a hipster affectation; I do have poor eyesight. This is how ridiculous my life is: I've had the test for contact lenses, but I haven't found a half-day where I can go to the optician.

Whether he practices laughing & crying for a role: "I probably have cried on the toilet. I try not to, though, because I have people in my house who would be disturbed by their dad having such a strange, isolated mood swing. I think it's important to be able to do some of that in some kind of enclosed space. It's about finding triggers and trying very hard to find that within your characters and their backstories, and not within your life, because that can get out of control. Laughing and crying are really similar—what happens to your body. It's a very similar process in your diaphragm. Like a musician, you have to do your scales once in a while and warm up your voice.
Benedict looks really good in glasses, so I'm fine with him keeping the glasses and not getting contacts for now. As for crying on the toilet… he's talking specifically about practicing his lines and preparing for a role. Meaning, he weeps on the toilet because he's trying to figure out how he's going to cry on-camera for a role or whatever. He's not just weeping on the toilet because he's dropping the kids off at the pool. I've never cried on the toilet, but I have wept in the shower more than a few times in my life.
Photos courtesy of Mikael Jansson for Interview Magazine.