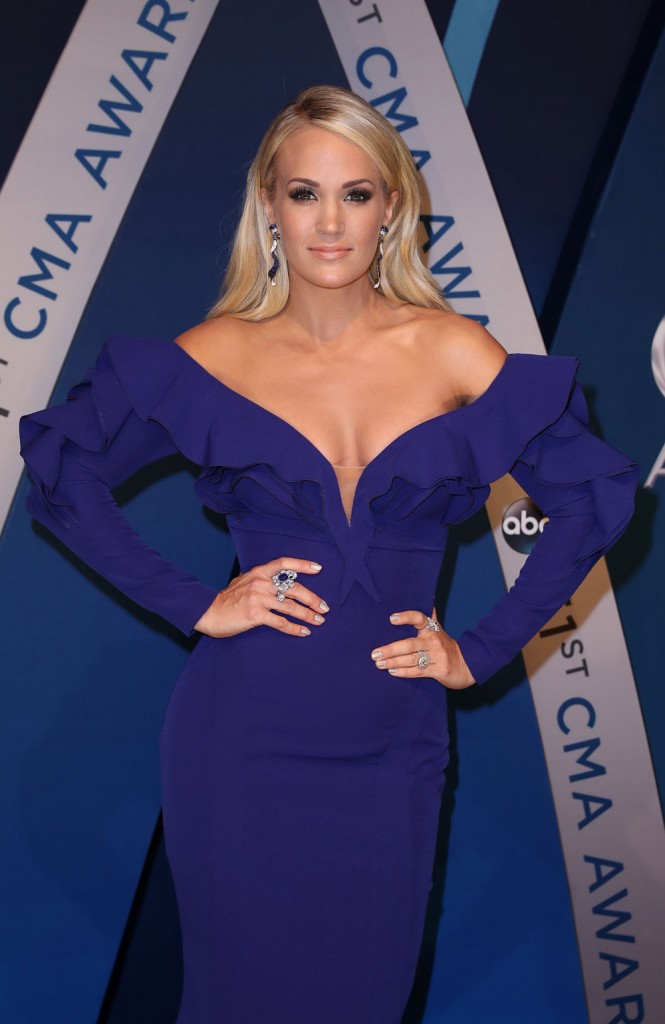 The CMA Awards were held last night, hosted by Brad Paisley and Carrie Underwood for literally the tenth time in a row. I'm not going to act like any of us watched it. The Washington Post has a rundown of the best moments and performances along with the winners if you'd like more of an overview of the show. Pink performed, the female and male vocalist of the year awards went to Miranda Lambert and Chris Stapleton respectively, with Stapleton taking album of the year as well. Garth Brooks was the entertainer of the year. Single of the year went to Keith Urban for "Blue Ain't Your Color" and song of the year (don't ask me the difference) was awarded to Taylor Swift for the song she wrote for Little Big Town, "Better Man." (Taylor was in NY rehearsing for SNL/filling out her burn book and did not make it to the ceremony.) We're just going to talk about what the attendees wore. While I still enjoy looking at red carpet gowns it rings somewhat hollow as we're hearing so many stories about Hollywood men being horrible predators.
We all need a little superficiality at times though, so let's look at Carrie Underwood in a Fouad Sarkis Couture gown that Sofia Vergara is so jealous she didn't wear first. It's an off the shoulder mermaid dress with got ruffles along the bustline and down the sleeves and it's very low cut but look there's a little nude fabric sewn in the deep v-neck to ensure there are no wardrobe malfunctions. I do like the color and at least Carrie didn't go big with her hair too right? Baby steps.
Also it's cool that her husband, hockey player Mike Fisher, came too. He doesn't always show up to her stuff so that was nice.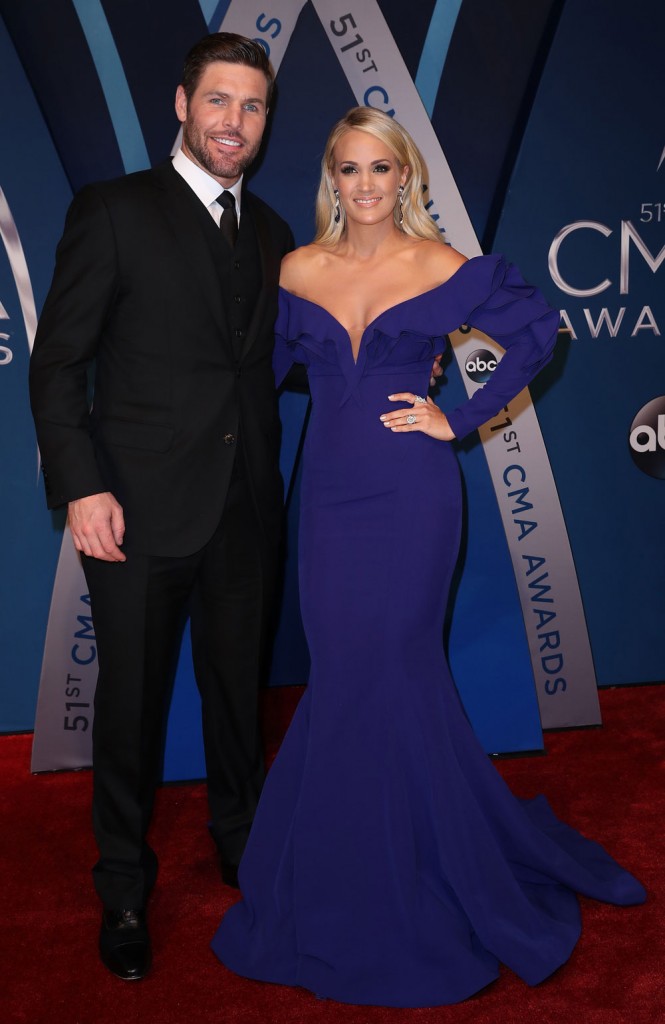 My girl Michelle Monaghan was one of the only women in pants. She was wearing a black sequin Paco Rabanne jumpsuit and holy crap she looks amazing. The whole side of that thing is open though, go here to see. It also has stirrups! If I had her figure I would wear the hell out of that.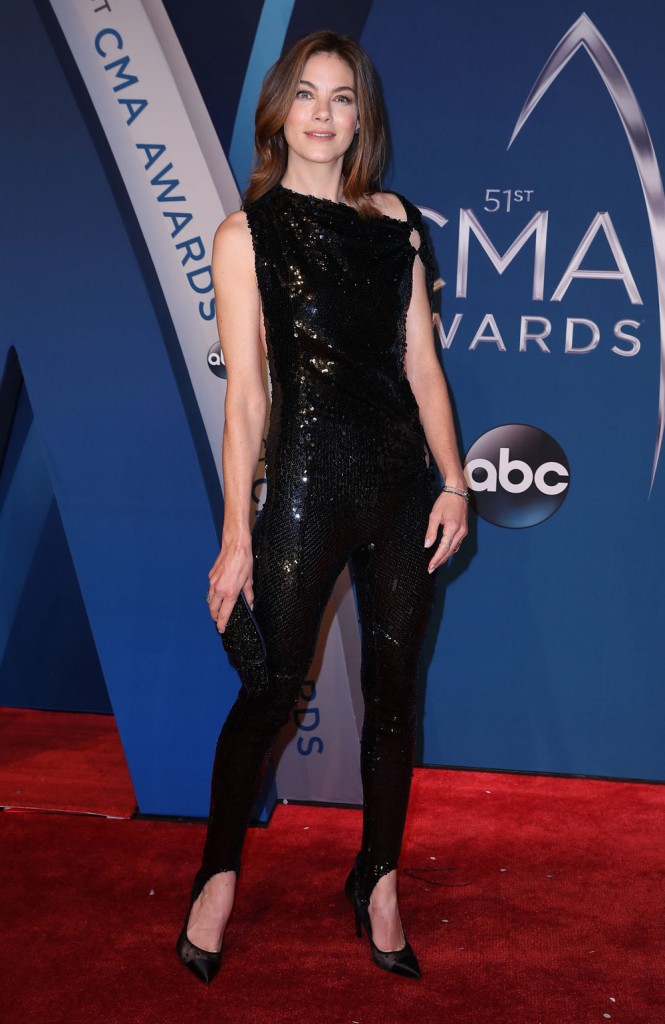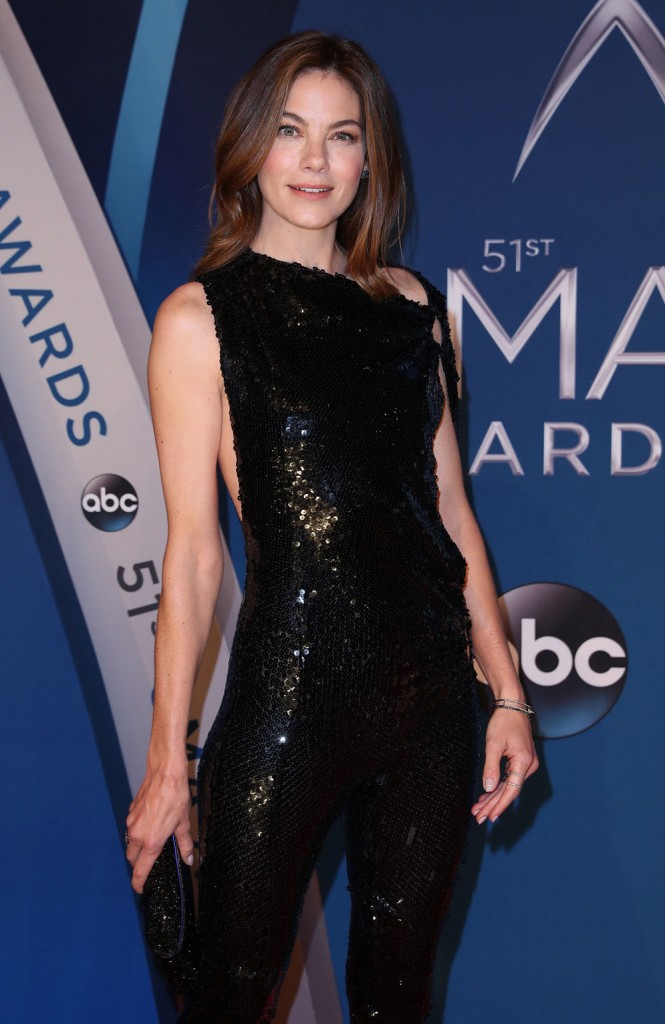 In contrast Kelsea Ballerini chose this awful white cutout Michael Kors Collection dress with gold floral accents. I'm looking at these pictures and grimacing this is so bad.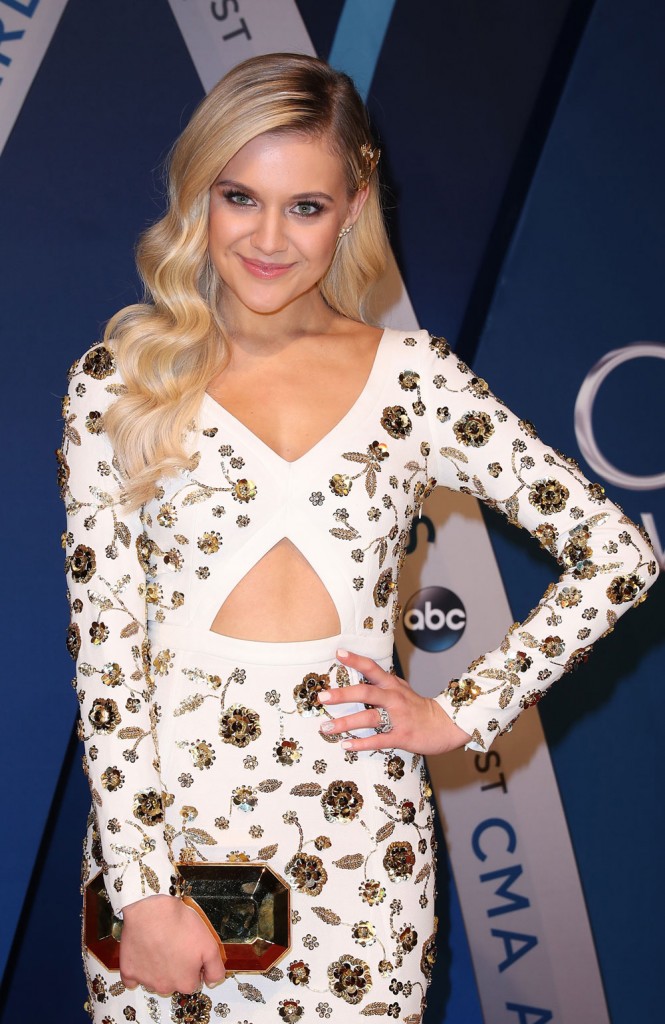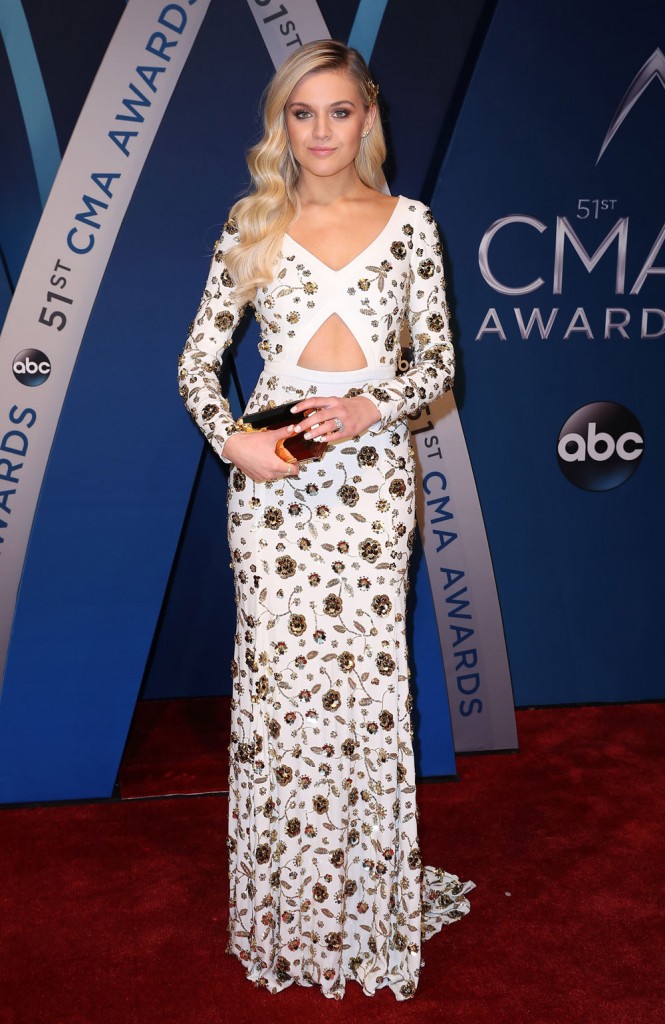 Pink! I don't know who did this voluminous tulle gown but it reminds me of Kesha's Monsoori gown from earlier this year or the Christian Siriano gown that Kasey Musgraves wore to the CMAs last year. Unlike those other ladies, I think Pink is pulling this off with attitude.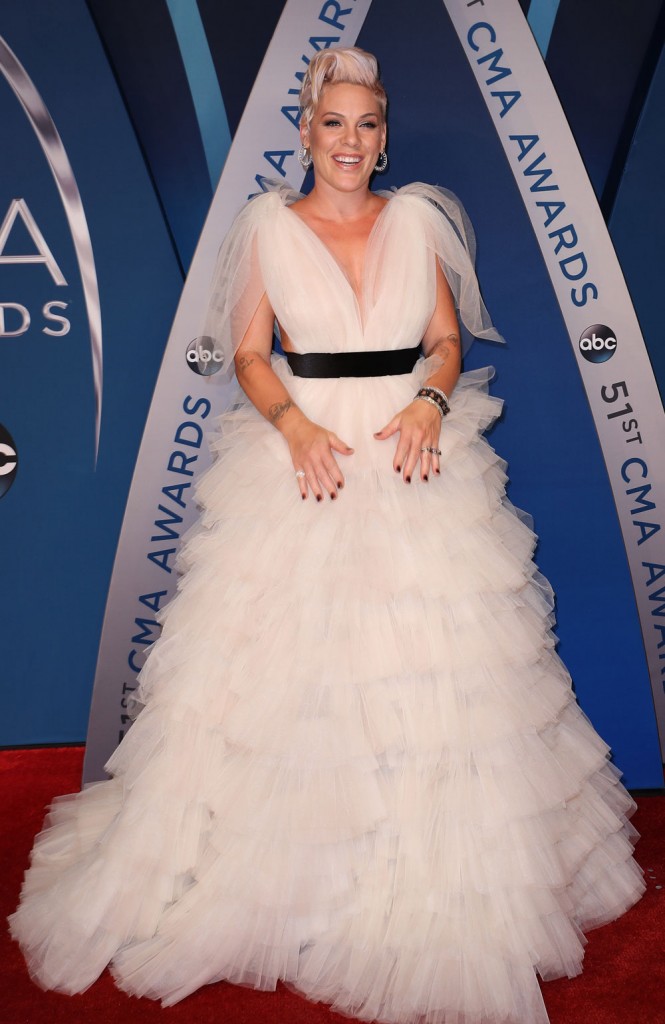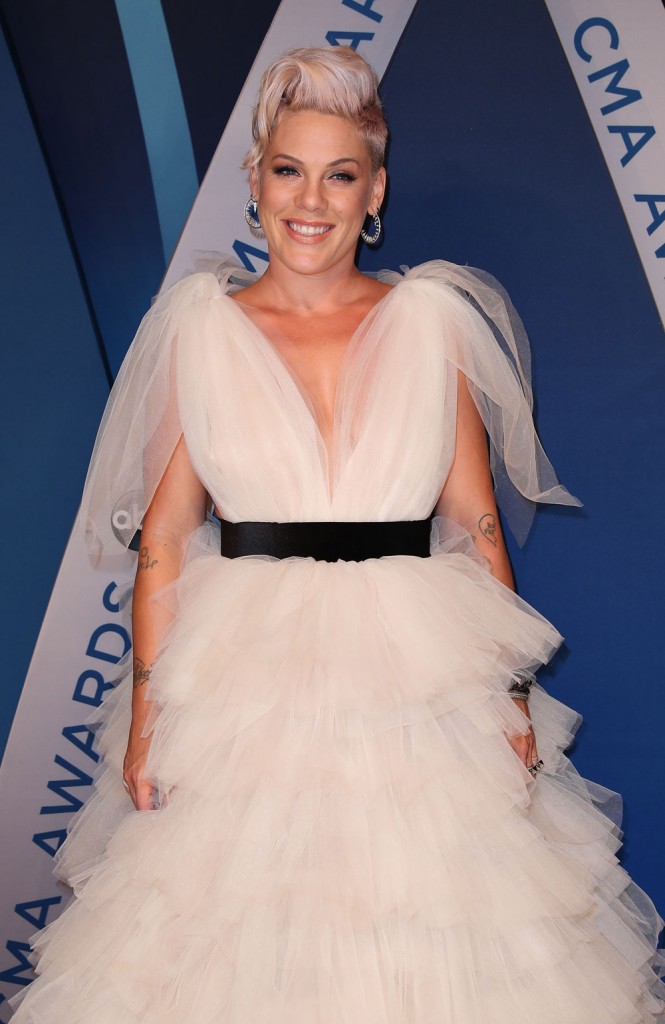 Kelly Pickler was in metallic and green feathered Pamella Roland. This is a little too fussy for my taste but she looks like she's having fun.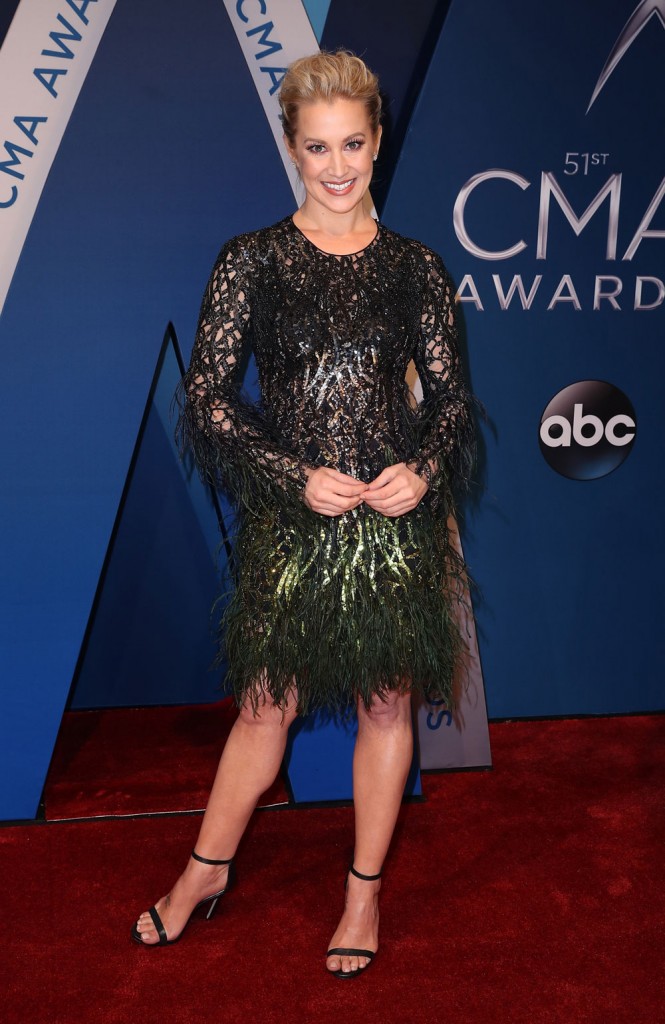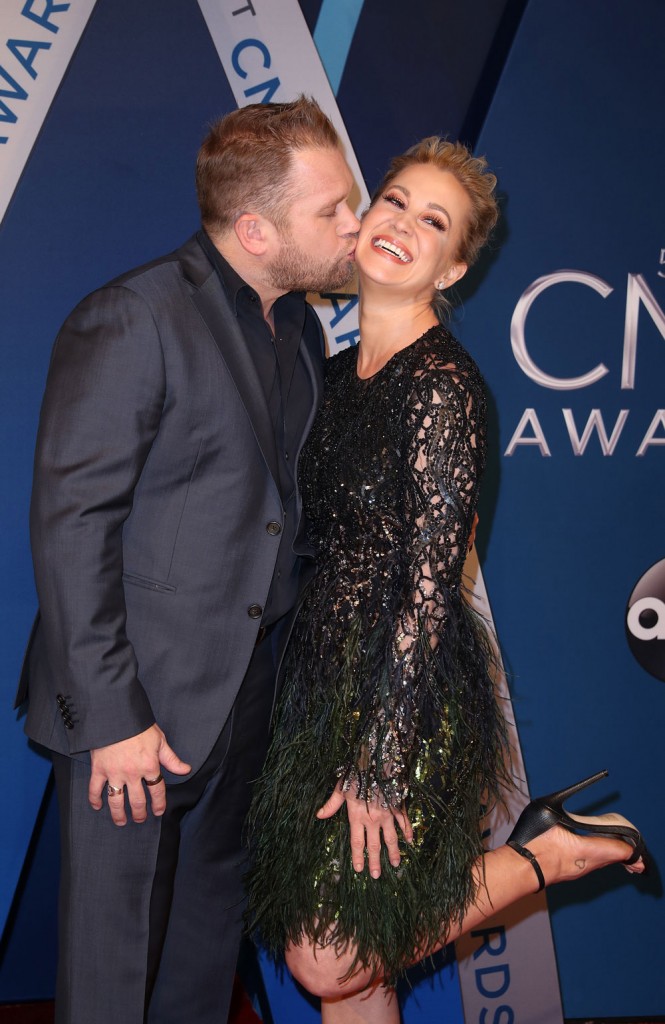 This is what thirst looks like. Lea Michele in Zuhair Murad. Maybe if she paired this mini dress with tights like it was styled on the runway it would be slightly better.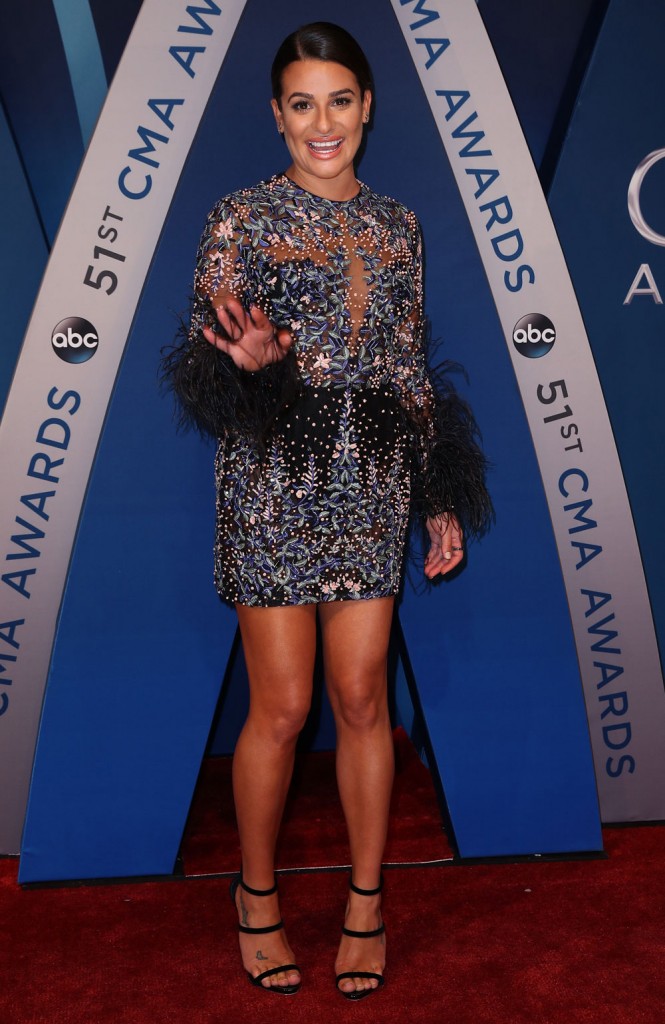 Miranda Lambert was in a baby blue Tony Ward gown with a silver firework pattern. This gown is gorgeous and I love the simple metallic belt. It would be cute if it was opaque all over though and not strategically see through.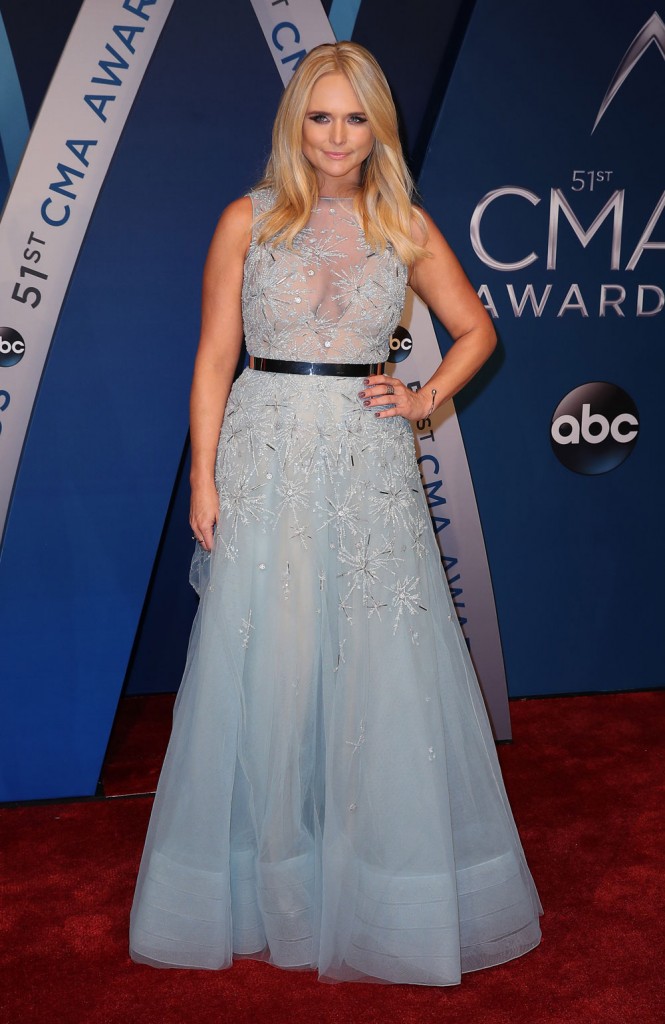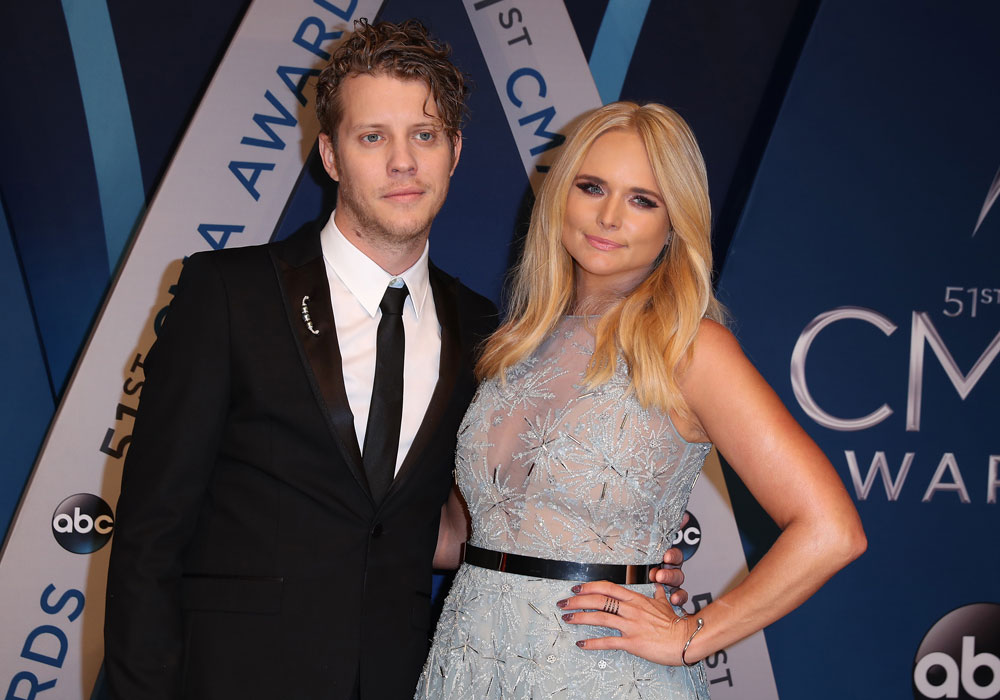 Faith Hill was in Armani Prive and I feel like she needs to put her hair down because this gown is making her look very elongated, I'll say that. Over at redcarpet fashion awards they said the same thing, but I swear I thought of it independently. She and Tim McGraw are looking kind of preserved, but maybe that's just all the makeup. I like that he went with a velvet jacket. Some dudes can pull off velvet jackets.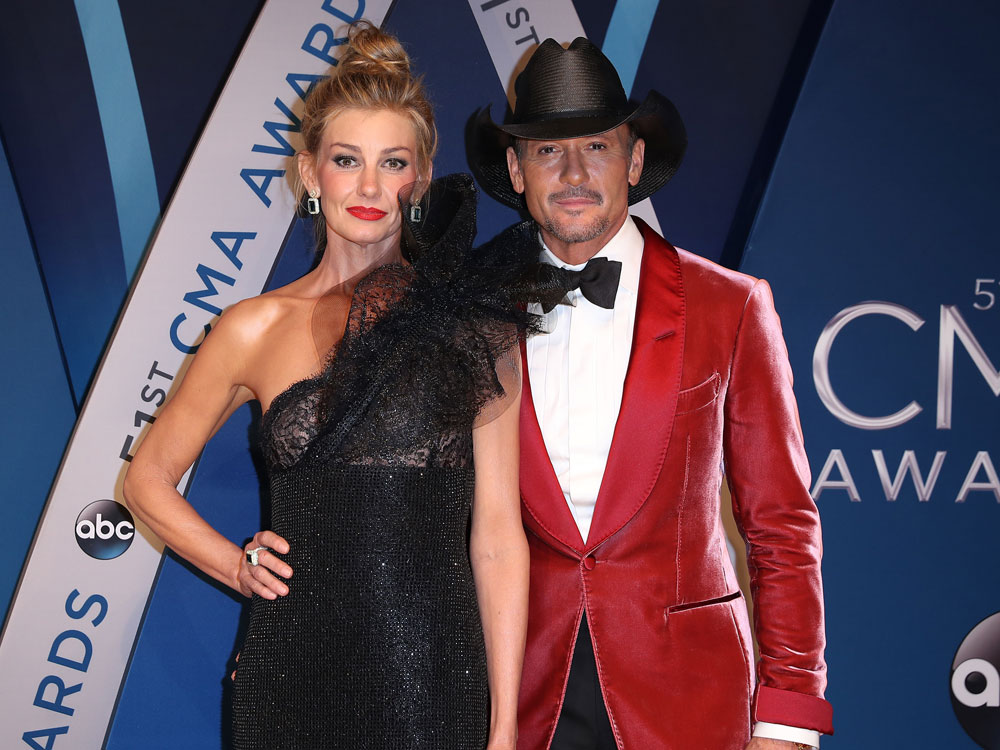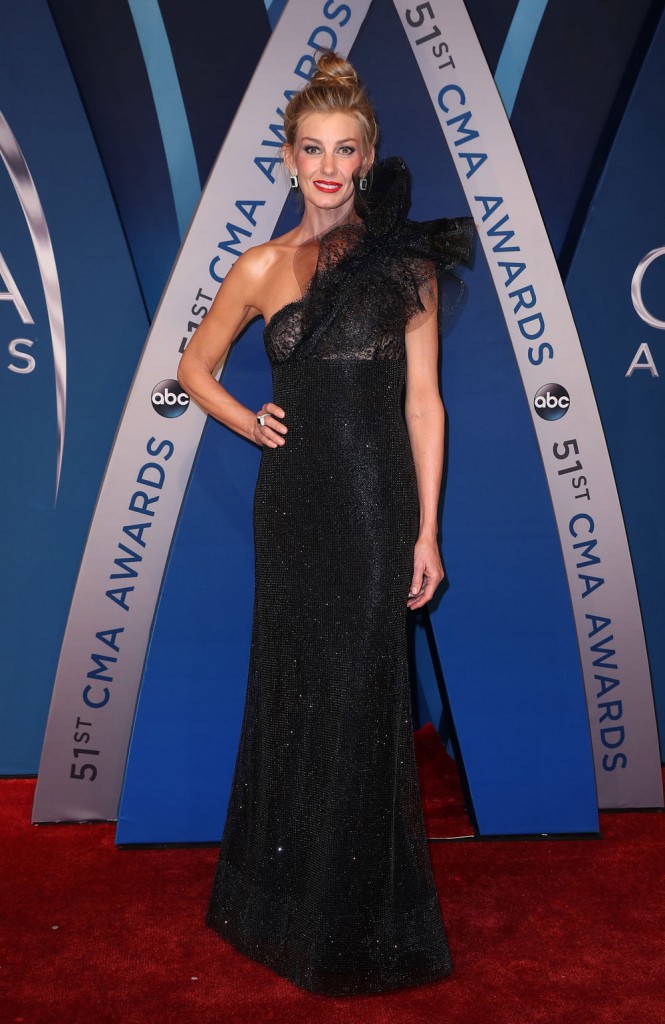 I'm including Karlie Kloss at the end because she just ran the NYC Marathon! Go Karlie! That slinky red Elie Saab is perfection.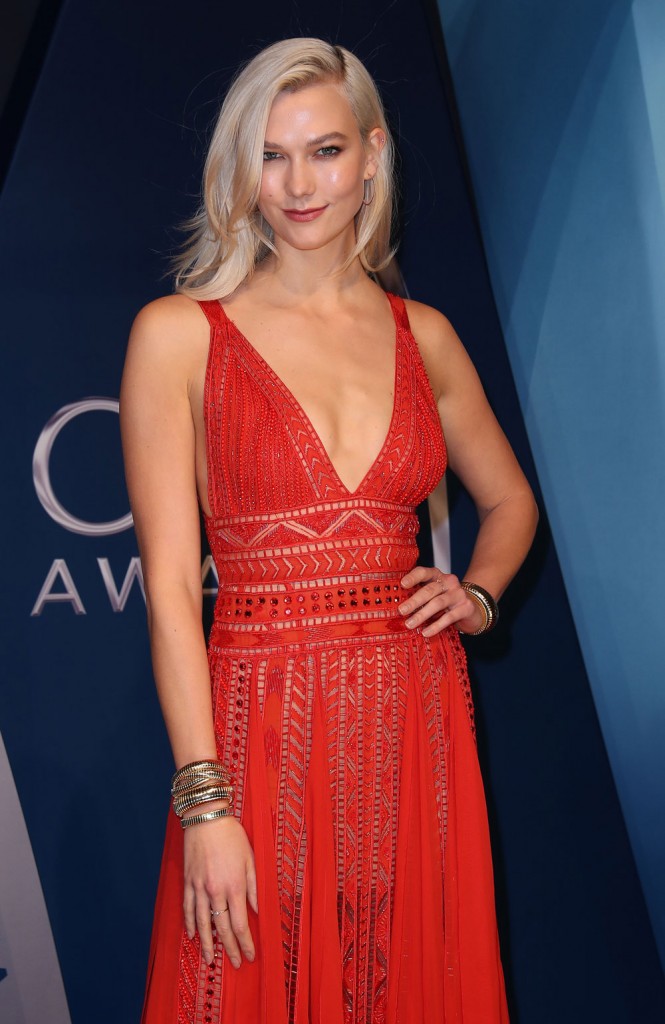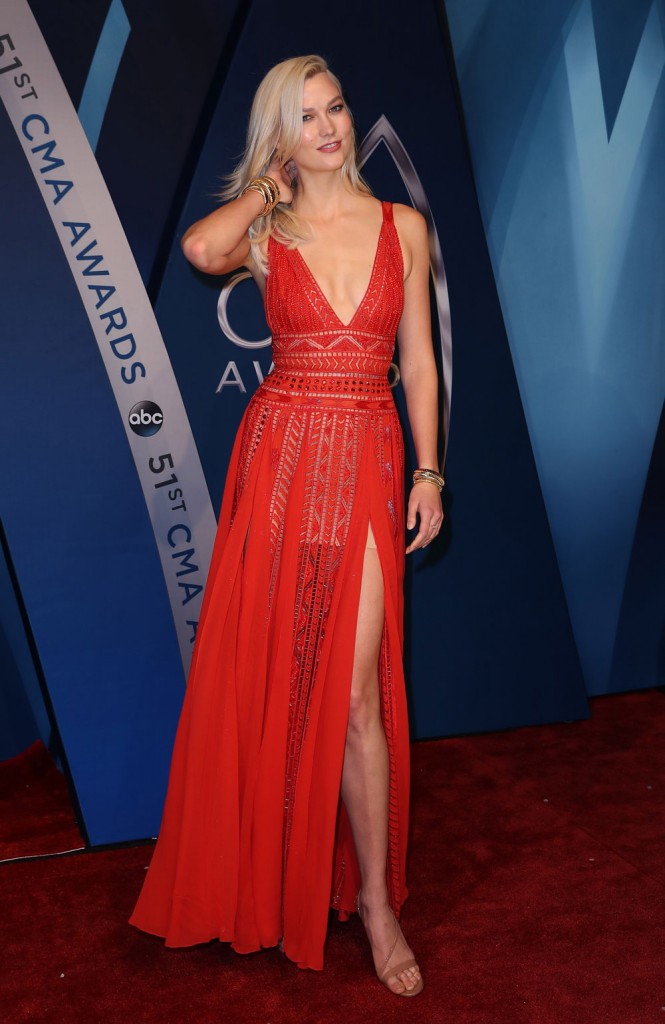 Photos credit: WENN.com