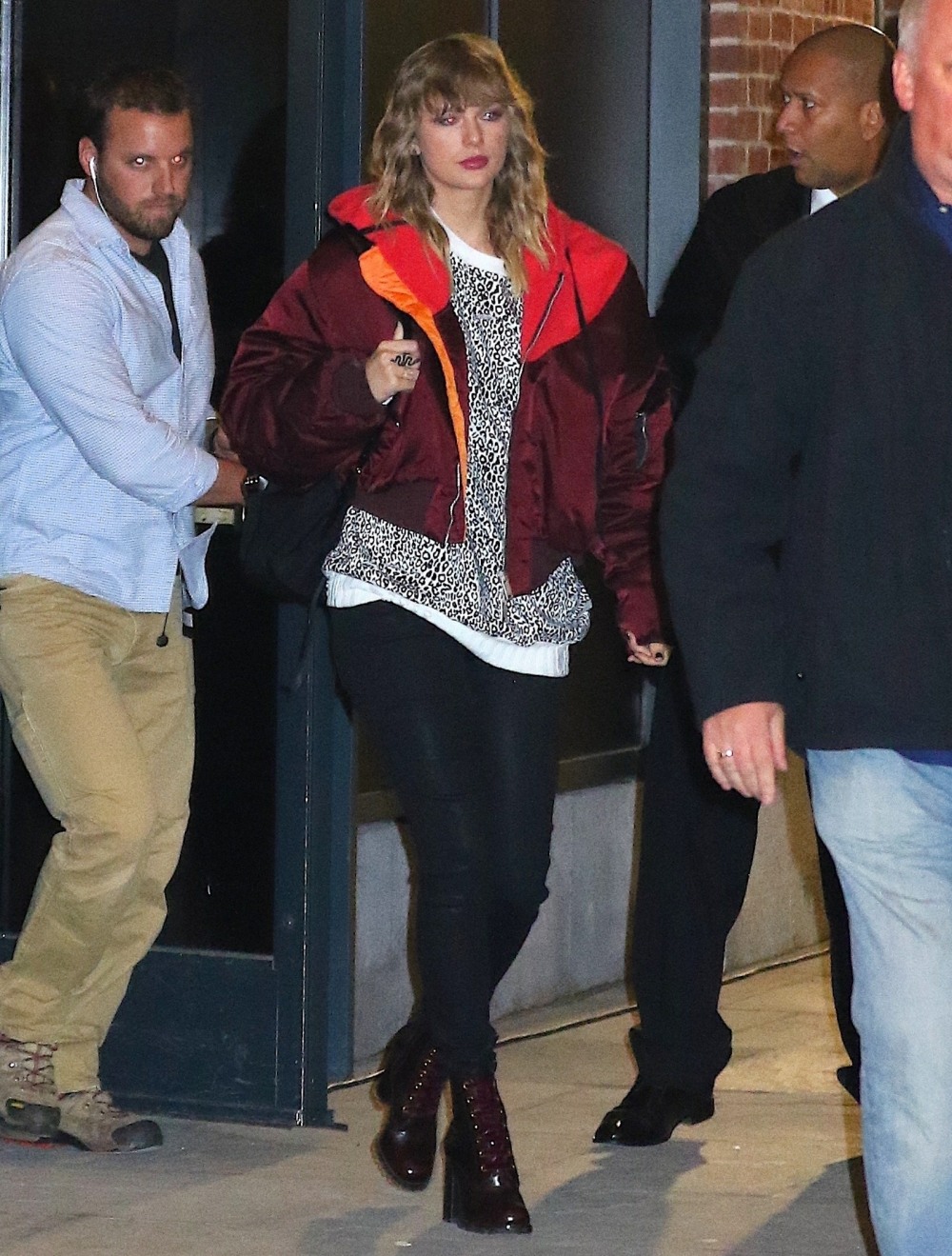 Here are some increasingly rare candid paparazzi shots of Taylor Swift from the past few days, mostly as she's been coming and going from various promotional events for her album, which dropped last week. As for the album… it's still selling well, and it's already surpassed 1 million in just a handful of days. It's a special kind of gift that Taylor has, that the album which probably isn't her best or most sonically cohesive effort is the one that moves the most units the fastest.
Full disclosure, and I'm sure this isn't a surprise, but I haven't heard the whole album. I've never bought an entire Taylor Swift album, because I don't give a sh-t. In my head, I imagine Reputation is just a lot of snake hissing in between off-tempo hip thrusts and lyrical allusions to Kanye. Apparently, there is one song (at least!) about Tom Hiddleston: "Getaway Car." The lyrics seem to be about how Taylor was looking for a reason to dump Calvin Harris and Hiddles was her getaway car from the Calvin relationship and that's why they were doomed from the start, because she used Hiddles as a jumpoff. She also lyrically implies that she was drinking heavily throughout the entire Tiddles mess. Which is funny! Because The Glorious Tiddlebanging made me feel like I was drunk too.
This "Getaway Car" thing is just another reminder of the shady way Taylor creates two narratives around her relationships: one narrative is being told in real time, through the press around her relationships as she's dating a guy, and then there is the after-action narrative in her music, the post-breakup, hindsight-is-20/20, "retelling of the relationship" narrative. The real time narrative of Tiddles was that it was all giddy swan pastries and worldwide love tours. The after-action narrative was that he was a means to an end, an excuse to leave Calvin, etc. If that makes you wonder how she'll write about Joe Alwyn when all things are said and done… well, me too. Speaking of, here's Taylor's latest real-time narrative:
Taylor Swift has spent much of the last year assembling her latest smash, Reputation, drawing passion (and some lyrical inspiration) from her sizzling romance with Joe Alwyn. While the 27-year-old superstar's global arena tour will take her away from her British boyfriend for much of next year, an insider tells PEOPLE that the couple aren't sweating it.

"When Taylor tours internationally next year, they will figure it out," says the source. "This is not anything they are stressing about. Their relationship is amazing, because they are both committed to making it work. It's just a very normal and respectful relationship, built on give-and-take. Joe is a gentleman and just a great guy to date."

The insider adds that they've confronted scheduling and distance problems before due to Alwyn's acting career. "When Joe is filming, Taylor flies to see him as much as she can—most recently in Atlanta."

For the time being, spreading her new music is first and foremost in the "Look What You Made Me Do" singer's mind. And it's definitely been spreading—Nielsen Music has announced that Reputation officially passed 1,050,000 in sales as of Monday, putting it on track to become the best-selling album of 2017.

Swift is determined to thank the ones who made it possible. "Taylor spent the weekend in N.Y.C.," the source continues. "She has been super excited to release her album. She is very proud of it and couldn't wait to share it — she even spent time with fans over the weekend. Her life is great and she is very happy." And a happy Swift makes for a happy Alwyn. "Joe shares her excitement. They are very happy together. They are both extremely hard-working, focused and supportive of each other's careers."
The key word here is "sizzling." Does Taylor ever really sizzle with anyone? She didn't sizzle with Calvin, or Tom, and Joe Alwyn looks too much like her creepy Twilight Zone twin to really imagine them "sizzling" anywhere, at any time. In any case, what will Joe's car metaphor be? The little British lemon? The sleek Jaguar that was always in the garage? The Volvo that enjoyed her baking?
Last thing: snake fans are freaking out about this Buzzfeed article. Beyond the "aggressively white" quote (sooo controversial!), the article makes some very solid observations, I thought.
Taylor Swift "aggressively white," writes BuzzFeed https://t.co/LBZVUfKgTA

— Eddie Scarry (@eScarry) November 11, 2017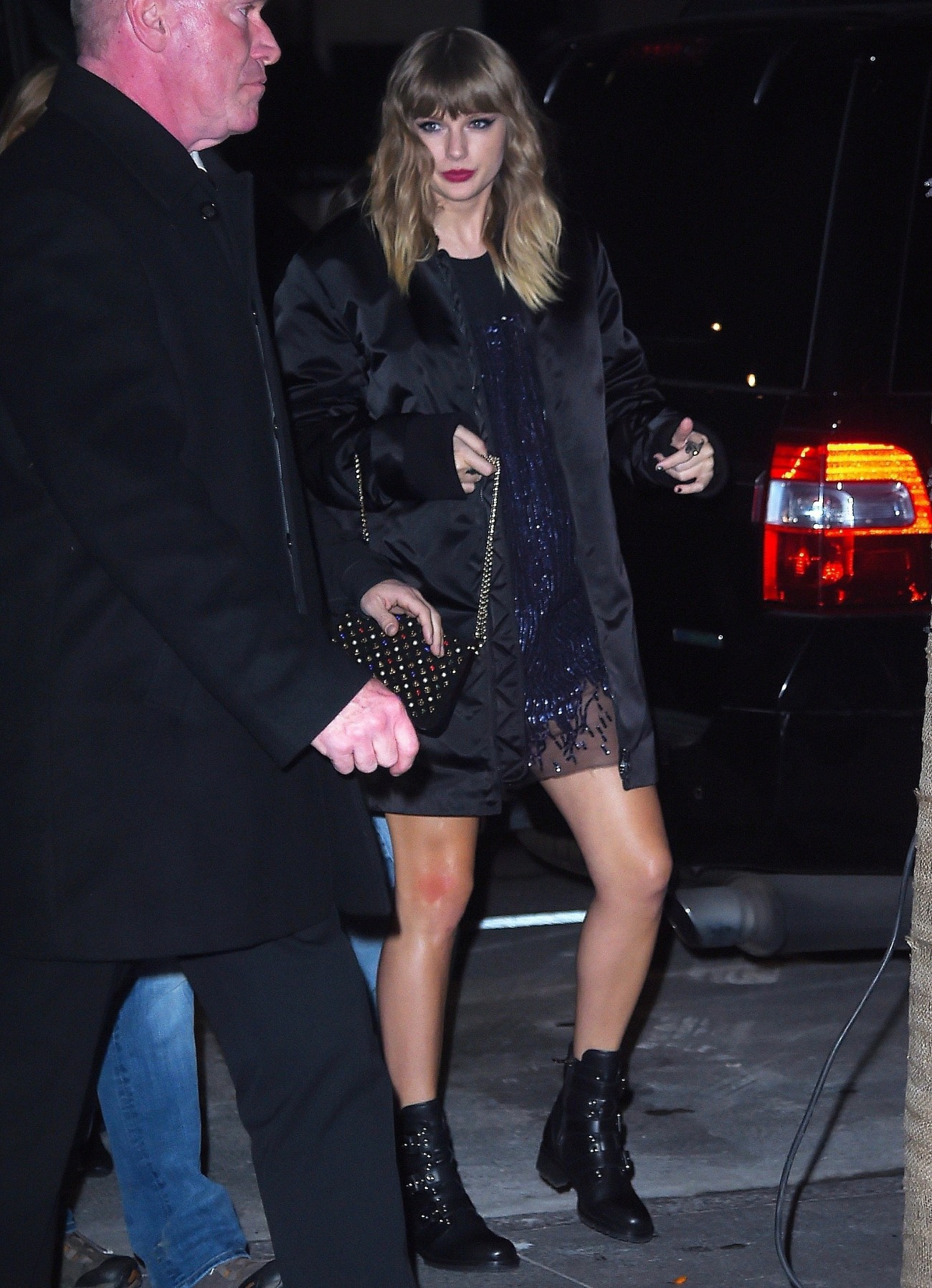 Photos courtesy of Backgrid.